For a group of UOW medical students, having the chance to immerse themselves in a town like Grafton provides vital training, experience, and an insight into life outside the city.
---
Justin is dying. He's taken a lethal cocktail of pills and alcohol.
A group of medical students springs into action. As they hurriedly walk through a door to a medical clinic room, Billy takes the lead.
He issues instructions to the other students. Some open draws and pull out plastic tubes and stainless-steel medical instruments, others prepare machines and start looking over a series of screens as Justin's vital signs spike and dip. Alexander leans over to Justin and gently speaks to him: "Hi Justin, my name is Alex. You're in good hands, everything is going to be alright, mate. We're here to help you."
This could be a medical emergency. But it's not. It's a medical simulation and Justin is a medical training mannequin. But these University of Wollongong (UOW) medical students are deadly serious about ensuring Justin makes it through the dangerous scenario.
The team of five, senior Graduate Medicine students are currently on placement at Grafton Base Hospital, located in the Clarence Valley region on the North Coast of News South Wales. The students will spend a total of 12 months in the Clarence Valley, learning and training in partnership with health professionals in the region.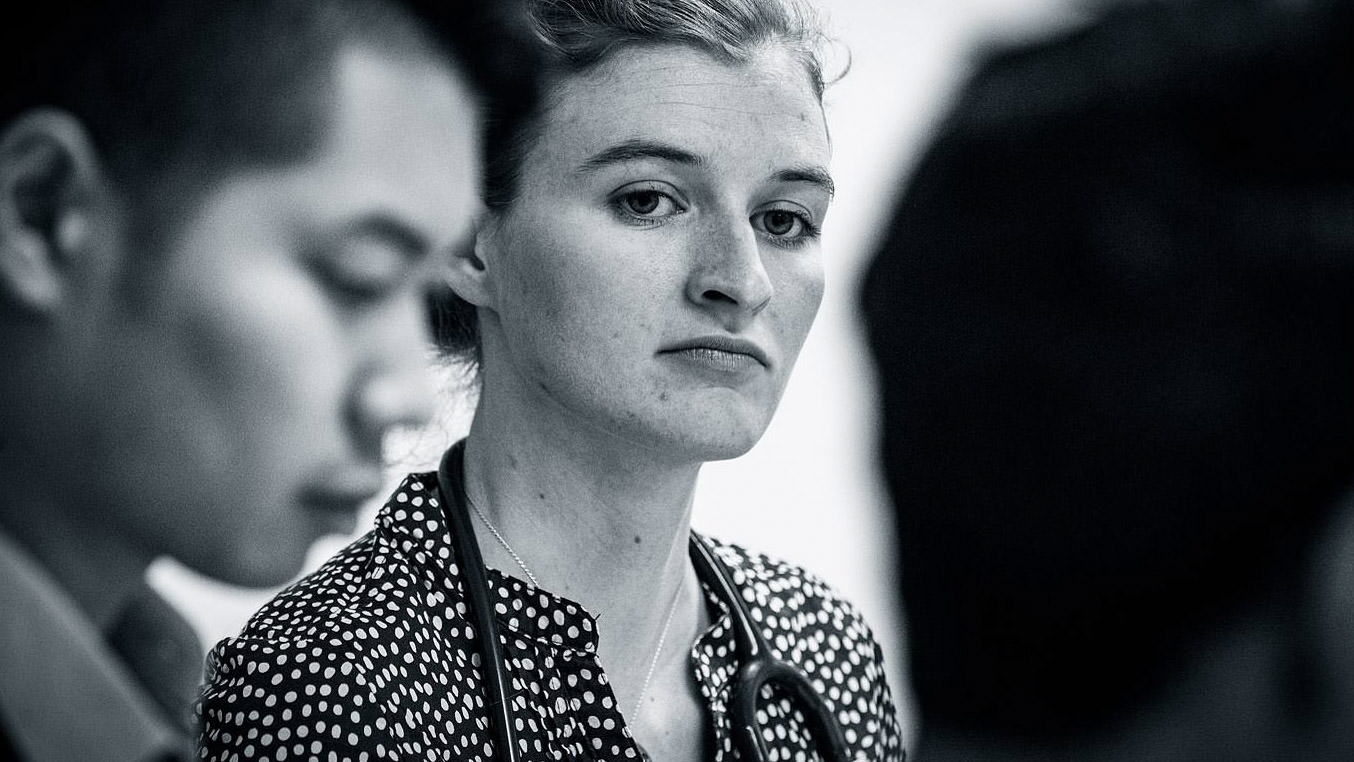 UOW medical student Harriet Raleigh.


Each student has a story to tell of how they came to be studying medicine at UOW and how they chose the Clarence Valley for their placement.
Billy Tran is a long way from his home in Toronto, Canada. He is the first in his family to attend university. But it was an opportunity of a lifetime when an offer to study medicine in Australia came from UOW.
"I have relatives in Sydney, so when I worked out Wollongong was only an hour's drive away, I was thrilled," Billy says.
Tollan Conway studied nursing at UOW's Bega Campus, but after graduation, pivoted to a future in medicine.
"I literally finished my degree in nursing and then enrolled into medicine. I had always thought nursing would be a stepping stone for me to get into medicine. Coming from the small town of Wolumla, near Bega on the Far South Coast, I was very happy with the choice of Grafton on the North Coast, and it's a bit warmer up here," Tollan says with a laugh.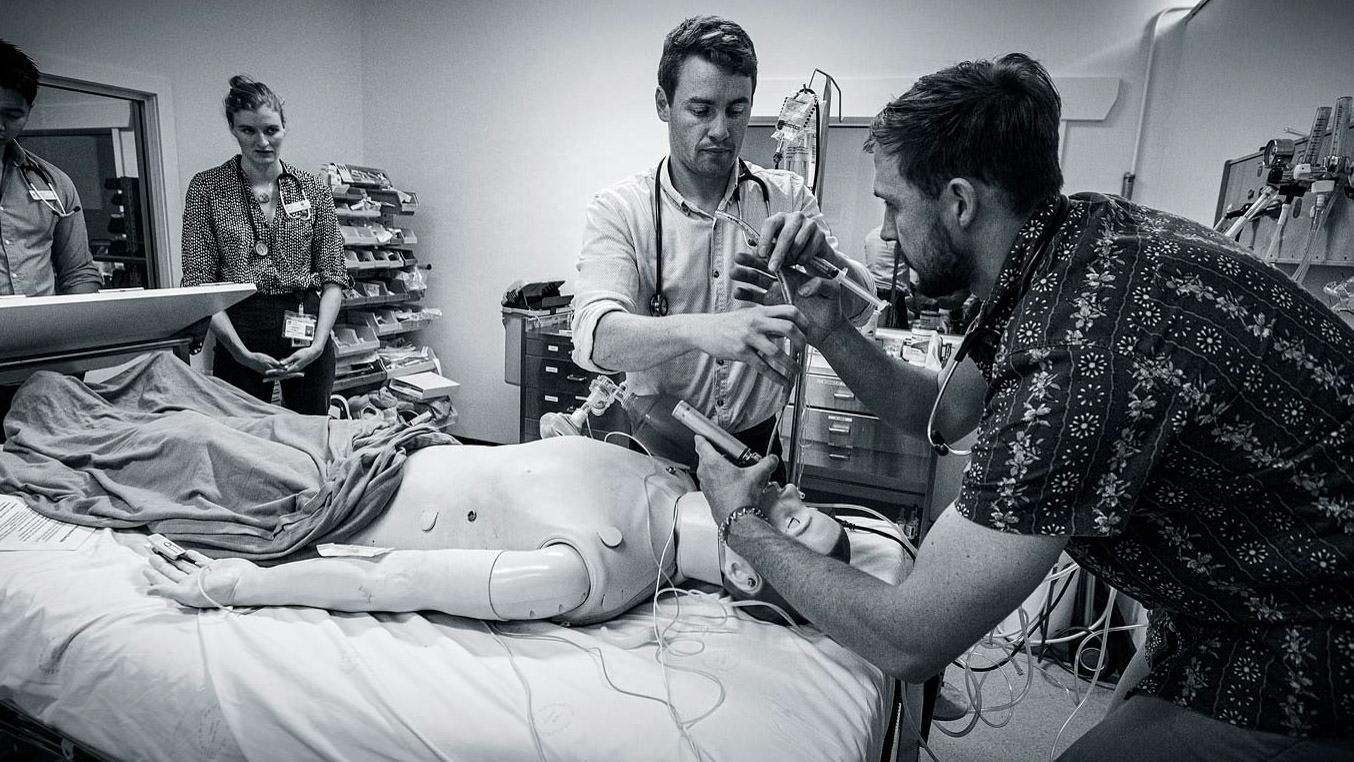 Tollan Conway and Alexander Mills administer oxygen to the medical training mannequin.


Harriet Raleigh has a passion for the bush. She comes from a family of farmers from the small town of North Star, located in northern New South Wales near the Queensland border.
"For me, studying medicine and becoming a doctor is about giving something back to the community. Growing up on the land, rural medicine and providing accessible care to those who are vulnerable has always been a motivator," Harriet says of her pursuit of medicine.
Alexander Mills had always wanted to be a doctor, but ended up studying mechanical engineering. That was until he found out that a life in mining wasn't for him and medicine was the direction he really wanted to go.
"The word amongst my peers and fellow students who have completed placement on the North Coast is that the educational opportunities are excellent and the clinical experiences so diverse," he says.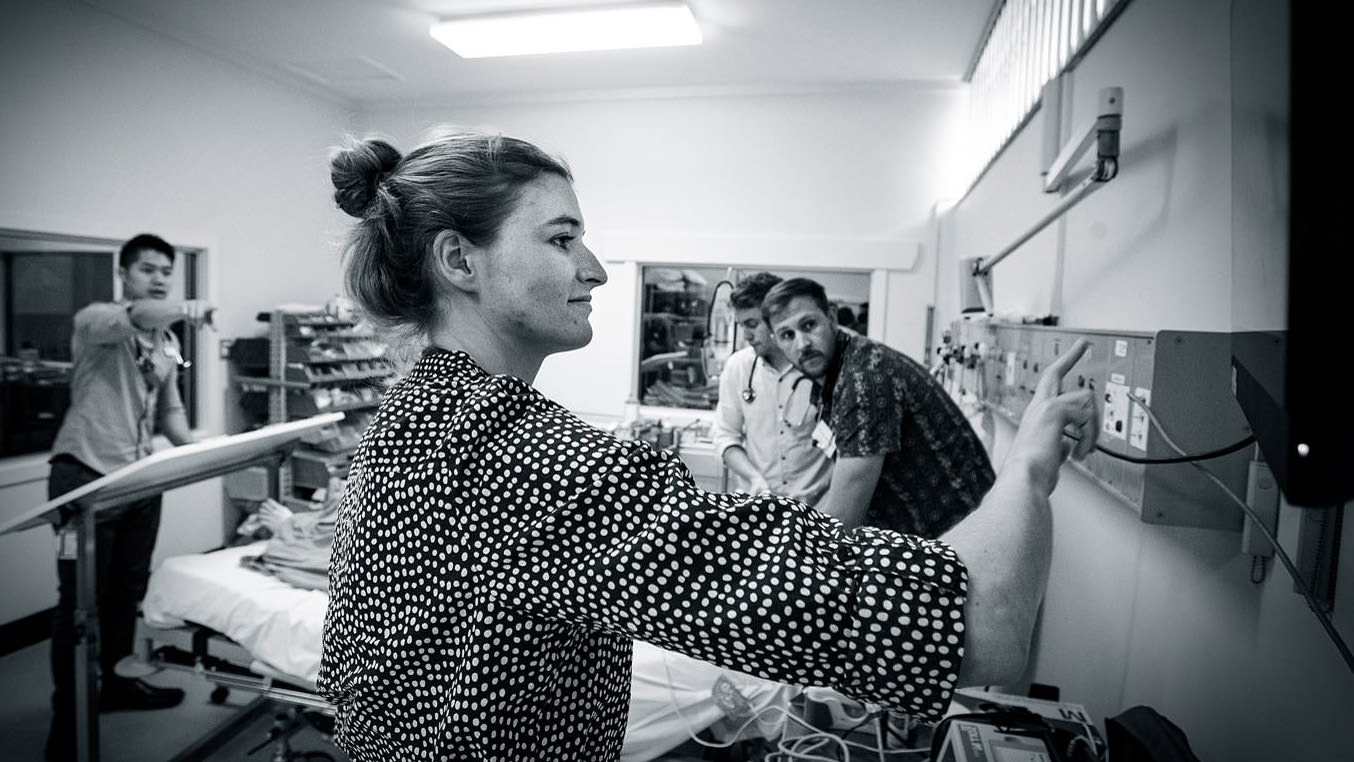 UOW medical student Harriet Raleigh

Rebecca Bromich hails from Brisbane and comes from a family of medical practitioners. But working out of a big hospital in a city is not really her thing.
"I really wanted to work in a small rural hospital. The staff here are fantastic and it's not too far from Brisbane if I feel like visiting the family."
Most Australians, approximately 70 per cent, live in major cities, with regional areas comprising 26 per cent of our population and 2.4 per cent living in remote areas. One of the effects of not having good access to healthcare is that patients in rural Australia tend to be sicker by the time they present to a doctor. Some stoic farmers have been known to not turn up at hospital until they are literally at death's door.
According to Professor Paul de Souza, Dean of Medicine for UOW's School of Medicine, rural health has had a lot of media attention in recent years and it is no secret that there is a real need for medical professionals in rural and remote Australia.
"We all know there's a shortage of doctors in rural Australia, and we hear about the challenges of providing good healthcare in the country from the outset with medical training," Professor de Souza says. "What doesn't get a lot of publicity are the amazing opportunities available to doctors who take the plunge and leave the cities for rural areas."

UOW medical student Tollan Conway.


The 12-month placement in Grafton provides a comprehensive and innovative regional-rural clinical learning experience for the medical students. The placements include acute hospital training in areas such as critical care, emergency, mental health, medicine, and surgery as well as exposure to small medical clinics, community centres, general practices, and Aboriginal Medical Centres.
Dr Alastair McInnes, Grafton Base Hospital's emergency doctor and Regional Academic Leader for the UOW program, says the main objective of the rural placement is to expose students to living and working in a rural area with the aim that they will gain an understanding of the need for quality and competence as a clinician and a community leader. The hope is that students will recognise the appeal of rural medicine and commit to serving rural populations.
"In many towns rural generalist doctors provide day-to-day care through the general practice, and are the local hospital doctor, providing emergency, obstetric, anaesthetic, surgical or even aged care," he says.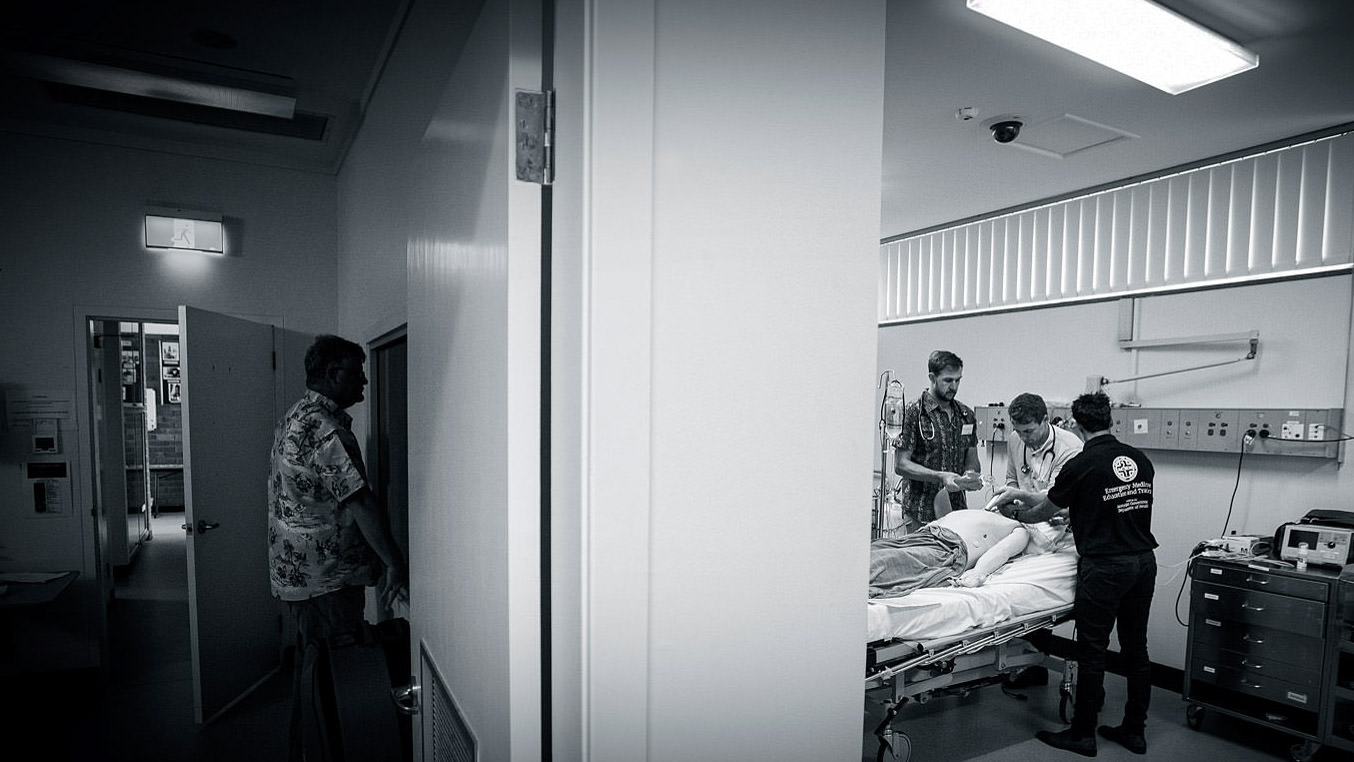 Grafton Hospital's emergency doctor and Regional Academic Lead, Dr Alastair McInnes looks through two-way mirror at the students.
On the other side of a one-way window, Dr McInnes, is dressed in his one of his signature flamboyant shirts, a bright purple shirt decorated with pink flamingos and hibiscus flowers. He watches the students address the urgent problem of Justin, the pill-popping mannequin.
Dr McInnes leans in close to the one-way window, listening intently to the audio speaker, which is broadcasting what the students are saying in the clinical simulation room.
"This is a really hard simulation," says the Grafton hospital emergency doctor. "There are so many issues to be addressed, but these kids are doing really well."
Greta Enns, UOW's Grafton Placement Facilitator, walks into the small room where we are watching the students and asks how they are handling the simulate medical emergency.
"They are all over this," Dr McInnes says. "Practice makes perfect and this group is really handling the situation well."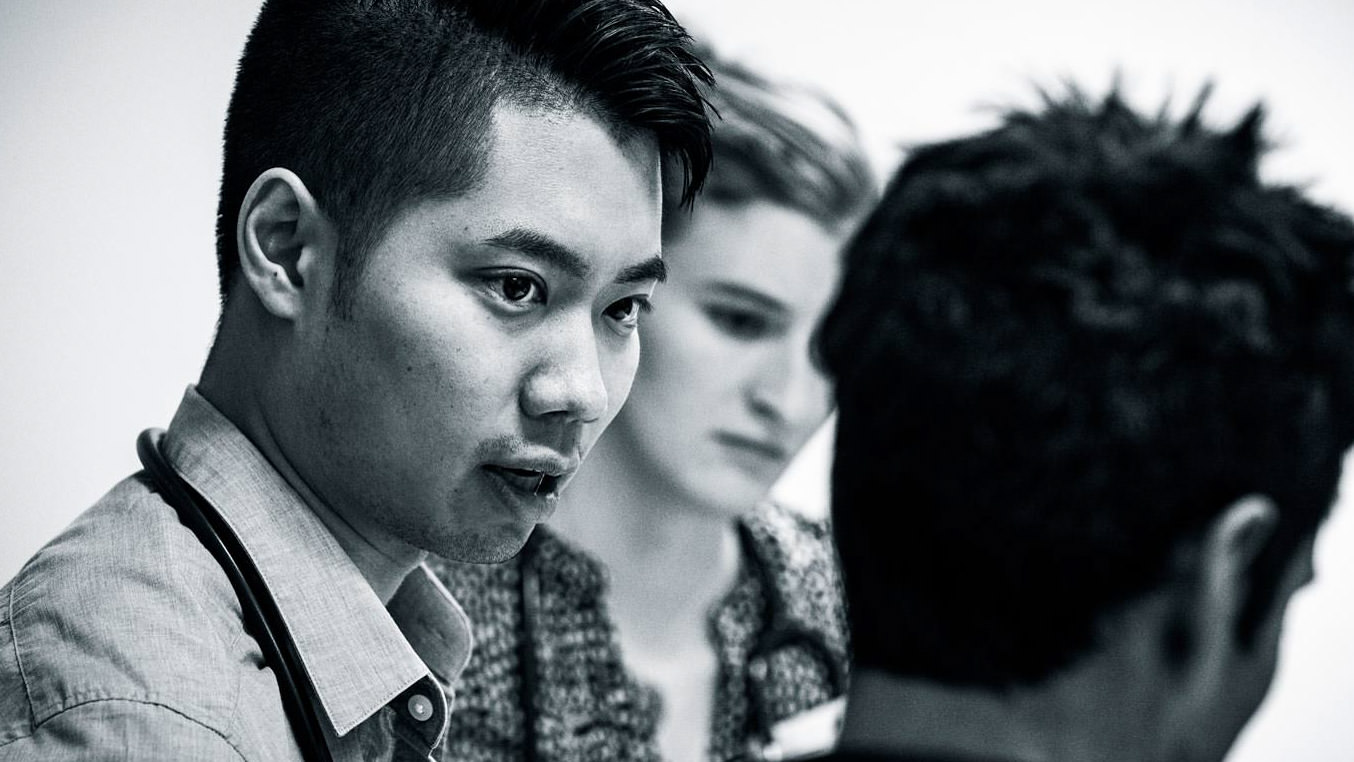 UOW medical student Billy Tran.

Greta couldn't agree more. "This group is super keen," she says. "We are so lucky to get such enthusiastic students here at Grafton.
The senior students say living and learning in Grafton is a great experience. Harriet Raleigh says she will be looking for work in regional areas.
"My Grafton experience has been fantastic. I have a particular interest in paediatrics so during this speciality rotation I had the opportunity to spend a day with the Clarence Valley Aboriginal Maternal and Infant Health Service Team, which provide antenatal and postnatal care for aboriginal families in the community," she says.
"It was very special to be trusted with newborn babies and invited into people's homes for check-ups with the midwife and Aboriginal health care worker team."