Naomi and Anthony took their UOW degrees in very different directions. From educating and preventing HIV in community to a role in disaster education and response with the WHO, these are two careers that redefine nursing.
---
Naomi Hoffman is a proud Kamilaroi woman and holds the position of Clinical Nurse Consultant for the Illawarra Shoalhaven Local Health District, specialising in sexual health and HIV.
She helps coordinate the care for over 175 people living with HIV between Bulli and Ulladulla, conducting Sexually Transmitted Infection (STI) testing and treatment, HIV testing along with contact tracing.
Naomi also works to educate the wider community to remove stigma associated with HIV.
"HIV isn't a death sentence anymore. There are HIV treatments that don't cure the virus but suppress it – so the individual can't pass it on, and can live a long, normal, healthy life. They can fall pregnant and have babies that are negative. They can have unprotected sex and they don't pass it on. Treatments include a daily pill or an injection every two months," she says.
Making a difference in people's lives has always been important to Naomi and was the catalyst for her choosing not to work in a hospital.
"The benefit of community-style nursing is that you get dedicated time with your patients where you can talk to them, educate them and see them regularly – so you build rapport and make true connections. I find it's really satisfying, and it brings me more joy than hospital nursing."
Naomi recently completed a Graduate Certificate in Indigenous Trauma Recovery Practice at UOW because she noticed that among the 175 patients, it was the Aboriginal patients that needed the most support.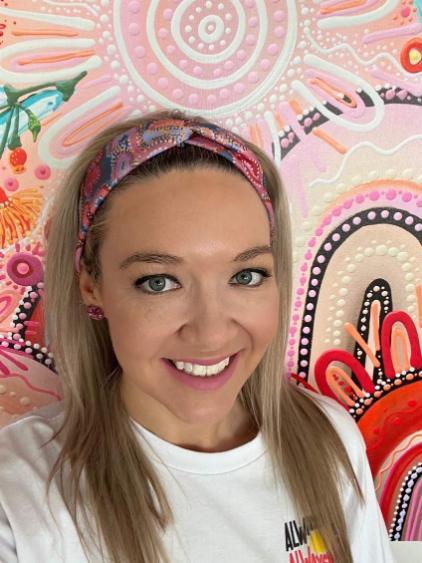 Pictured above: Naomi is standing in front of an artwork called 'Healing Country – Yapatjarra Muu' by Brooke Sutton.
Naomi says, "I'm an Aboriginal woman myself, and I have my own lived experiences about certain things. Being an Aboriginal person, I wanted to learn more about Indigenous trauma specifically.
"Aboriginal and Torres Strait Islander peoples have higher rates of STIs, and at times may not always have high rates of HIV, but their care is far more complicated – it's not as straightforward as other patients."
Life as a student and an Aboriginal woman at UOW was an inclusive experience for Naomi thanks to the support of Woolyungah Indigenous Centre.
She says, "Studying at UOW as an Aboriginal woman was a beautiful mesh between support, culture and study, and so unique."
Anthony Cook is a UOW Bachelor of Nursing graduate, currently working with the World Health Organization (WHO). His job involves training and technical consulting for the emergency medical team initiative across the WHO Western Pacific Region.
He is responsible for ensuring that Pacific Island countries and states are prepared for sudden onset disasters and outbreaks, by providing training to local clinicians, including police, fire and environmental health specialists. The key objective is to give them the confidence, skills and ability to respond independently to an incident while they wait for larger countries to gather resources to aid the response and recovery.
"It's all about building resilience and giving them some redundancy to respond initially by themselves before the bigger players in the Western Pacific region like Australia, New Zealand, Japan, Korea, and China are able to help," he says.
Anthony says the work is hugely rewarding.
Anthony also loves the travel options that come with being a nurse.
"I've done a lot of travel through the Solomon Islands, Samoa, Palau, the Federated States of Micronesia, Kiribati, Tonga and Fiji. Nursing can take you anywhere."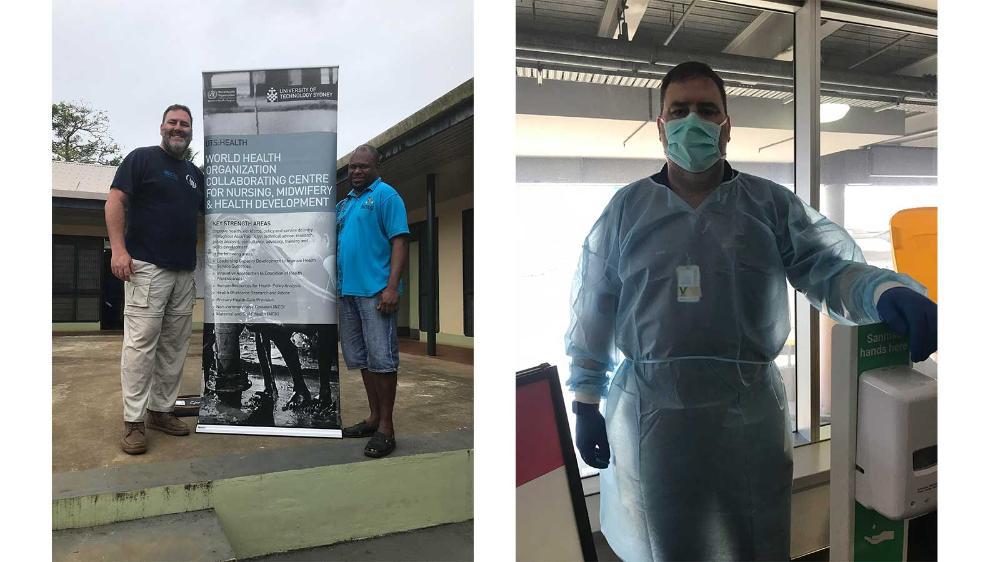 Pictured above left, Anthony in Vanuatu working with WHO, and pictured right, at Sydney International Airport conducting Covid screening.
After graduating with a Bachelor of Nursing in 1998, Anthony completed a new graduate program at St. George's Hospital in Sydney and upon finishing, he decided his passion was in high-end emergency nursing.
He worked in trauma case management and was in the resuscitation room for victims of incidents including stabbings, shootings, road trauma and falls, following them through to discharge or rehabilitation. Part of this role was ensuring transparency and coordination of information between all clinical teams involved in the patient's care.
This broader, strategic coordination work is where Anthony has excelled throughout his career, from providing leadership to critical care response teams and proactive disaster management teams for incidents including the Bali bombings, Swine Flu, Ebola and the Covid-19 pandemic. He has also been involved in the Australian Medical Assistance Team or AUSMAT as a team leader.
His training has involved specialised courses in critical care, disaster management and disaster medicine, and in the development of the WHO Emergency Medical Teams Pacific Webinar Series.
Interestingly, both Naomi and Anthony didn't know what they wanted to study after finishing high school.
At the time, Naomi was working as a medical receptionist and stumbled upon the idea of studying nursing.
"I found it nice just to have a yarn with the patients. Also, reading some of those medical reports, I thought – this is interesting!"
"It's a degree that you can take anywhere and that you can do anything with. That diversity drew me to nursing," she says.
About choosing his career trajectory Anthony says, "I had a plan to take every opportunity I could. So, if there was a course that was offered to me, I took it...I was blessed to have some amazing nursing mentors and rare opportunities to find my way in my career."
------
Naomi Hoffman, Graduate Certificate in Indigenous Trauma Recovery Practice
Anthony Cook, Bachelor of Nursing
UOW exists thanks to the generosity of donors
---
You can change lives by empowering our brightest minds and future leaders