Laureine Gabriel taught herself English when she moved from Lebanon to Australia, though it was learning how to write academically in English that she found more challenging upon commencing her studies in nursing at UOW Sutherland.
---
Laureine says that challenge was made easier with the support of the professional staff, lecturers, tutors and the learning development officer.
"I was so determined to learn how to write academically that I took every bit of information they gave me. I was like a sponge, and I tried my hardest.
"There were days when I wanted to quit, but my teachers encouraged me by saying, 'you've got this. Stick with it. The rewards will be great,'" she says.
Laureine says the support the UOW Sutherland staff offered didn't stop there. It extended from small gestures such as ordering her lactose-free milk in the student cafeteria, through to providing flexibility with course progression when she decided to move her studies part-time to balance family life.
Being a mother of two, the decision to move to part-time study gave Laureine the balance she needed to complete her degree.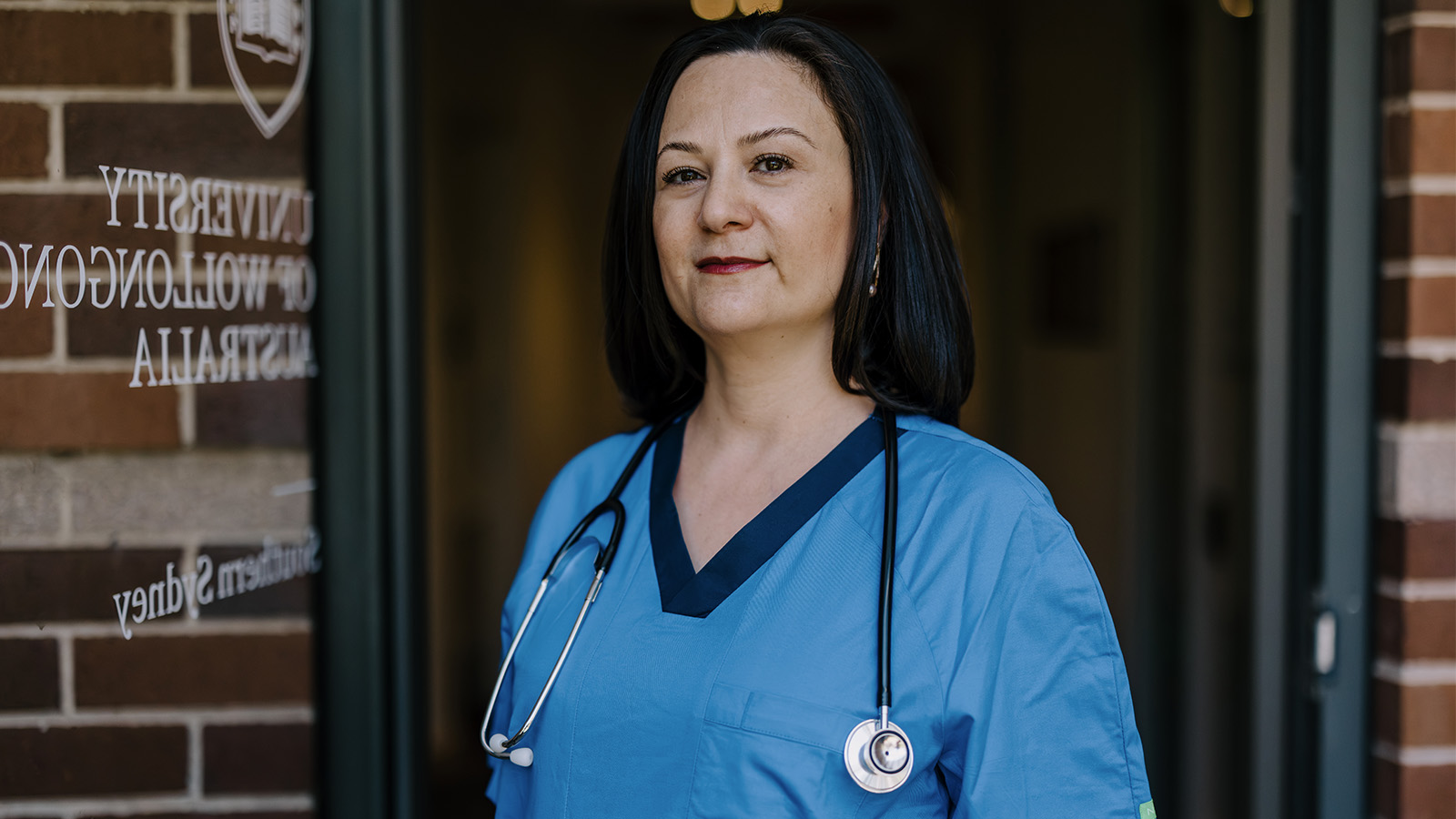 Laureine Gabriel as a nursing student at UOW Sutherland
Her son has a disability and required multiple specialist appointments each week. Throughout her studies, Laureine remained dedicated to prioritising therapy and care for him while completing assessments with Distinction — an achievement she again credits the staff at UOW Sutherland in helping her to obtain.
"Everyone from reception to lab staff were so friendly and welcoming. I felt like I truly belonged.
"Students knew that they could always knock on staff members' doors and have a chat. The teachers were supportive and caring.
"I had the most amazing experience at UOW Sutherland. I wouldn't have been able to do it otherwise," she says.
Laureine says the location of the UOW Sutherland campus was very popular among her fellow students, many of whom were also mothers living locally, who likewise couldn't afford to travel to Wollongong or Sydney to study. In addition, she says the tutors acknowledged and valued the life experiences her cohort brought to academia.
"Many of the mature age students had life experience, and it was always encouraged as being complimentary to the degree.
"Also, because of the small class sizes and the small campus —everyone knew everyone. It was amazing to have one-on-one relationships with the tutors. It was like a family," she says.
The catalyst to study nursing came to Laureine when she was working in diversional therapy at an aged care facility. She noticed the management staff had nursing degrees and considered that to be an interesting career path.
"I chose nursing because I needed to do something good with my life and give back to my community," she says.
Fast forward four and a half years, as a Bachelor of Nursing graduate, Laureine has secured a position at Sutherland Hospital working in mental health services— an area she is hoping to continue working in.
She's also planning to pursue postgraduate studies specialising in mental health for children with disabilities and their parents, a cause very close to her heart.
"I am optimistic and determined. If I set a goal for myself, I will move heaven and earth to achieve it. I don't give up easily. This has been how I managed to source appropriate care for my son."
"You have to challenge the status quo and advocate for yourself," she says.