In his mid-30s, the former chef had come home at the beginning of the pandemic, with little chance of getting steady hospitality work as lockdowns hit Australia.
---
"When I came back from the UK I didn't know what I wanted to do. I got a casual job back in hospitality and then COVID came about two months later," he says.
"I was sitting at home doing nothing, but at the time I knew I wanted a change in career."
He saw an ad for UOW College and thought he'd take a look.
"I hadn't studied for more than 12 years but I did the entrance exam for UOW College and scored very highly," he says.
"I'd also looked into the TAFE courses and other places as well, but UOW College was always my first choice."
Eighteen months ago, Zach began the Diploma of Nursing, knowing that he would find a job in the industry as soon as he graduated.
"It had been a long time since I'd studied. I was like most people who'd worked in hospitality. I'd gone to it straight from school and I realised how little other skills I had so that also forced me into re-education," he says.
"Knowing that I would be industry-ready in 18 months was a big part of my decision making."
"And after three months I realised I wanted to continue and complete my Bachelor of Nursing.
"The great thing about doing the Diploma first was that I could get work straight away in the industry and continue on with my studies at the same time."
As a mature-age student, Zach was a little nervous going back into the classroom, but he said the diversity of his cohort was a bonus.
"There were school-leavers and people in their 50s, so I sat somewhere in the middle of the age-bracket and seeing that diversity was great," he says.
Support, both academically and mentally, was one of the other great advantages of UOW College environment after returning to study after so many years.
"The whole atmosphere is very open and if you need support, it's right there," says Zach.
"I know that the facilitators and teachers are always there to help and that made it so much easier."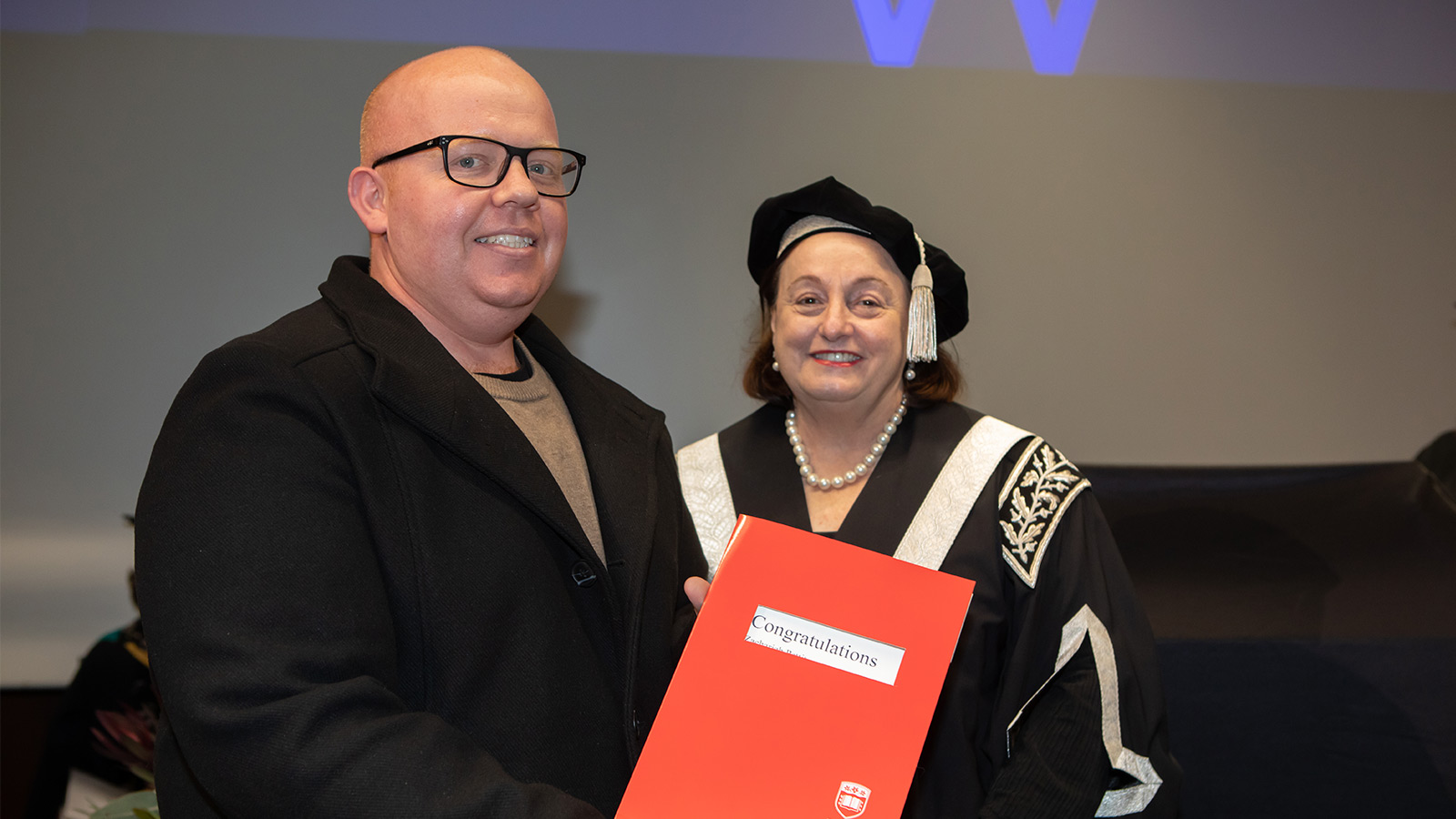 Zach Pettit at his UOW College graduation
With the focus on hands-on industry experience, Zach says he now has an advantage over many of his new Bachelor of Nursing classmates who have not had the opportunity to work in the industry.
"It's very daunting when you first go into the hospital system without any knowledge. It's very in-your-face, so the workplace experience we got in the Diploma of Nursing helps a lot.
"When I left school, I had three options – teaching, nursing and being a chef. I took the apprenticeship and thought that was it – that nursing was something I would now never be able to do.
"But now I'm working in the industry, studying a Bachelor of Nursing at UOW to be a Registered Nurse and looking at what I want to do next.
"I feel confident saying, for people such as myself who are mature aged students, and unsure of their options, or unhappy with their current career path, that UOW College is a great place to gain the knowledge and skills required for that next chapter in life and open the door to your career, wherever that may be. "