Running your own brewery is a dream come true for most beer lovers, but the day-to-day administration can get in the way of the original passion of brewing.
---
This is what inspired University of Wollongong (UOW) graduates and Five Barrel Brewery co-owners Lucy Timpano and Phil O'Shea to create Abbl, a software that consolidates all the administrative work, from invoicing to inventory, into one app.
"Pretty much everything you need to do in your brewery, you can do an action within Abbl that replicates that," Lucy told The Crafty Pint.
"Everything from contacts to inventory management to sales to logistics. So, if you schedule a brew for eight weeks ahead, then two weeks before it will tell you, 'Hey, you need to put an order in today to have those ingredients.'"
Lucy and her brother Phil, who graduated from UOW with a Bachelor of Commerce (Accounting) with a minor in business law, and a Bachelor of Mathemetics and Finance (Honours) respectively came up with Abbl to approach brewery management holistically.
"Abbl started as a number of small tools that Phil developed to help me cut down on our administration time. To begin with it was a point-of-sale program that integrated with our accounting software to allow me to accurately calculate the excise tax on the sale of our beers. Then he developed a production schedule tool to help him manage how much beer to brew and when. From there, it just continued to grow," says Lucy.
"We started talking to several of our good friends in the industry and realised that every one of them had the same problems. So, we decided to develop it to be a cohesive program."
In 2023, Lucy and Phil were the recipients of the inaugural Scalapay Scaleup Sponsorship, a joint venture between UOW business incubator iAccelerate and Illawarra-based Buy-Now-Pay-Later (BNPL) business Scalapay.
The scholarship will allow Lucy to complete the Accelerate Program and give Abbl an office space within the iAccelerate building.
"This is something I'm really looking forward to," says Lucy.
"Being able to connect with other entrepreneurs has been invaluable in our journey. The rest of the funding is discretionary, and we're holding off on that decision right now so we can put it to the best use possible. We're hoping that Scalapay can give us some guidance on that when we're ready."
Johnny Mitrevski, UOW graduate and co-founder and CTO of Scalapay says he is proud to be able to support fellow graduates and Illawarra locals.
"We believe in the potential of local startups like Abbl. By providing them with resources and opportunities, we aim to contribute to the growth of Illawarra's fintech ecosystem," he says.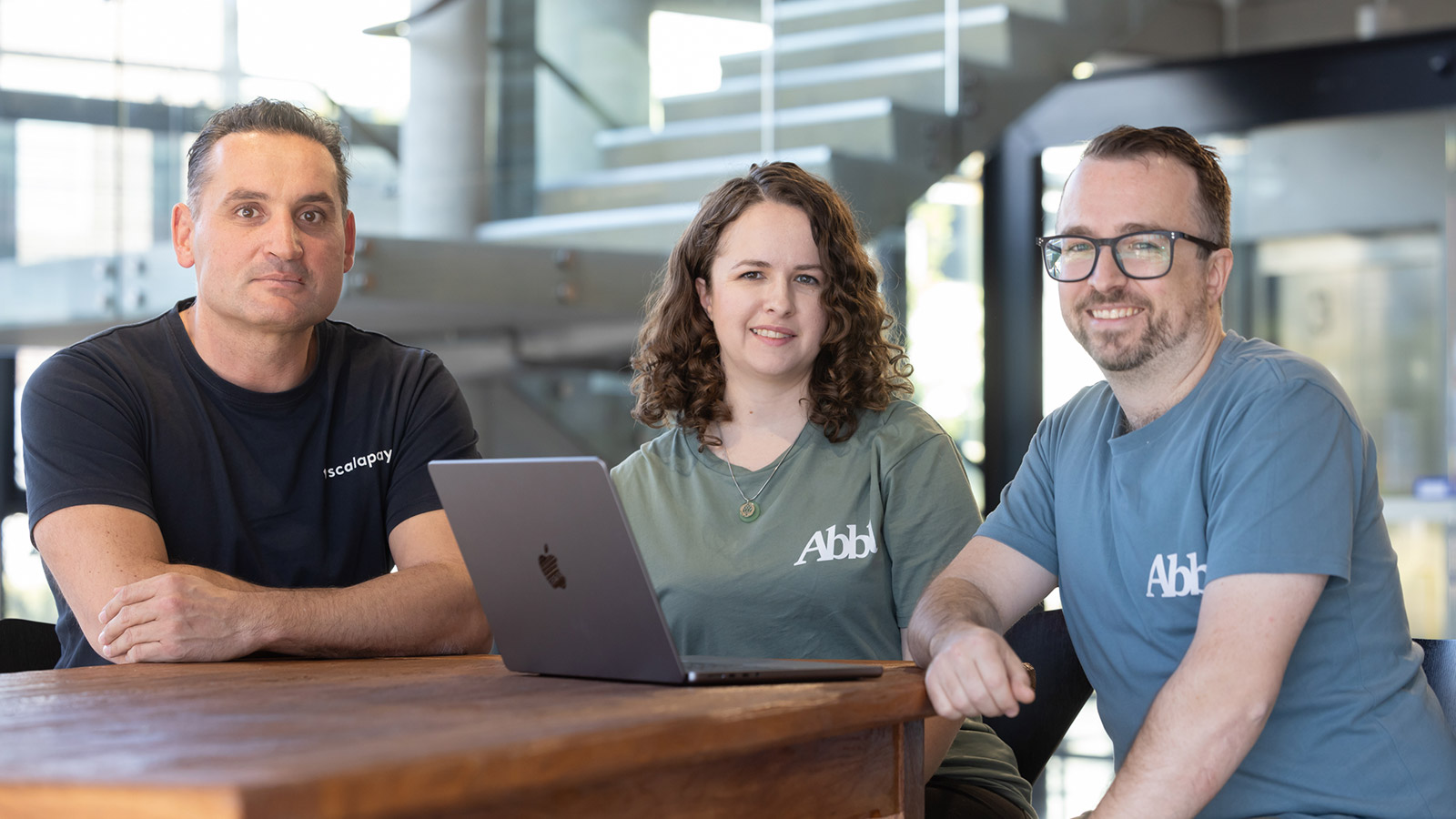 Johnny Mitrevski (left) with Five Barrel Brewing owners and Abbl co-founders Lucy Timpano and Phil O'Shea
Wollongong born and brewed
For Lucy and Phil, studying at the University of WollongongUOW was a no-brainer.
"We live in an incredible part of the world and to have a world-class university on our doorstep makes us all very lucky. It meant that we could study and work and remain close to our family," says Lucy.
While Lucy scored a job working for an accounting firm in Canberra after graduating, she soon found herself back in her hometown working for KPMG. Her experience proved to be vital when her family decided to start Five Barrel.

"My degree gave me a solid understanding of accounting and auditing but also how to navigate the world of small business governance. This has helped me not only manage the finances of the brewery but to help us grow from a humble little taproom to the biggest brewery in the Illawarra," says Lucy.
"Then Phil's maths and finance degree helped him immensely in the development of Abbl, particularly around analytics and statistics. A brewery is far more complicated than most think it is, and his understanding of how to use historical data to predict future growth has been instrumental in our success."
When Five Barrel opened its doors in 2016, it was just the second craft brewery in Wollongong. Within their first year of opening, they won Best New Brewery at the Sydney Craft Beer Week, beating out the host city's own sites.
Five Barrel is considered the launchpad that cemented Wollongong as a destination for beer lovers, a feat close to the hearts of the owners.
Lucy says it is important for her and Phil to continue their relationship with UOW and the Wollongong area, something the Scalapay sponsorship will help them pursue.
"Being a part of iAccelerate means that we can continue to work with UOW, its alumni and be a part of shaping the futures of current and prospective students. We have a passion for the Illawarra and its community, so we're very eager to be involved in the future growth of the area," she says.
"While we're in very different industries, Scalapay has learnt many lessons in growth and scaling that we feel will be able to help us immensely. It shows us that there is an enormous amount of local support for our success outside of just the craft beer industry. Through the scholarship, we hope to learn the skills to take our business from its infancy to be a global leader."