Team UOW Australia reminisces on how they retrofitted the first-ever net-zero house and won Solar Decathlon China
---
Exactly 10 years ago, on 11 August 2013, a student-led, university-supported sustainability housing project known as the Illawarra Flame House won the prestigious Solar Decathlon China competition, setting the stage for a greener future.
Spearheaded by the University of Wollongong's (UOW) Sustainable Buildings Research Centre (SBRC), the Illawarra Flame House emerged from the desire to reimagine and retrofit the conventional Housing Commission houses that dot the local landscape. Yet what began as an ambitious experimental idea, soon evolved into a practical net-zero-energy dwelling that would serve as a blueprint for Australian homeowners and an inspiration for the building industry to adopt advanced energy-efficient technologies.
"Our inspiration was to look at a standard Housing Commission house and to see how we could transform it into a sustainable, comfortable and energy-efficient 21st-century home. That's why we called it the Illawarra Flame, in honour of the iconic local tree, which changes its mediocre exterior for a stunning transformation with the onset of spring," explains Professor Tim McCarthy, the Director of SBRC, who played a pivotal role in guiding this project.
The Housing Commission houses, initially built for the Coal Coast migrants in the 1960s and 1970s, are generally modest in design and pose significant architectural challenges, being uncomfortably hot in summer and painfully cold in winter. Typically featuring two or three bedrooms, they often have a single-story layout with a basic rectangular or L-shaped floor plan, focussing on practicality and functionality rather than architectural innovation.
Late in 2010, UOW joined forces with TAFE Illawarra, forming the biggest student-led design competition team, with more than 200 students and 40 academics involved. Team UOW Australia soon applied to participate in the prestigious Solar Decathlon competition, a global initiative sponsored by the US Department of Energy that has encouraged innovative solar-powered home designs.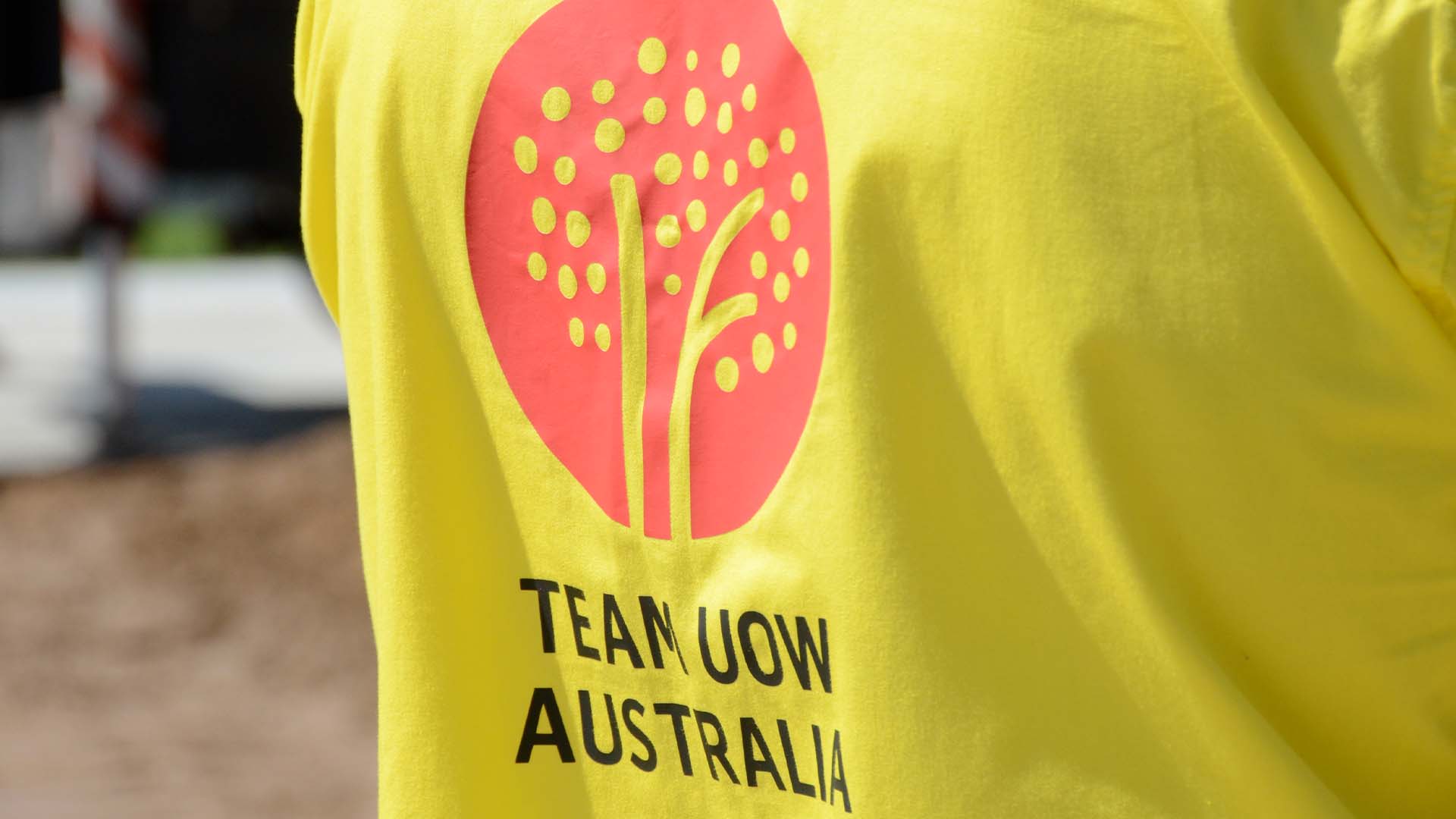 The Illawarra Flame House was not just another theoretical experiment. From the beginning, it was a testament to collaborative innovation, purpose-led design and skills exchange. Bringing together students from various disciplines and faculties of both UOW and TAFE, the project became a melting pot of expertise, ranging from construction and engineering to communication.
Professor McCarthy explains that to achieve net-zero energy consumption, the house needed to be energy-efficient and adaptive, harnessing sunlight intelligently to heat the interiors during winter while minimising heat gain in summer. It embodied the fusion of technology and sustainability, featuring integrated solar panels, energy-efficient appliances and smart systems that allowed residents to control various functions with the touch of a button - at a time when imagining houses supported by integrated tech solutions was beyond anyone's comprehension.
"But we were brave enough to try, and I'm quite proud to say that we succeeded in redesigning the existing house into a tech-advanced, net-zero dwelling," Professor McCarthy says.
The most exciting part of the competition was the actual journey of the project for Solar Decathlon China in August 2013. Forty students and 10 teachers from UOW and TAFE travelled to Datong in the northern Shanxi Province, where they spent two months on the ground, the first two weeks overseeing the construction of the Illawarra Flame and then another two weeks attending tours and tests. The Solar Decathlon had 10 categories that the house was measured against, including architecture, market appeal, engineering, communications, solar application, comfort zone, hot water, appliances, home entertainment and energy balance.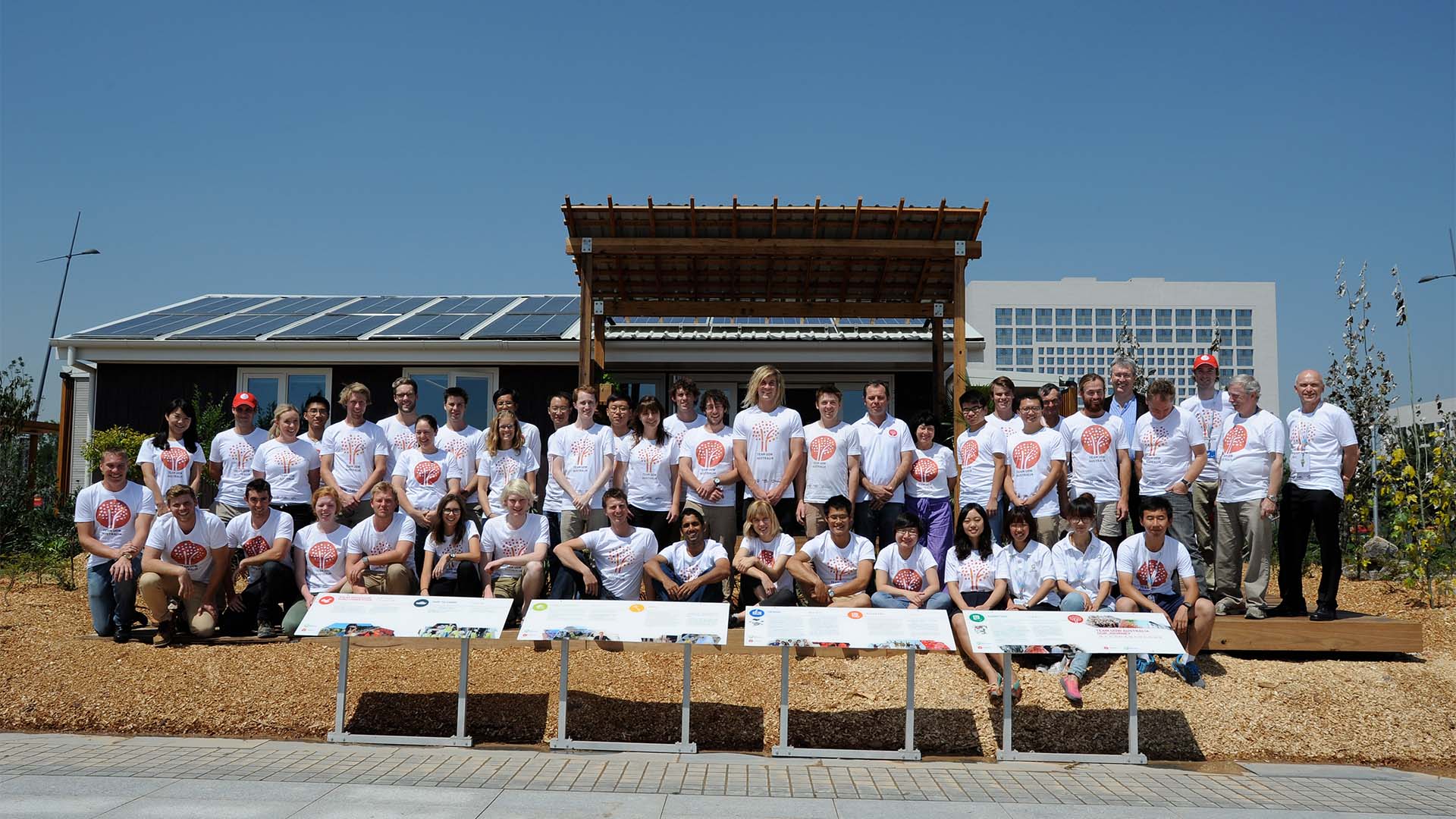 The members of Team UOW Australia proudly pose in front of the Illawarra Flame House in Datong, China.
The house won first place in the main competition and multiple awards in various other categories. Professor McCarthy remembers that everyone was particularly proud of a gold medal for architecture since they had no students of architecture on the team.
"But obviously the aesthetics were only the additional bonus to how the house performed. For example, it had to always stay between 22 and 25 degrees, which was a hard task to maintain during China's hot and humid summer. We also had to test all appliances – running dishwashers and showers, also hosting some amazing dinner parties, with a TAFE graduate, fantastic chef Nathanael Charlesworth cooking a three-meal Australian feast. We became famous for having the best food out of all competitors," Professor McCarthy reminisces.
Jack Breen, who was Team UOW Australia's Marketing and Communications Manager, recalls the experience as "profound and formative".
"I can remember the first time we all arrived in China. We were amazed at the effort the city of Datong had put in. They built a mini-city for the Solar Decathlon, and it was at this point that I realised the true scale of the event. The Chinese people were so excited, friendly and accommodating. Volunteers helped us navigate the city, buy supplies and teach us about their culture. Apart from building the house and communicating the journey to the world, we got to immerse ourselves in another country and its culture – which was such a brilliant experience for all of us," says Jack, who now works as a Social Media Manager at UNSW Sydney.
Fiona Hudson, a graphic designer, was in her final years of the Bachelor of Creative Arts and Communication at UOW when she joined the Illawarra Flame House project. She says that time was stressful but also very exciting.
"It was so unique for a bunch of uni students from all faculties to be involved in such an in-depth project. Solar Decathlon wasn't just a 13-week subject we had to take; it was a part-time job for over 2, 3 years. We all got so much industry and life experience, which gave us all more confidence to go into the workforce and the world," Fiona remembers.
After its massive success in China, the Illawarra Flame House was deconstructed and returned to its birthplace in Wollongong. Today, it is located on Sustainability Street, UOW's residential building demonstration and prototyping complex at Innovation Campus, with its legacy continuing to flourish. The project sparked interest from sustainability enthusiasts, researchers and industry professionals from all over the globe, becoming a symbol of innovation, resilience and sustainable living. It also served as a platform for students to develop skills and forge their paths in various fields, as many Illawarra Flame House alumni continue to work in engineering, design and construction.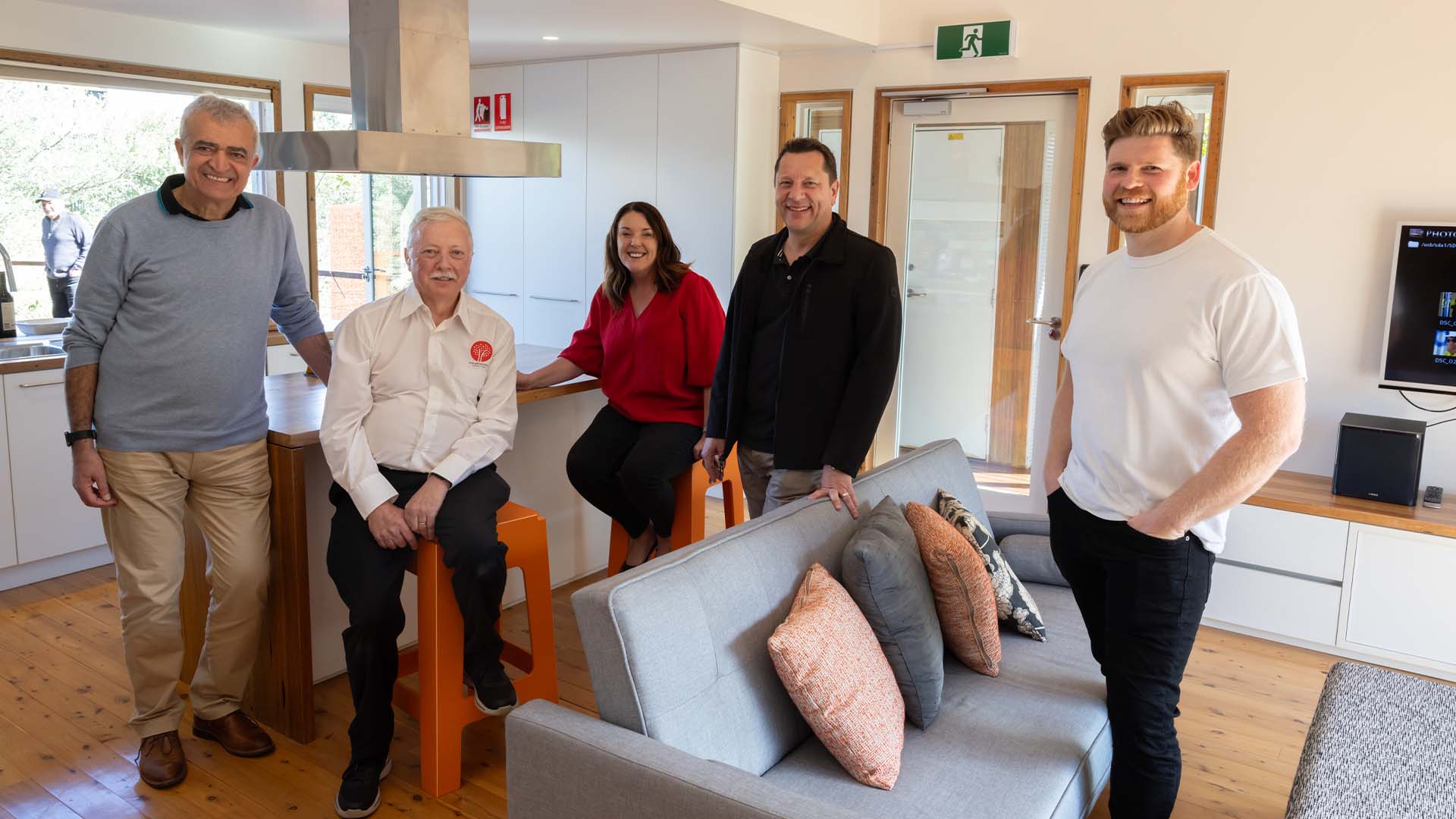 (From left) UOW Senior Professor Gursel Alici, Professor Tim McCarthy, Alison Byrnes MP, the Minister for Planning and Public Spaces, Paul Scully MP and Lloyd Niccol, former project manager for the Illawarra Flame House, meet at UOW for the 10th anniversary of Solar Decathlon China celebrations.
As the Illawarra Flame House continues to inspire the industry, homeowners and politicians to think about well-built, sustainable homes, many of its innovations – from sustainable construction materials to energy-efficient appliances and design principles – have found their way into mainstream practices.
A few years after the Solar Decathlon China success, Team UOW Australia decided to enter the Solar Decathlon Middle East 2018 with another inspiring project – the Desert Rose House, an energy-efficient and dementia-friendly net-zero-energy home, also dubbed 'The House for Life'.
The project received accolades in multiple categories, including Gold medals in Innovation and Comfort Conditions, Silver in Energy Efficiency, and Bronze in Sustainability and House Functioning. The Desert Rose House embodied an inviting and accessible home suitable for older people, promoting a vision of sustainable living for all stages of life.
"As the years roll by, the legacy of both houses continues to thrive, inspiring a sustainable future for generations to come. If we ever get an idea and a budget to enter another Solar Decathlon competition, I think we're ready to win again," Professor McCarthy says.