Uni students typically have a lot on their plate – whether it's studying for those final exams, organising what's for dinner, or rounding up mates for a well-deserved beach day, the last thing you want on your mind is finances. Fortunately, there are plenty of great opportunities to save money and thrive around Wollongong, from the CBD, to on the UOW campus.
---
Three students park for free
Not only is carpooling one of the most eco-friendly ways of getting to campus, it's also a great opportunity to connect with friends before class, and save massively on parking costs. Team up with two or more of your mates and you can park for free, all day, in the UOW P4 carpark. As long as you have at least three in the car when entering, you don't even have to leave with a full car (but make sure your carpool buddies can get home alright!)
Free parking all day for carpooling students.
Pulse Perks – it's just free money!
It's perhaps the greatest deal of all time for UOW students. For just $30 a year, signing up to Pulse Perks gives you instant vouchers of $20 at the UniBar, and $20 at UniActive. You'll get access to offers at almost every cafe and shop on campus: from 10% off discounts at the UniShop and UniBar, to free cookies at Subway, to exclusive meal deals at Backstreet Kitchen. You'll even unlock discounts from beyond the campus, including at Holey Moley, Bourke St Burgers and New Balance!
Free essentials at Pulse Pantry
Right next to the pharmacy on campus is Pulse Pantry, a volunteer-run market with a difference. They offer essential groceries and lunch items for free each week from Tuesdays to Thursday, 11am to 1pm (or until sold out). It's a fantastic initiative particularly for students under financial pressure, or anyone who needs a last-minute feed! Just make sure to bring your student ID.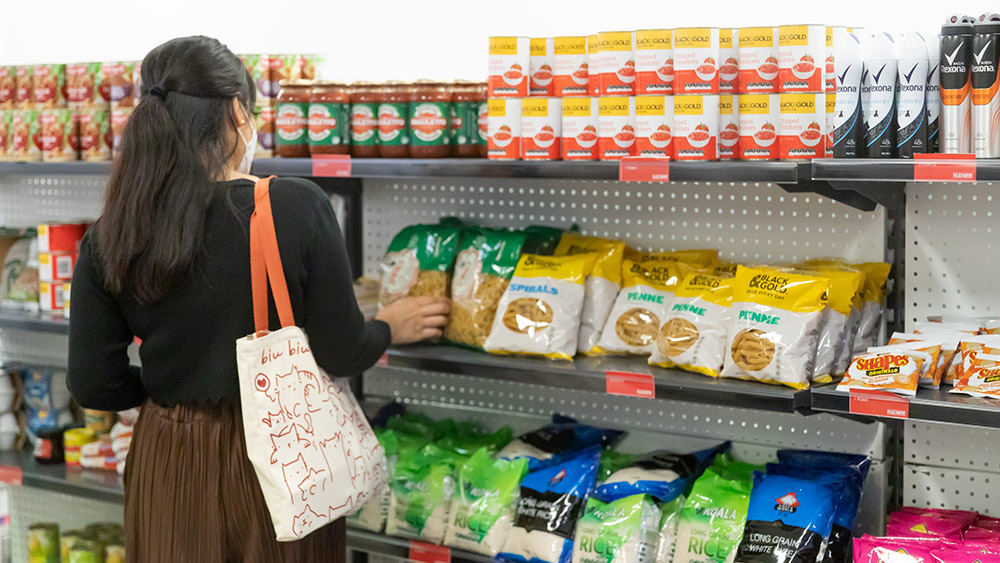 Pulse Pantry.
Get thrifty!
Wollongong is home to several charity shops with thousands of bargains on clothes, homewares and furniture waiting to be found – and the adventure begins right on campus, with Green Connect (next to the pharmacy) selling pre-loved products at great prices. Savvy shoppers can also check out Vinnies (Crown St), Salvos (Kenny St) and Lifeline Shop (Ellen St) – and it feels great knowing your money goes directly back to important charities supporting the community.
Cheap lunches around town
Fanging a great, local feed with mates? Almost every pub in Wollongong has a specific day where punters can go in for a cheap meal. At the North Gong Hotel, you can grab a schnitzel for $9.50 every Wednesday for lunch or dinner – plus, you can play unlimited games of pool for free on Tuesdays. Towradgi Beach Hotel offers a schnitty, chips and salad for just $12 on Tuesdays, too.
Take advantage of student discounts
Your UOW student card probably has more buying power than you'd think, with a number of stores and outlets across the city handing out generous discounts to university students, from cinemas to bubble tea shops. For hundreds of exclusive student deals from major brands including Cotton On, City Beach, Boost Juice, Typo and Apple Music, you can also register to UniDays, a free online discount service that all UOW students are eligible for!
Keep up, show up!
Did you catch UOW Pulse giving out free lollies, taking polaroid photos and handing out food vouchers for the International Day of Happiness back in March? Student clubs and organisations regularly hold fun events on campus, always open to everyone. Keep up with the UOW social media channels and show up to join in on the fun, and you could walk away with free food, prizes and new friends!
Stalls set up at the UOW Duck Pond Lawn.