Clayton McDowell and Emily Ryan met while trying to re-imagine sustainability from opposite sides of a study desk. Six years later, the husband and wife's award-winning research projects ask you to do the same.
---
Sustainability was at the core of just about everything that Clayton McDowell and Emily Ryan were interested in at UOW. They couldn't have met at a better time.
After returning to get a PhD in Sustainable Building after a stint in mining, Clayton first met Emily at a shared study desk. As a PhD Candidate in the Faculty of Business (focusing on sustainable supply chains), Emily's involvement in the 2013 Solar Decathlon-winning 'Illawarra Flame House' project sparked an interest in the topic…and she was looking for ways to bolster her research.
Both were situated in the Sustainable Buildings Research Centre (SBRC), what Clayton calls 'the most sustainable building in Australia.' This building is one of only 23 in the world to meet the 'Living Building' standard and provided the perfect melting pot for this pair to share their passions. "We used to do quite a few social gatherings at the SBRC," he says. "We'd organise big dinners for students and staff, and that's where we really hit it off. But we met studying side-by-side at UOW, either on our side projects or our own work."

Listen to the full interview with Clayton and Emily
But the phrase 'side projects' doesn't do justice to the time and effort that Emily and Clayton would put into the next big thing.
In 2016, as UOW began embracing sustainability at a higher level, a new Solar Decathlon team was formed to go above and beyond their earlier efforts in China. With Emily and Clayton on the team, as well as a cast of contributors from a variety of fields, the project sought to imagine a house that is not only more sustainable than ever, but designed for a community that's rarely considered in contemporary design—the elderly.
As the official entry from Team UOW Australia-Dubai into the Solar Decathlon Middle East, Desert Rose House was imagined, designed and constructed as an environmentally sustainable dwelling specifically designed for aging residents—in particular those living with dementia.
The house was developed over two years in partnership with an enormous team. Clayton contributed design and engineering knowledge, Emily offered supply chain research, and a variety of researchers, industry stakeholders and students from a huge variety of disciplines all contributed from their hyper-specific knowledge sets.
"It's about filtering through not only the design but the business, too," says Emily. "My research was looking at not just sustainable buildings, but products. For example there is a great sustainable hardwood called Accoya, but it's grown in New Zealand, transported to the Netherlands for treatment, before returning to be used in Australia. It's about pushing people to think of sustainability as a process, not just on face value."
The house was a masterclass in sustainable innovation, incorporating energy-efficient architecture, solar cooling technology and bespoke, recycled materials that reduced initial and ongoing emissions by up to 40 per cent. It also accounted for an approach to interior design, automation and low-risk appliances that would offer peace and dignity to residents as they face the challenges of old age.
"There's no way I could have done it without Clayton," says Emily.
"It was extremely complimentary," adds Clayton. "We were doing massive hours; 16-hour days were not uncommon over the ten-month construction period. And during the final in Dubai, it was a six-week slog in the middle of the desert so we would tag each other to sleep while the other would work."
The project won second place and continues to pay dividends to the team behind it, while also furthering the University's ambition toward a more sustainable future.
"We reached over 10 million people [through Desert Rose]," says Clayton. "It was a giant loudspeaker from us to the world. We toured the son of the current ruler of Dubai, as well as his uncle, the owner of Emirates Airways. We even toured a princess of Abu Dhabi. And, back home, just about every politician that visits UOW comes through the house. It has a huge reach, because it's a good middle ground for people to come together."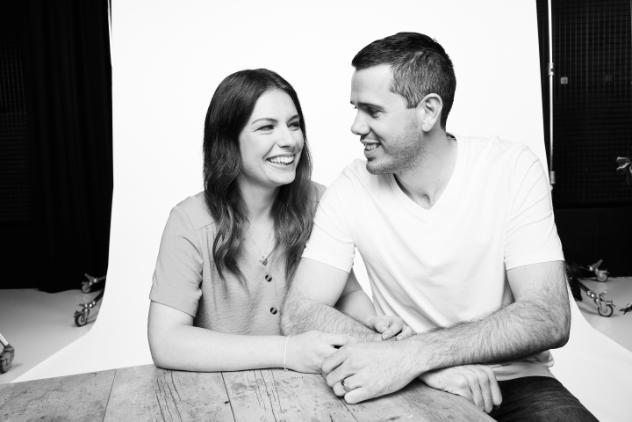 Left to right: Emily and Clayton
The project was also what brought Emily and Clayton closer together. The two would eventually start dating, fall in love, and get married during the course of their studies.
"I would say Clayton is very wise," Emily says, of her colleague and now husband. "He likes to learn from every opportunity and then teach where he can afterwards."
"Emily is also so thoughtful and caring," returns Clayton. "She's an organiser, hence why supply chains are her speciality, and that comes through a lot in her personality and ethics too. Having that trust in someone is rare, as is having the same morals behind a project, which is to get in and try to make a difference."
While Desert Rose house (and its complimentary Illawarra Flame house) are good examples of research projects in-action, they are also greater symbols of the commitment Emily and Clayton want all students (and faculty) to make while at Uni, regardless of their field.
"We have a moral obligation to hold the torch and lead the way," Clayton says, pointing to a long history of environmental protests held on campus by students, as well as Moemoana Schwenke, a Samoan UOW student speaking at the [global environmental summit] COP26 2021 in Glasgow. "But there's a big difference that can be made at an executive level."
"We've got a nice Vice Chancellor and a lot of political changes at a state level that are pushing for sustainability reform. The director of the SBRC, Tim McCarthy, has now been put in charge of the overarching sustainable future of UOW, and now we're a part of the solution too."
The pair stress that sustainability is a cross-disciplinary opportunity, and incoming students would be wise to make as many connections as they can in the area.
"We do a lot of work with social sciences, marketers, and public health," says Emily. "There are loads of faculties that we work with in a cross-disciplinary way, because sustainability touches all these things."
"It takes a massive effort from everyone pitching together with all their expertise to really make change. But we as an entire university community, from students upwards, need to take a stand."
Enjoying the series and want to read more?
---
We Are UOW explores the stories of lifelong connections made at UOW, from enduring friendships and marriages, to mentors and thriving businesses. New videos, podcasts and written stories will be shared weekly over the next few months.