Sofia Tsalidis couldn't finish high school due to illness, now she's graduating uni in the hopes of helping others.
---
After surviving an aggressive form of cancer in her first years of high school, Sofia endured the debilitating after-effects of long-term treatment.
She was forced to leave school before completing Year 12. Now she is just months away from finishing her Bachelor of Medical and Health Science at the University of Wollongong.
"I tell everyone I am one of the lucky ones. Not many people survive from the type of cancer I had," Sofia says.
"I came out in one piece with just a chunk of my leg missing and I vowed that I was never going to let it stop me."
Leaving school in Year 11 meant Sofia didn't receive an ATAR and couldn't directly apply for her dream university degree. Then she heard about UOW College, a pathway program which helps prospective students enter the University of Wollongong without the required ATAR.
"I was so relieved to know that there were more options out there than the mainstream. It was comforting to know that experiencing hardship does not mean that your chances of entering university were diminished."
Sofia started at UOW College in 2019. Even at 18-years-old, she knew what she wanted to achieve.
"I really wanted to do the Bachelor of Medical and Health Science because of all the time I had spent in hospital. I knew there were gaps in the healthcare system for young people, and I wanted to work in the field," she says.
"I also appreciated the work the staff had done while I was in the hospital."
Sofia says that UOW College provided her with the perfect environment to learn, with smaller class sizes and easy access to teachers and counselling services.
"I really appreciated that the support staff and I took advantage of all that was offered by the teachers," she says.
"I knew that for me to be engaged academically I needed that kind of connection with the teaching staff because of my hesitation and lack of confidence at not having had the opportunity to finish Year 12.
"UOW College staff built that academic confidence for me and the available psychologists also helped boost my confidence. I never felt the need to compare myself to other students, and felt I was in the right place and the right time."
When she began her undergraduate degree in 2020, Sofia says she felt much better prepared for the university environment.
"At UOW College, we were always encouraged to ask questions. When I started at UOW I wasn't afraid of asking them because I knew that is how you get feedback. The College gave me the skills to succeed at university that I wouldn't have been able to get elsewhere."
"There is such a big gap between what happens at university and what happens at school. As an 18-year-old, I wasn't really ready to be in that world, which is why the College was so beneficial for me."
Sofia's UOW College experience was so positive and her achievements so outstanding that she has since been asked to join the team as a student mentor.
"When the College called and asked if I would be willing to work as a mentor, I was very moved," she says.
"I didn't know what I could achieve with no ATAR and after what I had been through, and now I have the opportunity to assure other young people that they can get through anything. I have been able to make genuine, emotional connections with new students which is wonderful and inspiring."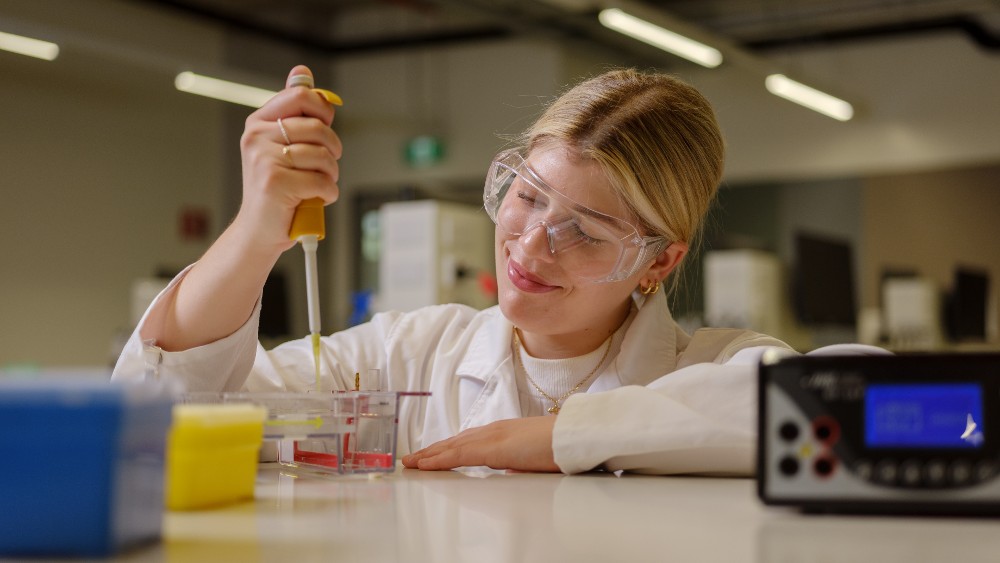 Even before she graduates at the end of 2022, Sofia's career goals are already coming to fruition.
She has secured an internship at the Sydney's Children Hospital in an area very close to her heart.
"I'm working in the transition of care, to follow up how patients are cared for in the adult hospital after they move on from the Children's Hospital," she says.
"I'm also thinking about my next course of study. I'm in the process of applying for a range of master's degrees within allied health, such as diagnostic radiography, speech pathology and occupational therapy.
"I didn't think I would be here today. I am sometimes shocked at my own strength and resilience. To finish UOW College was one thing, then to get a job to help other students like me is just amazing.
"I think about the sick little thing I was and not knowing if I was going to make it to the end of the week, to now looking to the future. Helping other students at UOW College helps me process how far I have come."
Learn more about the pathways programs that UOW College Australia offers to set you up for the future.