I distinctly recall the University of Wollongong (UOW) being one of three strong candidates for me to start the next chapter of my life and become a young adult. UOW was the perfect blend of everything I wanted. It ticked all the boxes I considered to make the most of my university experience, and there are a few reasons choosing UOW is still one of the best decisions I've made.
---
A unique campus
The immediate upside I saw to UOW was the campus itself, probably the most unique aspect of UOW. I will never forget my first time seeing it in person for myself. I had never seen a place so alive before, populated with people my age and older enjoying everything the campus has to offer. From the famous free range duck custodians to the subtle open space design, UOW's campus is something to truly behold. Another great thing about the campus is its versatility. Aside from attending lectures and tutorials, the campus has so many facilities which students can enjoy.
The three-level library with microwaves, water coolers and study rooms, is a great place to meet for a group assignment or focus on your own study.
Just a two-minute stroll from the library, the Unibar is the perfect spot to hangout, grab a chip roll and hang out in the sun with your mates after finishing a tough assessment.
And for those looking to let off some steam, there are plenty of facilities available to get physically active, including the UniActive gym, pool and sports fields.
These are the main three, but I won't reveal all the secrets of the campus, I will leave that for you to discover yourself.
McKinnon Lawn at sunset.
A perfect location
UOW's home in Wollongong is another one of its core selling points. I had personally never been to Wollongong before I considered moving for university but I wish I had discovered it sooner! The obvious drawcard is the beautiful beaches. My personal favourite is Towradgi Beach, for its ocean pool and nearby basketball court. Being from the Central West, having the beach be a ten-minute drive away is almost a fantasy for me. Adding to the beautiful landscape are the multitude of hikes and walks you and your friends can do during a study break or over a weekend. I would recommend the Sublime Point track, or the walking track from Fairy Meadow up to Corrimal.
My absolute favourite part of Wollongong is the food. Wollongong caters to all of your cuisine preferences, from Mexican, Thai, Japanese, Italian, burgers and much, much more! On Thursday nights, you can take a stroll down Crown Street to check out everything that is available at Eat Street Markets.
Furthermore, getting to Sydney from Wollongong is only an hour and a half train ride or an hour or so drive. This gives UOW students great opportunity to escape the rush of the big city while still being close to its benefits.
View from Sublime Point lookout.
A place to belong
The pinnacle of the University for me is the social life. Aside from studying, the main aspect for me moving away from the comfort of home was to meet new, diverse, and exciting people. UOW did not disappoint in meeting my wish. I have met so many people from across the state, country, and the world who I call friends today, that I would have never met without UOW. You can meet amazing people in classes, accommodation or through the many avenues UOW offers from societies, sporting clubs and volunteering. Anybody and everybody can find their clan here, at that is what I love about being here.
I hope that you have been given good insight as to what UOW can offer you for the next chapter of your life. Get excited to explore everything the University has to offer!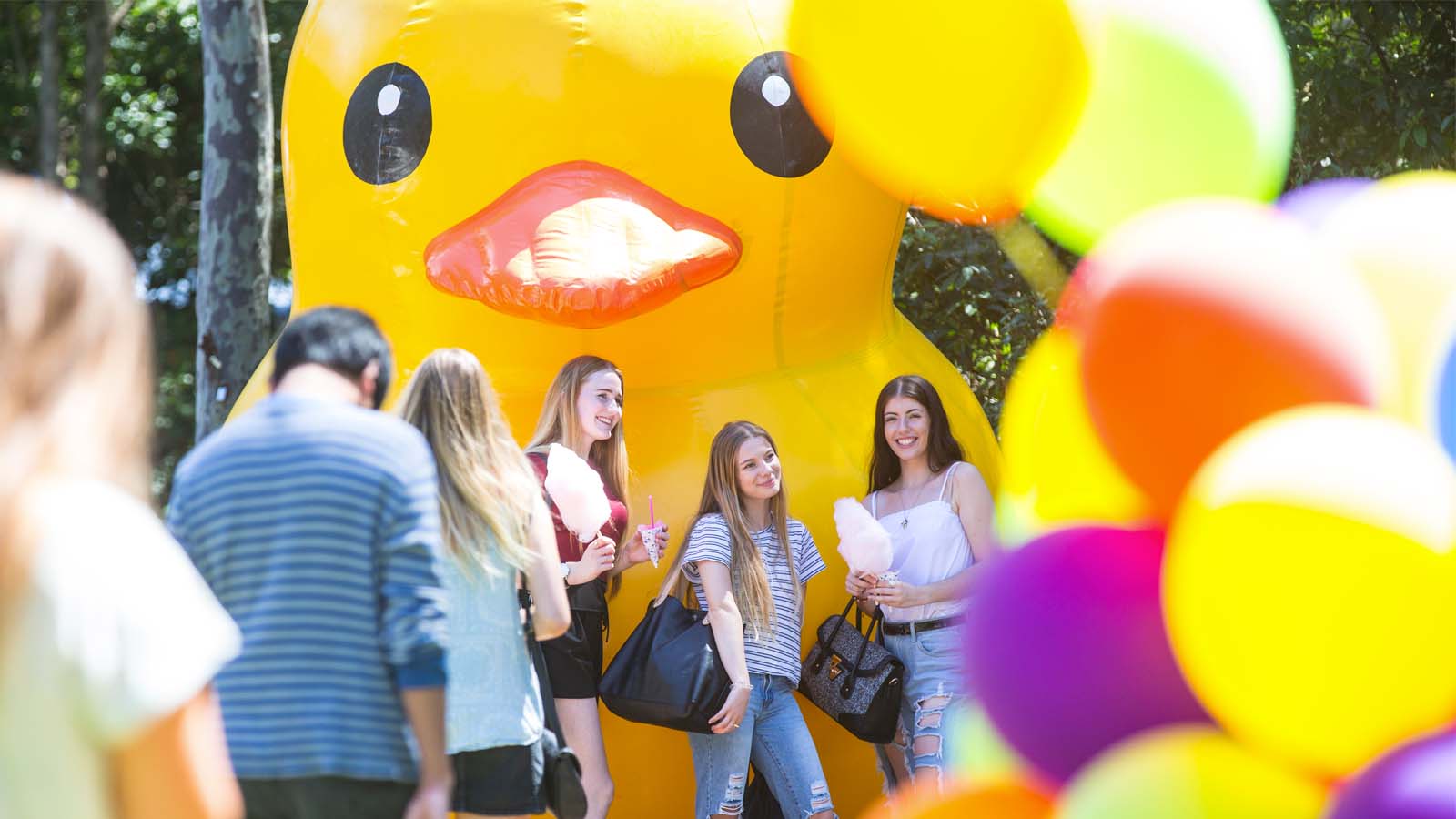 Students at Open Day.
Future student news to your inbox
---
Want to stay up-to-date with news, stories and info about studying at UOW?