Professor Joe Chicharo OM can remember the first moment he saw Wollongong, the city that would come to serve as the backdrop of his life.
---
He had just arrived in Australia from his native Portugal, along with his mother and brother. His father had already been in the country for a year. The Chicharo family were migrants, searching for a new life as part of the wave of migration occurring in Europe in the post war years. They saw their future in the Illawarra, a region rich with diversity and opportunity.
"When we landed in Sydney and were on our way to Wollongong, my dad stopped at the Panorama Hotel and showed us the city," recalls Professor Chicharo. "It was a very beautiful place. I had never flown anywhere before, and it took us five days to get here. I just felt really excited by it all."
The City of Wollongong, a bustling place built on the back of the steel industry, would serve as the backdrop for Professor Chicharo's life. More than 50 years later, from that boy who stepped off the five-day journey from Portugal, he is retiring as Senior Deputy Vice-Chancellor of an innovative, global university. It is a story that reflects the value of hard work, of resilience and perseverance and, the importance of education to change a life.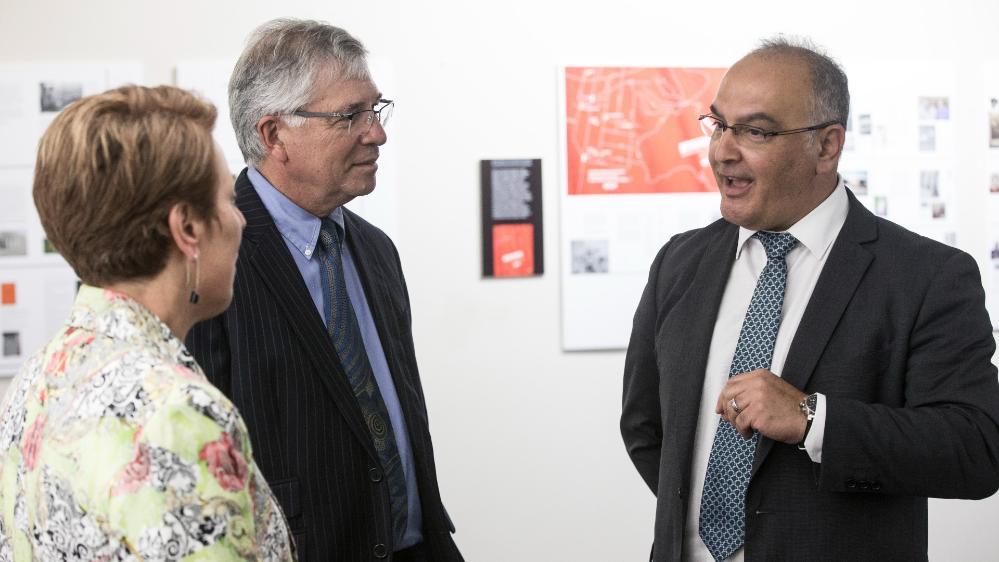 Professor Joe Chicharo at the launch of the Illawarra Migration Heritage Project Exhibition at UOW in 2016. Photo: Paul Jones
When he arrived in Wollongong at just 13, Professor Chicharo could not speak English. His education too, lagged behind his age.
"I had to go into a transition class to learn English," Professor Chicharo says. "Schools were set up to accommodate migrants in those days. I also had gaps in my education, as I had only completed fourth class before arriving and after a year in the transition class I went straight into year 8 at the bottom of all subjects."
That class was at Port Kembla High School, which, Professor Chicharo recalls, "had a huge migrant population in those days". The nearby Warrawong High School, where Professor Chicharo would finish his secondary schooling, was under construction.
While the shift to Australia, and feeling like he was behind his classmates was at times overwhelming, Professor Chicharo immediately fell in love with the lifestyle of his new home.
"It was a quiet place compared to today; it was sleepy," he says. "Life wasn't as hectic. I remember long holidays and walking to the beach from Lake Heights. It was a good lifestyle and a nice environment, although the food took a bit of getting used to."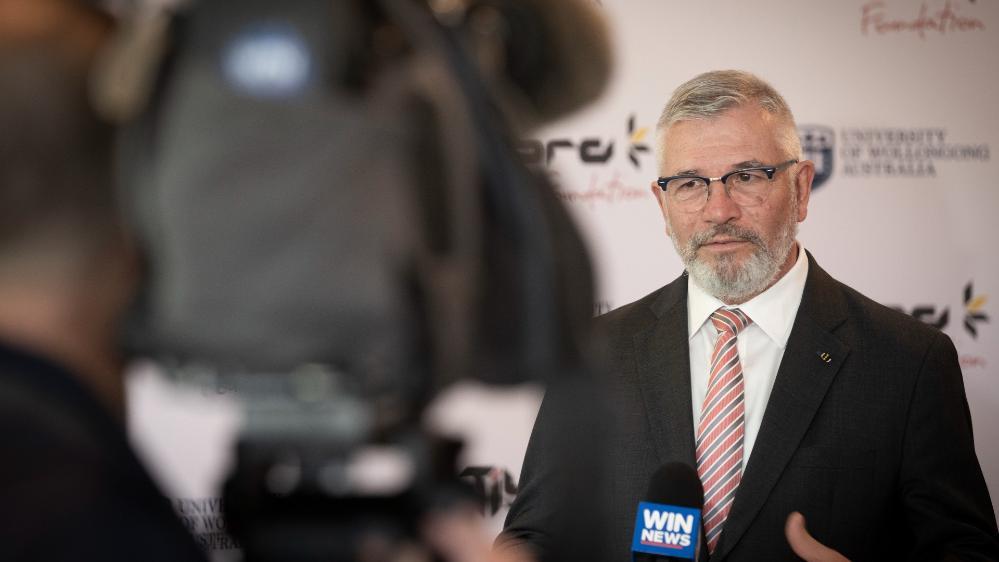 Professor Joe Chicharo speaks to media at a UOW event. Photo: Paul Jones
Professor Chicharo relished the opportunity to learn, and within a few years, he was excelling at physics, chemistry, and mathematics. All of which provided him with the ideal foundation to pursue a career in engineering.
"I did my HSC at Warrawong High School and I applied for a number of cadetships. I ended up with an electrical engineering cadetship at John Lysaght (within the steel sector). I was working part time and coming to the University of Wollongong at night for classes. We were learning the theory at university and putting it into practice in our day job.
"Electrical engineering captured my imagination, a fast-moving discipline driven by lots of discoveries and innovation. I was drawn to that."
After completing his cadetship, Professor Chicharo was appointed by the University some three years later as a lecturer. From there, his career progressed quickly. He fell in love with teaching, and within a few years, completed his PhD. The balance of teaching, research, and engaging with industry was the ideal combination to challenge Professor Chicharo.
"My career felt like it was in the fast lane. I certainly enjoyed the research challenges, and I've always felt like I am a good problem solver. UOW was such a great place to work.
"I progressed from being a lecturer after completing my PhD, to senior lecturer, associate professor, and to professor in seven years. It's all a bit of a blur," he adds with a laugh.
"I love teaching. I used to enjoy engaging with students, to challenge them. I also had a deep industrial experience which provided an additional dimension because they were able to learn about the things they would see once they were out in the real world. Within a year of finishing my PhD, I had six research students under my supervision."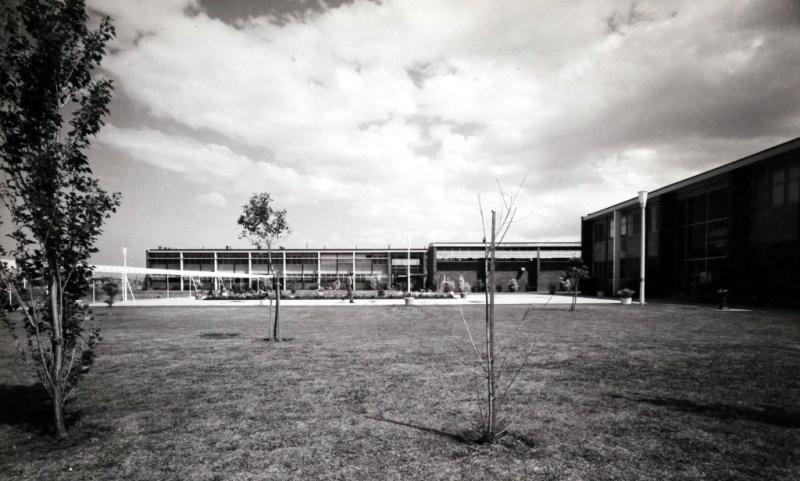 Wollongong Campus in 1980. Photo: University of Wollongong Archives
It was in research, too, that Professor Chicharo truly excelled, attracting millions in funding over the years. In 1998, as the world was on the cusp of the dot com boom, he was appointed as Managing Director of the Institute for Telecommunications and IT Research, followed by Research Director of the CRC for Smart Internet Technology a few years later. He also served as Head of the School of Electrical, Computer and Telecommunications Engineering (2002-2003), and Dean of the Faculty of Informatics (2003-2007).
"Wollongong played a huge part in the dot com boom. We were an outpost of Telstra research labs, and we attracted big ICT players to Wollongong. Graduates from UOW were in high demand," Professor Chicharo says.
Professor Chicharo has published more than 250 research papers in prestigious journals and conferences throughout his career.
For the past 13 years, Professor Chicharo has relished his role in UOW's senior executive team. From Pro Vice-Chancellor (International) in 2008 to 2010, to Deputy Vice-Chancellor across the International, Global Strategy, and Academic portfolios, and now Senior Deputy Vice-Chancellor, Professor Chicharo has had a significant overview of virtually all facets of the University.
His current portfolio encompasses the implementation and execution of the Strategic Plan, Civic Strategy, Global Partnerships, Regional Campuses, Strategic Marketing and Communications, Library, Pro Vice-Chancellor Students, Woolyungah Indigenous Centre, and executive sponsorship of the Aboriginal and Torres Strait Islander Strategy.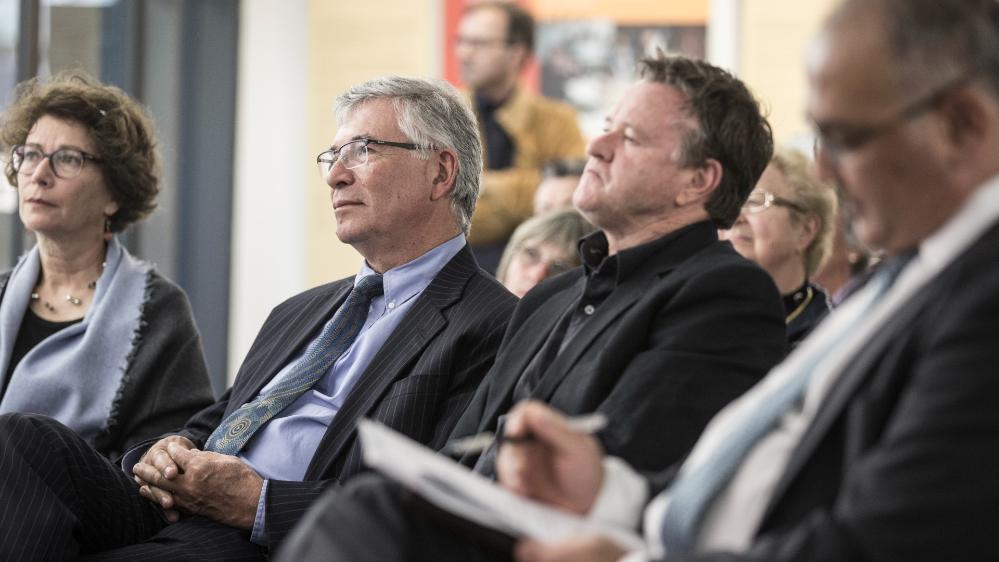 Professor Chicharo at an event at UOW. Photo: Paul Jones
Professor Chicharo has relished the opportunities that these executive roles have brought, and the ability to oversee some of the immense talents of UOW's professional and academic staff.
However, there have been challenges too, including considerable time on the road, and away from his wife and three sons, particularly while he oversaw UOW's global strategy.
"Wollongong is a real 'can-do' place and continues to be a fast-moving institution. I always felt I was part of a bigger thing," Professor Chicharo says.
"There is a great culture at UOW; it's what makes it great. Our academic staff and professional staff work incredibly hard and there is so much talent here.
"Wollongong looks very different from when I first started here, but there are a lot of things that haven't changed, including our culture. We are no longer a regional university serving a small community.
"We are a global university, with a scale, an impact, and an exposure that is greater than ever before. None of that is by accident, we have had fantastic leadership throughout our Vice Chancellors. We have had the constancy of direction and vision."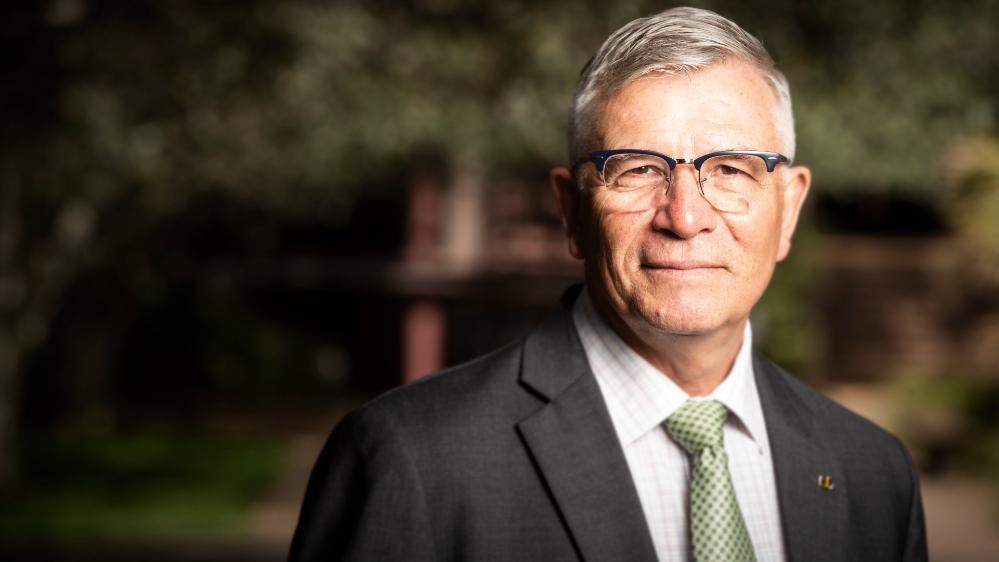 Despite the setbacks to tertiary education triggered by the COVID-19 pandemic, Professor Chicharo remains optimistic about the future of the sector.
"We are at a tipping point in higher education. There has been a lot of disruption, but the world continues to excite me, we have a lot to be excited about at the University. We are an institution with a strong track record, with strong leadership, and we know what it takes to win. The future looks very bright."
As he looks back on more than 40 years at UOW, Professor Chicharo is pensive about all that he has seen and achieved. With considerable research and academic achievements in his ledger, it would be understandable that these would be among his highlights of the past decades. However, Professor Chicharo says his greatest accomplishment instead, is seeing his past students and mentees succeed in their field.
"To look back and see where some of my students have landed, that really makes my day. Some have gone on to academia, some have gone on to the corporate world. I'm really proud of the contribution they are making."
UOW has been such an intrinsic part of Professor Chicharo's life. It is where he has spent the vast majority of his career, where he has gained all his qualifications, and where his three sons also received their education.
From those humble beginnings, moving to Wollongong with little English and little knowledge of his new home, Professor Chicharo has achieved more than he ever imagined. He is the embodiment of how education can change a life.
"I was the first in my family to attend university. First in family students are special people, because it takes so much resilience to be the first to do something," he says.
"I've been transformed by the power of education. I think whatever you do, you should lead an educated life. It enriches you as a person. We never stop learning, and an educated life is so rewarding."
With retirement only weeks away, Professor Chicharo is excited about what the future holds and to see the rise of the next generation of leaders at UOW. He is looking forward to being able to spend more time with his family.
"The future looks very bright for UOW, but for me, it's time to hand over the baton," he says.
"I really want a change in lifestyle. I've been work focused for a very long time. I want to have more balance and time for relaxation. I plan on doing some travel in Australia and overseas, when I can. I believe I can still contribute to the higher education sector, but in a way that will allow me to lead the lifestyle that I want."