It's been a crazy twelve months for Batemans Bay oyster farmer Ewan McAsh. This time last year he was fighting bushfire flames at the front door of his oyster farm office and storage sheds.
---
With the bushfire disaster that engulfed much of eastern NSW seeming like a distant memory, along came COVID-19. Yet, another devastating blow to the South Coast oyster industry due to the decrease in consumer and restaurant orders.
So, you would think that 2021 could only get better for the oyster farmer? Well, maybe, but for now Ewan is keeping a keen eye on wet weather patterns brought about by La Niña.
For those who don't know, La Niña is a complex weather pattern that occurs every few years, as a result of variations in ocean temperatures in the equatorial band of the Pacific Ocean. This system typically results in increased rainfall across eastern Australia.
And according to Ewan, high rainfall isn't the best thing for oysters.
"If we get large amounts of rain, that will affect catchment inputs into estuaries and rivers like the Clyde River, here in Batemans Bay, and it has the potential to affect oyster growth, reproduction, and their overall health," says the young farmer.
But Ewan is ready for all number of challenges. He is part of a new generation of oyster farmers investing in new technologies and innovation to balance sustainability and supply in Australia's oldest aquaculture industry.
"My father and I bought this oyster farm 11 years ago. Initially we had the traditional labour-intensive stick-and-tray system of collecting oysters, then we converted it over to a new basket system of collecting oysters that is a lot easier and demands a lot less physical strength. It's probably now one of the most modern farms you'll find in NSW," explains Ewan, who was a marine scientist before taking over the oyster farm.
Ewan McAsh, pictured on the Clyde River at Batemans Bay.
The basket system is a process of growing oysters near the surface of the water. The oysters gather in floating cages that have the ability to flip over. This process not only increases the density of food for the oysters at the top of the water column but can dry oyster cages and kill foul organisms that gather around the oysters.
The New South Wales oyster industry is one of the state's most valuable seafood industries and has a farm gate production value of approximately $45 million per annum. Coastal aquaculture also has a positive impact on regional employment, economic growth, tourism, provision of high-quality sustainable seafood, and supports the culture of coastal communities.
Oyster production requires good water quality that supports healthy oyster growth and results in a product that is safe for human consumption. And that's where research fellow, Dr Hugh Forehead comes in. Dr Forehead, from the SMART Infrastructure Facility at the University of Wollongong (UOW), is an expert on air and water quality.
"One of the issues here is trying to understand how ash from the 2019-20 bushfires has affected the waterways and oyster farms of Batemans Bay. Along with how best to monitor the water quality and temperatures for the future" Dr Forehead says.
Bushfire ash that washes into rivers and estuaries brings with it excessive nutrients, such as nitrogen and phosphorus, and trace elements such as iron, manganese, arsenic, chromium, aluminium, barium, and lead.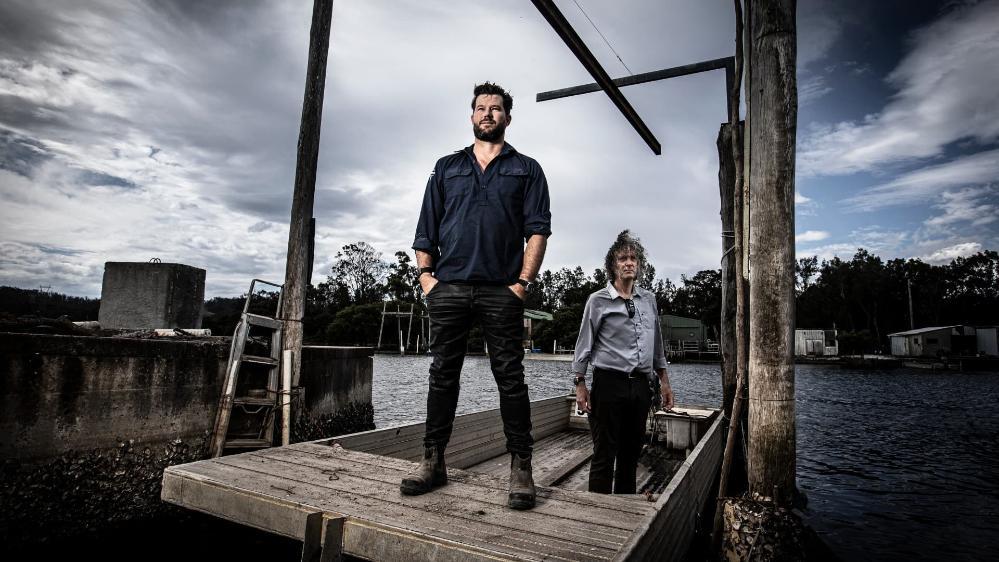 Batemans Bay oyster farmer Ewan McAsh with UOW researcher Dr Hugh Forehead on the Clyde River.
Dr Forehead is part of the Blue Economy Project, a research initiative led by University of Wollongong's Global Challenges. Known as Blue Futures, it brings together more than 20 academics from across all UOW faculties to explore how to establish an innovative and sustainable blue economy on the NSW South Coast.
"One part of the global research in the field of Blue Economies is to bring oyster farmers together and look at things like environmental management and how to use new technologies to improve oyster farming techniques," Dr Forehead says.
One of those new technologies is using sensors to monitor water quality. The sensors, about the size of a matchbox, will record how deep in the water the oyster has settled, keep tabs on changes in the water's salinity, along with overall temperature and oxygen levels.
"All the data will be analysed in real time, so if an oyster's condition changes, it will be possible to search for corresponding changes in the water. With the output information we can figure out what combination of factors produce the best oyster, or what factors damage oysters," Dr Forehead says.
Ewan agrees, saying the information will help him make better farming decisions and could work as a sensor information network for all Clyde River farmers, creating an aquaculture oyster database.
Collaborating with the Clyde River oyster farmers of Batemans Bay gives the team at Blue Futures an intimate understanding of the waterways and conditions in and around the area. On average, a farmed Sydney Rock Oyster will filter an estimated 250,000 litres of estuarine river water in its lifetime, removing large quantities of suspended material, chiefly nutrients bound in phytoplankton. This means that oysters are important in maintaining healthy estuaries but in performing this role they are exceedingly vulnerable to poor estuarine water quality.
Dr Hugh Forehead, pictured at Batemans Bay.
The Clyde River oyster farmers recognise this is a fantastic opportunity to look at current technology and techniques, and to improve their farming with these up-and-coming methods and practices.
Dr Forehead says other sensor projects are in the works also.
"We aim to use similar data sensors with the farming of sea weed and other blue economies. You have to remember water quality is key to healthy rivers and oceans," he says.
"If water quality declines, strict and costly food safety measures are imposed. While the causes of declining water quality are beyond the control of the oyster industry for example, the industry operators bear the cost of the resulting food safety measures. So, these sensors are really important detecting problems before they get out of hand. It's really exciting stuff."