It's rare to get three generations worth of perspective on a relatively unchanged experience. But the three intersecting pathways that Pauline, Melissa, and Maddie Lysaght took to UOW over five decades reveals how some things on campus change—and others don't change at all. This is their story.
---
"The first thing I remember is a lot of mud."
Though she didn't know it at the time, Pauline Lysaght blazed a pioneering path to UOW. Having emigrated to Wollongong from the UK with her family at age 15, the eldest Lysaght arrived in a proudly blue-collar city with its identity under threat from a looming unemployment crisis. As technological change fueled some industries and felled others, work was about to become a scarce commodity. UOW, meanwhile, was finding its footing as a unique and independent campus.
Pauline later married her first husband, gave birth to Scott (more on him later), and subsequently divorced. But the "vibrant light" of education—not to mention a growing acceptance of women in diverse fields of work—revealed a different path forward. "I was a single mother with a little boy and just wanted to have some sort of future that would support us both," she recounts.
At 25, Pauline entered UOW in one of its first ever groups of mature age students to undertake a Bachelor of Arts—navigating a campus where fast-rising construction sites were seen as monuments to their opportunities.
"Buildings seemed to spring up from the ground, and the muddy tracks became paved as gardens began to grow."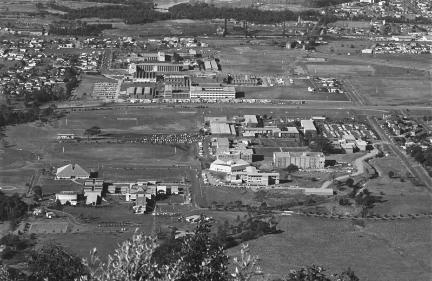 The University of Wollongong in 1976
Pauline later remarried and would return to UOW in 1993 to complete a Master and Doctorate of Education, before a long career in the (then) Faculty of Education that would eventually see her becoming the University's first ever Student Ombudsman. Such was her impact over the years, that she was named a Fellow of UOW for her extensive contributions to student wellbeing in 2015.
Pauline's story is an important one, but while all this was happening, young love was growing on the very same campus on which she taught…
Listen to the full interview with the Lysaght family
In the mid-80s, Melissa Irvine was ready to complete high school. Unemployment in Wollongong was exacerbated by job reduction in industry, and UOW was growing to be a more diverse and vibrant employment landscape, like it is today. Pauline Lysaght had just made her mark as one of the University's first mature age graduates. And, for Melissa, her working class parents (like many by this time) were instilling a need for a higher education.
"It just felt like a place of possibilities," she says of the University in that era. "There was a strong emphasis on engineering (which was still male-dominated). But commerce had a lot of women coming through and it didn't feel like such a big issue."
But it was while studying at UOW that Melissa met Scott Lysaght who, at that time, was completing a Civil Engineering degree. "We met at a recruitment drive," Melissa says of her first encounter with Scott. "I attended because I was finishing my degree and was keen to find new job opportunities. Scott attended because he heard there was free food and drink."
"I dropped Scott home that evening and he said to his friend, 'That's it. I've met the girl I'm going to marry.'"
Melissa and Scott dated for many years, exploring the world together before getting married and later having a daughter, Maddie, in 2001.
Just one year after Maddie was born, Scott was tragically killed in the 2002 Bali Bombings. A memorial service was held for Scott at UOW for more than 600 attendees—remarkable considering Melissa and Scott had not lived in the area for close to a decade. "A lot of the people there knew us as a family and had watched Scott grow up and marry Melissa," says Pauline of the moment. "But a lot of people were just so affected by the bombing, that it was a way for them to deal with the tragedy."
Since then, Pauline refers to Melissa as her 'third daughter'. Though Maddie did not get to know her father, his memory remains deeply embedded amongst the three of them.
From taking her first steps in UOW's gardens, to enrolling at the same campus some 19 years later, Maddie's story brings the Lysaght journey back to where it started—home. Wollongong is now a more diverse and vibrant city; a place that respects its industrial roots while embracing new pathways as a hub of technology, sustainability, creativity, and natural beauty.
"My memories are of childhood summers on the duck pond lawn, stealing lollipops from gran's colleagues, and the cafe at building 67," she says, recounting school holidays spent on campus learning important lessons for any incoming student. Namely, that the cafe at building 67 has good coffee and to avoid the giant ducks.
So when the time came to choose which uni she wanted to make her home, it was "not really an option."
"I felt like I should go [to UOW], I had never heard a bad thing about it and it looked like a lot of fun. Everyone seemed like good friends on campus."
With an interest in sports journalism, and supported by extensive facilities and sporting opportunities ("someone told me the Dragons trained there, so I had to go"), Maddie will return to campus, ready to forge her own parth and further the Lysaght family tradition.
Both Melissa and Pauline have watched the campus experience evolve into something far beyond any recollection of their own uni days. "Maddy's experience has been completely different to mine," says Melissa. "The creativity Maddie is discovering at uni and at this stage of her life is far beyond anything I experienced."
Despite only getting one semester on-campus before lockdown, the sense of community and its diverse pursuits is what makes (and will make) Maddie's experience worthwhile. "It was impossible to walk past the fig tree or a cafe or the library without talking to everyone there," she says. "My friends from other universities describe their experience as a bit more distant, whereas this feels very close and friendly. Everyone's got some activity that they love in the outdoors. It's very invigorating."
As for the things that stay the same? "Wollongong is lucky to have such great natural beauty. The environment is extraordinary," says Melissa. "I find the people extremely positive and energetic and willing to participate in just about anything. That's a really positive thing."
And from the perspective of one of its earliest students, Pauline maintains UOW's true consistency is its opportunity for unique experiences. "It's about the sense of moving forward in the company of others."
The ease of making friends has always been there. But the journey for each of us as individual students has been very different," she says. "And that's a great thing to be able to say."
Enjoying the series and want to read more?
---
We Are UOW explores the stories of lifelong connections made at UOW, from enduring friendships and marriages, to mentors and thriving businesses. New videos, podcasts and written stories will be shared weekly over the next few months.