Nik Preiner and Nathan Hancock met within their first hours on the ground at UOW. Over a decade later, the best mates and business partners haven't had a moment to look back.
---
It started, like so many other great things, at an O-Week party.
Despite both being raised in Canberra and sharing a love of surfing, Nik Preiner and Nathan Hancock arrived on the UOW campus having never met. Introduced shortly after being placed in the same student accommodation, the pair began a friendship (accelerated by the O-week festivities) that would change the trajectory of both their lives.
"It all very much started at UOW," says Nathan. "It was a melting pot of personalities and a place where you can really be yourself and see each other through social circles, pubs, parties, surfing and all the other activities we carried on with."
After graduating around the same time, the pair went their separate ways to pursue their respective careers in Sydney's financial services and banking sectors. But after a few years of city life, a nagging feeling emerged between the two that they could put their mutual skills (and friendship) to better use.
"The dream was a couple of hammocks and a beach shack," says Nik. He explains that their business prerequisites were simply something that combined their shared loves of surfing and commerce. Though their plan for a surf school was quickly shot down, the pair were willing to compromise on something a little different—so long as the office was close enough to get a surf in over lunch.
Listen to the full interview with the Nick and Nathan.
The result was The Wealth Connection, a Financial Services Business, that brings Nik's experience in Lending and Nathan's Financial Advice background, to support a client's financial journey. "It was important for us to focus on the community we were in and become entrusted advisors that people could feel really comfortable coming to us for," says Nathan. "We still have clients who we worked with in our first month of business and have followed their financial journey up until today, which is really nice."
"Our two trades are quite different and we both bring out a respective skillset to combine them and present them under one offering," says Nathan. "We bounce things off each other quite a lot," adds Nik. "We're very similar where if we're into something, we act fairly quickly. But we also bring different skill sets into the mix, which is why we work so well together."
With humble beginnings in Nik's living room in Thirroul, The Wealth Connection now has 15 employees across three offices in New South Wales. And Nik and Nathan can both be found at their Austinmer headquarters, about 50 metres away from the beach.
There's something funny that happens a few years or so after uni, where the people you lived, worked, studied and partied with begin to reappear as colleagues, collaborators, mentors or clients. This is especially true of UOW, where a close-knit community tends to stick together, and The Wealth Connection, as their staff and clients have all been developed from relationships formed on campus.
"[UOW] is where it all started socially, but professionally too," says Nik. "The networks we've built from just our friends who are lawyers, accountants, or working in finance... You don't realise it at the time when you're having the time of your life. But we've all grown together, personally and professionally. It's where it all kicked off. It's really special."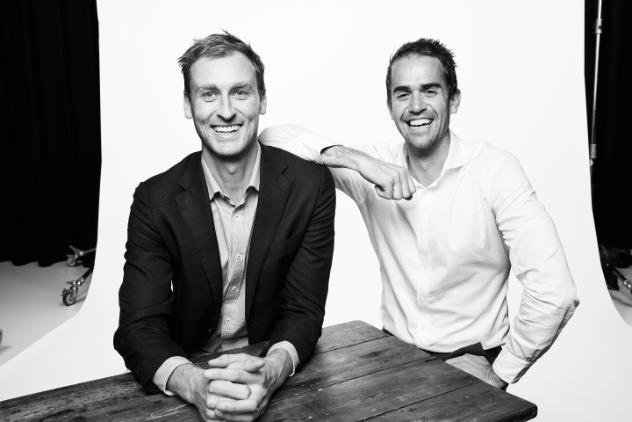 Left to right: Nik and Nathan
Truly: those seemingly casual parts of the UOW experience are as much a career investment as anything learnt in the classroom.
"It's a combination of everything," says Nathan. "It's the life experience of getting out of home, being forced into a new environment that gives you a good sense of yourself and a good understanding of how other people work and what they value. Then meeting people through Commerce degrees and getting an understanding of what we enjoy most about our study. It all gave us the ability to learn what is important to us and apply it to our business."
It's difficult to imagine that a person you meet in your first week on campus will become one of the most important people in your life. But with that sincere connection established, it was vital to both Nik and Nathan that starting a business was not going to tear their relationship down. "We got a lot of advice, because it's like going into a marriage," laughs Nathan. "You have to be acutely aware you're working day-in, day-out with these people and that you will have disagreements."
Fortunately, their compatibility proved sustainable...as they knew it would. "You just have trust in one another that you are always going to do the right thing and pull your weight for the business," says Nik. "Plus some blind faith that your mates will talk openly about any issues. We have independent views but fairly similar personalities, and we're both pretty easy going."
"We incidentally bought houses on the same street. Our wives are best friends. And we're both dads to two little kids of pretty much the same age, so we've done things well and truly the same in life. But in seeing each other go through that as well, we lean on each other for support, too."
Enjoying the series and want to read more?
---
We Are UOW explores the stories of lifelong connections made at UOW, from enduring friendships and marriages, to mentors and thriving businesses. New videos, podcasts and written stories will be shared weekly over the next few months.