Standing seven storeys high are two identical apartment blocks; the same in size, look, feel and layout. They are exactly the same, but different. One has a concrete frame, the other cold-formed steel. This difference could change Australian apartments and help expand the country's steel industry.
---
While some stand-alone houses and two-storey buildings in Australia are made with steel frames, larger apartment blocks, more than four storeys high, typically are not. This is something a team of researchers from UOW's Sustainable Building Research Centre (SBRC) hopes to change.
Working with the Steel Research Hub and several industry partners, the team hopes to identify, develop and incorporate the world's best practice in cold-formed steel residential building technology to Australia. The end result could mean faster-built, higher quality apartments.
The research
Heavy metal beams and cranes might come to mind when thinking of steel frames, however, cold-formed steel is a light-gauge product with incredible strength and resilience. It is already being used in the US and UK to build medium-rise apartment buildings. Researchers at SBRC are taking the type of 3D computer-assisted modelling used in aerospace and car manufacturing, and using it to model how cold-formed steel would perform in Australian apartment buildings.
Research Fellow Dr Emma Heffernan, who is part of the team at SBRC, says we can't simply take overseas technologies or construction systems for steel framing and apply them to Australia. Guidance for using steel frames on mid-rise residential buildings must be developed to suit Australian regulations and living standards.
"The reason for looking at apartments is that for the first time now, more apartments are being given development consent than stand-alone homes," she says. "That is a big change in the Australian market. If we can make apartments quicker to design and construct, as well as better to live in, it's a great outcome all round."


"With this system, holes will be pre-punched everywhere they are needed so that we can, for example, pass a duct painlessly throughout the building without anything clashing."

- Professor Timothy McCarthy


The team is one of four involved with the research. The other three groups will look at the supply chain; innovative facade technology and indoor environmental quality; and structural components and structural modelling. Dr Heffernan says the team brings the research work together at the building level. They are currently in the process of conducting a detailed comparison based on modelling of a near-identical apartment building constructed from reinforced concrete framing and cold-formed steel.
The comparison
A seven-storey archetype building, constructed using a reinforced concrete frame, has been designed by Cox Architecture and will be used as a vehicle for the comparison. It represents a typical Sydney apartment block, containing 60 apartments, ranging from one to three bedrooms and a single level of basement car parking. Dr Heffernan says once a near-replica steel-framed model of the building is complete, they will analyse the pair using five categories of criteria, including economic, social, technical, environmental and legislative.
"We're hypothetically constructing exactly the same building using a cold-form steel frame and doing the same assessments so that we can make a like-for-like comparison in terms of cost, environmental sustainability, how long it takes to build it, how much energy it takes to keep it thermally comfortable, how adaptable the building is to changes, how easy is it to build and more," she says.
While there is still some way to go with the research, it is hoped the team will be able to demonstrate the benefits of using steel frames.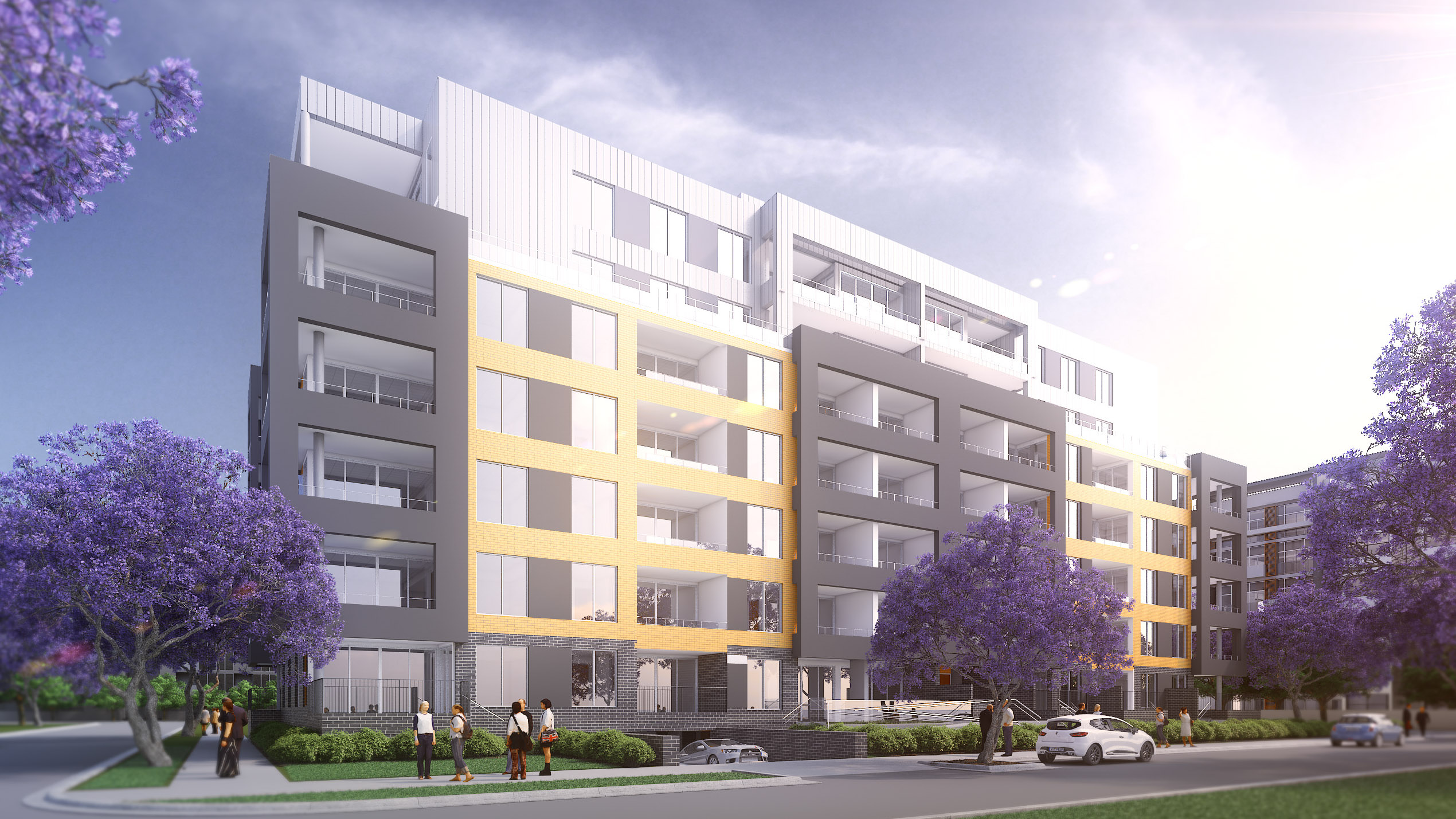 Cox Architecture has designed an archetype building (impression above) that will be used for comparison as part of the research. Photo: Cox Architecture.
Economic/technical
Professor Timothy McCarthy, also part of the team from SBRC, says one potential benefit of using steel is a reduction in construction time. A lot of time is currently lost in the building process because issues from the design stage are fixed on-site by relevant trades.
"When you actually build a lot of the structure off-site and you bring it onto site in bigger pieces, this basically takes apartment building from being what we call stick-built on site, to being prefabricated and modular. This benefits the quality and speed of the process," he says. "There are things you can do with steel that you can't do with concrete and vice-versa, so it has the potential to change the way apartments are constructed."
This new system could mean apartment blocks would be designed up-front on a computer. Using Building Information Modelling (BIM), the software would be able to recognise when two building components clash and it would allow pre-planning of the routing of the ducting, plumbing and electrical wiring. That information could also be passed on to other designers and experts involved in the planning phase and can be modelled to deliver geometric information to manufacturers.
"Steel presents many options to help address the noise transfer issue because the frame itself can be modified with insulation to suppress noise."

- Professor Timothy McCarthy
Professor McCarthy says they are predicting several other improvements.
"Steel products are geometrically the same size every time you make them because they are computer controlled and cut," Professor McCarthy says. "With concrete it can be more difficult to achieve dimensional accuracy, so you end up doing a lot of fixing on site, and can be left with irregular slab flatness. But using this new system, you can consistently get a flat, accurate steel frame floor that's close to perfection."
"With this system, holes will be pre-punched everywhere they are needed so that we can, for example, pass a duct painlessly throughout the building without anything clashing. It's really changing the way buildings are made because most of that stuff is called roughing in and most of it is done on-site with little forethought.
"We've got a system now where we can accurately model the effects of making variations early in the design phase too, which is another productivity gain. Using computer modelling, our colleague Senior Research Fellow Scott Beazley can calculate if you make your walls 25mm thinner, and you work out your floor-space-ratio, the rentable space for the 60 apartments increases by a certain amount."
However, for this system to work, Dr Heffernan says a more methodical approach to building layouts would be needed, including greater replication.
"Concrete can be quite forgiving in terms of last minute modifications to rooms and walls, whereas with cold-formed steel you have lots of load-bearing walls, so there are more structural elements that are difficult to move once designed and installed, but they are much lighter weight," Dr Heffernan says. "The next stage would be looking at the best way to get optimum performance out of cold-formed steel. Then coming up with a design guide on how to get an optimal building using cold formed steel framing technology."
A move away from the traditional supply chain to one involving off-site construction could mean apartments go up quicker to cater to the demand for housing.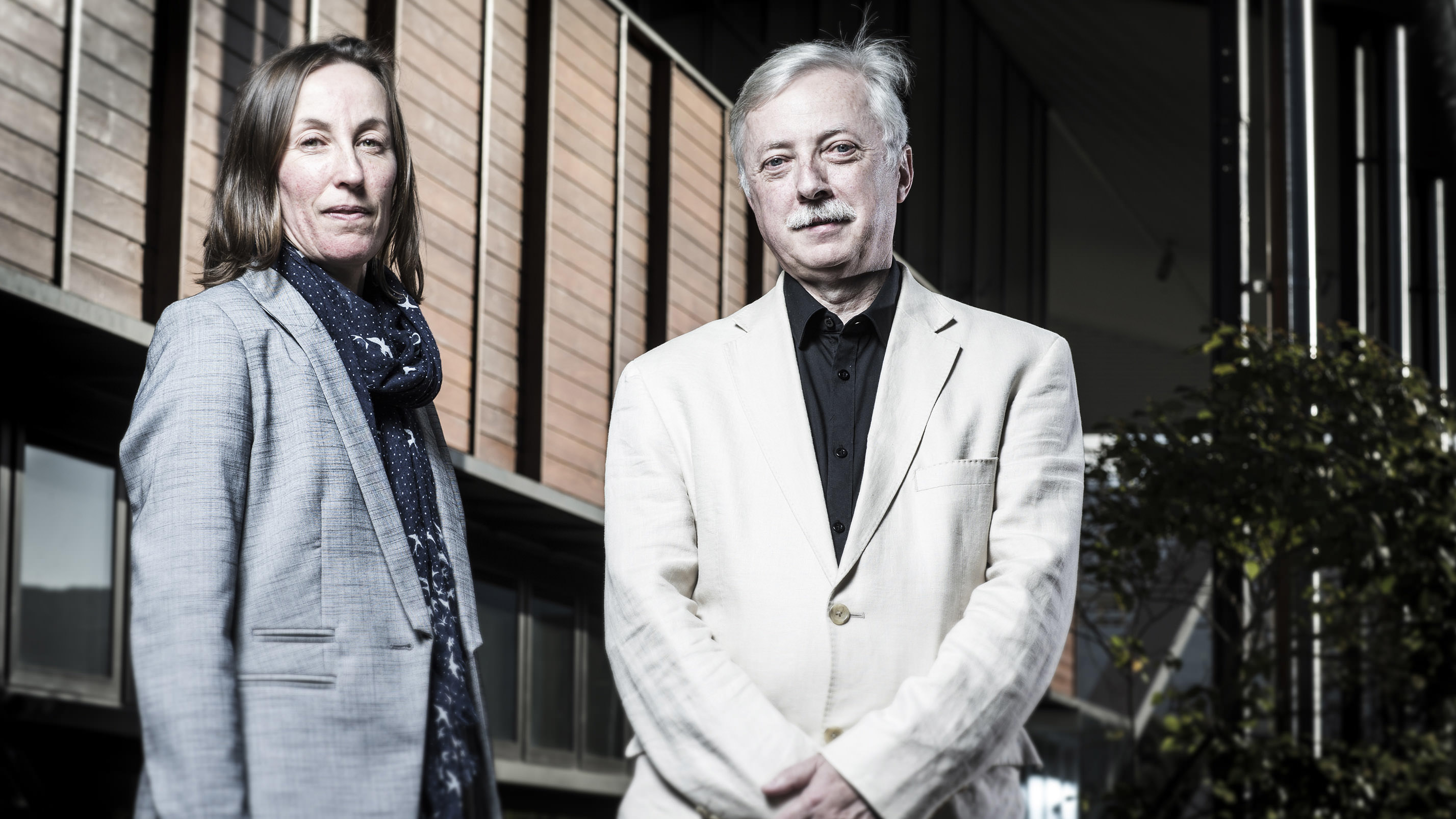 Dr Emma Heffernan and Professor Timothy McCarthy are researching ways to improve Australian apartments using cold-formed steel frames. Photo: Paul Jones
Social/Environmental
The research being done not only aims for greater speed and cost efficiency, but also to improve the quality of apartment buildings. This means designing solutions to noise-travel between rooms, and creating spaces that have natural light and are thermally comfortable.
"Indoor Environmental Quality is a really important aspect. The single biggest cause of complaints in apartments in Sydney is noise between apartments, particularly through floors," says Professor McCarthy. "That's one of the areas we are hopefully going to help to improve with the steel frame solution. Steel presents many options to help address the noise transfer issue because the frame itself can be modified with insulation to supress noise."
Innovative technology, which is already being used on the SBRC building, will also be trialled so that apartments are not just attractive to buy, but are comfortable to live in.
Dr Heffernan says, given the lack of roof space to each apartment, they hope to experiment with technology on the façade of the building to create good quality apartment environments.
"On apartment buildings, typically there's not much roof space for solar panels compared to the amount of accommodation within them, so you've got to work differently," she says. "There is technology like transpired solar collectors, which is a system that collects heat from the sun. It pre-warms the air you supply to the building so you are getting natural heating and ventilation without the security and noise concerns of open windows. We are also looking at how we can reduce energy requirements in the first instance, making the building better designed in terms of passive design."
The end goal is to make apartments nice places to live.
Legislative
If Australia is already using cold-formed steel in houses and two-storey buildings, and other countries are using it in mid-rise buildings it begs the question: with such high-quality steel, why are we not already using it in bigger apartment blocks?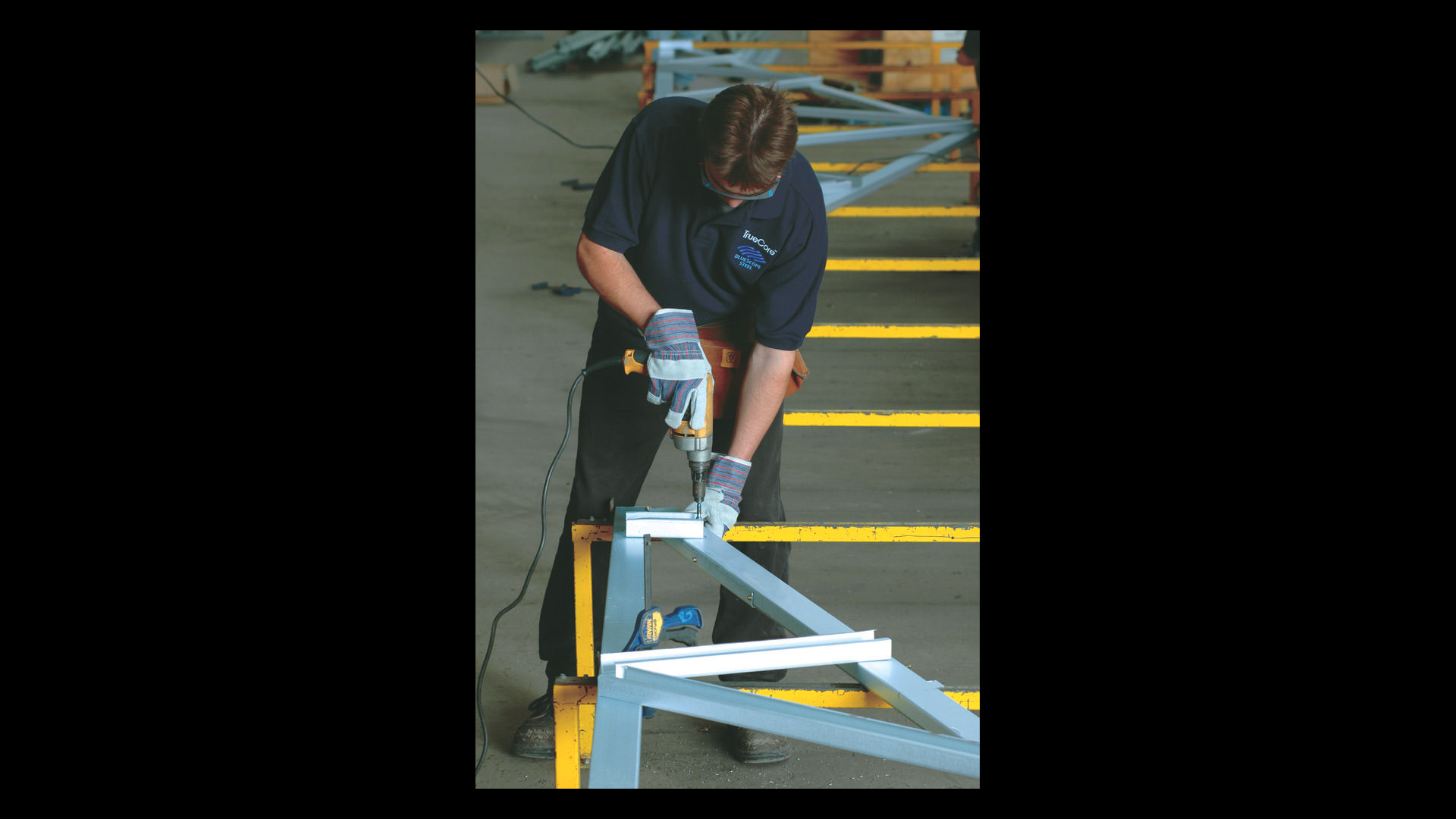 A cold-formed steel frame being put together in the manufacturing phase. Photo: BlueScope Steel
Professor McCarthy says Australia still lacks the regulatory framework for using steel frames at greater heights.
"In North America about 20 per cent of apartment buildings are made from cold-formed steel framing and in the UK, that number is around 10 to 15 per cent," he says. "If you think of it in terms of Australian manufacturing, this is a great opportunity."
"There are a few reasons why it's not being used as much as it could be in Australia at the moment. One is the regulatory framework and the other is the traditional nature of the construction industry. People are used to building apartments out of reinforced concrete frames, that's what they do, it's what they are familiar with and it's what the companies like to offer - so it perpetuates itself."
That's not to say that nothing is changing. As a part of city and state-wide planning in a number of areas, including Sydney and Wollongong, height limits have been relaxed the closer you are to a railway station.
Professor McCarthy says this is helping to ease some of the housing pressure points.
"It's contributing to affordability and sustainability," he says. "Moving near public transport means not having to rely on cars and so forth. It's one of the ways we can deal with increasing population without devoting more land to housing. Particularly on city fringes, with the associated costs of developing infrastructure like roads, sewers, water and power connections."
Outcomes
It's not just about creating comfortable, affordable units that could be built quickly, it's also about giving an important local industry a chance to show what it can do.
Creating a new construction system that not only helps the end buyer, but the people on the front line producing and manufacturing it locally is great for Australian industry.
"When we sat down at the start we were looking at mid-rise residential buildings, the steel industry said they don't sell many cold-formed steel products to this sector - it is dominated by reinforced concrete. Overseas, that's not the case," says Professor McCarthy.