Inside homes in the Illawarra, many senior residents curl up beneath a blanket, trying to keep warm during winter.
---
They dread switching on the heater. It's not the appliance itself that worries them, but the "bill anxiety" after they decide they can no longer stand the cold. When summer hits, many would rather open windows than open the envelope and see the bill they've incurred from running the air conditioner.
This was one of many scenarios that researchers were presented with when they surveyed 830 low-income households of residents aged 60 and over in the Illawarra, Southern Highlands and Shoalhaven.
Because energy efficiency often comes at a risk to people's wellbeing, UOW and Macquarie University researchers collaborated with several community partners on the three-year Energy+Illawarra project.
While previous studies have looked at energy efficiency in terms of reducing consumption, Energy+Illawarra was one of the first to include peoples' comfort and wellbeing in this context.
It recognised that people were the experts in their own homes and aimed to use their lived experiences to drive change. Kanahooka resident Peter McLeod, a project participant, says the price of energy is important.
"Energy efficiency means, to me, a lot about the cost and also being able to maintain the comfort you need to live," he says. "For a start in keeping costs down, I don't use lights; I rarely have lights on.
"The air-conditioning I don't use for two reasons: one is the high cost and the other is I prefer the fresh air from having windows open. For heating, I don't like air-conditioning again. I'd rather have things like blinds drawn or doors closed."

Energy+Illawarra participant Peter McLeod in his Kanahooka home. Photo: Paul Jones


Energy+Illawarra, a collaboration between Regional Development Australia Illawarra (RDAI), the University of Wollongong, Macquarie University and several community partners, was one of 20 initiatives across Australia to attract funding under the Australian Government's Low-income Energy Efficiency Program (LIEEP).
The $2.3 million government grant and $1.2 million of in-kind work involved understanding how people think about and use energy in their homes and retrofitting with energy-efficient products with the overall aim of helping older, low-income Australians live more comfortably.
A range of 19 retrofits, including items such as solar hot water systems, door seals, ceiling fans and in-home displays that show real-time energy use, were installed in participants' homes.
Professor Paul Cooper, Director of UOW's Sustainable Buildings Research Centre (SBRC), says achieving efficiency requires both technology and behavioural change.
"This project is unique in the sense that we have three quite separate and complementary research teams from the university working together to really understand not only how people use energy in their homes but also how to improve the efficiency of peoples' homes," he says.
"A key long-term outcome for the project is to fill the gap in relevant and accessible information about the costs and benefits of upgrades to the home, which is one of the main barriers to energy efficiency for low-income households."
In the project's early stages, experts from UOW's Centre for Health Initiatives and Macquarie University undertook formative research, including focus groups and surveys. Researchers from a range of disciplines then worked with residents from 185 homes to determine how individual households could become more energy efficient.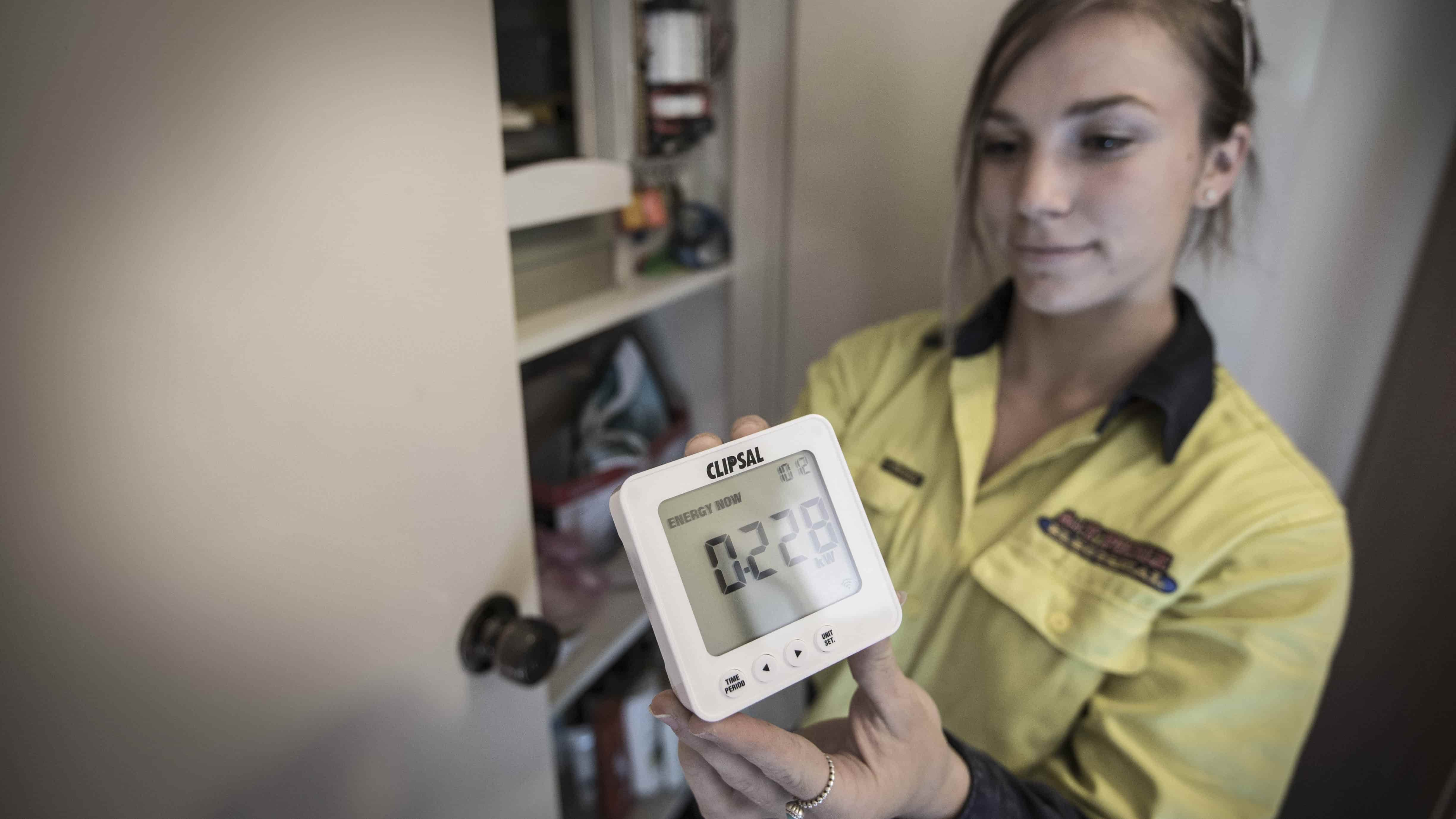 Electrician Shauna Mulligan installs a power monitor that shows energy usage. Photo: Paul Jones
They trialled and evaluated different approaches - rather than just telling people what they should be doing.
Energy+Illawarra social marketing project lead Associate Professor Ross Gordon says a social marketing program, including social media, online resources, newsletters and workshops, aimed to bust energy myths, offer tips and raise awareness.
"We heard stories about people with reverse cycle air conditioners not heating their homes in winter - they had the idea it was inefficient for heating," he says. "In actual fact, reverse cycle air conditioners are a far more efficient way to heat the air in someone's home compared to an electric heater, such as a fan or oil column heater."
Occupant diaries helped gather information about daily activities, such as opening windows, use of lighting, cooking and appliances that could affect energy consumption and comfort levels.
Professor Gordon Waitt lead a team from UOW's Australian Centre for Cultural Environmental Research (AUSCCER), which observed people's energy use practices in their everyday lives through talking about, videoing and mapping how they use energy.
Through this, they found older people were doing a lot of work to be energy efficient, which sometimes created "tyrannies of thrift", where it came at a risk to health and safety.
Associate Professor Gordon said it was a generational trend for older people to try and keep energy costs down. "They take a lot of pride in being thrifty," he says. "People spoke of scarcity, growing up during the post-war period and making ends meet."
The quest for cheaper bills could sometimes be hazardous. Researchers found many of the homes surveyed were kept at temperatures well outside the World Health Organisation's limits for thermal comfort.
"One man went to bed at 7pm every night in winter because it was cold and he didn't want to use the heater," Associate Professor Gordon says. "Other people told us how they wrap themselves up in a blanket in winter because they thought this was the sensible thing to do to stay warm and thrifty.
"Other participants spoke of balancing precariously on stools to try to unplug their microwave from the wall socket to save energy."
Associate Professor Gordon says to tackle complex social issues, such as energy efficiency, people from different disciplines with different ideas need to work together towards a common goal.
"More importantly, you also need to engage the community and make them feel part of it," he says. "That's what's unique about this project - we have a team of engineers, social marketers and human geographers working together, not as experts but as facilitators, and really the community members are the owners of this project.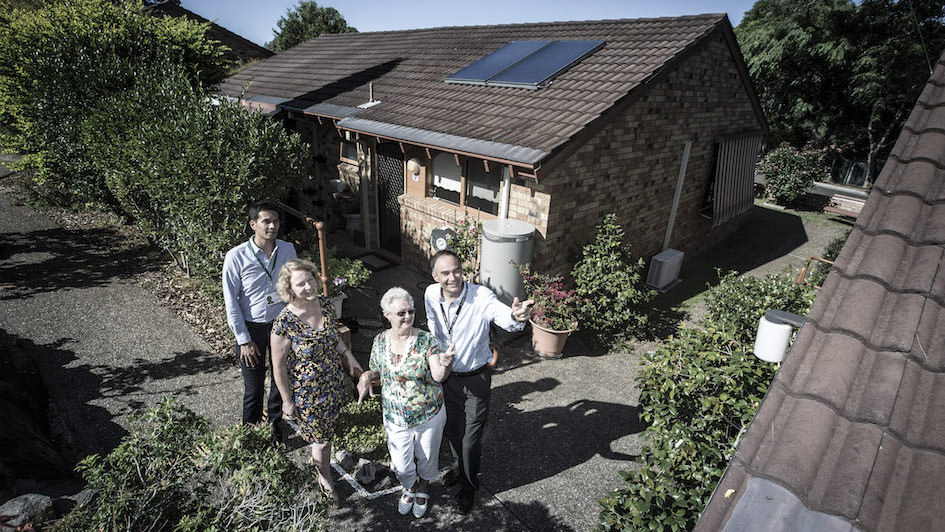 Stephen Choi, Deborah Petkovic, Roslyn Fairley and Michael Tibbs. Photo: Paul Jones


"We are recognising that they are the experts, they have the knowledge - it's about their lives. Another question is about health and wellbeing. Energy efficiency is not just about cutting back use, it's about comfort. This wasn't in the policy initially and needs to become much more recognised as part of the debate."
Michael Tibbs, project manager from the SBRC, who worked on the retrofit recommendation, says having a larger impact on sustainability will come about through retrofitting existing buildings.
While final data is still being collected, one of the things that stood out for him in the annual survey was that a significant number of people self-reported to have less fridges than they had in reality.
Many older people didn't want to throw out older fridges as it was seen as wasteful, however keeping them led to increased energy waste and higher bills.
"People weren't being deceptive; they just thought 'oh, that's the beer fridge' - it's the forgotten energy consumer," he says. "To save energy, switching off a second fridge, getting rid of it or replacing it with one that is better for the environment is something people can do.
"There were also some retrofits that were simple and low cost that people could do themselves. One was draught stripping. We did blower door testing in 14 homes, which confirmed Australian houses are very draughty. Fixing up little draughts can make a significant comfort difference."
Early qualitative data shows the project had helped improve participants' perceived thermal comfort, reduced some energy bills and encouraged people to share their knowledge with family and friends.
It also created a positive change in attitudes to energy efficiency.

Bundanoon resident Patricia Lindqvist. Photo: Tim Jones


Bundanoon resident Patricia Lindqvist says she was surprised by what she learned and by the project's impact in her home.
"When you grow older, you don't like people coming in and asking questions, but this was a wonderful experience," she says. "We had terrible draughts before. My house is really cosy now because they sealed all the draughts around the doors.
"I mentioned the light in the kitchen. At night I couldn't see what I was doing in the cooking area. They put the LED lights in, which light up the whole room and use less energy. I was surprised to find I could get a brighter light that uses less energy."
Associate Professor Gordon says the approach could be applied to all people.
"Our basis for any behaviour change and social change is we need to understand how they live and their realities, working around that and making it fit for them based on their real lives," he says.
"That was always at the heart of Energy+Illawarra and what made it unique to other community interventions."
Header photo: Tim Jones