It's been wonderful to commence visits to the UOW Industry 4.0 Hub again and we've been kept busy playing catch-up! Here are some highlights since our last newsletter.
---
Industry
UOW Industry 4.0 Hub enjoyed working in collaboration with AusIndustry and Eurobodalla Economic Development to present 'Eurobodalla Industry 4.0'. Whilst business focused, an intention of this online event was to create a broader community awareness of Industry 4.0 technologies.
The Industry 4.0 Hub recently collaborated with Verbotics to add Universal Robots A/S support to Verbotics' Weld software. Verbotics are a Wollongong-based start-up company that provide software to automatically program robots for welding applications. Universal Robots are the market leader in collaborative robots (cobots), which allow closer human-robot interaction than traditional industrial robots. Combining the UR's collaborative abilities with Verbotics' automated offline programming software allows for easy and efficient low-volume and high-mix production. For further information and to see it in action visit the Verbotics website.
The Industry 4.0 Hub was very pleased to be the focus of a case study: 'University sets up Industry 4.0 Technology hub with Demmeler cobot system' by Leussink, an engineering business based in Unanderra.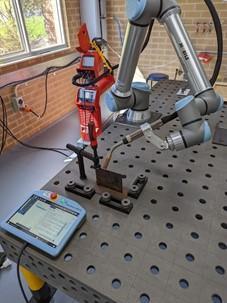 The Industry 4.0 Hub hosted an SME from Temora NSW and his Year 10 high school student for a whole day training course with instruction tailored to this SME's specific application. This included:
Detailed overview of the UR cobot
Comparison between different branded Cobots
Discussion around Cobot integration, safety, maintenance and support
Demonstration of both the cobot welder and pick and place collaborative robot in-situ
Instruction and learning through use, to program and operate both collaborative robots by both the business owner and his student
Provision of associated instruction manuals and resources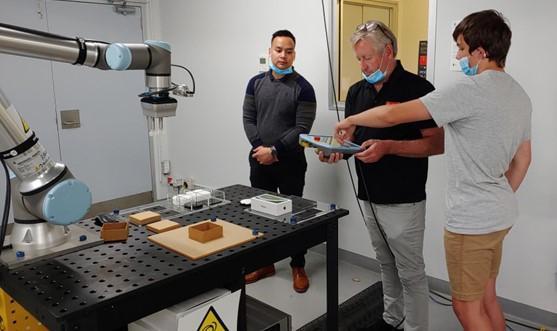 SMEs braved the weather to attend the FutureMap event brought to the Shoalhaven by the University of Technology Sydney in partnership with University of Wollongong, Innovative Manufacturing CRC, AusIndustry and Regional Development Far South Coast. This interactive group workshop prompted participants to think about the maturity of their business in key areas such as leadership, innovation, digital manufacturing and Industry 4.0. Designed as a point-in-time self-assessment, FutureMap poses questions in key areas of industrial and advanced manufacturing competitiveness, ranging from value proposition to the Industry 4.0 uptake in their organisation.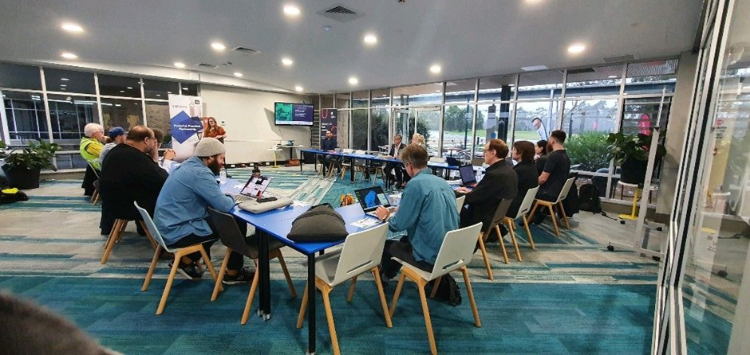 The SMART Infrastructure Facility recently facilitated the 'Introduction to Internet of Things' (IoT) short course on UOW Shoalhaven campus. This course provided both theory and hands-on tasks to put the fundamentals of the IoT process into practice.
Students
The UOW Outreach and Widening Participation team paid the Industry 4.0 Hub a visit and we look forward to collaborating to create awareness and participation in STEM for local Shoalhaven school students.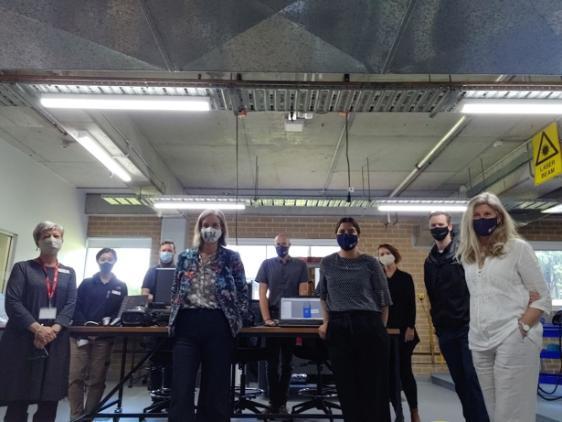 Engaging with students from local high schools in the Shoalhaven during the Shoalhaven Professional Business Association professional snapshot in both Ulladulla and Nowra provided a great opportunity for research engineers from UOW Industry 4.0 Hub to share their career journey and talk all things industry4. The set task seemed to provide a lot of fun for participating students too!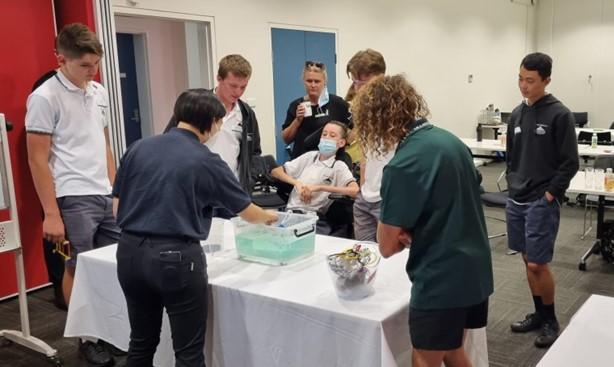 Smarter Schools for a Smarter Planet Program
This program was designed to provide high school students in STEM hands-on experience in smart technology. Research engineers from UOW Industry 4.0 Hub facilitated the Shoalhaven workshops with St Johns High School Year 8 students and Nowra High Year 9 D and T students. The concept of the internet of things was explained to the students and they were taught how they can build sensors and use them in real-world applications.
The workshop also introduced the concepts of open data and open software. Each student was given the IoT (Arduino) development kit used during the workshop so they could keep experimenting with their schools and at home. The 'Smarter Schools for a Smarter Planet' is a UOW SMART Infrastructure program where students create projects addressing water management using sensory data and was developed by Associate Professor Sarah Howard and Dr Johan Barthelemy.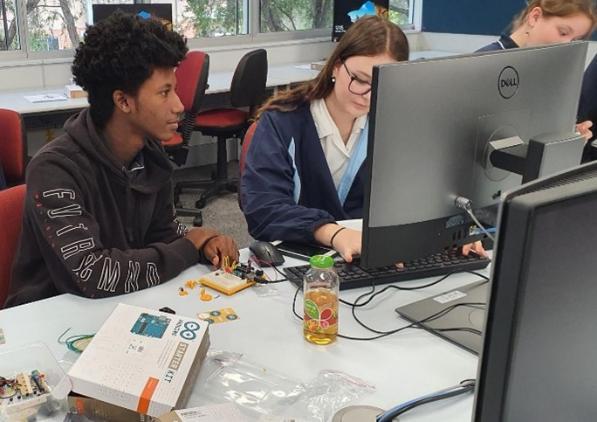 The Industry 4.0 Hub has its own stand at the 2022 Nowra Show!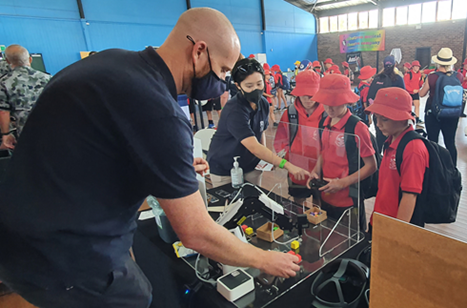 Makers Space
Our Makers Space workshops are up and running! Our first Makerspace workshop was run in December 2021 with a Christmas theme. Our second Easter makerspace workshop for children was held in April with lots of fun being had.

New Acquisitions
The Industry 4.0 Hub has recently invested in two RealWear HMT-1 headsets to add to its suite of technologies. These rugged wearable devices are an example of 'Assisted Reality' and are aimed supporting workers in industrial applications. 'Assisted Reality' differs from Augmented and Virtual Reality as it doesn't change the user's experience of the real world, rather it adds additional information into their peripheral vision. In this case, a small screen is positioned under one eye which is voice controlled and provides hands-free access to information and remote experts while carrying out a task onsite.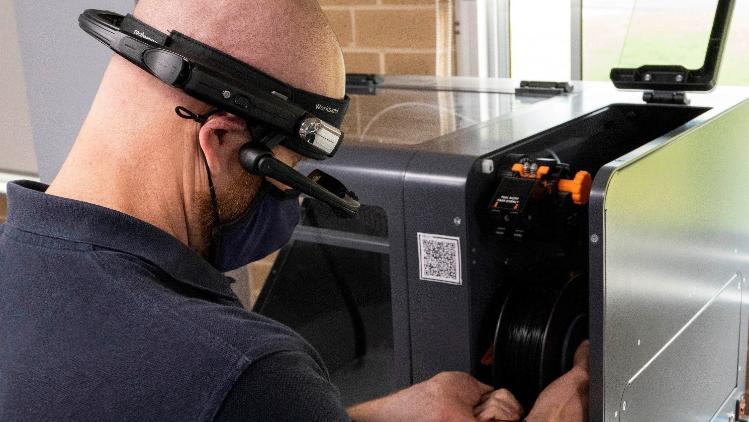 The Assisted Reality headset allows the user instant access to user manuals and other documents as well as custom made work instructions which can include annotated pictures, video demonstrations and prompts to record data for later review. They also enable the user to easily join video calls and share their activities or to work with a remote expert to receive immediate assistance on complex tasks. This is especially beneficial where travel restrictions and other public health orders due to COVID-19 limit access to work site.
We are currently trialling software to maximise the effectiveness of the hardware and already finding useful ways to employ them at the Industry 4.0 Hub. If you are interested in this technology and want to learn more about it, get in touch with us.
Funding Opportunities
The Federal and State Governments offer several funding programs to support collaborative research between the University and industry. UOW has a proven track record of efficiently securing government grants with industry partners. Further information outlining some of the funding sources found to be effective for collaborative research can be found here.
Future Events
Some of UOW Industry 4.0 Hub's future events planned for 2022 include:
Further Smarter Schools for a Smarter Future Workshops for Year 8 / 9 high schools
Makerspace workshops coming soon with new hours 5-7pm Mondays and Thursdays
'Test Your Business Idea Workshop' FREE 2 hour workshop with iAccelerate at UOW Shoalhaven campus
Proposed Learning Labs workshop for local high school studentsin the September school holidays
If you're a business owner and are interested to see the technologies you can implement in your business, send us an email to industry4-hub@uow.edu.au to arrange a time for a technology demonstration.
Finally
If you know anyone else who might be interested in our newsletter why not forward this to them - or better yet, direct them to sign up as a subscriber themselves!
Connect with Industry 4.0 Hub on LinkedIn to get our latest stories and news in real time.