Welcome back to another year! What a year 2021 was. Just when we thought things were looking up, we were hit by another lockdown. Although the lockdown meant changing tactics, we ended the year on a high with new collaborations forged, and workshops and visits steaming ahead.
---
In 2022, we strive to continue this trend with many events planned for the year. While we know the COVID-19 Omicron variant is still around, we will stay aligned with the NSW Government and University's recommendations to keep everyone COVID-safe.
We request that all visitors book a time or register for a workshop so we can better prepare and plan for your arrival. Those wishing to use our Makerspace facility can book a session via our website. For other general visits, please request via email. Our COVID Safe Operational Plan which outlines the health and safety measures implemented at the Industry 4.0 Hub is available on our website. Remember to stay COVID safe when out and about, and we hope to see everyone again in the not too distant future!
Future Events
Some of UOW Industry 4.0 Hub's future events planned for 2022 include:
• Smarter Schools for a Smarter Future Workshops for Year 8 / 9 Shoalhaven high schools
• Judging at Sikorsky Australia's 'Plane Simple Challenge
• Exhibitors at the Nowra Show in February 2022
• Guest speakers at the Shoalhaven Professional Snapshot 2022, hosted by the Shoalhaven Professional Business Association. The program will be held at Nowra and Ulladulla in March.
• Makerspace workshops
• Guest attendance by the Industry 4.0 Hub Research Engineers to Shoalhaven high schools for teacher's Professional Development Days
• Presenting a Learning Labs workshop for local high school students

If you're a business owner and are interested to see the technologies you can implement in your business, send us an email to arrange a time for a technology demonstration, or if you are a researcher who would like to be involved also please get in touch.
New Acquisitions
The Industry 4.0 Hub has recently invested in two RealWear HMT-1 headsets to add to its suite of technologies. These rugged wearable devices are an example of 'Assisted Reality' and are aimed supporting workers in industrial applications. 'Assisted Reality' differs from Augmented and Virtual Reality as it doesn't change the user's experience of the real world, rather it adds additional information into their peripheral vision. In this case, a small screen is positioned under one eye which is voice controlled and provides hands-free access to information and remote experts while carrying out a task onsite.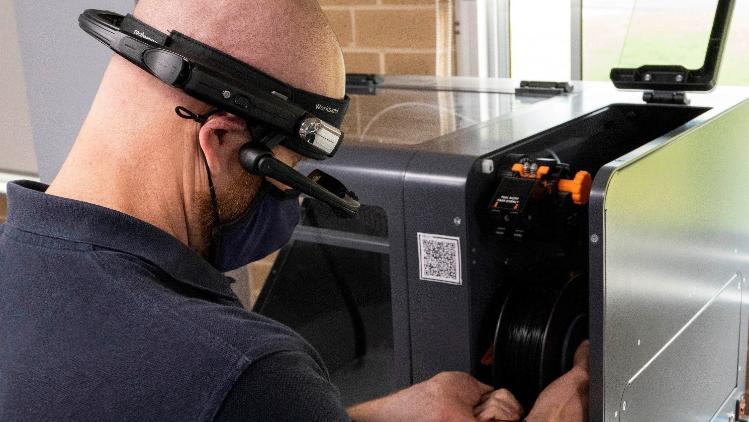 The Assisted Reality headset allows the user instant access to user manuals and other documents as well as custom made work instructions which can include annotated pictures, video demonstrations and prompts to record data for later review. They also enable the user to easily join video calls and share their activities or to work with a remote expert to receive immediate assistance on complex tasks. This is especially beneficial where travel restrictions and other public health orders due to COVID-19 limit access to work site.

We are currently trialling software to maximise the effectiveness of the hardware and already finding useful ways to employ them at the Industry 4.0 Hub. If you are interested in this technology and want to learn more about it, get in touch with us!
Funding Opportunities
The Federal and State Governments offer several funding programs to support collaborative research between the University and industry. UOW has a proven track record of efficiently securing government grants with industry partners. For more information, please visit our Advantage SME website.