Picture this: You land your dream job shortly after graduating. A job where you can wear thongs to work, get to travel the world and no one gets fired for going surfing. Fast forward nearly 10 years – you decide to move on to something new.
---
Meet Dane Sharp, a University of Wollongong (UOW) Bachelor of Arts graduate, who had a job in his 20s that most would envy. But after leaving his role as Global Media & Digital Marketing Manager with surfing brand Rip Curl – a decision that was met with criticism from family and friends – he went on to land more dream jobs with well-known international brands, Under Armour, eBay and McDonald's. And Dane credits his success to starting his career while studying at UOW.
"I landed my first media job while still a student. During my second year at university, I completed a week's worth of work experience with a magazine company, which led to them offering me a paid journalist position in Sydney," explains Dane. "My UOW faculty managers and lecturers were awesome – when I asked them if it was possible to take a job with my studies they were really supportive and helped me figure out how to manage my schedule."
After graduating, Dane left his job in media and moved interstate to Torquay, Victoria to start his career with Rip Curl.
"I didn't know someone doing my degree could get a marketing job with a company like Rip Curl," laughs Dane. "But there was so much opportunity. I was really involved in branding and communications when I first started – from writing slogans on t-shirts and posters in retail stores to creating content for their website and surfing events. From there the role just grew and evolved the harder I worked."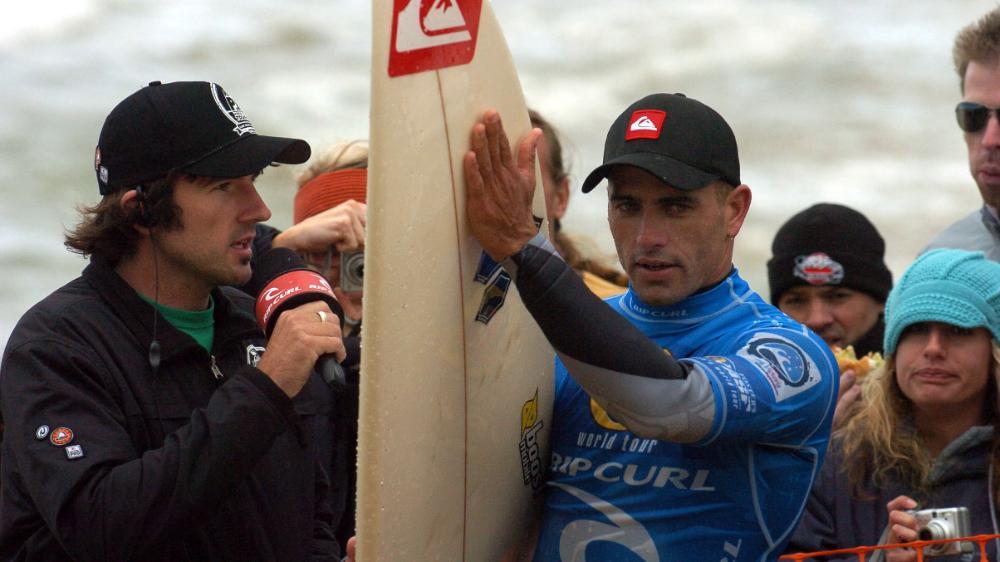 Dane Sharp (pictured left) with world surf champion, Kelly Slater
When Dane was approached by a recruiter about a job opportunity with the American sportswear company, Under Armour, he felt it was an opportunity too unique to pass up.
"I wasn't searching for a new job, but I was open to a new challenge," reflects Dane. "I'm a big American sports fan so I knew quite a lot about Under Armour and loved their marketing, even though their products were non-existent in Australia at the time.
"It's funny because I had actually referenced an Under Armour advertising campaign in an internal presentation I'd done at Rip Curl a week earlier, so when I was called about the job I thought it was a sign or fate, and all too coincidental not to explore."
Dane moved to Baltimore, USA for a few months to onboard with Under Armour and then moved to Sydney to set up the first Under Armour office in Australia. He says that launching what was already a $2 billion company into the country was a rare chance that not many get in their careers.
"I'll probably never get an opportunity like that again. Under Armour was hugely successful in North America but hadn't expanded globally. It was right time, right place for me, and I got to start the brand in Australia while they were also launching in Europe, China, Brazil and the United Arab Emirates."
"It was hard work though and more like a start-up for us. After three years I kind of felt burnt out," continues Dane. "Leaving was a hard decision to make because I loved the brand and was excited to see the 10-year plan I'd helped create come to life – but I knew it was time for me to move on."
It was the first time in Dane's career that he did not have another job to go to. He looked at job boards, interviewed with companies and was offered several roles – but they were not what he wanted to be doing.
Dane decided to do some freelancing work while keeping his eyes on the job market and when he saw a contracting role at eBay advertised, he felt like he found a 'diamond in the rough.'
"I'd always been quite intrigued about eBay as a company and like Under Armour, I'd often reference eBay in presentations about e-commerce and advertising. It wasn't exactly the type of client I was expecting to land in my first crack at freelance work, but once again the stars aligned."
Dane was hired for a three-month contract but that was extended to a full year.
"That was such a great opportunity for me to expand my network. I was working with eBay but the job they had me doing meant I was also working with the likes of Samsung, Woolworths, Target, Officeworks and Disney to help those companies launch on eBay."
"When the eBay contract ended, I had another one of those moments where I decided to take a breath. It had been another busy and successful year, and I was still doing some freelance work remotely, so my wife and I went to Fiji."
Sitting on the beach in Fiji, Dane took out his phone and scrolled through LinkedIn. When he saw a position advertised with McDonald's, it sparked his interest.
"I hadn't ever dreamt of working at McDonald's but when I read through the job description I thought, this role is exactly me."
After several interrupted interviews in Fiji (Dane's international phone connection would cut out every 10 minutes), he returned to Sydney and started his new role – one quite different from his past ones.
"I was a guy that used to work in boardshorts and thongs and also had an excuse to watch sport or go for a surf during work hours, but off I went to Macca's wearing a shirt, pants and fancy socks and shoes for three years," he laughs. "It was a big change for me, as was the way the business worked."
At McDonald's, Dane was empowered to digitise the company's million-dollar marketing campaigns, such as Monopoly at Macca's, led the roll-out of digital screens in drive-thru, and launched the mymacca's mobile ordering app.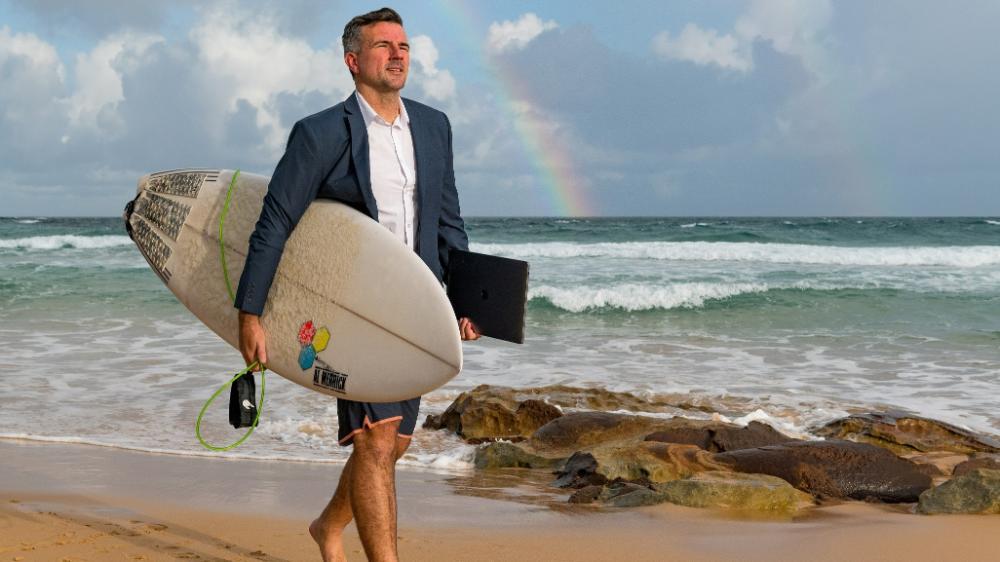 After three years with the company, Dane spent time searching for other opportunities where he could take the next step in his career as Chief Marketing Officer.
"That's what led me to Groupon," Dane explains. "It was a unique role – similar to the one at eBay – where I helped the company excite customers and do things with brands that they hadn't done before."
A year after Dane started at Groupon, Covid impacted the company's sales globally.
"Despite the decline in sales, our local team managed to achieve 14 months of growth. I'm really proud of what we accomplished – proving that we could attract and acquire new customers when the odds were against us."
In March 2020, just days after most Australian businesses advised their staff to work from home because of Covid, Dane's first child was born. Dane was eager to spend more time at home with his son so when Groupon began making staff changes due to the pandemic, Dane happily accepted a redundancy package.
"I felt lucky – while Covid was having a heavy impact around the world I got the chance to spend nearly every hour of the day with my son," Dane admits.
Dane turned to freelance again and took on some marketing and social work for his wife's fashion apparel business, Salty Crush. He rebuilt their website and scaled up their customer service software – all while he was at home with his son.
"We were locked at home working on my wife's business, and it was kind of perfect."
During this time, Dane also launched a podcast called Dream Job Ready.
"The idea for the podcast actually came to me because of UOW – from a chat I had with the alumni engagement team about this concept of working for Rip Curl being a dream job, and I'd heard it plenty. I hoped people would listen and take inspiration from people who, in my eyes, also had dream jobs."
Dane interviewed 50 industry leaders for the podcast who shared career advice and tips to help others get their dream job. But when fellow UOW graduate, Josh Wilson, reached out to Dane to help develop and launch a start-up called togetherAI, Dane needed to make a decision.
"It was another opportunistic moment in my career but this time, I had a different lens on my decision-making. I had a time management issue between my family, freelance and my podcast. I decided to finish up my podcast and freelance work so I could dedicate my time to togetherAI."
Dane says that even though he thinks there has been a lot of value in the work he did in his past jobs, he got to the point in his career where he wanted to make a bigger difference in the world.
"As a new parent, my perspective changed, and I wanted to do work that I think is life-changing."
TogetherAI wants to drive positive change in mental health using the power of technology. The company's app, Always Here, provides children with a space to talk and share their feelings and helps to give parents insights and personalised support to help with their children's well-being.
"Mental health issues among kids and teens are on a sharp rise. We want to see more preventative support and resources available to help young people navigate the challenges they face," explains Dane.
While he is proud of what togetherAI is building, Dane recently left the company to seek out his next career challenge. He's offering career and marketing consultancy via danesharp.com and is excited to see what is coming next.
When he thinks back to his first dream job at Rip Curl, Dane can't help but smile and feel grateful for the memories and valuable experience it provided. He has no regrets about leaving though because the opportunities and experiences that followed have been equally rewarding.
His advice for getting a dream job? "Don't sit around waiting for your perfect 'dream job' or a million-dollar lifestyle to present itself – hustle, work hard and say yes to opportunities."
--
Dane Sharp
Bachelor of Arts
UOW exists thanks to the generosity of donors
---
You can change lives by empowering our brightest minds and future leaders