Next-generation smart sensors enabled by nanotechnology are leading advancements in diverse fields, delivering previously unimaginable levels of sensitivity and portability.
---
Next-generation smart sensors enabled by nanotechnology are leading advancements in diverse fields, delivering previously unimaginable levels of sensitivity and portability. According to Distinguished Professor Omowunmi Sadik – a world-renowned researcher and inventor in bioanalytical chemistry, biosensors, and sustainable nanomaterials – the potential to address complex challenges is enormous.
"My research group is focused on developing innovative bioanalytical sensors for medical and environmental applications, and we are currently working on a sensor to measure the level of pain an individual is experiencing," Professor Sadik explains.
"When a physician asks a patient to rate their pain levels on a numerical scale, it can be very subjective, and in some cases – such as with children, the elderly, or those who are unconscious – it can be difficult to articulate at all. By developing sensors that accurately measure biomarkers released in the body as a result of pain, we can provide doctors, clinicians, and nurses with a more objective assessment of a patient's level of pain."
Professor Sadik is Distinguished Professor and Chair in the New Jersey Institute of Technology (NJIT) Department of Chemistry and Environmental Science and Director of the BioSensors Materials for Advanced Research and Technology (BioSMART) Center, where she leads innovative research creating new materials that promise minimal negative impact on the environment and human health. She joined NJIT in 2019 after more than two decades at the State University of New York at Binghamton, where her exceptional research innovation and teaching performance saw her progress to full professorship and serve as Director of the Centre for Advanced Sensors and Environmental Systems.
A genuine trailblazer and internationally esteemed expert, Professor Sadik has pioneered portable sensors for environmental monitoring and healthcare, produced more than 200 highly cited publications, is a sought-after speaker and collaborator, and holds five US patents. She has also profoundly impacted countless students, many of whom have gone on to stellar careers in academia, industry, and government.
Born and raised in Nigeria, Professor Sadik read her older brother's chemistry textbooks as a child, unlocking a yearning to learn more. After completing undergraduate and master's studies in chemistry at the University of Lagos, she left her home country behind for Wollongong, embracing a once-in-a-lifetime opportunity to undertake a PhD with Distinguished Professor Gordon Wallace in what is now the Intelligent Polymer Research Institute.
"My experience there was career-defining," she recalls.
"There was this healthy competition in the lab, and incredibly robust scientific discussion every day. It was just a beautiful intellectual environment that defined me, and one I have tried to replicate in my own labs."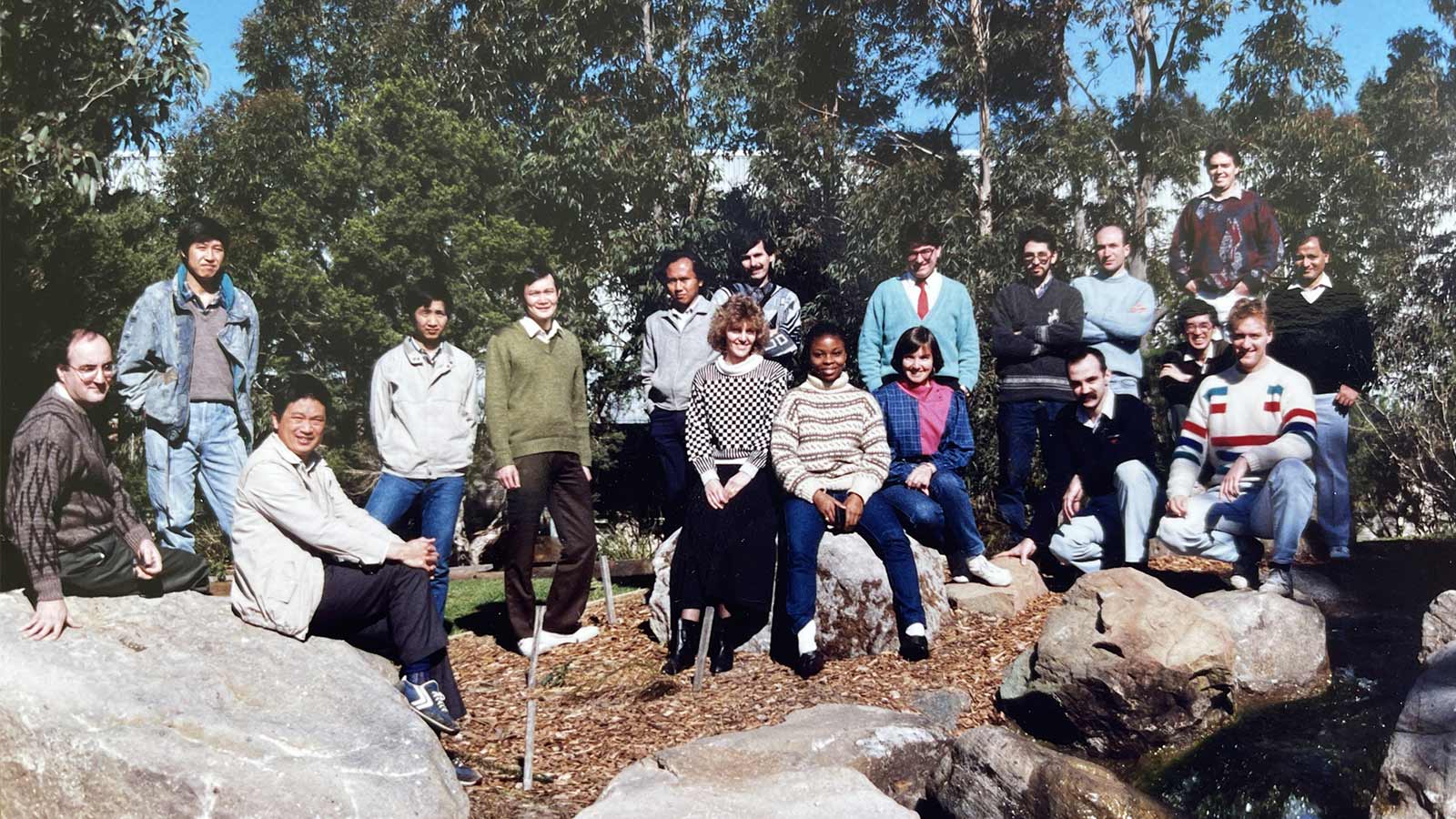 Omowuni Sadik and her research group at UOW in the 1990s
Professor Sadik has since been awarded numerous prestigious fellowships, including with the American Chemical Society, the American Institute of Medical and Biological Engineering, and the Royal Society of Chemistry, and was a National Research Council Postdoctoral Fellow at the US Environmental Protection Agency. Her accomplishments have also elevated Nigerian scientists – particularly female scientists – on a global stage: she was the fourth woman and the first female scientist to be honoured with the Nigerian National Order of Merit Award, and the first Nigerian American awarded the distinguished Harvard University Radcliffe Fellowship.
"I recall that when I was choosing to study chemistry, there were very few people who understood what kind of career you can have with a chemistry degree. Receiving the Nigerian National Merit Award was a wonderful validation of how far we've come, and the significance that the nation and its people have placed upon science and chemistry as a career."
Though Professor Sadik has faced innumerable barriers along her path to a career in STEM – as a woman, as a mother, as a person of colour – she has refused to be held back, channelling her experiences into inspiring and mentoring the next generation. Her own children are among them; her daughter is a Harvard-trained dual board-certified anaesthesiologist and critical care physician, her eldest son a Harvard-trained lawyer with an MBA from Yale, and her youngest son a dual major in Economics and Computer Science.
"You have to push through a lot of barriers in many ways because there's always a stereotype of where people think you belong. But despite that, I've enjoyed building a career in science. I've enjoyed motivating the younger generation and encouraging them to look beyond whatever limitations society, or even themselves, may have placed upon them; to see it as an opportunity and remain passionate about what they want to do, regardless of the hindrance."
With nanotechnology poised to transform so many aspects of science, industry, and society, Professor Sadik – who is also Co-Founder and President of the Sustainable Nanotechnology Organization (SNO) – is committed to engaging scientists and the global public with sustainable nanotechnology, and ensuring the safe, ethical, and environmentally responsible advancement of this burgeoning field.
"We have been able to shift the conversation from initial concerns around nanotechnology being dangerous to how we can develop it safely. I am proud to say that we haven't seen any environmental catastrophes as a result of nanotechnology, and this is primarily due to the efforts of SNO and other sectors in making people aware of the need to develop the technology sustainably. And that's why we're here."
Distinguished Professor Omowunmi Sadik is a finalist in the Research & Scholarship category of the UOW Alumni Awards. The winner will be announced at a special gala event at the University of Wollongong on 12 October.
"I feel incredibly honoured and excited to be a finalist; it means a lot to me that even long after I have graduated, my achievements have been noticed and recognised."