For Stephen Copland, the chance discovery of his Cuban grandmother's diary prompted a fundamental shift in his artistic practice, beginning a 30-year voyage that would give rise to a compelling new museum project in Italy.
---
Copland studied at the National Art School in Sydney in the 1970s, learning the craft of drawing, painting, sculpture, printmaking, and design alongside contemporaries that included Reg Mombassa. On graduating, he – like many of his fellow artists – looked to teaching to earn a living while making his art.
"It was an era where you could develop your practice with the progression of art education in Australia, learning as you went along about art, history, philosophy," Copland recalls.
"I didn't yet have formal qualifications in education – I later completed my graduate diploma at the University of Technology Sydney – so I worked in private schools. Here I could create my own syllabus and be creative as an artist in a school setting while developing what I call the linking of all subject areas as an educational force; an interdisciplinary art unifies and creates diverse outcomes."
Meanwhile, Copland was making a name for his painting and drawing, gaining early success in the 1980s as a finalist in the prestigious Sulman and Wynne prizes for his large-scale cubistic paintings. But he soon became disillusioned with the stylistic trends of the times. It was at this point that he discovered his grandmother's diary, written in Cuba in 1911, and a postcard album. The effect was profound.
"It shifted me, made me become someone else in a way – visually, technically. I had to adjust the size of my works, my methods, and be inventive with techniques. It was beautiful to be creative in the studio with materials, learning to make materials like wax and encaustic and work with different mixed mediums. I had to learn how these substances spoke, like an alchemist. And I had to tell someone else's story and figure out the best way to do that."
Copland developed the concept during his Master of Fine Arts studies at the University of New South Wales. Exploring his grandmother's memories, he created The Migration Series (1992-2002), a sequence of beautiful collages and diaries the same size as the original objects. Packing 75 of them into a suitcase, he set off to Cuba with an invitation to exhibit there, then followed the path of his grandmother's migration through to New Zealand, Lebanon, and Australia. The series evolved, with Copland making art in response to his travels and integrating it into the larger body of work.
"What began as her story became my story too, exploring aspects of my mixed heritage and growing up in Australia with a Scottish father and a grandmother that spoke Cuban and Lebanese."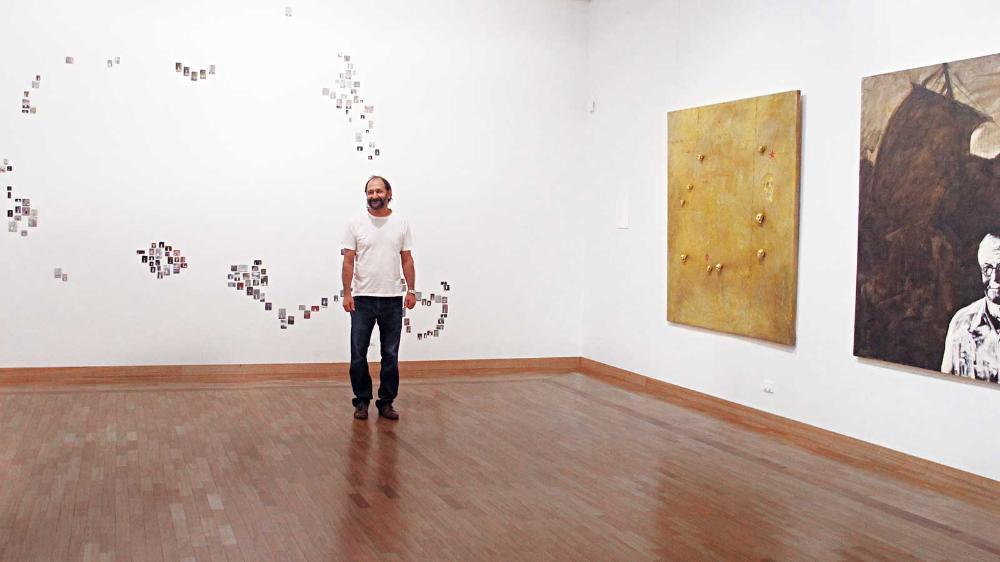 (Artwork by Stephen Copland featured above: Longitudelatitude; Border protection; 149 lighthouses of Australia, 2005)

The Migration Series was celebratory, but Copland's next series was born out of anger at the Australian Government's handling of the migration of refugees. Taking Théodore Géricault's The Raft of Medusa (1819) as a central icon, Raft: A Drifting Border (2002-2008) explores the darker side of migration through the lens of the ocean horizon that separates 'us' from 'them'. A third migration-focused series followed: Transit (2007-2016), an international travelling exhibition interpreting aspects of identity in a migratory globalised world. Curated by Copland's artist partner Meredith Brice – who curates all his work – Transit arose from the pair's time in the United Arab Emirates, where Copland spent two years as Visiting Professor at the University of Sharjah College of Fine Arts.
All three series came together during Copland's Doctor of Creative Arts studies at the University of Wollongong (UOW). Here, he developed the philosophy of migration as art as a cognitive-interpretive process, drawing on the social sciences to hold up a mirror to migration history and our shifting identities and attitudes.
The Migration as Art Museum is the culmination of this 30-year journey, currently being developed by Copland and Brice in a heritage-rich 18th-century building in Conzano, Italy – a town an hour's drive from Turin Milan, and Genoa known as the "land of the Australians". The seed of the idea was planted in 2014 when Copland was approached by Jop Jorrit Haverkamp to present the work as an online museum on the izi.TRAVEL app. At the same time, the International Council of Museums was changing its definition of museums to encompass a broad spectrum of tangible heritage, and when Copland and Brice visited Conzano in 2019 for a travelling group exhibition of their artists' books, they knew they had found the perfect place to bring their vision to life.
"The building has so much history, and the town itself is famous for the mass migration of its people to northern Queensland around 1890 to 1935 – the ancient town square was renamed Piazza Australia in 1992 and Conzano is twinned with the Queensland town of Ingham. We purchased a building there in 2021 and began renovating soon after."
The Museum will offer a unique archive of ethnography and cultural identity explored through artistic expression, fusing visual art with community, history, and heritage to build connection and mutual understanding. The first phase will be the completion of The Quentin Bryce Studio, an apartment studio residency the pair plan to open up to creatives internationally – artists, writers, musicians, researchers, and more – later this year. In addition to an expansive exhibition space, the plans also include a 'Migrants for God' room devoted to one of the building's former residents, who is a member of the Consolata Missionary Sisters, and a small Australian native garden.
"It's a grand vision, it's ambitious. And it has this huge educational force, because art is a powerful tool for helping us interpret the complexities of the migrant experience and reshape the narrative," Copland explains.
"For me, it's about creating empathy. There's extraordinary power in an image, and despite the proliferation of images now on our screens, people still have an urge for meaning. There's something in all of us that says we want something better."
--
Stephen Copland
Doctor of Creative Arts
UOW exists thanks to the generosity of donors
---
You can change lives by empowering our brightest minds and future leaders