From backpack to briefcase, many of us have felt the fear of stepping into the 'real world' once we graduate.
---
For Sachie Pallimulla, the first step post-uni was a job on a large-scale Chronic Disease and Ageing Research Clinical Project with Monash University, which he describes as being completely "thrown in the deep end". At only 21 years old, Sachie was working with a diverse set of stakeholders including patients with disability and chronic illness, as well as high level directors, clinicians, allied health professionals and organisations.
A self-described introvert, the experience could have been intensely overwhelming for Sachie, but he was surprised that he felt so comfortable in the contexts he was placed in.
"It was like something had really preconditioned me to perform quite authentically and productively with all of these groups, focusing less on feelings of social anxiety and more on the work itself."
This focus, drive and ability connect with people from all walks of life has propelled Sachie from strength to strength since graduating with a Bachelor of Medical and Health Sciences (Honours) from UOW in 2018. His current role is as a Senior Clinical Trials Operations Coordinator at the National Health & Medical Research Council (NHMRC) Clinical Trials Centre at the University of Sydney. It is a complex and challenging role that sees Sachie collaborating with a national network of hospitals, state and federal governance bodies, and clinician researchers and professionals, all focused on developing and delivering high-impact clinical trials nationally and internationally.
So, what exactly was it that made Sachie feel so prepared and confident?
Sachie describes how crucial his co-curricular experiences have been in shaping who he is as a person and making him feel ready and capable for almost anything.
As an undergraduate, he was a member of the Student Health Alliance for Rural Populations (SHARP), a Simulated Patient Volunteer, and Anatomy and Physiology Demonstrator – all roles that allowed him to build skills and networks directly related to his academic interests. Sachie served as the President of the UOW Sri Lankan Students' Society, contributed to the Global Communicators Program and Rotaract community, assisted setting up social events on campus as an events volunteer, represented his Faculty during orientation weeks, and connected many students to co-curricular activities as a UOWx Ambassador.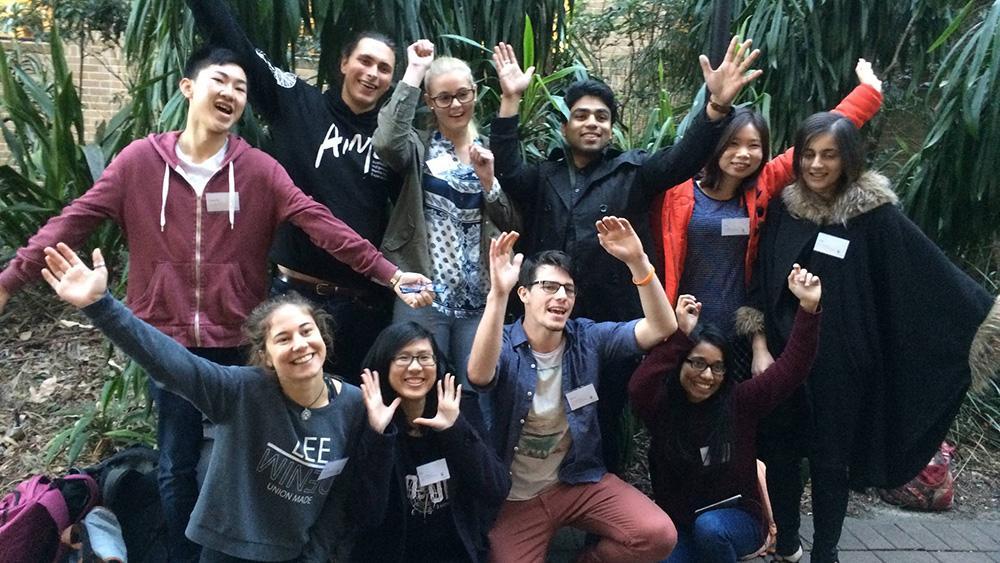 Pictured above: Sachie (back row, third from right) with fellow UOWx student ambassadors.
"Through these diverse engagements, I realised that not only was I contributing productively to the communities around me but also actively developing myself. I was becoming more patient and accepting of others. I had a clearer view of the world around me. I observed that I became more disciplined and resilient, both socially and professionally. I am grateful that I was able to refine these personal attributes as a young adult and before graduation."
Sachie's dedication to his own personal and professional development saw him graduate with the UOWx Award – the mark of an extraordinary graduate. He was also a finalist for the prestigious Chancellor Robert Hope Memorial Prize which acknowledges exceptional academic performance, outstanding leadership, and significant contribution to the University and the wider community.
Formal recognition of Sachie's commitment to volunteering and community engagement has also played an important role in helping him to stand out for jobs, scholarships, and other opportunities in his career. In 2020, Sachie was awarded a highly competitive postgraduate Commonwealth Supported Place from the University of Sydney to study a Master of Science in Clinical Epidemiology. Such places are hard-won and Sachie believes that his comprehensive list of academic and recognised co-curricular engagements and community contributions is what helped him to get over the line.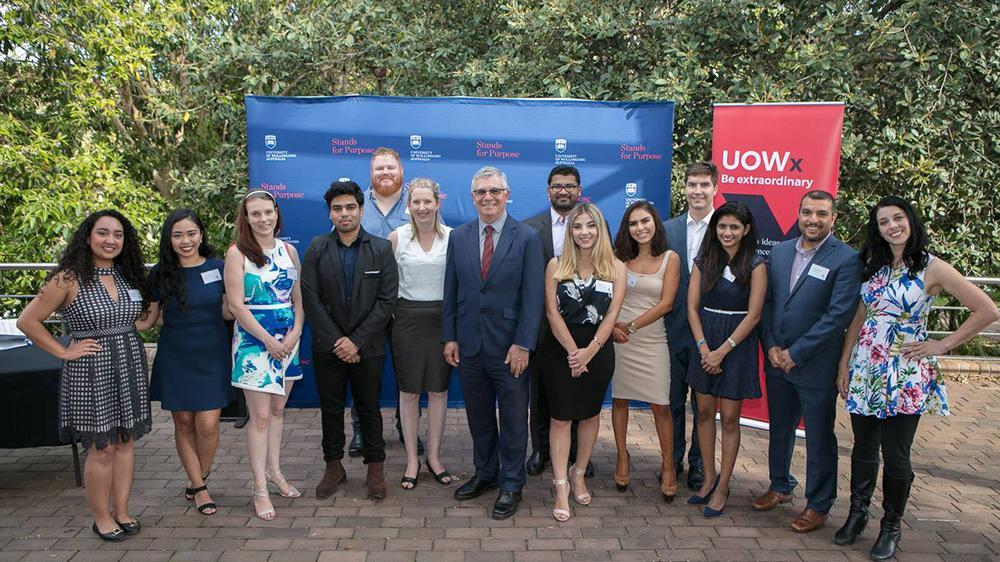 Pictured above: Sachie (fourth from left) with fellow UOWx award recipients.
On a recent visit to UOW's Wollongong campus, Sachie shared his story and advice with current students who hope to also graduate with the UOWx Award. In his address, he stressed the importance of self-reflection and honing the ability to effectively articulate the incredible learning and personal growth that occurs throughout university.
Unsurprisingly, he also encouraged the students to remain dedicated to skill development and community engagement once they have graduated.
"After graduation and whilst working in a full-time job, it can be difficult to find and commit to professional development and skill building activities for career development. My experiences in the UOWx program pre-conditioned me to keep the momentum going. It fundamentally trained me to develop a refined yet liberal eye to identify and create opportunities to learn and grow, whether it be in the workplace or elsewhere. Even prospects that are sizably small can have a substantial impact on one's professional and personal development and career growth."
UOW exists thanks to the generosity of donors
---
You can change lives by empowering our brightest minds and future leaders