Growing up in Surabaya, Indonesia and raised by a single mother, Yani Oktaviana loved listening to a variety of music genres from a young age, but it was hip hop that would eventually win her heart.
---
As a little girl, during celebrations in her hometown, Yani (also known as Yacko) would sing on stage to the residents — full of enthusiasm, talent and big dreams. Before the days of the internet, Yacko recalls hearing hip hop for the first time on the radio at the age of thirteen and reading about the difference between hip hop and rap in magazines.
"I began to have this dream that someday I would release an album and be a famous rapper in Indonesia," she says.
She competed in rap competitions after school and on weekends, consistent and dedicated to balancing her education and creative pursuits; and at the age of 16 was given the opportunity to be included in a rap compilation album with her then-band.
"It was then that I thought: 'my dream has started to come true,'" she says.
Moving to Australia in 2001 to complete a Master of Business Administration (MBA) at the Sydney Business School, University of Wollongong (UOW) gave her the chance to continue that dream and expand her creative network.
"I'm a big city girl at heart. When I found out that UOW also has a campus in Sydney, I was just so happy because it gave me the perfect balance," she says.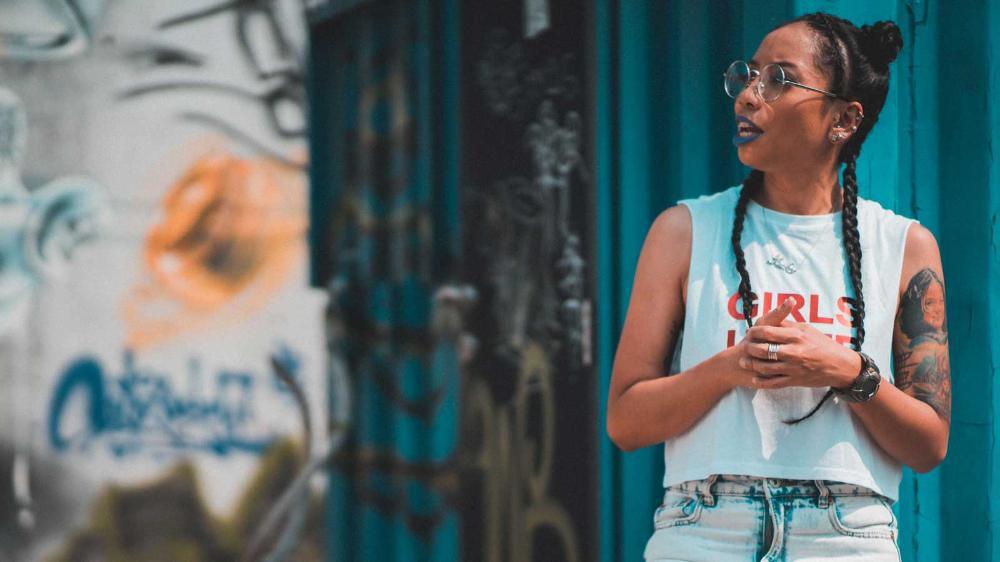 Image credit: Vinodii
Yacko enjoyed the balance of living, studying and working in fast-paced Sydney; and the quiet coastal atmosphere of Wollongong on the days that she'd travel south to attend some classes.
"I loved my time at UOW. I loved the library, the campus, and the teachers especially, because they're so approachable," she says.
In Australia, Yacko spent her days studying postgraduate business, and her nights networking with the Australian hip hop community and performing with an Indonesian community band that she joined.
She recorded her first solo album titled 'Refleksi' in 2005 and joined record label EMI in 2005. In 2006 she moved to Jakarta and went on a promotional tour for her album at the same time as starting her career in education.
"I wanted to find a job that suited my creative schedule, but also allowed me to do something that I'm passionate about.
"I teach because I love sharing," she says.
Image credit: Dedidude

Yacko is currently working with SAE Creative Media Institute in the role of Academic Coordinator, a place she is familiar with as both an artist and a teacher.
She'll often invite guest speakers from the music industry to attend her lectures, and she embeds case studies about their lives into student assessments.
"This helps students to learn not only about the conventional company, but also learn from the creative company, including advertising agencies for example.
"In music I share my message. In education I share what I have learned from both the industry and the people I work with.
"I believe that a teacher needs to work in the industry while they're also teaching, so that they can pass on real life experiences to their students," she says.
Yacko's personal branding statement is this:
"I am a lecturer by weekdays, and a rapper as fate would have it," she says.
Yacko released her second and third albums independently in 2007 and 2013 respectively. Her third album was listed in the '20 Best Albums of 2013' by the then Rolling Stone Indonesia.
Image credit: FredB Art Photography
On International Women's Day this year, she collaborated with Diton King to release her latest single titled 'Women King.' The lyrics are a tribute to fellow females in the industry, especially female graffiti artists — to inspire one another, drive change and elevate their true potential.

Yacko is also currently working as Program Director for FLAVS 2023 festival that will run from 14 to 15 October this year and celebrates 30 years of Indonesian hip hop and 50 years of global hip hop.
She encourages creative people who also want a career in business to consider working in event management, for music events.
"You can really motivate performers if you're a creative person working behind the scenes," she says.
Yacko attributes her success to a philosophy she lives by, that reminds her to keep on track with her goals whilst allowing the time-target of the goals to shift when opportunities are missed, or life gets in the way.
"Stay consistent to your objective but be flexible in your strategy," she says.
--
Yani Oktaviana
Master of Business Administration
UOW exists thanks to the generosity of donors
---
You can change lives by empowering our brightest minds and future leaders