Blend ESQ Founder and Director Robyn Johnson has spent two decades guiding businesses to operate within our environmental laws and influencing environmental controls on significant projects. But when she looked through the lens of a group of ten-year-old students, she began to question whether she was genuinely using her skills to the greatest impact.
---
Johnson spent her early career in industry focused on environmental impact assessment, gaining first-hand insight into the developer mindset of how far environmental laws can be pushed in pursuit of a desired outcome. Shifting into consultancy, she delivered environmental risk and due diligence impact assessments for key clients and developed an interest in environmental management systems and integration. She established Blend ESQ in early 2019 with a vision to help industry leaders grow the environmental safety and quality capabilities of their projects and businesses.
On secondment managing environmental health and safety for the proposed Hume Coal mining project in the Southern Highlands, preparing to take it to the Independent Planning Commission, she was right where she thought she wanted to be – influencing the design at the planning phase to shape the environmental controls being built in. It was at this point that her crisis of conscience came.
"I was delivering a presentation on the project to a group of Year Five students, and the simplicity and ideology of their questions as they tried to decide whether they thought the mine was a good thing or not really made me think," she recalls.
"We had framed the message around saying we've done the best we can within the industrial era that we're working in and asked them to consider where they could have the greatest impact on how the story continues into a new era. I began to question whether I was using my own skills to have the greatest impact I could now."
Johnson withdrew from the project, shifting her focus to Blend ESQ and her part-time secondment as ESQ Manager for consultants Eco Logical Australia. Also an active member of i3net – the Illawarra Innovative Industry Network – and finding herself alongside other great talent from the resources sector, she was invigorated by the region's incredible potential to lead the clean energy change.
"We were seeing the emergence of clean energy tech companies with solutions to our energy transition issues, and the activation of all levels of government, the university, port, steelworks, supply chain, logistics, and the community. We also had a local government election happening, and I realised: we were all trying to achieve the same thing."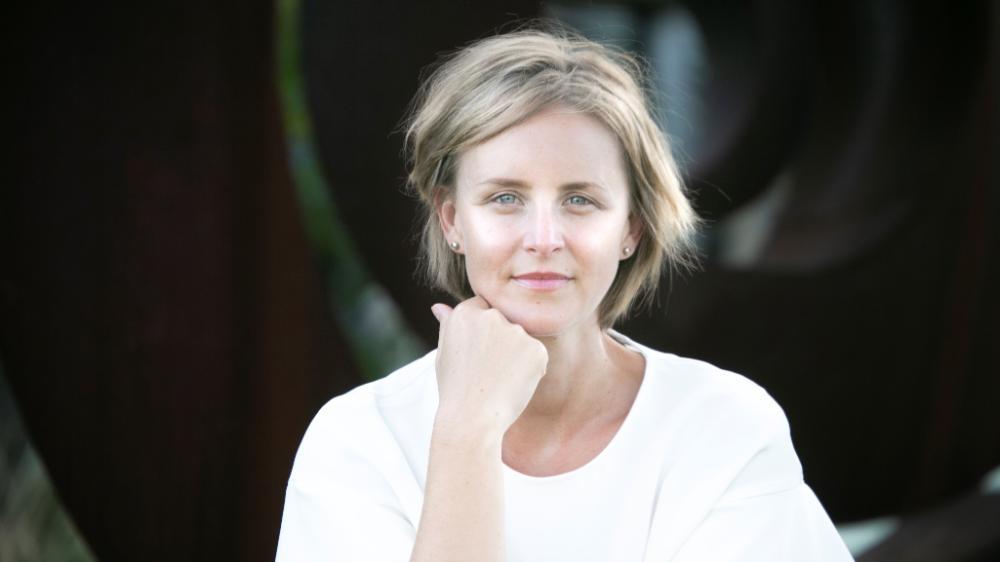 From this fertile ground grew the inspiration for Johnson's podcast Wollongong, Let's Get Salty, launched in April 2022 as a tool to highlight and inspire positive local action on the climate change crisis. Released monthly and featuring a vibrant roster of guests, it has covered local highlights of the energy transition. Johnson intends to continue to build momentum to encompass the full spectrum of sustainability topics, from resilient transport to food, waste, plastics, biodiversity, and local climate change adaptation.
"It felt like industry were talking to industry, activists talking to activists, and community talking to community, but then there was this larger disconnect; I knew of so many things happening that weren't being shared more widely," says Johnson.
"I thought that through telling some of these stories in a positive way, relating them to local people and places with shared care for the natural environment that we live in, I could bring more people into the story and build momentum and opportunity for action. At the same time, it would create a platform to attract local talent into the sector and to generate investment and government funding, all aimed at realising the Illawarra's incredible local and global potential as a green energy superpower."
She has recently returned from Parliament House in Canberra, where she was invited to be part of a forum organised by Member for Cunningham Alison Burns showcasing the region's clean energy collective to key political players including Federal Minister for Climate Change and Energy Chris Bowen.
"It was clear that there's this amazing energy and capability in the Illawarra – a true sense of unity around building a marketplace together. Being invited was a career highlight for me because I saw the potential long ago and have been cheerleading these companies to tell their stories."
Though Johnson has always been passionate about the environment, she hadn't originally considered a career in the field. She tested the waters in visual communications and then computer science before dropping out of university to do a Green Corps traineeship with Australian Conservation Trust for Volunteers. Based at Mount Annan Botanic Gardens in Western Sydney, she worked alongside prolific botanist and D'harawal knowledge holder Aunty Frances Bodkin.
"She was amazing; she had so much knowledge about native plants and connection to place, and I was inspired by her passion to study environmental science," Johnson recalls. "I ended up at UOW and loved my time there; it's an incredible environment to inspire people to think, learn, be creative, and apply their knowledge."
She has returned to UOW this year as part of the latest cohort of iAccelerate's Activate Program, where she is on a journey to review her services to delve further into sustainability and mitigating climate risk and better use her skills to accelerate industry progress in this area. Johnson says the University is the region's greatest asset as it works through the complex challenges of transitioning to a more sustainable future.
"Universities have made a real shift to translational research. It's that access to research and innovation that enables industry to solve the problems it needs to solve, and to create services and competitor advantage to deliver the technology solutions we need for a better tomorrow."
--
Robyn Johnson
Bachelor of Environmental Science
UOW exists thanks to the generosity of donors
---
You can change lives by empowering our brightest minds and future leaders