The UOW graduate putting retired mineshafts to work for our green energy future
---
Power generation is the world's largest emitter of carbon dioxide, placing it squarely at the heart of the global renewable energy transition. While the mix of renewables continues to evolve, providing energy when and where it's needed remains a complex challenge. But there's a new player on the scene, offering a compelling solution to our rapid decarbonisation and energy storage conundrum.
Wollongong-based startup Green Gravity, housed at UOW's Innovation Campus SmartSpace, is enabling the renewable energy transition by developing next-generation ultra-green gravitational energy storage systems utilising disused mines. According to company Founder and CEO Mark Swinnerton, the potential to radically accelerate the global transition and help Australia realise its net-zero emissions goal is immense.
"It has become increasingly difficult for companies to build new large-scale solar plants, because the variable nature of renewables creates huge volatility in wholesale electricity prices and energy shortfalls in the evenings when demand peaks," Swinnerton explains.
"The obvious answer is to produce electricity at lunchtime when it's abundant and store it until dinnertime, but there are very few technologies that do that. At the same time, we have around 100,000 legacy mines across Australia and millions more around the world, many of them already connected to the electricity grid. We realised we needed to shift the thinking from how Australia's current mines can participate in the electricity transition, to how these legacy mines can."
Green Gravity is well on its way to becoming the world's lowest-cost, most sustainable provider of energy storage technology. The concept is fundamentally simple, moving heavy weights vertically in the legacy mine shaft, storing them on the surface, and lowering them to release their gravitational potential energy as the grid requires. Each mine site's capacity sits at between 20 and 50 megawatt hours, compared to around 20 or 30 megawatt hours offered by the large-scale batteries deployed in Australia in recent years.
It's the perfect circular economy model; it uses existing infrastructure and proven mechanical parts, takes no new land or water, burns no fuel, and produces no waste. Green Gravity's technology is economical, durable, flexible, and infinitely sustainable.
Launching Green Gravity early in 2022, Swinnerton brings to it vast experience and expertise gained at the highest levels of the resources sector. His journey began with a BHP materials engineering cadetship at UOW that took him straight from high school to the steelworks.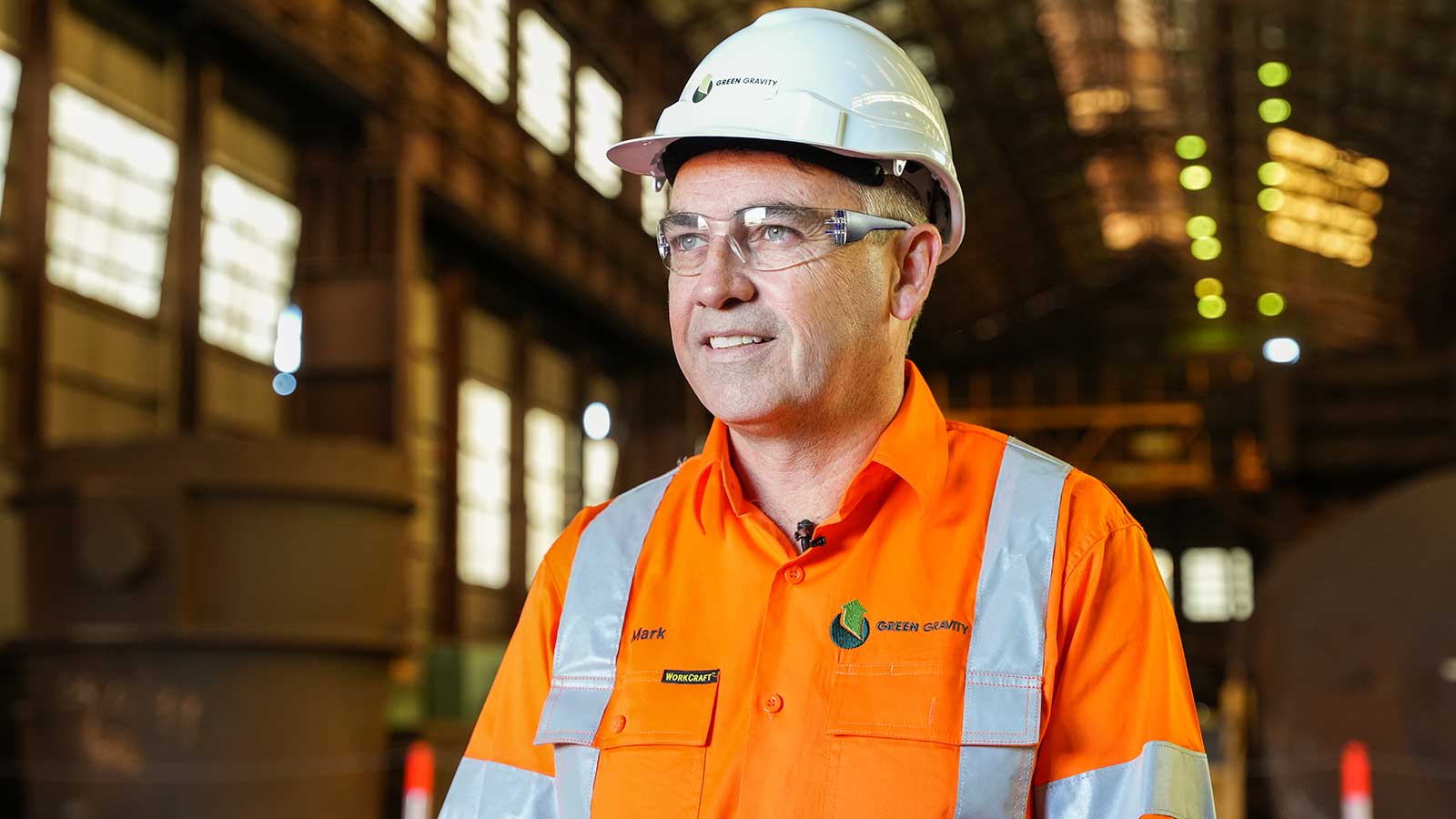 "I was good at maths and science, so engineering seemed like a natural choice, but I also toyed with the idea of architecture in Melbourne. But my dad said to me: 'You can go to Melbourne and be a poor uni student, or you can go and start a career with the biggest company in the country in Wollongong'. The choice seemed obvious; I loved my time at UOW and the cadetship and I've never looked back," he recalls.
He was to devote 25 years to BHP and BlueScope across Australia and Asia, including several years in Singapore as Vice President Market Analysis, during which time he led a paradigm shift in the company's development pathway for iron ore exports to significantly impact the global steel industry. Swinnerton spent his final years with BHP as Vice President Operations – a large line leadership role responsible for a national team of thousands – before leaping to founder life in late 2021, adapting his skills and approach to this very different space.
"It's absolutely critical coming into this kind of journey to have high learning agility. You need to be able to bridge your knowledge in this new context and be across so many skills you've previously relied on others for, whether that's corporate finance, IT systems, negotiating commercial deals, or technical engineering. You also need to find a rhythm of leadership that suits the context you're in."
In little more than a year, Green Gravity has advanced into world markets including the United States, Europe, India, Africa, Asia, and South America and built an array of strategic domestic and international partnerships. The company is set to overtake all but its largest global competitor by the end of this year and aims to have 20 sites fully operational within the next five.
Recently returned from an Austrade mission to Singapore, where he was also a guest speaker at the 2023 Cleantech Forum Asia, Swinnerton has also just launched The Gravity Lab, the company's world-leading proprietary research and development facility at Port Kembla Steelworks.
"It will be the most advanced research facility in the world for gravitational energy storage and a huge step forward around physical demonstration, " Swinnerton reveals.
"The Gravity Lab will also be co-commissioned with its digital twin, developed in partnership with NVIDIA and AI specialist xAmplify. Over the coming six months, that will lead to a variety of digital assets being commissioned in a replica of the real world. This enables us to test the technology in the digital space – learning about operations, maintenance, how sites interact with the grid – so it will be more advanced when it hits the market."
Swinnerton says the Illawarra is an ideal base for Green Gravity's mission to realise the ultra-green future of energy security.
"There's a real multilateral opportunity in the region for big energy projects and we're engaging with the University and others, including BlueScope Steel, and speaking with all levels of government to bring it together," he says.
"We are only at the very beginning of the energy storage build-out required for net-zero – just two per cent into the future capacity that's required globally. Our technology can bring very efficient, large-scale investment to regional locations in Australia and around the world, increasing the pace of renewable energy penetration while creating new industries, asset uses, and economic investment in those regions."
Mark Swinnerton
Bachelor of Engineering
UOW exists thanks to the generosity of donors
---
You can change lives by empowering our brightest minds and future leaders