Paul Smith was working at a furniture store in Wollongong when he saw an advertisement in the local newspaper that would completely change the course of his life.
---
A few years after graduating high school and a year working at a coal mine in Queensland, Paul got a job selling furniture.
"That was a really important phase of my life because it was the first time I'd ever worked in retail, and it was a great founding for sales because I was right at the coalface."
But Paul knew something was missing from his life – he wanted to be doing something different.
Paul saw an advertisement in the local newspaper for a new program at the University of Wollongong (UOW), a Diploma in Sports Science.
"It was like they'd written a course description for me. It was described as an opportunity for mature-aged students or people with skills in sports to enter a program at university," Paul explains.
Paul applied to the program at UOW and was successful. He describes seeing that advertisement as a quirk of fate.
"It's one of those incredible sliding door moments in your life that you reflect on later. It started with a simple ad in the newspaper – I could have missed it, not read it.
"The program completely changed my life and put me on a pathway to where I am today. I wouldn't be doing what I'm doing, I wouldn't have achieved what I have, or been able to have this success in my life without UOW."
Paul grew up in the Illawarra, moving to Port Kembla when he was three and then Warilla at the age of five. He is the youngest of five children who connected over their love of sports.
"Sport was a big part of our life growing up. It was the thing that we got into as a whole family and something that was always close to us."
Paul admits that he wasn't the best student at school.
"I was more focused on sports than I was on schoolwork."
After graduating from UOW, Paul was accepted into a fast-tracked Bachelor of Sports Administration at the University of Canberra and completed the degree in two years. He then worked in tennis in Canberra for nine months before moving to Sydney to work at the Professional Golfers' Association (PGA).
Paul worked at the PGA for six years but says that he had the same feeling as when he was selling furniture – he wanted to be doing something different, but he wasn't sure what that was.
"Another sliding door moment happened for me when Sydney was awarded the hosting rights to the 2000 Olympic Games. I was in Circular Quay the morning that it was announced and knew that this was something I needed to take advantage of. That's when I decided I would work for myself."
Paul left his job at the PGA and started an agency called Total Sports Entertainment (TSE) that helps brands manage their sports sponsorships.
Paul says that he was prepared to take risks and wasn't afraid to fail.
"I always had the view that if I was unsuccessful, I'd be a better employee because I needed to scratch that itch. My mantra was, and still is, that I never want to die wondering."
When his clients at TSE started to question the value of their sponsorships, Paul saw an opportunity. He knew there was a desire for brands to measure the impact of sports sponsorships to justify their investments.
Responding to this gap, Paul founded another company called Repucom which provided metric measurements of sports sponsorships.
Repucom quickly gained traction in Sydney and then Australia-wide. Two years after launching, Repucom opened an office in Singapore, and a year after that, Paul relocated to New York to set up their American office.
"It was one of the biggest things I've ever done. I was 45 years old. I thought I was too old to be migrating overseas and setting up a business from start up. But, again, I thought if I don't try, then what's the point?"
Soon, Repucom had 1,400 employees across 23 offices in 18 countries. They became the benchmark globally in research for sports – every major brand in the world was their client.
In 2016, the global media company, Nielson, made an offer to buy Repucom and Paul accepted.
"What should have been the happiest day in my life was one of the toughest days because I didn't realise how much it meant to me."
Paul admits that his goal was always to build a business that he would eventually sell. But he didn't realise the emotional toll it would have on him.
"My life changed overnight. I fell into a very deep funk arising from the transaction and suffered a lot emotionally as a result.
"You can work so hard, invest so much, and then when you achieve it, it's not what you expected it would be."
Paul remained overseas for two years after the sale of his company before moving back to Australia.
"It took a couple of years to get myself back on track. And sometimes those dark moments are still there for me. That will always be the case. It's like a scar – it heals, but it never actually goes away. Now that I understand that, I've learned to cope with it."
When Paul returned to Sydney, he resumed his focus on TSE, which had been running for nearly 25 years since he founded the company.
"I hadn't been involved in the business for nearly 11 years, so I started to reimagine what TSE could be. I thought there was an opportunity here in Australia to do something very different – something new and innovative. In a sense, I went down to the base of the mountain again."
Paul diversified the business at TSE, branching out into design and video content creation as well as acquiring the men's professional basketball team, The Sydney Kings, and the women's professional basketball team, The Sydney Flames.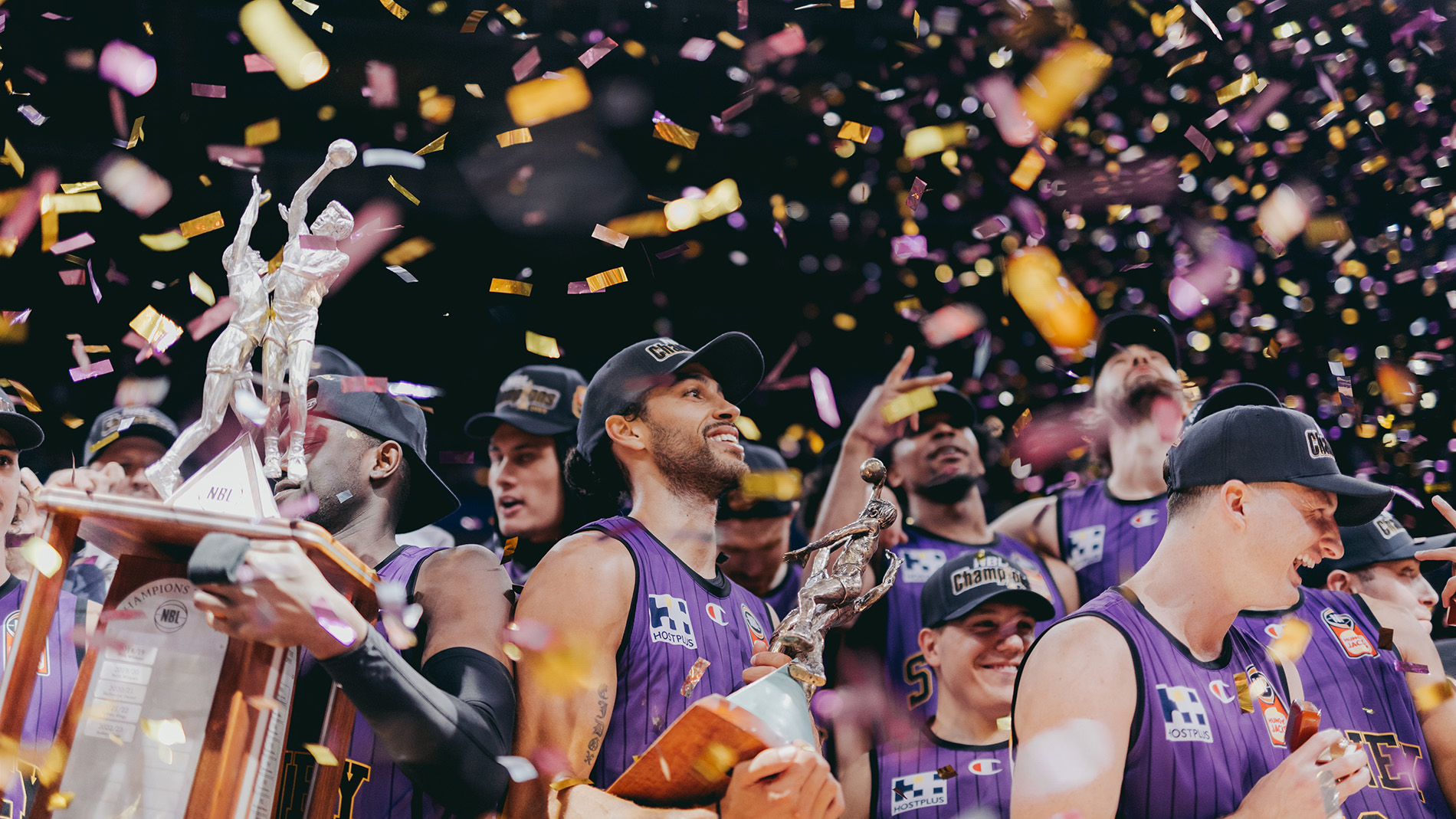 Image: Sydney Kings team members holding the 2023 NBL Championship trophy.
When asked what's next for him, Paul laughs, "What I know is that I'll never retire. I can't stop."
Paul says he's still inquisitive and wants to support others to achieve their goals. He sees a lot of opportunities for business in the Illawarra.
"I'd love to get more things going down there. There's so much potential."
Nearly 40 years after graduating from UOW, Paul says that he stays connected with his classmates.
"The cohort I was in was incredibly fun and we stay in touch.
"I didn't realise at the time – it's hard to understand your own emotions as it's happening – but studying at UOW put me in an environment where I could channel my ambitions.
"Every time I drive down Mount Ousley and pass the campus, I still feel good. I feel good because I know what it did for me and how it changed my life. I am grateful."
---
Paul Smith, Diploma in Sports Science
UOW exists thanks to the generosity of donors
---
You can change lives by empowering our brightest minds and future leaders