Creativity is a potent connector to identity, culture, community, and place. For Dr Virginia Keft, it is a conduit to unearthing the vast spectrum of ways we each experience how and where we belong.
---
"Creativity is the language through which we talk about what is important to us; it can tell a story or express how we feel," she explains.
"For me, it is a way to explain things that are complex or difficult to talk about, but also to explore and create what I am drawn to or find beautiful. I love looking at my creative practice over time and feeling what was happening for me as each work was created, and seeing that journey of personal and cultural expression."
A proud Murrawarri woman living and working on Dharawal and Gadigal Country, Dr Keft's body of work – as an artist, First Nations producer, curator, performer, and researcher – tells the story of her connection to Country and Culture.
"My visual arts practice is a powerful statement on the resilience of tradition, the persistence of cultural memory, and the strength of Aboriginal identity. Spanning painting, drawing, weaving, sculpture, and sound art, it celebrates connection to place, community, and language," Dr Keft says.
"Weaving is a significant part of my art practice; it's an important part of my Aboriginal culture, and I was fortunate to learn from Elders on Country several years ago. I've spent a lot of time honing that skill and developing it to fit my contemporary viewpoint, bringing weaving techniques into my sculptural work and more recently my painting."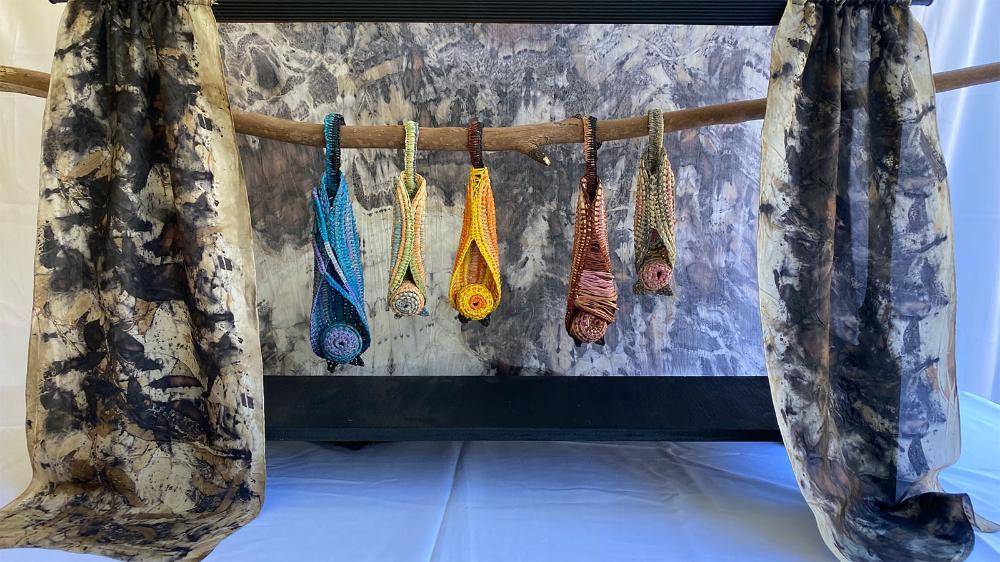 Virginia Keft, The Colony on Show, 2022 (silk eco-dyed with eucalyptus leaves, reclaimed timber, raffia, wire) 63 x 140 x 33 cm
Drawn viscerally to the arts as a child, higher education felt like a natural progression. Growing up primarily in Jamberoo, Dr Keft spent two profoundly formative years studying fine arts at West Wollongong TAFE before enrolling in a dual degree in creative arts and English literature and Philosophy at the University of Wollongong (UOW). The diverse strands of her creativity began to interweave.
"I started uni with this energy of being more immersed in creative arts, seeing the literature degree as a fun side gig supporting my love of reading. But I quickly found that the two degrees spoke to each other, and it became much more than the sum of its parts."
It was during this time that she discovered another of her life's great passions: belly dance. Dr Keft fell in love with the movement, music, and rhythms, and her fascination with its literary portrayal became the focus of her subsequent PhD. She embarked on her doctorate at the same time as founding award-winning dance company Cinnamon Twist Belly Dance, where she created and nurtured an incredible community and grew a global following as the creator/producer of Wollongong Belly Dance Festival.
"Probably my greatest achievement with Cinnamon Twist is having created inclusive spaces where all people can feel safe to rediscover themselves, explore creativity, look beyond the four walls of their own lives, and really connect with other people, and laugh and play as adults. There is no higher honour than to make someone feel safe."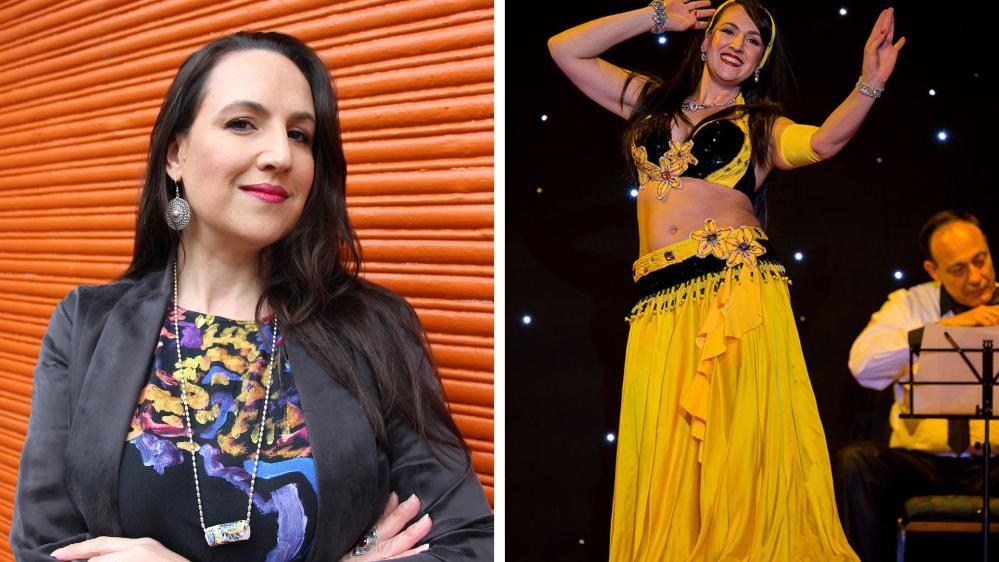 Dr Virginia Keft (photo by Anoushka Sansom); Dr Virginia Keft performing at the Wollongong Belly Dance Festival (photo by Eamonn Bell)
But perhaps Dr Keft's proudest accomplishment is her work on bangawarra Art Yarns: for older and Elder mob at the Museum of Contemporary Art. The unique program, which works to support First Nations peoples living with or at risk of developing dementia, is at the innovation forefront of cultural wellness in a shifting landscape. Having lost her maternal grandmother to vascular dementia, the project is close to her heart.
"Statistics show a much higher incidence of dementia in Aboriginal communities, and as our community is now ageing for the first time we're faced with issues we haven't previously had to consider," she explains.
"The program is about supporting and engaging Aboriginal communities in creative and culturally safe ways. I'm so proud to be at the centre of that and to see the incredibly positive impact it is having as we forge connections in a place of safety and joy. Personally, it is the perfect expression of my artistic and research skills, connection to culture, and commitment to supporting the process of ageing well."
Virginia Keft in the foyer of the Museum of Contemporary Art
Energised by constantly moving and learning, the coming years will be characteristically busy for Dr Keft. Deeply immersed in her creative practice, she has just added to her extensive list of accolades the acquisitive yapang Emerging Art Prize 2023 for her work We were here long before the Hills Hoist (2022). She is also excited by her role as Weaving Garden Project Lead on a collaborative project building First Nations engagement, specifically with weavers, into the much-anticipated Powerhouse Parramatta development.
At the heart of it all lies connection, facilitated and embodied through the arts.
"Creating connections is a really big part of what drives me, and so I follow the threads that lead me in one way or another. And as the trajectory of my life has shifted art and dance have always been there, drawing everything together."
Dr Virginia Keft is a finalist in the inaugural Arts & Culture category of the UOW Alumni Awards. The winner will be announced at a special gala event at the University of Wollongong on 12 October.
"It's such an honour to have that continued connection with UOW, and to have been selected as a finalist in that particular award. Arts and culture bring together the things that I have continuously been interested in, from my very early years to now, so it feels great to be recognised in that way."