Call it a self-confidence crisis or an anxiety trait, Imposter Syndrome is a scourge that can insidiously scuttle the best of careers.
---
Identified as a phenomenon by two American psychologists in the 1970s, it is loosely defined as self-doubt over one's abilities and feeling like a fraud.
It has been found to disproportionately affect high-achieving females, but opinion is divided on the underlying cause of the self-doubt in this cohort.
Culture and health equity writer, Jodi-Ann Burey in a 2021 Harvard Business Review article argued that bias and exclusion rather than Imposter Syndrome exacerbate feelings of doubt among women in the corporate workplace.
On International Women's Day, the University of Wollongong (UOW) is celebrating female achievements, particularly in connection with entrepreneurial roles.
Three UOW graduates share their views on success and the need to address the causes of self-doubts that hold women back.

Sandra Pires, documentary maker and Yesterday Stories founder and CEO
Bachelor of Science Honours, Psychology
Bachelor of Communications
Pires is an accomplished documentary maker with works such as The Dalfram Dispute 1938: Pig Iron Bob and Under Dark Skies.
But it is Yesterday Stories, a project on which she has spent more than a decade developing, that now consumes most of her energy in the belief it can become "a Wikipedia for history at a local level".
The multi-purpose app allows users to watch video histories and to create their own short video stories.
"The idea came to me when I was doing a multi-platform course in 2010 where you learn to produce content for different platform mediums," Pires recalls.
It cemented further in 2015 when she was filming a documentary in Poland.
"I was in this beautiful city and couldn't get a sense of the history because the museums were shut and there was nothing in English anywhere, so I couldn't Google it," she recalls.
"I later discovered I was close to some incredible history, and that really annoyed me."
That year, Yesterday Stories was up and running, unearthing an array of video gems on everything from the opening of Wollongong's Grace Bros department store in 1986 to old Mount Kembla miners recalling the work done by their favourite pit ponies.
"The app includes Indigenous, migrant and early pioneer stories. They create a sense of shared history and connection to place," says Pires.
In 2020 it became a company, with an army of citizen historians able to upload and share their stories.
Despite several awards, including a Wollongong City Council Australia Day medal in 2023 for innovation, Pires struggles with an issue that in a way resembles Imposter Syndrome, but which she says is more to do with the reality of female entrepreneurship.
"It sometimes feels like Imposter Syndrome, but the reality is that only 10 percent (and declining) of all start-up funding is going to females even though female led start-ups make up almost 30 percent of all start-ups in Australia," says Pires.
"Entrepreneurism is still a male landscape because whenever I'm trying to generate investment, I'm only ever pitching to men, and I can sense I'm on the back foot even before I open my mouth."
To scale, Pires says she is now looking for investors, again in that predominantly male territory.
"However, I wouldn't dissuade female founders from having a go. There's nothing better than seeing your creation go live in the real world."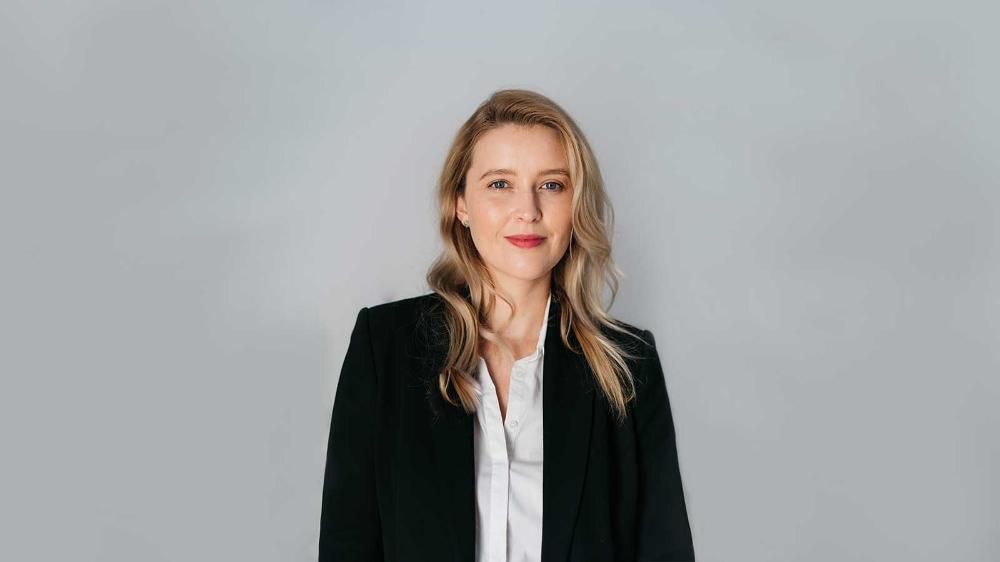 Hayley Rodd, Senior Partner Manager at Easy Agile
Bachelor of Commerce, Marketing/Human Resources
Bachelor of Arts, Psychology
Hayley Rodd walked through the UOW gates as a 17-year-old and stayed for more than a decade.
"My only vision back then was to work in some capacity in an office," she says.
On completion of her degrees, Hayley joined UOW's marketing and communication team and quickly took on a range of leadership roles thanks to her ability to seamlessly connect with people on every level.
Her first job after graduation was co-ordinating a program involving about 80 mentors who would travel to schools across Illawarra, Shoalhaven and the Southern Highlands promoting the benefits of tertiary education.
In 2020, Hayley moved on to work with software company, Easy Agile, which sells products on the Atlassian Marketplace.
"We sell most of our products through a third party and I manage those partners, the majority of whom are overseas," she says.
At 33, her success in a relatively short time across a range of skills from product branding to event marketing is based not only on hard work but a willingness to grow and learn along the way.
"I discovered early that when you say 'yes' to something that sounds a bit scary and outside your comfort zone, that's when you meet the people or do the things that have a transformational impact on your life," she says.
"You also have to put ego aside and defer to the smartest or most experienced person in the room."
Hayley's natural inclination to help others succeed, led to a volunteer role with Siligong Valley Marketing, a community initiative she helped co-found. It is designed to connect and encourage entrepreneurs and small businesses to find success through effective marketing and communication strategies.
On the issue of the disproportionate number of high-achieving females who are said to suffer from Imposter Syndrome, Hayley says:
"I think it comes down to a you-can't-be-what-you-can't-see issue. There are not a lot of females locally or globally who have started businesses and made it successful.
"I think without role models, it's difficult to imagine yourself as a founder or an entrepreneur.
"Also, it's a tonne of work that requires time and effort. For some women, particularly those with family commitments, it's very difficult.
"There is a need, however, to recognise and address the hurdles women face if we want to create bustling and buzzing entrepreneurial hubs."
Leanne Isabella
Master of Commerce, Human Resources and Management
Leanne Isabella's early ambition to become an Italian interpreter took a sharp turn when she stumbled upon a concept in one of her university courses that would become the foundation of her successful career.
"I hadn't heard of HR (human resources) but it struck me as a great idea – getting your workforce engaged in what they do to benefit them and the business – so I decided to do a Master of Commerce majoring in HR – and I've never looked back," says Isabella.
At 46, having spent most of her earlier career working in technology start-ups, Isabella is Head of People and Culture at Fino Comp, a wealth management software business based at Jamberoo, which has grown from 20 to 70 employees in five years.
"Our culture is about putting people first and ensuring everyone brings their whole self to work. You might, for example, have carer responsibilities for the elderly, children or even pets, then our approach is about ensuring employees have the flexibility to fulfill those responsibilities," says Isabella.
"It's about making work fit into life, and not the other way around".
The company in 2019 and 2020 was recognised at the Illawarra Business Awards for Excellence in Workplace Culture.
Isabella also mentors at Wollongong's start-up facilitator, iAccelerate, where she helps entrepreneurs and small business with advice and workshops to get them on their feet.
"About 10 per cent of my entrepreneurs at iAccelerate are women, so I'm aware of Imposter Syndrome, especially when I have experienced myself," she says.
"I was in senior roles from early on in my career and often felt inadequate," she recalls.
"I felt competent, but I didn't feel confident. It had a lot to do with the fact I worked in male-dominated industries where people are traditionally rewarded for bravado and an abrasive leadership style.
"What has helped me, is a shift towards kinder leadership that involves compassion and empathy. I now feel much more at ease to be myself, less of an imposter and more comfortable in my skin."
Isabella's experience positions her well to identify Imposter Syndrome among her female mentees, and to help them address it.
She says confidence and resilience are important for every person in business but for women, it's also about embracing their own style of leadership.
"Confidence comes from authenticity. If you go into a meeting to, say, pitch an idea pretending to be somebody you are not, it just doesn't work."
UOW exists thanks to the generosity of donors
---
You can change lives by empowering our brightest minds and future leaders