For Amanda Essery, Founder and CEO of award-winning premium Australian lifestyle brand Lovekins, creating a business around loving care for people and the planet was like coming home.
---
With a UOW degree in accounting and CPA certification under her belt, Essery grew an impressive career in banking and finance over two decades. But the often-toxic big corporate culture didn't resonate. Born and raised in Darwin – Larrakia Country – deep respect for First Nations culture and ingredients had always been part of her life. Living in Sydney and heavily pregnant with her first child, she took a natural skincare-making course and began making her own soaps, lotions, and washes at home.
Essery's newborn son Ethan thrived on the preparations. Two years later, she welcomed her second child Heidi, who was born with severe eczema – a common skin condition prevalent among infants and newborns.
"It was an aha moment for me," she recalls. "I was using steroid creams referred by our doctors, and while on the surface it appeared to help her, it was also thinning her skin and preventing her from developing a healthy skin barrier."
Essery asked her family to send some natural extracts from Darwin, including Kakadu Plum – the world's richest known source of Vitamin C – to protect delicate skin from environmental aggressors and Blue Cypress to assist with wound healing. Applying the homemade formula to her daughter's skin produced incredible results; Essery wanted other families to experience the same benefits, and Lovekins was born.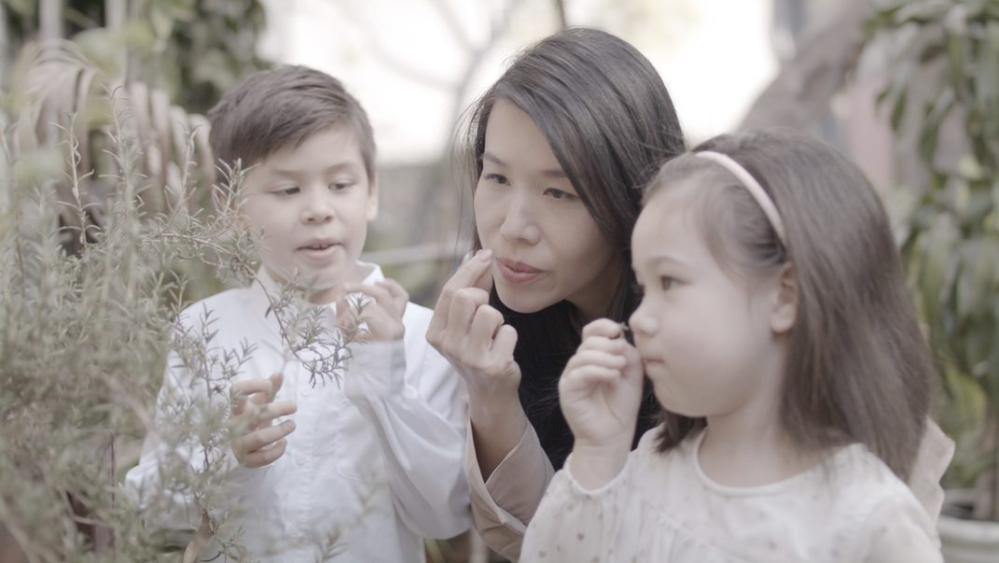 Image: Amanda and her children
Launching retail operations in early 2016 with a baby skincare range, Lovekins has since expanded its product stable to include nappies, natural period care and cleaning products. The company is growing exponentially, with products available online and through local distributors, including Myer, Baby Bunting, Woolworths Everyday Market, and selected pharmacies nationally, complemented by a recently added, hugely popular subscription option. The reach is global, with Asia comprising the most significant portion of the market and the Middle East, and soon North America, also on board.
"It's been a tremendous time for us, and we have exciting plans for the future," Essery shares. "We're now using native ingredients not only from Darwin but right across Australia, including the cotton in our pads and nappies. We're also focused on local and ethical manufacturing, supporting our farmers and producers while giving us a clear source and traceability for every ingredient we use."
Kind to skin, kind to Earth
Sustainability is close to Essery's heart and a central tenet of the brand. The tubes for Lovekins' skincare products are made in a solar-powered factory in Sydney, the packaging is constantly refined, and the company has co-invested in forestry infrastructure to offset carbon emissions. It's part of a comprehensive strategy infusing all aspects of the business.
"Climate change isn't going to go away. As a brand and a founder, it's our responsibility to do everything we can to help make a difference, from selecting carbon-neutral suppliers and ethically produced ingredients to ensuring our packaging is recyclable, compostable, or biodegradable. We want to safeguard the babies and toddlers we support through our products to have a better planet to live on as they grow."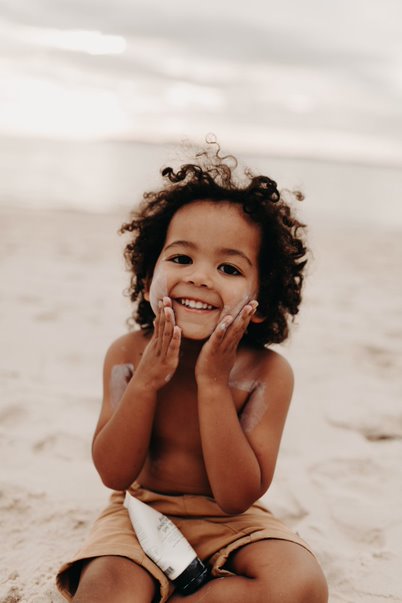 Image: Child wearing Lovekins skincare
A model for good
Social sustainability – giving back to the community – is also fundamental to the Lovekins ethos. The company has a long-running partnership with the Indigenous Literacy Foundation; in 2020, Lovekins co-created a children's book with iconic Australian Jesinta Franklin, and has since been donating the proceeds to help close the child literacy gap. The brand also advocates for period equity, working with organisations including Share the Dignity and Coolamon Community to enable First Nations women to obtain access to essential care products and build careers in midwifery. Since COVID-19 hit, Lovekins has donated vast volumes of nappies to Australian families facing affordability issues and shipped nappies and period care products to families in China during Shanghai's strict lockdowns. They have also partnered with The Nappy Collective, the only Australian non-profit focusing solely on collecting disposable nappies and distributing them to families in crisis, to help relieve the nappy stress that is not often discussed publicly.
In addition to giving back, Lovekins also focuses on building a sustainable future. They joined WWF Australia as a Partner in Purpose with the mission to rehabilitate and restore wildlife and habitats, as well as future-proofing Australia against climate disasters.
"We don't want young girls skipping school and education because they have a period and don't have the life tools to manage it, or a family to go hungry so they can put a nappy on their baby. We want families to know we'll do everything we can, through flood, bushfire or pandemic, to regenerate and give back to people who are struggling.
"For me, Lovekins is not just about selling products. It's a full circle of love in that we're helping farmers sustainably commercialise something uniquely Australian while simultaneously helping families and our community."
Sustaining the dream
According to Essery, the key to creating a successful business is having a genuine long-term passion for your idea.
"It takes time to build a brand and a business, so you must be in it for the long haul. Whatever you create needs to be something you'll wake up every day and be passionate about, that you're willing to dedicate yourself to for a long time. Be happy with what you've created."
Cultivating and sustaining a supportive network, she says, is also vital in navigating the long and often bumpy founder journey.
"The relationships you build and the people that help build your brand – like industry colleagues, manufacturers, and suppliers – are just as important as your personal network, family and friends.
"Being in business is not an upward trend; it's more like a rollercoaster. So make sure you've got that support network for the lows and remember those who helped you along the way when you're on the way up."
--
Amanda Essery
Bachelor of Commerce, Accounting
UOW exists thanks to the generosity of donors
---
You can change lives by empowering our brightest minds and future leaders