Tessa Blencowe understands loneliness. The UOW business and journalism graduate-turned-counsellor has spent years learning what it means for people to be lonely, and how we can address it as a society.
---
Her experience is the inspiration behind her latest exhibition, Lonely Together, on display in Sydney's Darling Quarter all through October to mark Mental Health Month.
The immersive art show sees visitors hear the experiences Sydneysiders have had with loneliness, through audio stories produced by Tessa. The audio is accompanied by a portrait gallery of the speakers taken by Sydney-based photographer Anna Hay.
"What makes this an interactive experience, is that once you finish listening to the stories, you're invited to share your own story of loneliness by writing on the exhibition cube, as well as how you reconnect," she explains.
"I really believe in the power of hearing someone's story. I also wanted to explore the idea of practising those active listening skills. I really wanted the experience itself to be directly building the skills needed to be able to hold space for people when they are feeling lonely."
Having lived in the UK for several years, Lonely Together follows on from Tessa's first exhibition, London is Lonely, created in in England in 2019 alongside Spanish photographer Irene Palacio.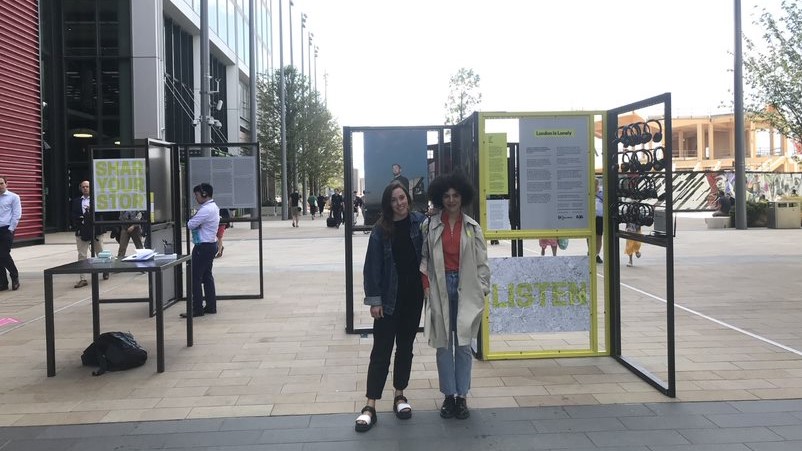 "The concept proved itself so quickly. We only had a couple of stories, we hung up big pictures in the city and had palettes [for people to write on]. It was very down-to-earth," says Tessa.
"The way people responded to that, just from those two stories, was just so overwhelmingly positive. That is when we then went and sought funding to make it into a bigger thing."
London is Lonely became a national success and was be featured by the BBC, the Independent and Stylist Magazine among others.
When Tessa returned to Australia in 2020 due to the coronavirus pandemic, she sought to focus her exhibition to Sydney, reaching out to local networks for keen participants.
"We knew that there was some specific groups and demographics that we needed to make sure we were representing and having their stories heard. For example, making sure we had someone that represented the elderly generation sharing their story," she says.
Tessa contacted the local Men's Shed in Redfern, where older, retired men meet to work on projects and socialise.
"I reached out to them and just asked, is there anyone there that would be interested in speaking about this? They knew straightaway someone that that would be up for it," says Tess.
"Honestly, when you ask people if they would be up for sharing, they say yes. You see that happen even at the physical exhibition itself and the way people engage with it, people just want a chance to share that they have felt this too and gotten through it."
As a counsellor, Tessa is aware of the prevalence of loneliness and the impact it has on individuals. It was important for her to represent the elderly community, as she says they are often who we associate with
loneliness, however she also acknowledged it is the 16 to 24-year-old demographic that is the loneliest in Australia.
"There's a lot more perceived stigma and shame among that age group. People think 'I shouldn't be lonely. I've got lots of friends, I've got a good life, why am I feeling this way?'" says Tessa.
"There's a lot of self-judgment that goes on and that's important to address because I think it's when loneliness goes unspoken that it develops into something a lot more serious and a lot harder to tackle."
Tessa hopes the Lonely Together exhibition will inspire more people to share their stories, and in-turn bring in more funding to expand the project nationally and online.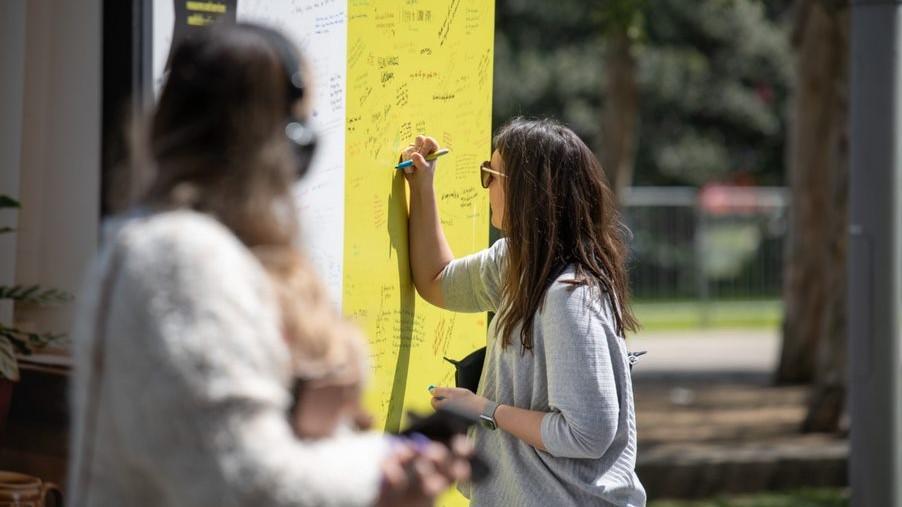 "Lonely Together is addressing shame and stigma and creating spaces in our communities to have conversations openly about this topic. I'm hoping that being able to show that it works here in Sydney, we can bring it to other cities here in Australia.
"Long term, I'd love to see it as a resource that lives permanently online, available to educators, workplaces and anyone who is interested in addressing loneliness. Hopefully it helps people understand it better, and also use it as a as a tool to shift the conversation and make it more open and okay to talk about."
Lonely Together will be on show until Thursday 27 October in Darling Square, Sydney. The exhibition is free and open to all and runs from 10 am – 3 pm on weekends, and 24 hours a day throughout the week. Weekday visitors are asked to bring their own headphones to hear audio stories. For those unable to visit the exhibition in Sydney, people are encouraged to experience it online.
Tessa will also be hosting an art workshop during Wollongong's inaugural Luminous Culture Festival, encouraging participants to think about loneliness and reconnection. The workshop is free, however registration is essential.
UOW exists thanks to the generosity of donors
---
You can change lives by empowering our brightest minds and future leaders