When Danny Hui graduated from the University of Wollongong (UOW) in 1999, his engineering degree launched him on an exciting and varied career in the electricity industry.
---
But his professional goals underwent a dramatic shift in later years when his problem-solving skills would tackle an issue close to his heart.
Hui and his wife, Jessica's third child, Monty, now 10, was born with the rare disease Pontocerebellar hypoplasia which, similar to cerebral palsy, affects his muscle control throughout the body.
"Monty is an amazingly determined little guy, but we soon realised our main source of stress was the struggle of managing the constant and disjointed flow of medical and support information from his large care-team," says Hui.
In response, Hui, in 2019 launched the digital platform sameview with the aim to have everyone from a person's team on the same page, and working collaboratively towards better outcomes.
From a trial of 12 families, it is now used by more than 3700 individuals and families across Australia to successfully co-ordinate their team of medical professionals, allied health professionals, educators and disability supports with shared information at the touch of a button.
"It's about getting everyone talking to each other and working together towards what's most important to each individual and their family," says Hui.
Hui, 41, was born in Hong Kong but at the age of eight, he migrated with his family to Australia and settled in Sydney.
When he decided on an electrical engineering career, specialising in telecommunications, Hui chose UOW, he says, for its reputation and learning environment.
"Uni life was great and very supportive, but the best thing about that choice was meeting my now wife, who enrolled in the same course," says Hui.
After graduating, he joined Energy Australia (now Ausgrid).
"I had just about every job you could have in electricity distribution from operations to safety. I spent a large part of my career in emergency management, which was essentially about how a company responds and how it works together with other organisations during natural disasters," says Hui.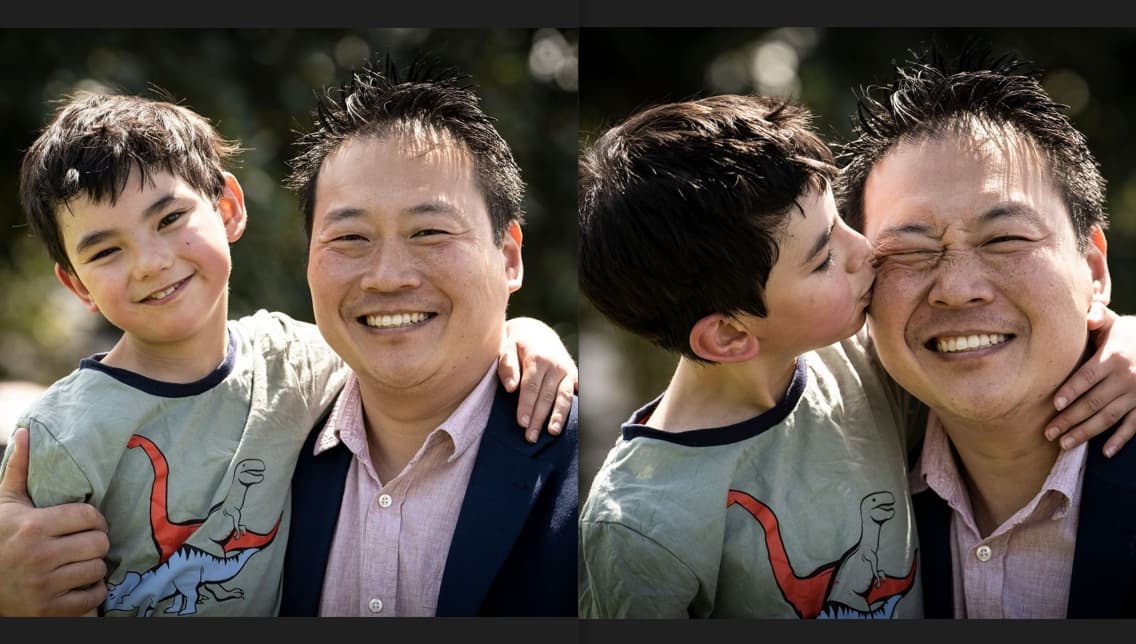 When Monty was born in 2012, the couple knew from day one something was wrong. What came next was a slow and gruelling process of diagnosis where they went from one specialist to the other trying to make sense of it all.
"Managing the many appointments, family activities and work is difficult and requires great teamwork between my wife and me," says Hui.
"To this day, Monty is supported by a large team of nearly 40 professionals and continues with regular weekly appointments, therapy and other activities that help him to achieve his goals.
"Monty is a very determined kid even with such a heavy workload, so we feel it's our job to match the commitment he has for his own aspirations."
What the couple found most challenging before sameview was having to continually repeat their story, as well as not feeling the people in their lives were working together.
The turning point came in 2016 when Monty underwent several surgeries and the family spent a lot of time in hospital.
"We began talking to other families and realised the issues we faced were widespread," says Hui.
"We wanted to create a solution that could make a positive difference to the lives of other families. Seeing just how many other initiatives in the disability community had been started by other families gave us inspiration to have a go at our idea."
There are other people tackling this issue, but Hui says sameview has been co-designed with families and professionals with the focus on individual empowerment in terms of choice and control of support.
"Every feature, every button is deliberate, based on the feedback we receive from users," he says.
In sameview's first impact report in 2021, the parents of a young woman wrote:
"We started using sameview bit by bit and over time we invited more and more of Jessica's team to it. We're now working on using more of the other features like goal tracking. Our vision is that as we get older, sameview will be a record that Jessica's sister could use as she takes on carer role for our family."
Hui has been heartened by the overwhelming support by users like this, as well as from dozens of organisations who have offered help and support in various forms from grants to personal training.
As sameview's founder, Hui has become a Westpac Social Change Fellow, an AMP Tomorrow Maker, and has been recognised by the Asian-Australia Leadership summit as one of the 40 under 40 Most Influential Asian-Australians.
"One of the best things about my work is that I get to connect deeply with people with disability, their families and people who work in the disability ecosystem. For the first time in my professional career, I'm getting to meet the consumer of what I've created and that is very satisfying," says Hui.
--
Danny Hui
Bachelor of Engineering, Telecommunications Engineering
UOW exists thanks to the generosity of donors
---
You can change lives by empowering our brightest minds and future leaders