In June 2022, UOW graduate and CEO of Australian Pathology, Liesel Wett, was awarded the prestigious Medal of the Order of Australia for her service to medical administration, particularly during COVID-19. A few weeks earlier, we visited Liesel at her office in Canberra and asked her about her role at the outbreak of the pandemic.
---
"On the 25th of January in 2020, Australia saw its first COVID case. At that time, we didn't even have a test," explained Liesel.
Australian Pathology is the peak body for private pathology services across Australia, representing 95 per cent of the sector. As CEO, Liesel's role is to influence health policy and ensure health services are available for people across the country.
"One of the things that Australian Pathology did was work with the Australian Government to make sure that there was a test for COVID-19 and that it was listed on the Medicare Benefits Schedule which means that Medicare pay for it. We also made sure that the test remained free for all Australians so that they would get tested. Today, there's been more than 75 million of those tests across Australia keeping people safe."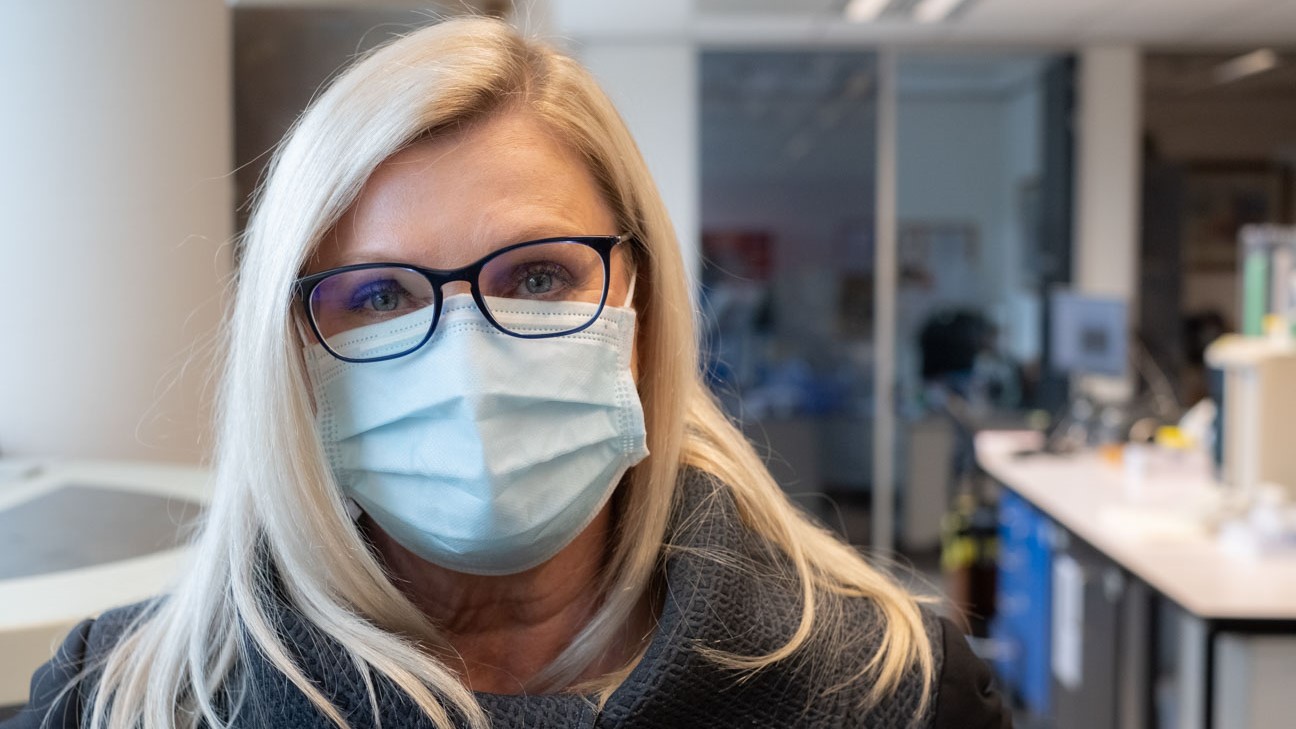 Image: Liesel with mask on

Liesel told us that microbiologists are the pathologists responsible for the COVID-19 test. She said that they are a small workforce that worked around the clock in the height of the pandemic.
"It takes years to train and develop a pathologist to be a specialist practitioner, so our microbiologists worked 24/7 – those labs never used to run 24/7, but they do now.
"Microbiologists lost two Christmases because we've had two major outbreaks over the holidays. They're the real stars of the pathology world – them, and the scientists that work with them that have kept Australians safe and continued to test for COVID-19 so that we can go work, see Grandma and Grandpa, and not infect vulnerable people."
Throughout the pandemic, Liesel advocated for Australians by making sure that health services were available to everyone across the country. When elective surgery was shut down, Liesel worked with key decision-makers to make it available again.
"Elective surgery can include people who have a serious illness or serious health conditions that they want resolved. That's why every time elective surgery got shut down throughout the pandemic, we had to step in. We made sure we got that overturned right at the start which meant that my members could continue testing and people could continue on their path."
Liesel also had to solve logistical problems so that pathology in Australia had the tools and equipment needed.
"We had to buy more equipment and all new systems that we didn't have before COVID came to Australia. We had some machinery, but we didn't have enough to cope with the volumes that we were seeing throughout the pandemic," Liesel explained.
"I've become a logistics expert as well as a health systems expert," laughed Liesel. "At one stage we couldn't get swabs because they were made in Italy, and it was the height of the Italy outbreak. I had to work with the Health Minister's Department and Border Force to get stock off the planes to Canberra and Wollongong because the swabs were stuck on the tarmac and Sydney airport had no staff because they all had COVID.
"At the start of the pandemic, we couldn't get access to PPE, which is personal protective equipment. One of the main reasons for that was that PPE was all shipped in and made in Wuhan, China. So surgical masks went from seven cents to seven dollars a mask. PPE became a massive issue for pathology, and it was also a massive issue for aged care."
Opening text: The lifesaving influence of Australian Pathology. Liesel Wett. CEO, Australian Pathology. Master of Business Administration, Master of Public Health, Bachelor of Science (Psychology & Nutrition).
Speaker: Hi. My name's Liesel Wett and I'm the CEO of Australian Pathology. Australian Pathology is the peak national body for private pathology in Australia and we represent 95% of the sector. And one of the big things that we've been involved in, in fact the first step for Australia to stay safe against the COVID pandemic was to test through a pathology test. So Australian Pathology, our key role is to influence health policy. So my role is to work with key decision makers, ministers, members of Parliament, the Department of Health and other people that work with us to make changes to legislation and regulation to make health services available basically for everyone across Australia. And so in the in the beginning when we didn't have a test, we managed to work with the government and we got a test listed on, on Medicare, which meant Australians could access free health services for COVID testing. People don't realise that when elective surgery was shutdown that IVF patients, so women and couples that were mid-cycle had all of their care stopped instantly like that. So part of my role was to work with the government to say, well, hang on a minute, you've forgotten the implications of something like this. So one of the things we had to do was to go in with government and say to them, you can't shut down elective surgery for IVF patients. These are people's lives we're dealing with, this is their one chance some of them, they're mid-cycle, they've been injecting hormones to make sure that they can have a family. We can't shut this down. And so we've got that overturned. If we weren't agile and if we weren't working in partnership with others, with government, with the AMA, with other practitioners, we wouldn't have got the changes we did. And it was a pretty phenomenal time and the pressure and I suppose the stress and the feeling that if you didn't do your job properly, someone might die. It was phenomenal, but people all came together. You know, we joke about Team Australia, but it really was, it was a Team Australia approach. We're just ecstatic that we pathology has played a role in actually keeping people safe in a pandemic once in 100 year event and we were there front and centre. So the future of pathology is really all about using your genome to test, to see what it looks like, and that determines what your health care needs will be. Researchers are looking at specific genomes and what that means, and there's a whole area of pharmacogenomics, which is about your genomes and what pharmaceutical drugs will work better for you. There's a whole piece of research around depression and different clinical pharmacological interventions for depression and depending on your genes, one will work and one won't. So there's so much more that's coming. It's really quite exciting. And my job will be to make sure that Australians get access to those tests.
Closing text: University of Wollongong. Stand for purpose. Stay in touch #UOWAlumni.
In addition to her role as CEO of Australian Pathology, Liesel is the Chair of the Board of Directors at Goodwin Aged Care, which has five aged care facilities across Canberra.
"We needed to prevent COVID from coming into our facilities at Goodwin. Although we had public health acts that prevented people from visiting, we knew we needed to invest in infection control. We spent a long time training up our staff and changing our procedures.
"We're still seeing outbreaks now – it's still impacting people's health, it's still getting into aged care, and we've still got to manage it. We've made sure that we have rosters with additional staff if needed, we've got enough PPE, and that everyone's vaccinated. But you know it's one thing after the other, you've got to make sure you've got all the systems and processes in place.
"That's why we're there – to keep our residents safe so they can live long, happy lives. It's their home. You want them to be happy, you want them to see their family, and you don't want them to be stuck in a room with a mask on."
Liesel said there were many lessons she learned from COVID.
"I think the biggest lesson I've learned is that you need to be able to communicate the risk in a simple way without raising the panic. You need to be able to work with others – it's a team effort, it's not something you do by yourself. Yes, you bring expertise, and you bring a position, and you bring a solution but when you get together that's when you make smart decisions that keep people safe. And that's what we did throughout the pandemic.
"It was ever-changing – you'd make one decision and then you'd have to make another one. We worked with Minster for Health, his team, and the Department of Health and went through each problem one at a time to get a solution and that's what's left us where we are today.
"It really has to be everyone working together. Because we wouldn't have got through it. We just wouldn't have. You know closing borders, wearing masks, getting immunised – it all came together to keep people safe."
When asked about the future of pathology, Liesel spoke with passion and excitement about the potential of pathology to further change Australian's lives. She talked about the focus on precision medicine or genomic medicine, which means testing someone's genes to determine what treatment is best for that person. Liesel used the example of testing for the BRAC gene. A positive test would mean that a person has a mutation in one of the breast cancer genes, BRAC, and therefore a higher risk of getting breast cancer.
"If you have that gene it puts you down a different path for medical, surgical, and pharmacological interventions. Testing for it means that you don't waste time on things that don't work."
Liesel also spoke about her work getting Australian's access to a free pathology test called the carrier screening test.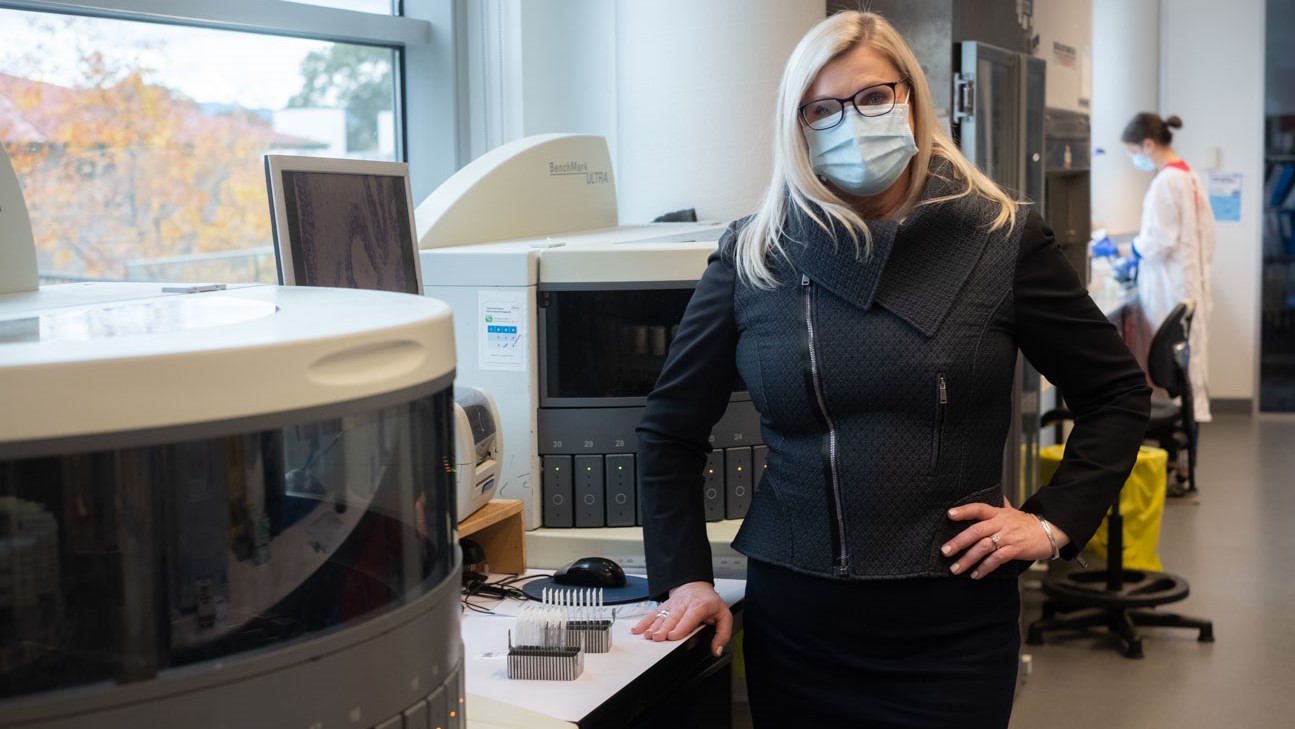 Image: Liesel in pathology lab
"One of the things we've been working on for a very long time now, and the Federal Government has just announced funding for, is called a carrier screening test. This is a blood test that tests for three genetic disorders – fragile X, cystic fibrosis, and spinal muscular atrophy. Those three disorders account for 80 per cent of all genetic disease in newborn babies. The funding will start in November 2023 and it's going to be a game-changer for people having children and preventing that sort of illness before it even occurs.
"Using your genome to test and see what it looks like and using that information to determine your healthcare needs is a big shift in the dial for pathology services in this country. Part of my role is to make sure that the Australian Government knows that and that they can support the tests through Medicare funding."
Without Liesel's influence, motivation, and dedication, Australians might not have access to the level of healthcare received today.
Liesel's enthusiasm for pathology and its impact on health outcomes rubbed off on us. We left her office feeling excited about the future and confident that with Liesel advocating on our behalf, Australians will continue to access world-class pathology.
--
Liesel Wett
Master of Business Administration
Master of Public Health (Research)
Bachelor of Science (Psychology & Nutrition)