With its stunning beaches and surf breaks, the Illawarra is renowned for producing talented professional surfers. But for every young athlete that makes it on the competition circuit, countless others don't – so it's crucial to prepare for alternate futures.
---
Geoff Latimer is Director of the Talented Surfing Program at Illawarra Sports High School (ISHS), a designated specialist sports high school in southern Wollongong aiming to equip students to excel across academic, cultural and sporting pursuits. The ardent lifelong surfer – who grew up in the Scarborough Boardriders and Kiama, surfing in junior competitions throughout his teens – established the program in 2015, seeing a unique opportunity to give young local talent a shot at pro surfing while maintaining academic achievement and pathways to varied careers.
"The Illawarra is one of the strongest regions in surfing and produces so many pro surfers; it seemed mad not to look at it," Latimer recalls.
"So I took some time researching it; I talked to Paul Charlton, who was then head of Surfing Illawarra, and to Mick Lowe and Sally Fitzgibbons, and they all jumped on board. I spent my second year here planning it out and then we got the program started."
Since then, the Talented Surfing Program has graduated more than 20 students, balancing a focus on all the usual academic subjects – mathematics, English, science – with an elective unit in surfing. Sessions take place during allotted sports and elective times, with training consisting of fitness, skills, individual competition and heat simulation, and group training with some of the industry's most respected names. While surfer development is focused on gearing students up to succeed on the professional circuit, Latimer says the primary goal is to create individualised pathways for each student to succeed: athletically, academically, and personally.
"It's about creating a platform that enables them to stay on top of schoolwork, adjusting their timetables where needed to train and compete, so they have the structure and support to do well at both. We also look at pathways to further study and trades, and tap into our industry networks to connect students with employers that are happy to be flexible around competition.
"We've already had kids win Australian titles and qualify for international competitions, and that will only grow as the program progresses, but we've also helped a lot of kids go on to take up trades too. Their plan A might be to surf professionally, but by personalising their educational outcomes and future career paths, they can pursue that dream while still developing skills that give them other options if it doesn't happen."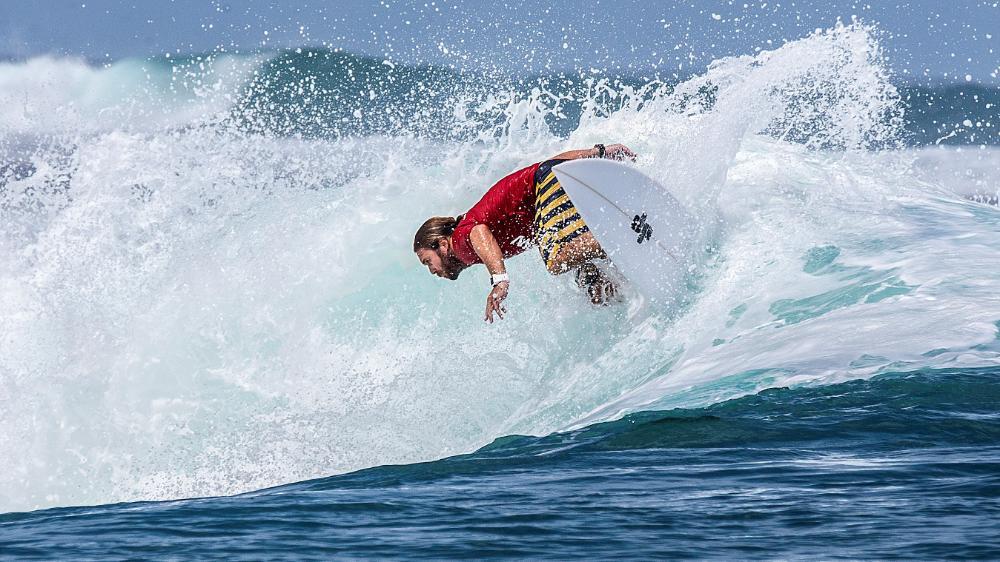 Latimer is a mathematics teacher, and this still comprises the bulk of his teaching load. He came to education via a UOW Bachelor of Mathematics, graduating with a secondary major in finance. Intent on pursuing a career in the financial sector, he soon realised that meant moving away from his beloved Illawarra beaches or spending long hours commuting to an office, only able to surf on weekends. So, he enrolled in a Graduate Diploma of Education, uniting his affinity for maths with a love of teaching honed over successive summer holidays as a skiing instructor in Canada, and spent five years at Albion Park High School before a rare position came up at ISHS.
It was through this role that Latimer provided the inspiration for UOW's Surf Flex Lab, a revolutionary facility led by materials engineering expert Professor Marc in het Panhuis that is advancing surfing as a science.
"Many of my Year 10 Advanced Maths students were interested in engineering, so I organised work experience for a few of them with Marc, who I knew through our local Boardriders club. When I went to check on the kids they were 3D-printing objects, and I asked Marc, 'would you be able to print surfboard fins or other surfboard parts?' And that's where it started."
Professor in het Panhuis took the idea and ran with it. Today Surf Flex Lab is charting new territory in surf technology and innovation, with a focus on performance, materials and sustainability. Latimer is part of the lab's 3D-printed fin project surfing team, helping trial and develop novel 3D-printed fins, and his ISHS students are benefiting too.
"A student I taught a few years ago is now doing his PhD at UOW around building actuators into surfboard fins; he, Marc, and I met up a couple of months ago to discuss ideas. It's kind of full circle in that regard."
Latimer's deep and continuing connection with UOW extends beyond his links with Surf Flex Lab. He has also maintained close and productive ties with UOW's maths faculty, working with Associate Professor Caz McPhail to embed more effective ways of teaching mathematics into schools.
"Caz has done a lot of fantastic research around using whiteboards as writable and non-permanent books, getting students to get up and write on them as a way to remove the fear of failure – similar to what you'd see in a movie, where they'd write formulas up on boards or glass," he explains.
"It's been great to explore this with her, and Illawarra Sports High was one of the first schools to build collaborative learning spaces in conjunction with her based on this work."
--
To read more about UOW's Surf Flex Lab and how you can support sustainable surfing, visit our Surf Flex Lab Fund webpage.
UOW exists thanks to the generosity of donors
---
You can change lives by empowering our brightest minds and future leaders