On the evening of 4 January 2020, a fast-moving front of the monstrous Currowan fire – which would ultimately destroy half a million hectares and hundreds of properties over 74 days – tore through New South Wales' picturesque Kangaroo Valley.
---
It's a night that UOW Senior Professor Paul Cooper won't forget.
"Looking out my window now, all that bushland around us was engulfed in flames," he recalls.
"Thankfully we survived it and our house is fine, but so many of our friends and neighbours lost their homes. And while sites have now largely been cleared, there's still a long way to go until people can rebuild and move back into their properties. A lot of people are in temporary accommodation and working through the challenges of rebuilding," Professor Cooper says.
As experts warn of more frequent and devastating bushfires to come, building greater community resilience to bushfires – through more effective preparation, recovery and rebuild – is vital. Professor Cooper is leading a multidisciplinary team of top UOW researchers to holistically explore these issues and map a path forward, in a unique project supported by the UOW Global Challenges program and Shark Island Institute.
"The catastrophic impact of last summer's bushfires in NSW stretched communities and resources like never before; not only agencies responding to the emergency, but the many organisations assisting communities in their recovery and the construction sector responsible for the demolition, removal and reconstruction of homes and infrastructure," Professor Cooper says.
"With a particular focus on the Currowan fire, we're undertaking a complex, in-depth study of community resilience at multiple levels, ranging from households and local communities to government and industry. The aim is to develop new evidence, understanding and resources that can be shared across Australia to aid in building national community bushfire resilience."
The year-long project will bring to this challenge, for the first time, diverse research expertise spanning social science, engineering, residential construction systems, supply chain and logistics. Research will centre around three key questions: how regional communities are preparing for, responding to and recovering from bushfires and how to better support them in future; what building design changes and retrofits are being made, why, and the perceived effectiveness; and issues and potential improvements in the rebuild industry's response in partnership with government.
Professor Cooper was founding Director of UOW's Sustainable Buildings Research Centre and has extensive expertise in the design and retrofitting of buildings for bushfire resilience. Working alongside him as a key contributor is Dr Josh Whittaker, a UOW social science research fellow concerned with the vulnerability and resilience of human communities to bushfire.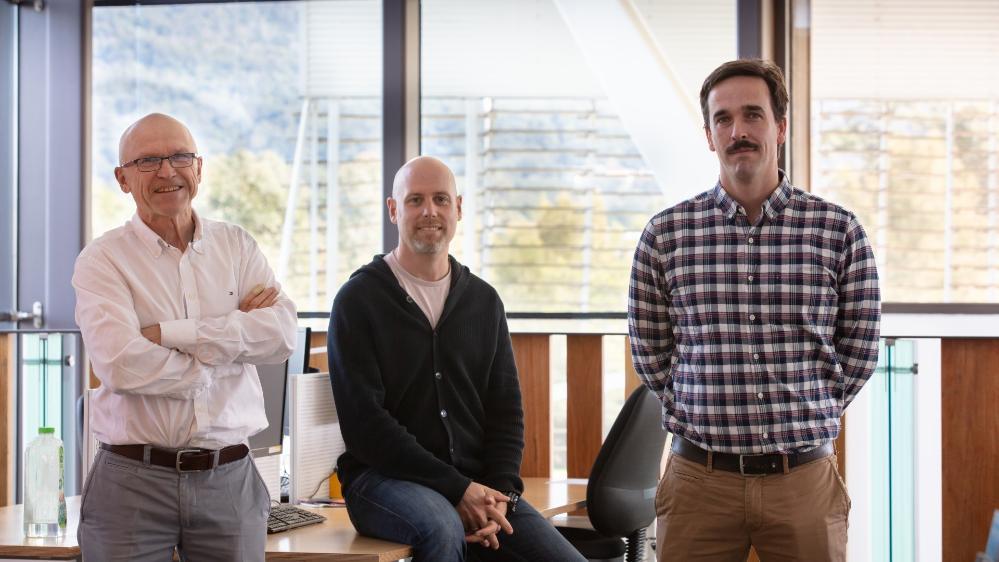 (Left to right): Senior Professor Paul Cooper, Dr Tillman Boehme and Dr Josh Whittaker. Photo: Mark Newsham
"In the past, we've acknowledged the link between the resilience of buildings to bushfire and householder planning and preparedness, but we've never looked at them in an integrative way; that's quite exciting," Dr Whittaker explains.
"By talking to people about their bushfire experiences, we can build an understanding of the ways they've prepared and retrofitted their homes, and the process of rebuilding and how people navigate that phase. We often go in immediately after a fire and talk about what happened during it, but what happens in the weeks, months and years following a fire? How can we – and other communities – learn from their experiences to improve the recovery and reconstruction process in the future?"
According to UOW Faculty of Business academic Dr Tillman Böhme, who leads the supply chain and logistics aspect of the project, investigating the demolition and reconstruction response through a systems lens incorporating all stakeholders in the ecosystem is fundamental to understanding and documenting current practices, including key barriers and enablers for improvement.
"The bushfires created unprecedented demand in the construction industry," Dr Böhme explains.
"The cleanup is currently being finalised so people can begin to rebuild, but local trades on the South Coast have insufficient capacity to rebuild and repair the more than 2000 homes affected by the bushfires."
Dr Böhme says that it's been fascinating to witness the invention arising from necessity, with people turning to tiny houses, caravans, shipping containers, construction site sheds and other temporary structures for shelter. A diversity of creative prefabricated modular solutions favouring installation over a traditional on-site build are also playing a significant role in the mix, converting temporary shelter into permanent dwellings.
"The other issue we're hearing is that people were often underinsured or not insured at all, and with demand outstripping supply for new builds and retrofits, coupled with higher house prices and more stringent bushfire compliance, many can't rebuild to their old standard and/or size," he says.
"We want to understand and document how the construction industry is responding as part of a wider construction ecosystem that includes government agencies, insurers, councils and more, and explore how can we do better moving forward."
Research will be multi-faceted, fusing international literature review, geographical mapping, qualitative field research and data analysis, taking place across the integrated disciplines. Professor Cooper says that this multidisciplinary approach – a hallmark of the Global Challenges Program – can offer surprising and decidedly valuable insights that would not have otherwise arisen and enable researchers to build new evidence.
"Through bringing in the supply chain side, for example, we were able to learn that the approach of the demolition teams was one of the most important factors for people who had lost their homes," Professor Cooper says.
"Those households are severely traumatised – losing your home can be like losing a member of the family. Ensuring demolition workers respect those sensitivities can make a huge difference at that especially difficult stage of the recovery process. That's something we're expecting to see flow through into many other areas in the long-term recovery."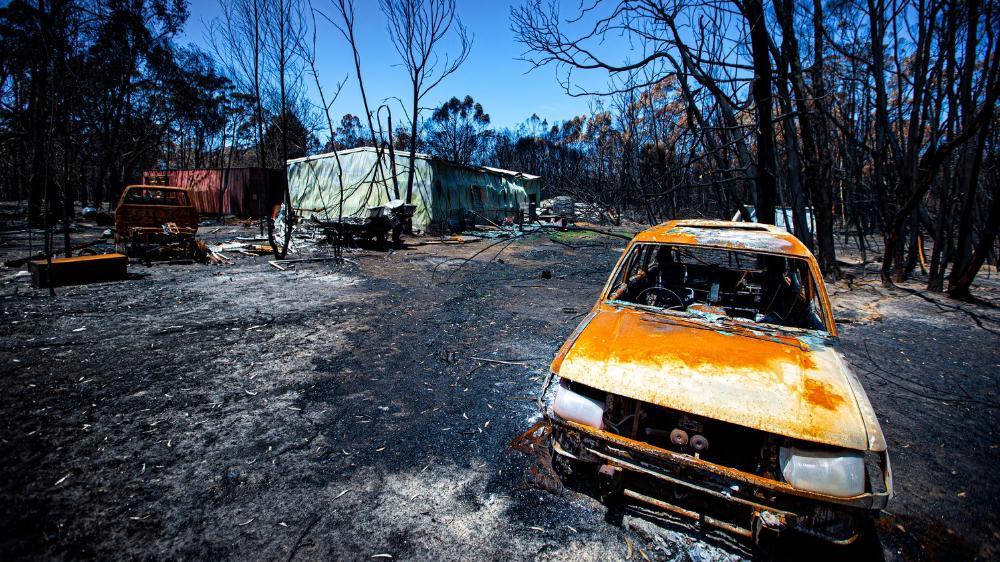 A scene of bushfire devastation on the NSW South Coast. Photo: Paul Jones
Ultimately, the research project will generate useful resources to underpin community resilience to bushfires in the future, enabling them to benefit from shared knowledge and take actions big and small to safeguard properties and lives. A central part of this package is the delivery of community workshops and a practical bushfire retrofit guide for homes. The team will also produce comprehensive maps of both community preparedness and the supply chain and reconstruction efforts, strategy workshops for industry and government targeting improved recovery and supply chain resilience, and a range of academic publications.
"The clear imperative from last fire season is that things have changed dramatically as a result of climate change. The magnitude and spread were so enormous that the NSW Rural Fire Service simply couldn't have a truck at every house under threat, and that's where the ability to self-organise as a community will become even more important," Professor Cooper says.
"We're aiming to help agencies and communities build this resilience together and to provide the frameworks, resources and encouragement to support that. We also want to generate evidence to make sure every dollar of government investment in bushfire preparedness, recovery and reconstruction is optimised."
---
Senior Professor Paul Cooper
Founding Director, Sustainable Buildings Research Centre, UOW
Dr Tillman Böhme
Senior Research Fellow, Intelligent Polymer Research Institute, UOW
Dr Josh Whittaker
Research Fellow, School of Earth, Atmospheric and Life Sciences, UOW