Dr Rhys Harding relishes a challenge. The UOW alumnus has spent the past eight years carving out a career as a doctor in some of the most remote locations in the world. That has meant different things at different points in his life. As a medical student, he spent a year in Broken Hill, becoming exposed to the daily rhythm of practising medicine in the outback New South Wales rural community.
---
After graduating from UOW with a Bachelor of Medicine and Bachelor of Surgery in 2012 (following a Bachelor of Science in 2007), Dr Harding was once again drawn to the country's interior.
He undertook his junior training in the Tamworth region of NSW before setting up camp in the Northern Territory. He was a "jack-of-all-trades" doctor in East Arnhem Land, a role and a place that burrowed deep into his soul.
Then there was Nepal, where Dr Harding studied a Diploma in Mountain Medicine after trekking through the nearby nation of Bhutan.
But the lure of more adventure has always remained strong. Last year, Dr Harding's love of wild places took him to Antarctica, where he remains now, a world away from the COVID-19 pandemic, with just 23 colleagues. In fact, his interview for the role came while he was on a solo tour of Australia.
He is now the sole doctor at Davis Station, an Australian Antarctic Division research station in the Vestfold Hills of East Antarctica, responsible for the health and wellbeing of those around him.
"I left Australia in October 2019. Having just pushed through the winter solstice and watching the sun return after a six-week absence, we are just over halfway through our expedition," says Dr Harding, the only UOW graduate to ever hold the post on the frozen continent.
"During the summer season we reached a capacity of 92 expeditioners but only a skeleton crew remain for the winter.
"I travelled to Antarctica from Hobart on the infamous 'Orange Roughy', the Aurora Australis icebreaker. I was the ship's doctor for the voyage down which took nearly two weeks and then swapped over as the doctor at the station.
"Being the sole doctor with no medical evacuation capacity for the majority of the year does carry a large responsibility. It is jointly an invaluable learning experience since I am also the dentist, physiotherapist, pharmacist and laboratory scientist."
Dr Harding is a rural generalist, which means he is trained for any and every medical eventuality. Rural generalists have a broad set of skills that enable them to work in remote communities and across different clinical settings.
It was a lifestyle that appealed to Dr Harding, who grew up on the South Coast of NSW and says he was not naturally drawn to medicine.
After a "Huckleberry Finn-style upbringing" in Vincentia, near Jervis Bay, Dr Harding began his Bachelor of Science at UOW. But as he came to the end of that degree, something about the challenge of a career in medicine, combined with his desire to travel and fascination with health, encouraged Dr Harding to consider medicine.
"I'd spent some time alongside my GP from home, a great bloke who often discussed travel adventures before diving into medical ailments. I really admired this balance and so I suppose I had learnt that studying medicine would be a gateway to a lot of other amazing opportunities," he says.
Living in East Arnhem Land was exactly what Dr Harding had in mind. While in the Northern Territory, he covered almost every inch of red dirt, through travel or work. It was all part of his training with Northern Territory General Practice Education, which included anaesthetics in Darwin and Palmerston, emergency medicine in Alice Springs, and time in Katherine. Much of his work involved Indigenous health, providing primary healthcare and emergency medicine.
It is evident that Arnhem Land captured a huge part of his heart. He learnt and experienced so much during his time in the Northern Territory, where he plans to return upon arrival from the deep south next year.
"The people are great and life is never dull. I once saw a bloke pay for his medical consultation with a bag of fish," Dr Harding says. "My colleagues in these remote areas are often extremely experienced so there is also an extensive amount of learning.
"Then there's the stunning landscapes. The vast expanses of the Central Australian deserts, the long stretches of red dirt road that worm through the outback and the contrasting rolling lush greenery after a wet season. There's watching wild brumbies frolic against a sunset, bathing beneath a waterfall in the Top End, wetting a line in the creek and gazing aimlessly into a campfire beneath a breathtaking starry sky."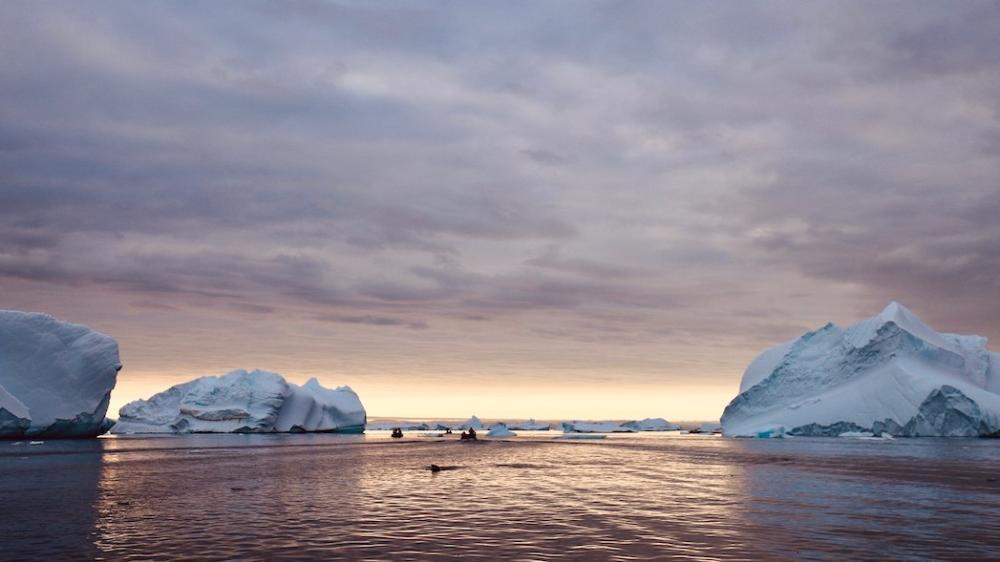 Icebergs in Antarctica. Photo: Dr Rhys Harding
Antarctica, however, is not without its own beauty and incredible sights. It has also been a surreal place for Dr Harding and his team essentially to escape from the chaos that has engulfed the rest of the world in the wake of the COVID-19 pandemic. Although the team were comfortable with the idea of being so far from family and friends and the rest of civilisation, it turns out spending a year at the bottom of the earth is the ideal way to escape the catastrophe that is 2020.
Time has become somewhat elastic however, and due to the logistical challenges of the pandemic, the expedition will now extend to nearly 17 months at Davis Station rather than the initial 12.
"This is one of the most interesting things about being here in these strange times," Dr Harding says. "There is no COVID here and all we know is what we see and read in the news.
"We sit, eat and drink together and, despite having a population of 24, we probably had the largest live music gig of anywhere on earth at one point. We are very far away from family, friends and loved ones for a very long time but ultimately recognise that we are probably better off given these unique circumstances."
So when Dr Harding leaves Antarctica, what will he remember about his time on the southern-most continent? It seems the surreal and awe-inspiring moments began as soon as he arrived.
"Entering Prydz Bay on the ship just out the front of station was one of the most spectacular moments to date," Dr Harding says. "Not a breath of wind. Clear skies. It was late in the day and the spectrum of oranges and purples had made their way out across the water before climbing up onto the icebergs. These huge frozen monoliths dwarfed us, rising out of the sea and casting their pristine reflections that were only disturbed by the occasional ripple of a swimming penguin. It was the first day of my new life here.
"The highlight list is extensive. I've traversed frozen ocean on skis, dragged a sled up fjords with a frozen beard and witnessed hordes of beautiful inquisitive wildlife.
"The 24-hour daylight and then the near 24-hour darkness is extraordinary in itself. There are the wonders of the Southern Lights, which boom beneath the Milky Way, and the streaks of red and orange and purple that glitter across an alley of icebergs suspended along the coast."
If Dr Harding was searching for adventure in medicine, he has certainly found it as a rural generalist. But it seems he not only relishes the challenge but also the connection to community and the chance to make a difference in the lives of others, particularly in Indigenous health. It is a career that demands independence, resilience and a passion for medicine.
"I have discovered a profound warmth and sense of adventure working within Aboriginal communities and so I feel this will be where the rest of my career lies," he says.
---
Dr Rhys Harding
Bachelor of Science (Nutrition), 2008
Bachelor of Medicine and Bachelor of Surgery, 2012