A cadetship at the local steelworks might seem an unusual path to an international career with some of Silicon Valley's biggest names. But for Omar Devlin, it provided a perfect grounding in solving complex problems.
---
"When I look back at my first 15 years with BlueScope Steel, the experiences I draw on today at Google – and previously at Facebook and Apple – are all based in that good core understanding of engineering, process, standardisation, and how to solve the problem to optimise," Devlin explains.
"BlueScope taught us that in a really safe, challenging way. You were able to make mistakes and learn in an environment where support and mentoring was readily available."
Devlin joined BlueScope's cadetship program in 1996 when the company was still known as BHP. He worked full-time and studied mechanical engineering part-time, rotating annually through the various functions of the business – from fitting and turning to planning and operations, controller and supervisor roles, and eventually into supply chain and logistics. The learnings were immense.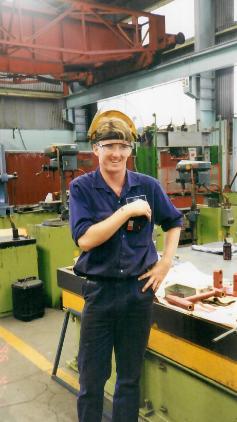 Image: Omar at BlueScope
"I can recall one example when I was in coke making actually, where I was a planner on a 40-hour shutdown on the batteries, which had never been done before. I learned so much through that process; all the pre-planning and the skills to challenge, analyse, understand and implement that change. And to achieve that significant challenge – on time, and as part of a team to bring it from ideation to successful implementation – was so inspirational."
Completing his studies, Devlin worked his way up through leadership roles culminating in his appointment as Senior Manager Integrated Business Management in 2009, where he spearheaded a massive overhaul of BlueScope's supply chain process to deliver over $250 million in ongoing savings.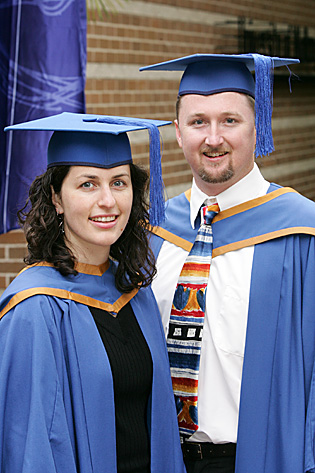 Image: Omar and wife Trina
He met and married his American wife Trina while she was on exchange at UOW. They stayed in Wollongong while Devlin attained his Masters in Logistics, then completing their UOW MBAs together. Soon after the birth of their second of three daughters, the young family moved to the United States in 2010, settling just over the hill from Silicon Valley in Santa Cruz. It was here that he had his first taste of Google life, working onsite on the tech giant's supply chain challenges for his then-employer Menlo Worldwide Logistics.
"Culturally, it was a very different environment; I went from high visibility gear to everyone wearing jeans and flip-flops, and from bringing my own milk for coffee to micro-kitchens filled with every type of cookie and candy you could imagine," he laughs.
"But my experience at BlueScope was also about approaching things in new ways, looking at the whole and integrating those solutions into the workforce. So I was able to jump into a role at Google having effectively just completed my degree but with a massive body of work experience and applicable skills, ready to solve complex challenges like doubling growth and supply chain capabilities and removing bottlenecks."
Since then, Devlin has taken his talents to some of the world's most revered tech trailblazers. He worked in high-level supply chain and logistics leadership roles with Apple, Facebook and several tech startups, returning to Google in February 2021 to take up his current role as Program Manager, Global Capacity Delivery. Here, he is leading a significant step change to optimise the mind-boggling complexities in moving and storing products, services and information on a massive scale.
"I love solving problems; the idea of a challenge where there isn't a logical solution, or it hasn't been done yet. There are hundreds of problems to tackle every day, but with the right people, with passion and tenacity, anything can be solved. It all boils down to transparency, good communication, clear process and visibility."
A love of logistics and problem solving is perhaps in Devlin's blood. One of four boys born to restaurateur parents, he grew up in Byron Bay helping out at the family's restaurant, balanced out with school, surfing and soccer.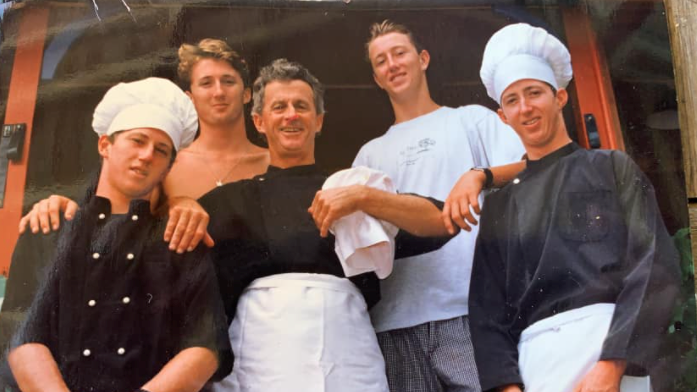 Image: Omar (second on the left) with his brothers and father

"Supply chain logistics is really about the sequence of events and activities that need to happen to make sure everything at the very end goes smoothly, and that's a natural fit with the hospitality environment I was raised in. It's a high-pressure environment where timing and communication are critical, and where you need to optimise the whole, or it can easily fall apart and impact the entire experience."
When asked what guidance he would offer others considering their pathway through study and career after school, Devlin says he'd give the same advice he gives his daughters.
"Only do a degree with a cadetship where you can gain industry work experience. Though it added a few years to the degree, the BlueScope cadetship provided me as a student with genuine on-the-job training, practical knowledge to help in my university studies, and an immediate peer support group and network," he says.
"It's not a race to get your degree in three or four years – it's a journey to set you up for great career options."
--
Omar Devlin
Master of Science (Logistics) MBA, Change Management
Bachelor of Mechanical Engineering MSc (Logistics)