The UOW community is made up of some incredible people. Here we celebrate alumni who are establishing themselves as tomorrow's leaders.
---
Brenna Quinlan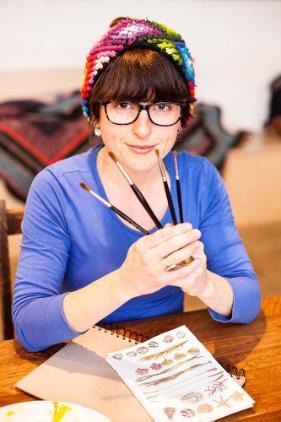 Illustrator and Co-Founder of Grow Do It Permaculture Education
Bachelor of Creative Arts (Visual Arts) / Bachelor of Communication and Media Studies (Journalism), 2009
As an artist, educator and sustainability warrior, Brenna Quinlan has crafted a beautiful life.
A talented permaculture illustrator, Quinlan draws about climate change, social justice and sustainability. A hit on social media, she has amassed 35,000 followers on Instagram alone, her devotees smitten with her playful yet powerful artworks. She sees this as her form of Art As Activism and she is thrilled to have found a way to combine her artistic talent, communications skills and deep love for the environment and social justice.
"I wake up every day with the goal to make the world a better place through my art. Making complex information accessible is what lights me up and my work focuses on themes like climate solutions and equality," Quinlan explains.
She has worked as an illustrator with the Australian Red Cross, the Stephanie Alexander Kitchen Garden Program, Plan International, Milkwood Permaculture, the Bob Brown Foundation, CSIRO and Costa Georgiadis, among others.
Quinlan is also a co-founder of Grow Do It Permaculture Education, a project focused on bringing climate solutions to kids (and their grown-ups) through art, music and creativity. She is responsible for their flagship Permaculture Action Cards and loves working alongside eco-funk band, Formidable Vegetable, to constantly explore new and creative ways to make sustainable living fun and accessible for everyone.
While art had always been important in her life, it was the six years she spent in the Americas and studying in Chile that established her passion for permaculture and led to the realisation of how she could reconcile her drive to create art with the need to address social issues.
Quinlan now resides in an eco-village in Western Australia where she is currently building her own straw bale house out of reclaimed materials. Fortunately for us (and her thousands of followers), she is documenting her journey via the Grow Do It channel on YouTube.
---
Anthony Scerri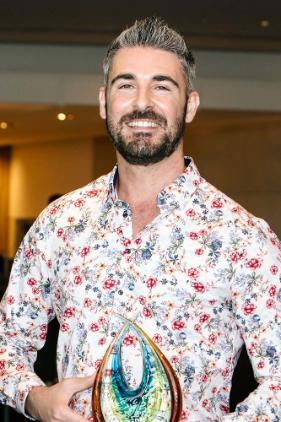 Manager, Settlement and Community Services at Advance Diversity Services
Bachelor of Creative Arts (Visual Arts), 2007
Graduate Diploma in Education, 2008
Committed. Creative. Community-minded. These words only scratch the surface when trying to describe Anthony Scerri.
Throughout his career, Scerri has dedicated himself to advocating for culturally and linguistically diverse, Aboriginal and Torres Strait Islander and LGBTIQA+ communities.
"My work is inspired by an overarching idea of an Australian nation that is fully inclusive, empowering all its residents to fulfil their greatest potential," Scerri explains.
He currently manages the Settlement and Community Services Team at Advance Diversity Services (ADS), a leading non-profit organisation that builds community and brings cultures together, providing a range of community, aged care, family, disability and settlement services in Sydney. His passion in this field of work stems from his multicultural background, growing up in the southern suburbs of Wollongong, and having a very close relationship with his Maltese grandparents, particularly with his maternal grandmother.
"I witnessed the sacrifices that she made to migrate her family to Australia post WWII and her ongoing settlement journey in Australia. This continues to motivate my work in this field because I want to help people with their settlement journey.
"Prior to ADS, Scerri worked on youth development projects with the Multicultural Communities Council of Illawarra and as a Visual Arts Teacher with the NSW Department of Education and the Catholic Education Diocese of Wollongong.
Recently, he has been driving LGBTIQA+ inclusion work at Advance Diversity Services which has led to the organisation winning Health + Wellbeing Equality Index (HWEI) Service Provider of the Year in 2019 and gold tier status in both 2019 and 2020.
"Being part of this LGBTIQA+ community myself and from a multicultural background, I know that the added cultural and religious barriers can have a really negative impact on LGBTIQA+ people." Scerri is proud of his involvement in impactful projects such as Pride in My Faith, and other creative community initiatives.
---
Georgia Zentrich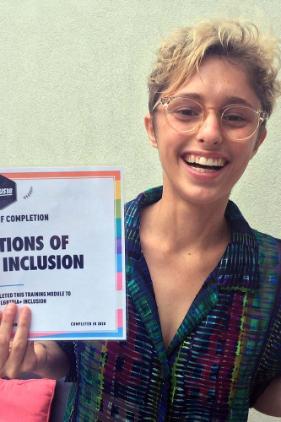 Vocational Specialist, advocacy guru and Founder of g-co
Bachelor of Psychology, 2018
Georgia Zentrich's passion for living a life of purpose is apparent throughout her extensive list of pursuits, from board member to community advisor, small business owner, LGBTQIA+ champion, mental health advocate and avid yogi.
"Positive energy creates ripple effects throughout society and I try to do my part to bring a smile to others in any way I can," Zentrich explains.
From 9-5, she is a vocational specialist with headspace Wollongong, working with young people who experience barriers to employment or education to build both confidence and capacity. She says that her passion for service and helping others was fostered by her studies in Psychology.
A self-confessed statistics nerd, Zentrich uses her research and facilitation skills to support a range of advocacy organisations. Off the clock, she lends her expertise to Coordinare as a community thought leader. She also serves on the board of the Stepping Out Program, which supports female survivors of childhood sexual abuse.
A budding social entrepreneur, Zentrich runs an eco-luxe side hustle, g-co, which specialises in yoga mat and room sprays, rollers and massage oils that feature heavenly blends of essential oils. 2021 was an exciting year for the fledgling business, as she received a Highly Commended award for the Best New Business category in the Illawarra Women in Business Awards. She was also a finalist for the Local Business Awards and Australian Small Business Championship Awards for two categories in each: one for g-co and the other in the Youth Award category.
As a proud member of the Youth & LGBTQIA+ community, Zentrich has been accredited in LGBTQIA+ Inclusivity Training from minus18 to help ensure the inclusion of queer voices at the forefront of organisations across Australia. She is also studying her 200 Hour Yoga Teacher Training with the hope to be a qualified teacher by the end of the year.
---
Joe Williams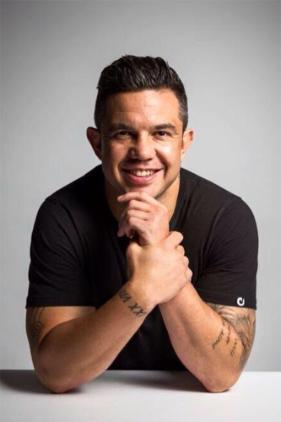 Former NRL player, professional boxer and Founder of The Enemy Within
Graduate Certificate in Indigenous Trauma and Recovery Practice, 2019
Joe Williams is a proud Wiradjuri man, born in Cowra and raised in Wagga Wagga, NSW.
He played in the National Rugby League for the South Sydney Rabbitohs, Penrith Panthers and Canterbury Bulldogs before switching to professional boxing in 2009. Williams is a two-time WBF World Junior Welterweight champion, also winning the WBC Asia Continental Title in 2014.
While forging a successful professional sporting career, he battled most of his life with mental illness, eventually being diagnosed with bipolar disorder. After some extremely dark days, he felt that his purpose in life was to help others struggling with mental illness.
Through customised workshops, he talks of dealing with adversities, struggles, resilience, addiction, connection, emotional wellbeing and healing trauma in schools, communities, correctional services, sporting clubs and workplaces.
Williams was awarded the Wagga Wagga Citizen of the Year in 2015 for his committed work within the community mental health and suicide prevention sectors and was named a finalist in the National Indigenous Human Rights Awards. In 2018 he was awarded Suicide Prevention Australia's highest honour, a LiFE Award for his excellence in communities within the suicide prevention sector and in 2019 was named a dual winner of the Australian Mental Health Prize.
Now a published author, his autobiography 'Defying the Enemy Within' shares not only his life's story but offers practical tools that anyone can implement into their lives to improve and maintain their emotional wellbeing.
Williams recently studied Indigenous Trauma and Recovery Practice at UOW, a postgraduate course developed and delivered by Aboriginal academic and health delivery experts in collaboration with local Aboriginal elders. Based on the Wiradjuri principle of Yindyamangidyal Marrumbang – respect, love and kindness – his work in suicide prevention and mental wellbeing education is changing lives and communities for the better.