When Zachary Bennett-Brook and his partner Tara Burrows decided to marry in spring last year they weren't going to let a pandemic dampen proceedings.
---
In his typical manner, the internationally-renowned Indigenous artist found a quirky, fun way to get things done, using a bit of team effort.
"We missed out on our first dance and had to socially distance with a culled guest list, but we came up with our own version of trivia with six rounds of questions about ourselves – some of the answers really surprised a few people," Bennett-Brook laughs.
The couple have been together since they were teens, both training as teachers at UOW before Bennett-Brook decided to pursue his passion to become an artist.
"Tara and I started going out when we were 17 and she's supported me ever since, often travelling around to different work events throughout the country and overseas," he says.
Their wedding on a Wollongong beach, two days after his 30th birthday last October, capped off nearly a decade of achievement for the Wollongong surfer, who has developed his own style of contemporary Indigenous art using surfboards and streetscapes as his canvas and now counts Chris Hemsworth and Qantas among his clients.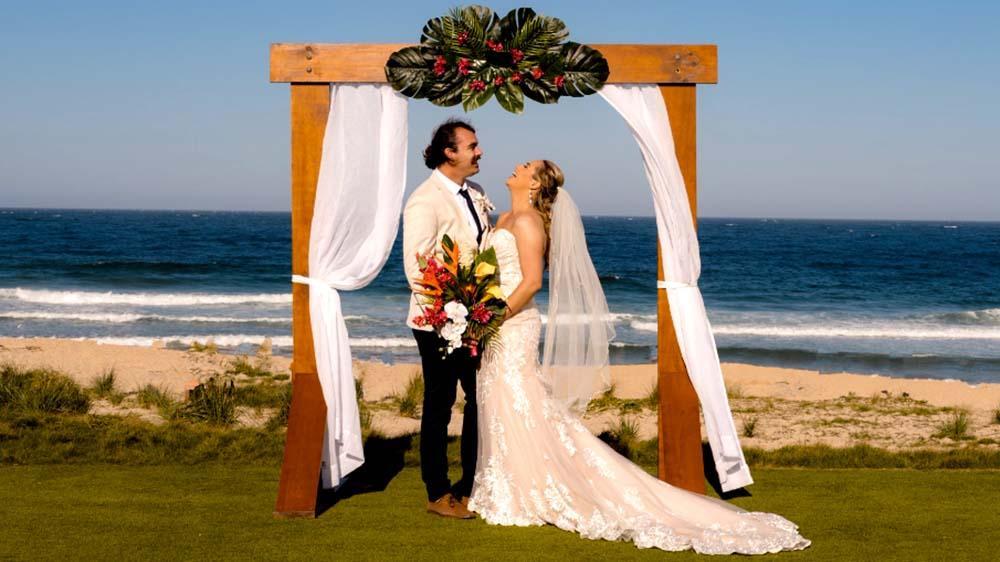 Only months before the pandemic hit, Bennett-Brook was hoping to see his artwork in the skies as part of the Qantas Flying Art Series, which has been promoting Indigenous art for nearly three decades.
"That hasn't happened yet, but I did get to paint the flying kangaroo statue in their Sydney headquarters, which was really cool," he says.
Bennett-Brook is philosophical about COVID-19's impact. His business, Saltwater Dreamtime – a nod to his Torres Strait Island heritage, his love of the ocean and growing up on Dharawal Country – withstood the first wave of lockdowns.
But things changed halfway through 2021.
"Up until then I was still constantly travelling to Sydney to paint on average two murals a week, as well as spray-painting commissions in some of the empty schools, but it's just stopped with this latest outbreak," he says.
Bennett-Brook views the change as a chance to step back and take stock.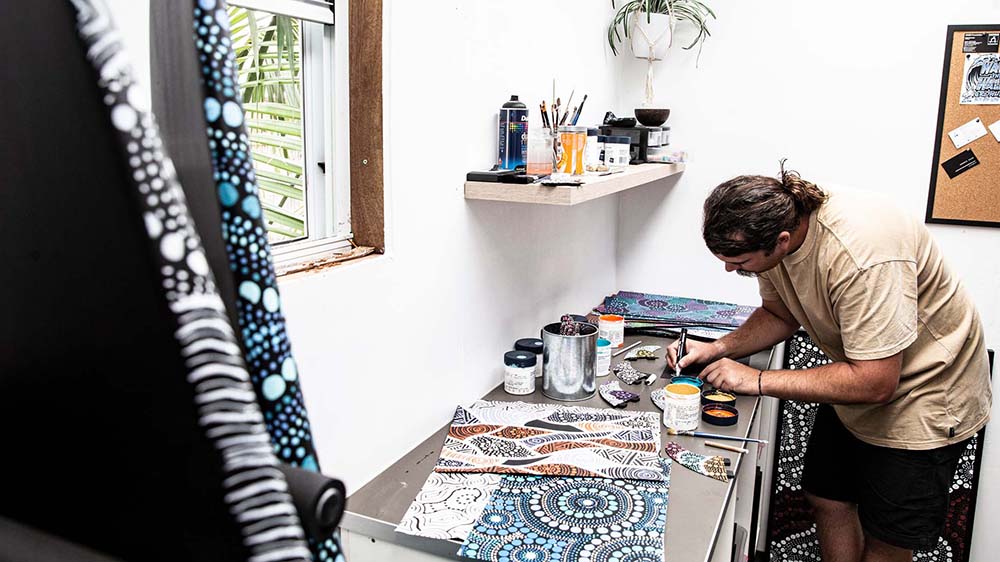 He now spends part of the day in his home studio painting canvas commissions and "playing around with a few of my own projects". He also makes time for daily walks, sometimes with his cavoodle pup, Luna, who is part of the couple's future plan to start a family.
"The lockdowns have given me time to reflect on where I'm at artistically, and everything that has happened in my life in terms of working crazy, crazy, crazy and almost feeling a bit burned out," he says.
"I had to go hard and fast in the beginning to establish a reputation. I'm only 30 but it's taken this amount of time to step back and to really think about how far I've come.
"I've also had to consider the possibility that my career as I know it may not be there forever, because as much as I love it now, I don't want to be riding scissor ladders to paint murals in my 50s – my knees are already pretty shot.
"I don't want it to stop, so this is a chance to take time to breathe and to ensure it doesn't all become overwhelming."
But any doubts are fleeting and are far outweighed by Bennett-Brook's explorations, which are revealing new and exciting possibilities to allow his art to evolve in the direction he wants.
From the start, Bennett-Brook decided to create a point of difference that was separate from traditional Dreaming stories that he felt were not his own.
He is not departing from his original aim, but he feels it is now time for some change.
"I wasn't so much in a rut but I was feeling it was a bit of the same old, same old, so I made a conscious effort this time to take in more of what is around me," he says.
"I needed to incorporate new elements within my work, but still be true to myself."
He started with broadening his colour palette, going beyond the blues, greens and purple shades of the sea to include earthier terracotta tones. Also, more recent pieces now have line works, not just the straight dot work that had previously dominated his art.
"My main inspiration is still the patterns in nature, I'm seeing them everywhere now – on walks and in my own backyard and even in our individual fingertips. The pattern of lines on our fingers are amazing," Bennett-Brook says.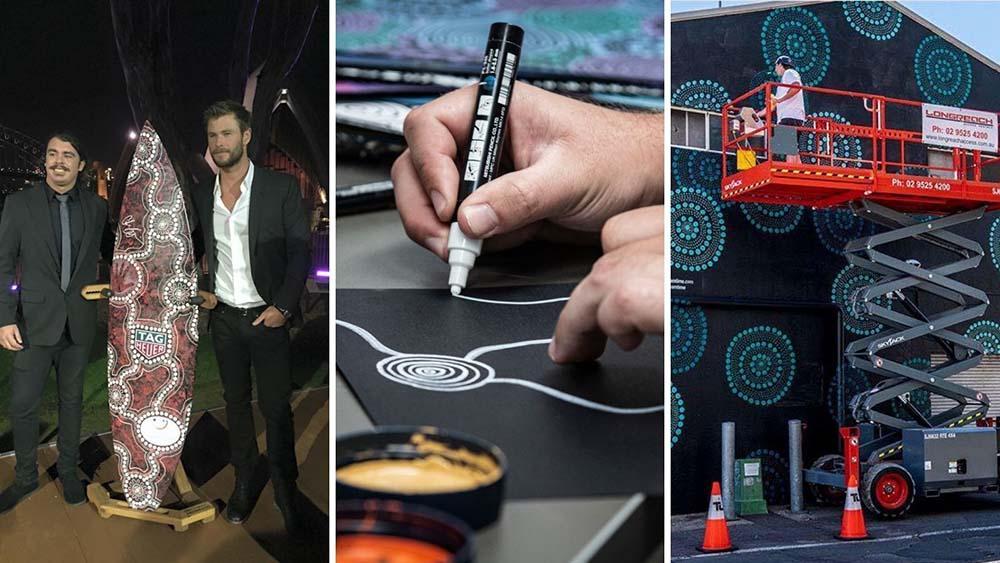 Perhaps due to recent events or simply through maturity, he also feels ready to tackle more complex themes in his story landscapes.
"I've thought a lot about conflict and I've been exploring ways to convey it in the work I do," he says. "For me, it's a lot of harsh lines which bump up against one another which look busier and more overwhelming compared to my very calm, smooth circles. This new artwork is the combination of the two – harsh lines in different directions that join up with the smooth circles to represent resolution."
Is that the way he would represent the pandemic? "Probably, I'd have to sit down and have a think about that one," he says.
---
Zachary Bennett-Brook
Artist and Founder Saltwater Dreamtime
Bachelor of Physical and Health Education, 2013