Steve Jobs once said, "Your work is going to fill a large part of your life, and the only way to be truly satisfied is to do what you believe is great work. And the only way to do great work is to love what you do."
---
University of Wollongong alumni couple, Grant and Ashleigh Neill agree that doing what you love, with the one you love, has created a beautiful life-work balance for them.
After Grant and Ashleigh graduated with a Bachelor of Education (Physical and Health Education) and Bachelor of Teaching (Primary Education), in 2007 and 2006 respectively, the pair had their sights set on helping young people become the best version of themselves. They both love everything about keeping the body healthy and fit from the inside out, and the positive impacts fitness has on mental health. Their love for fitness and teaching youths fuelled their passion to address childhood obesity.
From this passion Peak Sports and Learning (PSL) was born. Grant and Ashleigh and fellow UOW teaching alumnus, John Good, identified a gap in the market for families who required access to a quality outside school hours care program. Their objective was to provide a service that promoted a healthy lifestyle and offered academic support with qualified school teachers on staff.
The trio identified their primary customer as working parents who were time-poor, juggling family and working-life balance. They set out to ensure that when parents arrived, their children, at minimum, had eaten a healthy and nutritious afternoon tea, participated in physical activity, and completed homework alongside at qualified educator.
"Grant has an amazing eye for talent and talent retention," Ashleigh notes.
While teaching at Warilla High School, Grant had access to some of the brightest students with like-minded passions. He made mental notes of the ones to watch, and later employed some of his former students as staff at PSL.
It is plain to see how much the couple love people through their business practices and engagement within the communities where their centres are located.
"All of our employees are like our family," Ashleigh says, as she smiles one of those proud-parent smiles.
Many employees are either students they've taught, met through the recreational park, or supported during their studies at UOW.
The Neill's are careful not to put unnecessary pressure on staff. They feel it is important to have a balanced family-work approach by putting family first.
"I want to be there every time my kids have a game or something at school," Ashleigh says. "And so do my staff members."
Ashleigh goes on to explain that to create this culture across their centres, it takes effective time management and having a lot of faith in people to do things according to their standards.
Grant adds this comes back to training and investing in staff and employing individuals who really want to be there.
"We have a culture where we encourage people to be proud of what they do," Grant says.
PSL created a platform across its 21 centres for employees to come together and share their successes, whether work-related or personal. They have been in operation for 11 years with some staff close to celebrating their 10th anniversary with the organisation.
When asked about their secret to success, Ashleigh explains it depends on how you define and measure success.
"When it comes to providing the best care and opportunities for children, there isn't a secret, really – that sort of information should be shared," she says.
"We run our centres with the same level of care and expectations we have for our own children," Grant adds.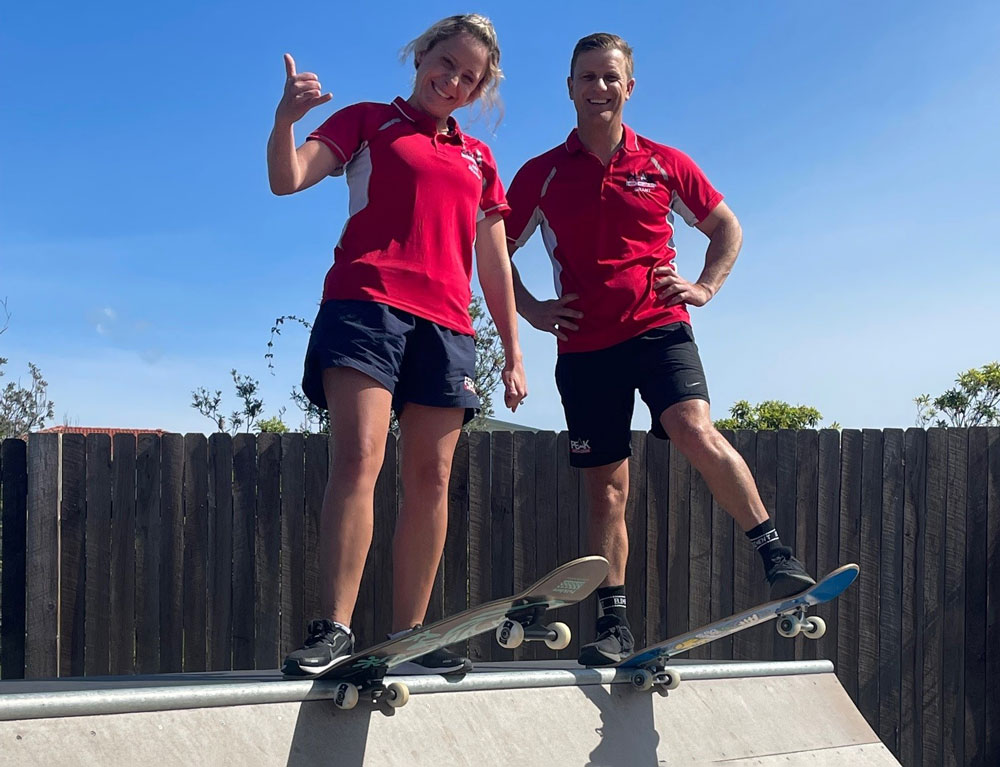 Grant and Ashleigh take pride in the fact there aren't any technological devices in any of their Peak Sports and Learning centres. Instead, children are encouraged to move their bodies, explore with their minds and are taught how to make healthy lifestyle choices.
"It's always an added bonus when children share this at home and parents ask us how to incorporate these positives into everyday life," Ashleigh adds.
"We received an 'Excellent rating' at our Peak Sports and Learning for our out-of-school-hours (OOSH) services at The Illawarra Grammar School. We are one of three OOSH centres in the country to receive this prestigious award!" Ashleigh says proudly.
There are over 16,000 childcare services in Australia, in which 32 are registered OOSH services. To apply and receive recognition at this level from Australian Children's Education and Care Quality Authority is about an eight to nine month process. This includes a 16,500 word submission, unannounced visits and a two-day long onsite observation.
Though the Neill's have their hands full with 21 centres spanning from the Illawarra to Shoalhaven, the couple made a deal to never let business interfere with family.
"We have a rule to never go to bed without each other, no matter what kind of day we've had," Ashleigh says.
The couple agrees that working together is actually a lot of fun because they love each other, they love what they do and they bring different skills to the business.
---
Grant Neill
Bachelor of Education (Physical and Health Education), 2007
Ashleigh Neill
Bachelor of Teaching (Primary Education), 2006