When University of Wollongong alumna, Maryanne Harris was completing her exercise science degree, she could never have predicted where her career would take her. Stumbling into the wrong things, paired with her passion for helping people, became the driving force in her life.
---
During her time at UOW, Maryanne's now husband Daniel had a serious accident resulting in a Spinal Cord Injury. This event reshaped her career interests and led to her co-founding her first business with Daniel, tappON.
"When Daniel came home from hospital there were few options that gave him flexibility and control in creating a team that supported him," Maryanne says. "We found it was a one size fits all approach, and not many services took into consideration personal needs and helped map out individualised solutions."
At the time she was also working in Aged Care, and had experienced the issues in that sector when trying to apply a generic approach to care. These events were the inspiration behind developing tappON, which Maryanne says is focused on the concept of consumer directed care.
"Our platform allows our members to find, book and manage a support team made up of carers, cleaners, gardeners and allied health professionals from a single login", she explains. "By connecting parties directly, we empower our members to live life on their own terms and build long-lasting working relationships."
Maryanne and Daniel experienced a few hurdles during their start-up journey with tappON, many outside of their control.
"Like many businesses, one of the most persistent challenges has been navigating the impacts of COVID-19. Our main challenges in this category involved supporting our members as they navigated incredibly uncertain times, while mitigating the risks of social isolation and loneliness.
"With lockdowns and an uncertain path out of COVID, this is probably the biggest challenge to face. We are proud of how support professionals through tappON have adapted to providing services to ensure members felt supported through tough times," she says.
In 2021, Maryanne and Daniel further increased their impact on the community by partnering with SpinalCure Australia and the Black Dog Institute.
"Daniel and I believe that businesses can be used as a vehicle to do good, and have a lasting impact. We launched our impact partnership program this year with one per cent from every booking donated to an impact partner as chosen by our members", she says.
"We are excited to partner with both organisations as funds go directly towards research projects that aim to improve the quality of life of people living with Spinal Cord Injury (approximately 20,000 individuals in Australia) or the one in five Australians who are affected by mental illness every year."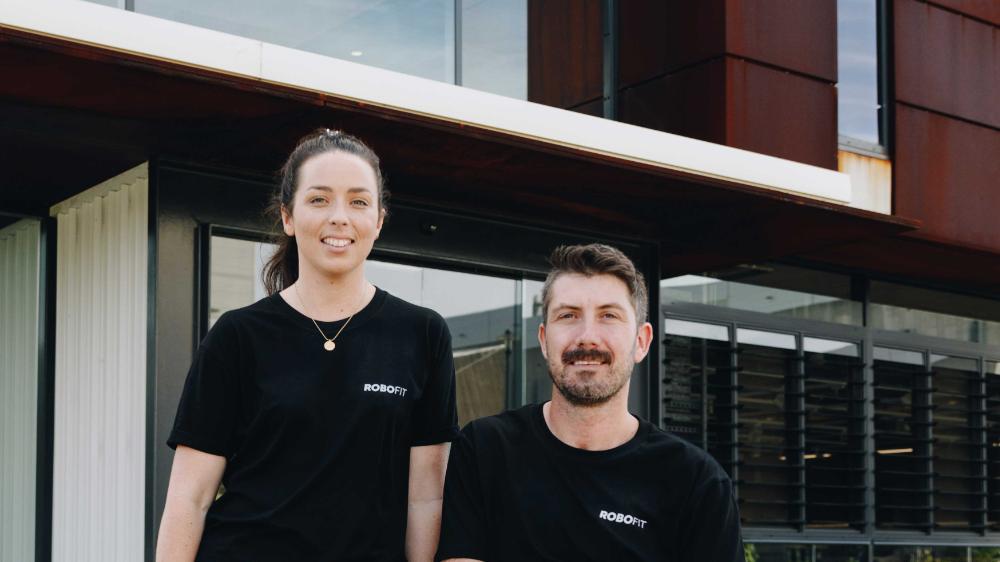 Maryanne Harris with husband, Daniel.
Hungry for innovation, Maryanne and Daniel didn't stop at just one business, recently launching their newest venture, RoboFit. After more than a decade of research, which took them across the world, the pair unveiled their high tech new business idea, centred around neuroplasticity.
"After Daniel's Spinal Cord Injury in 2010, we began exploring what was possible over the course of his rehabilitation journey. At the time of his accident, there was little domestic innovation in this sector, and neuroplasticity wasn't commonly spoken about or understood. Innovation in rehabilitation, typically involving the use of exoskeletons was seemingly only taking place overseas," she explains.
Having travelled to numerous countries to explore innovation, they eventually crossed paths with a Japanese organisation called Cyberdyne and trialled a neuro-controlled exoskeleton.
"After our three week trial, Daniel had incredible results. He was to walk more independently, and his speed, posture and balance were improved significantly," Maryanne explains.
This neuro-controlled exoskeleton is called the Hybrid Assistive Limb (HAL), and works by leveraging electrodes to read the wearer's movement intentions and assist them to complete movements that they otherwise wouldn't be able to. Over time, this encourages neuroplasticity and can restore motor function.
While HAL has the ability for passive gait training through the autonomous mode for people with complete Spinal Cord Injuries or weak signals being sent form the brain to the lower extremities, the key differentiating feature of HAL is the ability to walk with the wearer.
RoboFit launched at UOW's Innovation Campus in April this year, to assist people with neurological and musculoskeletal conditions, including Stroke, Spinal Cord Injury, Multiple Sclerosis, and Parkinson's disease. Their unique service can also assist with fall prevention in elders.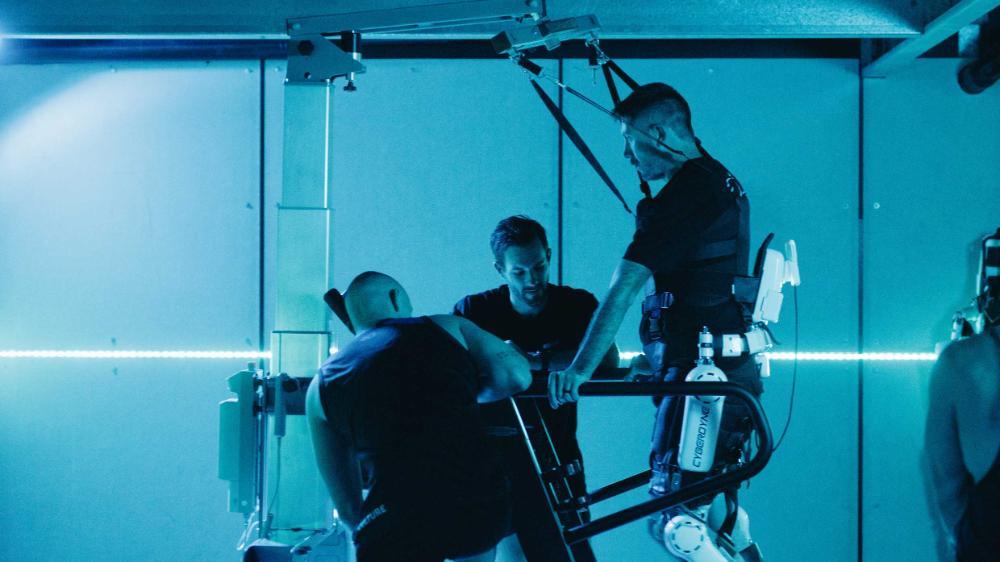 Daniel trialling the new Robofit technology.
"A key challenge we faced in accessing technology was that it never felt like it was accessible in the community. We had to travel to Japan to access it, and could only get there three times over the past eight years. It felt like it was slowing the progress for Daniel and his independence. We wanted this technology to be accessible to the people it was designed to help," Maryanne says.
"To make this happen, we are lucky to have a cross-discipline team that has worked hard to bring the technology to Australia, get it through the relevant regulatory approvals and then get the word out there."
After finally getting the technology into Australia after eight years, Maryanne, Daniel and their RoboFit team are focused on helping people improve their independence and quality of life. Their goal is to make this technology accessible in more locations across Australia with a focus on improving the quality of lives of Australians.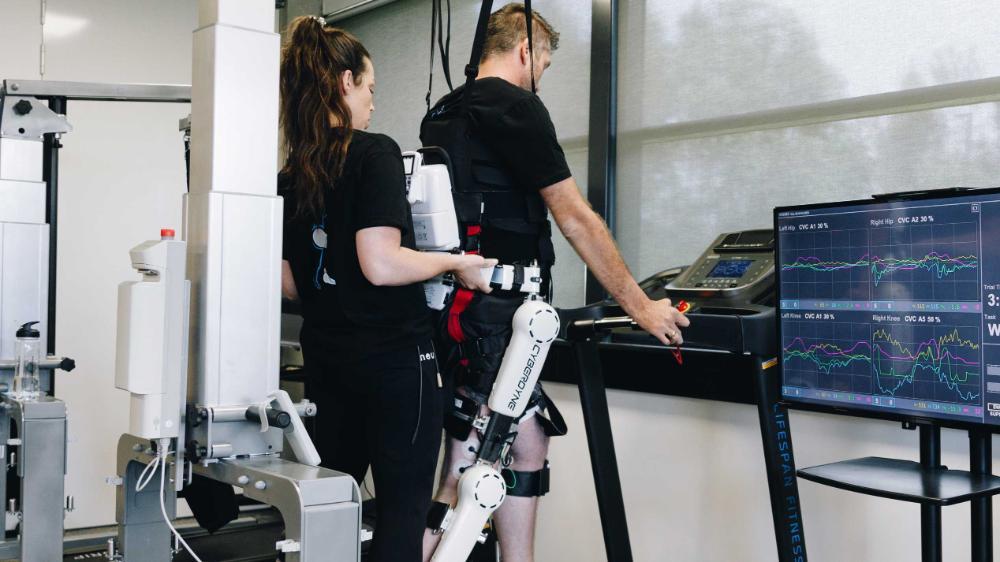 Maryanne helps Daniel on the new Robofit technology.
"We're looking to partner with Researchers and organisations whose passions complement ours," Maryanne says.
"We've had clients take their first steps in years since their injury and even stand for the first time. The most rewarding part is the smile that we see!"
With a taste of success and a mindset of determination, it's clear this husband and wife team are on track to continue to make a positive impact for years to come.
"Daniel and I are really excited about our future work with people who are passionate about taking on challenges to drive change and solve real problems. We believe that innovation in healthcare will continue to play a huge force in our lives, and we're working on an ambition timeline that far exceeds five years.
"We want to spark hope and joy by continuing to deliver solutions that have a significant impact on our clients' day to day lives".
---
Maryanne Harris
Bachelor of Science (Exercise Science), 2012