Amid the COVID-19 pandemic and with a shortage of doctors across regional, rural and remote Australia, it's a tough time to practise medicine in country towns.
---
But alumni from UOW'S Graduate School of Medicine have also found opportunities they never could have imagined thanks to their degree's focus on building strong ties outside the cities.
Three graduates share how they are leading the way in their field, making an impact in their communities and inspiring the next generation of rural and regional doctors.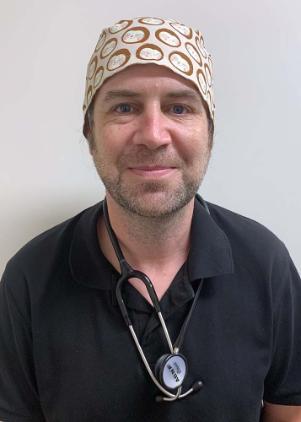 With a childhood spent growing up in various far-flung towns, Matthew Allan says he always imagined being a country doctor.
"I think the city has a lot to offer, but when I thought about practising medicine I always remembered the type of doctors I saw in the country," Dr Allan says.
"You knew them by name, they were part of the community and that really appealed to me.
"It's not like being Karl Kennedy or one of the doctors from A Country Practice – it's a lot more work.
"But there's a lot of benefits of being a country doctor – you can care for your patients in the community. You see them in the emergency department, you can care for them in the local hospital, you can care for them in a nursing home.
"The downside is that there is a lot of demand for work and you lose your anonymity – everyone knows you and you tend to be on call for a lot more hours."
He says the 2019/2020 bushfire season cemented how rewarding and difficult it is.
"We were like an island, cut off from the rest of the world. Roads were blocked and we had the internet and phone lines down," he says.
"The GP clinic and emergency department became a hub for information and help.
"That might be social help, or for someone who needs to plug in an oxygen machine. You had to step up and see a lot more people for a lot more issues."
Since the COVID-19 pandemic hit in early 2020, Dr Allan says the demand for more doctors has skyrocketed with people moving away from cities.
"We just do not have the infrastructure," he says. "So we're experiencing an increased demand on a very finite amount of doctors."
On the upside, he says the pandemic has provided an opportunity to help patients with chronic conditions navigate the complex health system, which tends to be "very city-focused".
"There's been the utilisation of telehealth – it's been happening ever since I've been practising but COVID has accelerated it.
"There's been more buy-in from city specialists – before it was a hassle to get a city specialist to turn on their camera, but now it's becoming essential. We can get that quality care from specialists and surgeons without patients travelling.
"So, you get to put your head on the pillow at the end of the night and say I've made a difference today," he says.
As a general practitioner working on the Far South Coast, Corin Miller says she's been "pushed out of my comfort zone".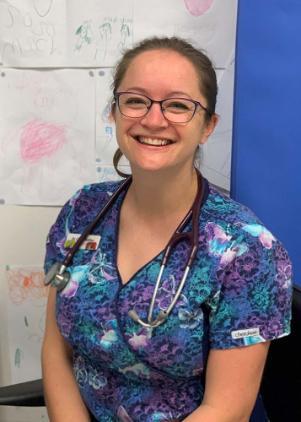 "When I moved here five years ago, I started working in the emergency department, and at times I would be the only doctor on shift or the only doctor in the department overnight," she says.
"I've led resus scenarios with multi traumas and lots of stuff that, if I was a metro GP, I would never have been exposed to.
"I've also been involved in the development of the paediatric service in the region.
"When COVID hit, the locum paediatricians couldn't come, so there was the local paediatrician and me. He was doing 24/7 on call, so I was first on call a few nights a week. I was resuscitating babies and all sorts of things I would never have had the need to do if I was an urban GP," Miller explains.
At times, she says the drastic shortage of doctors has been tough. For instance, she says her next GP appointment is often eight weeks away and many disadvantaged families face the costly burden of a seven-hour round trip to Canberra or Batemans Bay if they want to see specialist doctors.
However, this has given her the chance to develop a rewarding career in a direction she never imagined.
"People are so grateful that you want to stay here and want to be their doctor.
"In my paediatric clinic, it's about having someone who already knows the story about these kids with complex care needs, so the family doesn't have to tell the whole thing again every time, which can be quite traumatic," she says.
Dr Miller is currently heading up a team working to set up a new model of paediatric care – called School Hubs – for the region.
Modelled on an existing hub in Nowra, the project aims to make paediatric services accessible for all by basing it within a school. The first hub will be set up in Eden.
"There would be access to GPs, allied health, psychology, paediatrics, oral health – basically everything kids need," she says.
With more than 40 per cent of families in her health district classed as having high levels of disadvantage, the clinic will be a game changer for those unable to travel for paediatric care.
"It's also all about closing the gap when it comes to Aboriginal health and making a difference when it comes to intergenerational disadvantage," she says.
"The Eden primary school has 27 per cent Aboriginal kids, and the high school is about 17 per cent Aboriginal young people, so we're working closely with anyone we can to ensure that what we can offer is culturally appropriate and linked in with the community we want to help."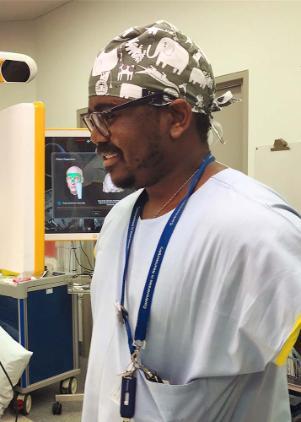 Growing up in Zimbabwe and watching his mother, who was a theatre nurse, Dr Ron Murambi knew early on that he wanted to be a doctor.
"My mother used to take me to work and the doctors would take me around to see the patients," he says.
"I saw how much impact the doctors had by observing their therapeutic relationship, seeing the patient getting better, and watching the people in scrubs in the theatre environment.
"Then we came to Australia because my mother started working at Wagga Wagga base hospital."
There, Dr Murambi saw the struggles people in regional Australia face when it comes to getting equal access to medical services.
"The fact that 60 per cent of the population in these areas do not have access to specialist care, that's one of the biggest things that caught my attention."
"When it came for me to apply to get into medicine, I did my research. Wollongong really aligned with my values with what they were trying to address. And, if you're in a regional area, there is a sense of community, a sense of belonging."
Dr Murambi chose to specialise in neurosurgery, and works as the neurosurgery registrar at Wollongong Hospital. While it's a more metropolitan environment, he says the role makes him aware of the issues facing regional and rural Australia.
"Neurosurgery is only available in the cities, but we get calls from places like Milton or Shoalhaven Hospital – getting the patient across to Wollongong always takes time," he says. "
It's a system challenge, and one person can't go and start a neurosurgery department at these small hospitals, but hopefully, with time and more funding available, that will be possible. If you have people who are willing to work in the regions, and who understand them, then you can make a change."
He also hopes to make a difference to Aboriginal communities.
"I want to help other people get to where I have got to.
"My African background is in some ways similar to an Indigenous background, it helps me understand some of the issues Indigenous people in Australia face – so I hope I can help to be part of that solution to close the gap and change some of the differences in health outcomes," he says.
Mentoring young students in his role as registrar, Dr Murambi says his main piece of advice is to "remember who they are and where they have come from".
"As you ascend through your career pathway, it's important to remember where you came from, so you can help other people who are trying to walk your path."
---
Dr Matthew Allan
General Practitioner, Milton Ulladulla Hospital
Clinical Lecturer, University of Wollongong
Bachelor of Medicine & Bachelor of Surgery, 2012
Dr Corin Miller
Paediatric General Practitioner, South East Regional Hospital, Bega
Bachelor of Science (Exercise Science), 2006
Bachelor of Medicine & Bachelor of Surgery, 2010
Dr Ronald Murambi
Neurosurgery Registrar, Illawarra Shoalhaven Local Health District
Bachelor of Medicine & Bachelor of Surgery, 2013