When I was first invited to write a piece for UOW Outlook Magazine about creativity during COVID-19, I felt optimistic and jumped at the opportunity. I sat down the next week with a note pad and jostled with a wave of stopping, starting and staring at blank pages and unfinished lines.
---
After a few weeks' worth of attempts, I settled at the deeper realisation that COVID-19 had coincided with some of my biggest life changes. I'm not yet sure if it's correlation or causation, but I see connection indefinitely and it is confronting.
As a creative, writer's block isn't foreign to me, but I've rarely been crippled by it. This comes at an unfortunate time, as I recently made the switch to full time freelancing after stepping away from leading the Poetry in First Languages project at Red Room Poetry. Red Room Poetry is an astounding not-for-profit organisation that aims to make poetry meaningful with inspiring projects that connect communities to create and publish poetry in unusual ways. Poetry in First Languages aimed to celebrate, share and preserve First Nations Languages by connecting Elders and Custodians with students on Country to create poetry in First Nations Languages. It's been a joy to learn and support the teaching of local First Nations Languages with our community. In order to keep our mob safe during the coronavirus, the delivery of the program was halted.
This space in community programming allowed me to shift into writing full time. Freelancing currently for me involves writing poetry, for RETURNING, a visual poetry exhibition and publication project supported by AUSCO. It also has me writing plays for Merrigong Theatre, South East Arts and Playwriting Aus. Writing children's literature is also in motion currently, and my next book Bindi will be released as the COVID-19 closures around Australia ease.
Writing though means recording words, and when the brain is overwhelmed by the sudden disconnection of physical distancing, the calm of not being constantly on the move with isolation and the realisation of deeper hearty truths in that calm, words are hard to find.
During COVID, I've started pursuing wordless things, like surfing, yoga and painting. My process as an artist involves moving my body and then finding stillness in the mornings. After which, I take a moment, thought or feeling and give it form. This usually is done in acrylics with spray cans in the back yard.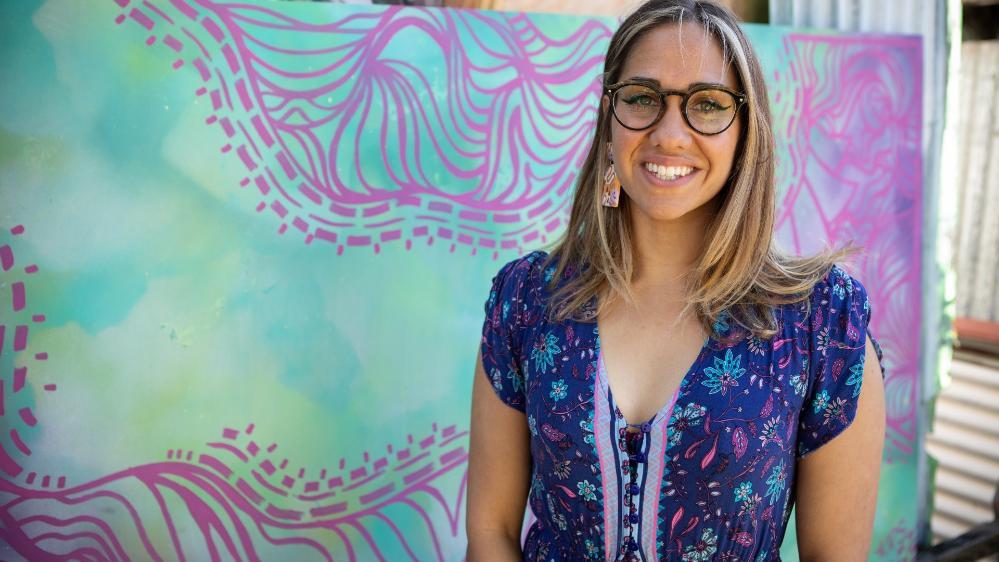 Untitled (acrylic on MDF | 1.2m x 2.4m), pictured in the banner captures the untapped flow of that which cannot be articulated in words. It was created as I released expectations after another blank-paged writers block moment. The fluidity and tones depict the shapes and free flow of the ideas bubbling underneath the words that I couldn't place, as I tried to write a piece for UOW during COVID-19.
Artmaking for me is rhythmic, and time consuming. I like to tune into music, and allow an idea to take its own shape and colour. It's a bodily experience, especially with a work as large as Untitled which I have to bend and fold around.
I think in this time, we're all learning to move in new ways, I know I am. And I'm learning to trust these wordless ways.
I hope they remain after the clutch of COVID-19 releases.
---
Kirli Saunders is a proud Gunai Woman and an award-winning writer of children's literature, poetry and plays. She is a teacher and an emerging artist. Her books include The Incredible Freedom Machines (Scholastic), Kindred and Bindi (Magabala). She is the NSW Aboriginal Woman of the Year (2020).
Kirli Saunders
Bachelor of Primary Education, 2012