As the future of Australia's job market rapidly changes and maths and science continue to play a transformative role in research and development, UOW has strengthened its capacity to influence and champion progress in these vital areas.
---
Banner image caption: Tibra Capital co-founder and Tibra Foundation committee member Tim Berry with UOW Vice-Chancellor Professor Paul Wellings CBE. Photo: Paul Jones, UOW.
A long-standing relationship with the University has resulted in a $1.25 million philanthropic gift from the Tibra Foundation to establish a Professorial Chair in Mathematical Sciences at UOW.
As Australia's first philanthropically-funded chair in mathematics for more than 100 years, the move is set to drive forward excellence in mathematics, statistics and data science at the university.
Founded by UOW mathematics alumni, the Tibra Foundation is the philanthropic arm of Tibra Capital, a finance company specialising in quantitative trading.
For more than 10 years, Tibra has supported the next generation of maths and finance graduates investing more than $1 million in scholarships, including through UOW's Work Integrated Learning program offering experiential placement, as well as corporate scholarships.
Determined to maintain their support for students, the Foundation will also continue to fund several scholarships and prizes at UOW, pledging almost $77,000 towards these opportunities over the next five years.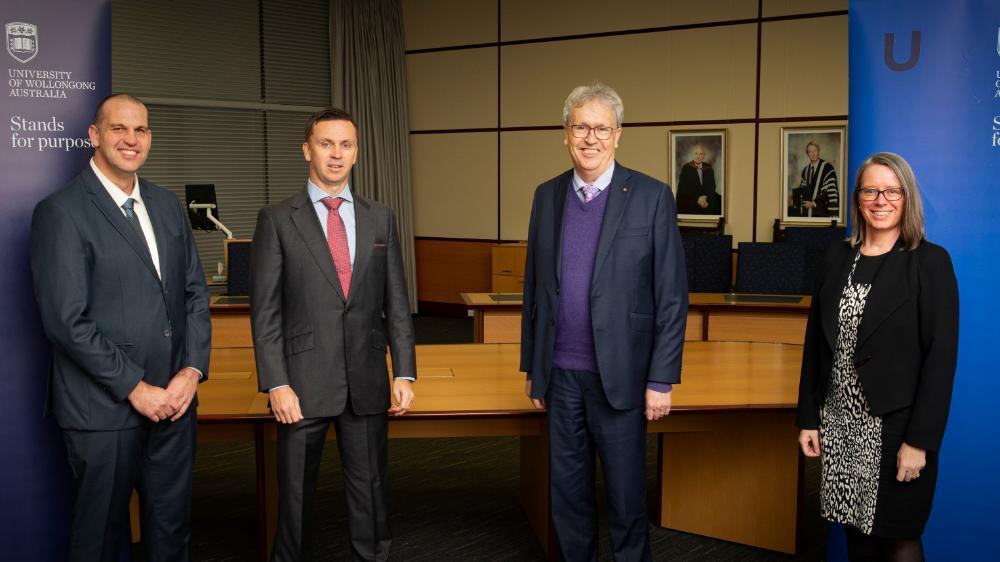 UOW Head of the School of Mathematics and Applied Statistics Senior Professor Aidan Sims, Tibra Capital co-founder and Tibra Foundation committee member Tim Berry, UOW Vice-Chancellor Professor Paul Wellings CBE, Faculty of Engineering and Information Sciences Professor Valerie Linton. Photo: Paul Jones, UOW.
The historic investment in the Professorial Chair will seek to create a hub of excellence in mathematics, statistics and data science in the Illawarra, strengthen UOW's prospects to become an international leader in the mathematical sciences and expand its capacity to undertake outreach activities and engagement with schools and future students.
The Tibra Foundation says they hope the position will help deliver long-term impact and drive Australia and the region forward in the field.
"Australia is in a position where it could easily become a world leader in mathematics, but every year we fall further behind the rest of the world. As a quantitative organisation we have a passion for the mathematical sciences and we are excited to help transform the region into a centre of excellence and stimulate the advancement of world class mathematics.
"As members of the finance industry, and particularly the quant trading space, our success has been made possible by our ability to utilise mathematics as a tool to achieve a better understanding of the world around us. We live and breathe mathematics in our work, yet we operate in a country where mathematics continues to be under-recognised, despite its rapidly growing importance.
We want that to change.
"By investing in education, we hope to promote the growth of a world-leading mathematical sciences ecosystem and help Australia attract and retain talent. We want to inspire future generations to seek a career in mathematics and the economic benefits it brings," the Tibra Foundation says.
In addition to attracting exceptional academic and scholarly talent to UOW, the establishment of this role will have significant flow-on effects to the Illawarra's secondary schools, with a plan to increase and encourage participation rates in maths.
UOW Vice-Chancellor Professor Paul Wellings CBE says he is deeply grateful to the Tibra Foundation for their commitment and foresight in nurturing this important study area.
"The Tibra Foundation and the University of Wollongong have a shared vision and a shared belief in the critical role of mathematical sciences in our society.
"The establishment of the Professorial Chair will drive this shared vision forward by raising the profile of mathematics through research, outreach and by creating greater opportunities for participation and careers in this important field, particularly in regional areas.
"Founded by UOW alumni, with a commitment to the Illawarra, Tibra Capital's success and involvement with UOW is an exemplar of re-investing in higher education to address society's critical challenges," Professor Wellings says.
Despite living in a changing COVID world and the disruption and dislocation 2020 has presented, the Tibra Foundation has maintained their philanthropic vision and mission to support positive change for society.
UOW Director of Advancement Monique Harper-Richardson, who has worked with Tibra since the beginning of their philanthropic engagement with UOW, says building on 10 years under these conditions is truly inspirational.
"This level of passion and generosity is extraordinary. Tibra, from their earliest beginnings, immediately understood the power of philanthropy, they understood the importance of giving back and creating support for the next generation, so the new announcement of the Chair is an extension of that relationship and that vision around the important role that maths plays in society," Harper-Richardson says.
"It's the next stage in a deep relationship based on shared values and it's wonderful to work with an organisation that's been built by alumni. We're delighted some of the committee members of the Foundation have actually been previous recipients of Tibra's scholarships, so it's that virtual circle of giving – of alumni giving back and strengthening their institution. It will be a great benefit for this region and highlights the important role of maths in the University's home region.
"We're enormously grateful to the Tibra Foundation. Philanthropy has the power to create transformative change. It is due to Director and Trustee Tim Berry's commitment and vision, and the passion and dedication of Arman Schwarz and the Tibra Foundation Committee, that this Professorial Chair has been made possible," Harper-Richardson says.
With a focus on big data, data science and statistics, the gift complements the University's strategic plan and its bespoke research capabilities with The National Institute for Applied Statistics Research Australia (NIASRA) and UOW's other centres of excellence.