Matthew Wright remembers his University of Wollongong graduation ceremony in 1994 with great pride as well as a touch of amusement over dodging a wardrobe malfunction.
---
"I intended wearing board shorts on the day thinking the graduation gown covered everything, but I soon found out it would have left me with bare legs poking out,'' he says with a laugh.
An SOS call to his mother Kathy saved the day after she loaded a pair of trousers into the car for the occasion she and husband Trevor had been looking forward to for months.
So began a career that would see the young commerce graduate return 13 years later as the University's Director of Financial Operations.
Wright, now 47, grew up as part of an extended Aboriginal family in Nowra, well known especially in sporting circles, particularly cricket and rugby league.
He credits his parents with instilling in him and his three siblings a strong work ethic and pride in family and cultural background.
"They were both hard workers – Mum in childcare and Dad who worked at the paper mill at Bomaderry for 30 years rising to foreman. They taught us to go after what we wanted and not to expect it to come us,'' he says.
"While we were made aware of our Aboriginality, we were encouraged never to be defined by it. My parents' attitude was 'You're an individual and you create your own opportunities'."
At school, Wright describes himself as somewhere between a nerd and a wild child.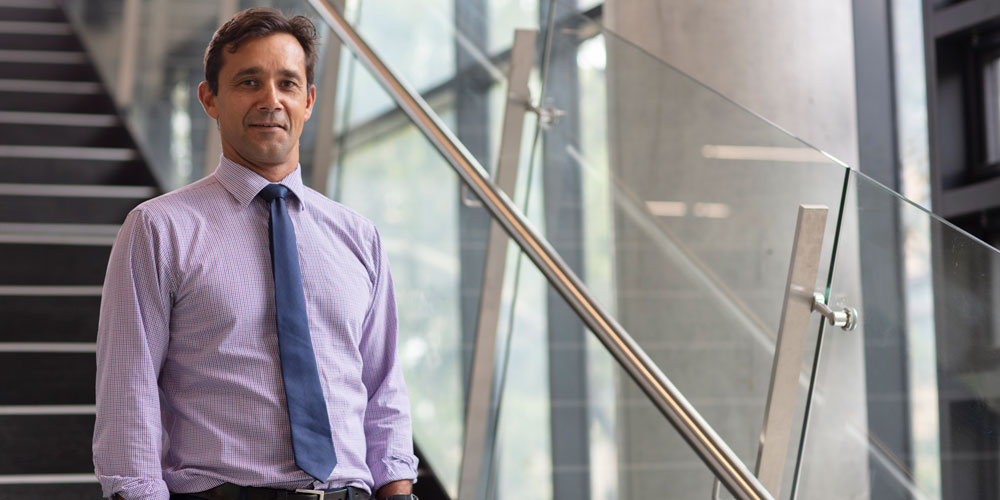 "I liked a bit of fun but I got good reports although they always added things like 'Matthew talks too much in class'."
With an impressive HSC result that included economics, he was offered an accounting traineeship with Shoalhaven City Council.
Two years into a six-year correspondence course in local government financial management with Charles Sturt University, Wright decided to change tack and do a full-time commerce degree at UOW.
"I was the first in my family to go to university so I didn't really know what to expect,'' he says.
"By this stage I wasn't sure if I wanted to do finance, human resources or marketing. My undergraduate degree at Wollongong was great because it was quite a general degree that not only covered those areas but also the chance to study in other areas that included environment law and social geography."
In the Christmas holidays he returned to the Council and after graduation remained there for 14 years. During that period Wright completed the Certified Practising Accounting qualification, and was recently awarded a Fellow membership of CPA Australia.
"While I enjoyed Council and loved the connection to the community I grew up in, I eventually wanted to move on so I applied to a large organisation in Wollongong whose recruiter said something that stuck with me.
"He said 'I don't think this job is for you…the job for you would be at the University of Wollongong' and six months later this job came up which seemed like fate stepping in."
His role involves overseeing and managing the University's day to day financial operations, covering pure financial accounting and reporting, taxation and long-term planning.
"It's complex and diverse, and interesting at the same time. I spend a lot of my days talking to people answering questions, solving problems and providing advice,'' says Mr Wright.
Contrary to what many people think about finance and accounting, Mr Wright says there is quite a bit of creativity involved.
As well as analytic and financial management skills, it also requires the ability to communicate complex financial information to both finance professionals and non-specialists.
And that, says Mr Wright, often involves storytelling which offers the opportunity to communicate in ways other than throwing out a whole lot of numbers.
But aside from balance sheets and profit and loss, Mr Wright says the best thing about his job is the people.
"What I love is the diverse mix of nationalities and cultures all working in an environment of tolerance and harmony…in my team alone we have people from all over the world, of all ages and a good gender balance."
On the issue of race, Mr Wright has spoken publicly about the need to bridge the opportunity gap for Indigenous people. He believes it will happen, albeit slowly.
"I tell my children don't wait for someone to give you something, you have as much right as anybody else to opportunities, so be open to them.
"Early in my career it annoyed me when people would imply that my success was based on special privileges when I knew I had earned it on merit. That attitude only made me more determined to succeed."
---
Matthew Wright
Bachelor of Commerce (Management), 1993