An interest in ethical investments has sparked a global career for UOW alumna Maree Myerscough (nee Costello) which has seen her work recognised on the world stage.
---
Maree developed her special interest in socially responsible investments while studying at UOW, writing her honours thesis on ethical investments. After years spent honing her legal skills in roles both in Australia and overseas, the Bachelor of Arts/Bachelor of Laws (Hons I) graduate now works as a general counsel in Singapore for renewable energy company Conergy, which was recently acquired by Macquarie Capital's Green Investment Group.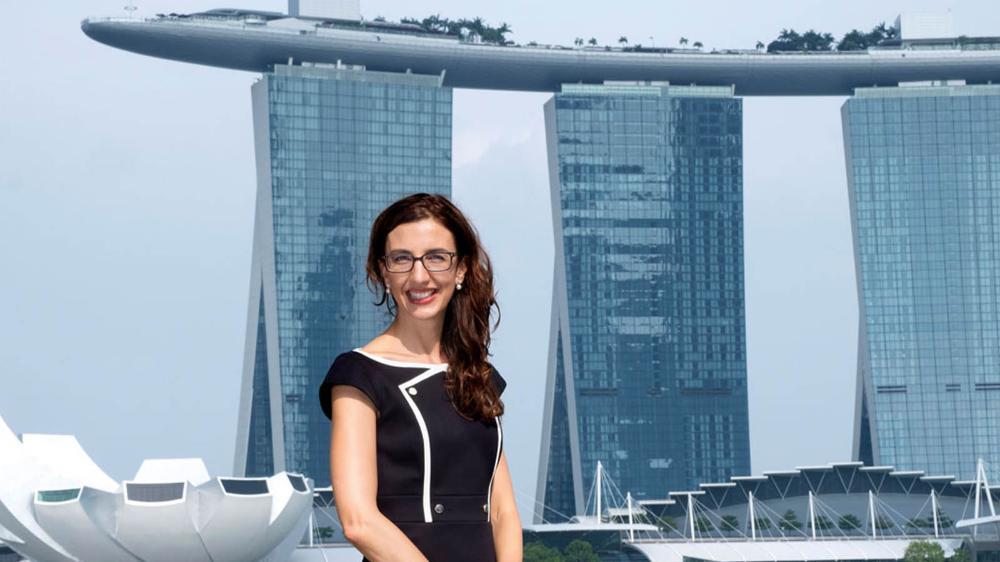 "At Conergy, I am a member of the senior management team and responsible for managing Conergy's legal affairs in the Asia Pacific region," she says. "I provide legal advice and transaction support for each of our business units within the renewable energy sector. I also provide strategic advice to our directors on investment opportunities, corporate governance and general commercial matters and help to manage and mitigate disputes across the region.
"Conergy develops, builds, owns and operates solar power generation assets. We have developed approximately 500 megawatts of solar power assets across the Asia Pacific region."
The company developed Australia's first grid-connected, utility-scale solar and battery facility in Lakeland, Queensland. Conergy also designed and installed a 145 kWp solar power system on the iconic Singapore Marina Bay Sands, which is one of Asia's leading destinations for business, leisure and entertainment. It was a milestone project for the company as it was its first commercial-scale rooftop installation in Singapore and the highest at 200 meters above sea level.
Maree's contribution was recognised on the global stage when she won the 2018 Global Counsel Award in the category of Individual: General Commercial in New York. The award recognised her ability to work as a team player who will roll up her sleeves when things get tough. More recently, Maree was recognised by Asian Legal Business in their 2018 40 Under 40 List, which profiles the most accomplished lawyers in Asia under 40 years.
"I enjoy bridging the gaps between different areas of our business as we help bring together the various functional perspectives to design a solution that address our commercial goals while keeping in mind our values and the risks involved," she says. "I put this down to the many years of experience I have had in bringing together people from different backgrounds and disciplines.
"I also pride myself in staying down-to-earth throughout the seemingly more glamorous aspects of a corporate career. I provide advice in an accessible, practical manner to enable our commercial peers from different technical and functional backgrounds to understand the legal risks and proposed solutions within their commercial context."
From the time of her graduation, Maree wanted to work internationally. Many Australian lawyers made the transition to working abroad, and she expected she would follow suit. She had secured a graduate role at leading Sydney law firm Mallesons Stephen Jaques (now King & Wood Mallesons) but deferred her commencement to go backpacking in Europe for six months.
"I majored in history for my arts degree with a focus on modern European history so it felt like I was experiencing my history degree in colour," she says.
In London she took on a professional development/paralegal role with law firm Ashurst and stayed for a year living and working in London. Afterwards, she took the long way home to Sydney, backpacking for six months through China and South-East Asia.
"It was this type of grassroots travelling that gave me my first taste of Asia, and whet my appetite for more," Maree says.
After working in Sydney for two years with Mallesons, Maree relocated to Singapore to work at international law firm Latham & Watkins with its project development and finance team.
"In this role I gained experience working on a diverse range of projects and financings across the Asia Pacific region, for example wind farms in Korea and Pakistan, petrochemical projects in Singapore, power projects in Thailand, Laos and Vietnam and the refinancing of numerous assets in Indonesia," she says. "I met lots of colourful characters over these years, and believe that my ability to communicate with cross-cultural sensitivity - despite not having foreign language skills - and my willingness to embrace challenging situations has allowed me to thrive within my chosen career in the Asia Pacific region.
"Despite the breadth of experience gained working at an international law firm, I craved the chance to work in a commercial environment. As I particularly enjoyed interacting with commercial and technical teams and learning about their respective industries, I sought roles with project developers and pursued opportunities in the renewable energy industry.
"Since moving in-house and working as the general counsel for a growing business, I have embraced the opportunity to step out of a purely legal role such that my legal team serves as a strategic business function, involved in all aspects of the company's business."
When asked what advice she would give to aspiring lawyers, Maree says the extra-curricular activities facilitated by UOW and the Law School environment shaped her career path.
"In my final years of university, I was juggling my academic load with part-time work and various student leadership and service activities. Yes, I was incredibly busy but the skills and experience I gained were invaluable and equipped me to tackle the real-world challenges I have faced in my international career."
"In law school, I remember having to go out and find a `client' and help them to draft a constitution for our corporate law class. We worked with Bulli community centre – and helped develop a constitution to establish governance terms for the not-for-profit organisation. This was a very challenging experience - we were not only starting from scratch from a documentation perspective, but also needed to explain the background and basis of each proposed provision and then tailor it to suit the needs of the organisation.
"Such community outreach taught me the ability to communicate effectively with people of all different backgrounds and the importance of listening to understand. This has proven to be invaluable to my work as a corporate lawyer as I need to work with people from a variety of different functional areas and cultural backgrounds."
---
Maree Myerscough
Bachelor of Arts/Bachelor of Laws, 2002