Two words aptly define young businessman, Dean Martelozzo – diligent and determined – whether it's the focus and discipline to power through daily work challenges, the resilience to overcome traumatic injury, or the drive to chase the big dreams.
---
"No one will give you what you want; you have to go out there and earn it yourself. Sometimes that means you need to be creative in your approach," he says.
It is this attitude that has seen Martelozzo successfully co-found Wollongong's first distillery, Headlands Distilling Company. It is forging a position as a boutique distillery with the ambition of taking the company to a global audience. With its high quality, locally-produced spirits that proudly represent the Illawarra – including the company's first product, Seacliff Vodka, the journey is just beginning.
Martelozzo and three friends – fellow UOW alumni, Tom Simnadis, Jared Smith and Lachlan Hingley – co-founded Headlands together. Between them, they have 12 degrees providing a range of knowledge and skills. It was the combination of expertise that turned the idea of a distillery into a reality, coming about the way many good ideas do: over a cold beer between mates on a warm Sunday afternoon.
"Tom was finishing his PhD looking at ways to introduce ancient grains into the food supply, and mentioned it was used to make the alcohol too. Jared began explaining the process and Lachlan chimed in with more engineering insights. Before too long, we realised that our combined skills were perfect complements to found Wollongong's first distillery.
"The four of us work together on all aspects of the company, but we each have our natural areas of strength. That's not to say that we all agree on everything however! Part of the reason for our success to date has been the healthy debate we encourage. My time at UOW taught me to listen to the various viewpoints and compromise where necessary to ensure we converge on a course of action. As it turns out, the management theory I learnt in my MBA does play out in practice!"
Martelozzo says his MBA from Sydney Business School, UOW has been critical to starting Headlands. "I've always been interested in business and building things from the ground up. The MBA gave me a strong grounding in understanding the organisational pillars of operating a business and a greater insight into the interrelationships at play within the broader ecosystem in which we operate."
"I also learned the importance of a careful, effective strategy. Lee Styger, our MBA course director, would be very happy to hear that upon founding Headlands, we made sure we had all the elements of our strategy aligned before going to market: our bottle is iconic in its representation of the Gong, our production process is authentic and most importantly, our vodka is undoubtedly one of the smoothest you will ever taste!"
The Wollongong locals also decided on another key aspect of how they'd run their business early on – they wanted a company that remained true to their values. They've taken significant steps to reduce their ecological footprint and have been eager to give back and support the local community.
"We sponsor the UOW women's AFL team, and also direct 20 per cent of our profits to SpinalCure, a charity that aims to improve the lives of those with spinal cord injuries."
The connection to SpinalCure is personal for Martelozzo – a shock snowboarding accident in the French Alps while backpacking through Europe in 2011 saw him suffer a traumatic brain injury and broken back in four places, rendering him paraplegic. The physical and mental trauma, the long road to recovery with no end in sight, and the multitude of ongoing daily challenges to keep overcoming would understandably cause many people to give up on their dreams or reassess their goals. But rather than let his injuries deter him, they only strengthened his resolve to pursue his aspirations for business.
The 29-year-old now skilfully balances a full-time career as an investment performance analyst with his commitments founding and running Headlands. He says the most important lesson he's learned in life and business has been the value of friendships and building relationships with others. "My successes at uni, work and now in founding the distillery would not have occurred without the friendships I've built along the way, nor make me as excited about the future as I am."
The friends' clear vision for offering high quality, sustainable, local products comes with a plan to produce the highest purity spirits and gain exposure for the company's products and practices without compromising on their values.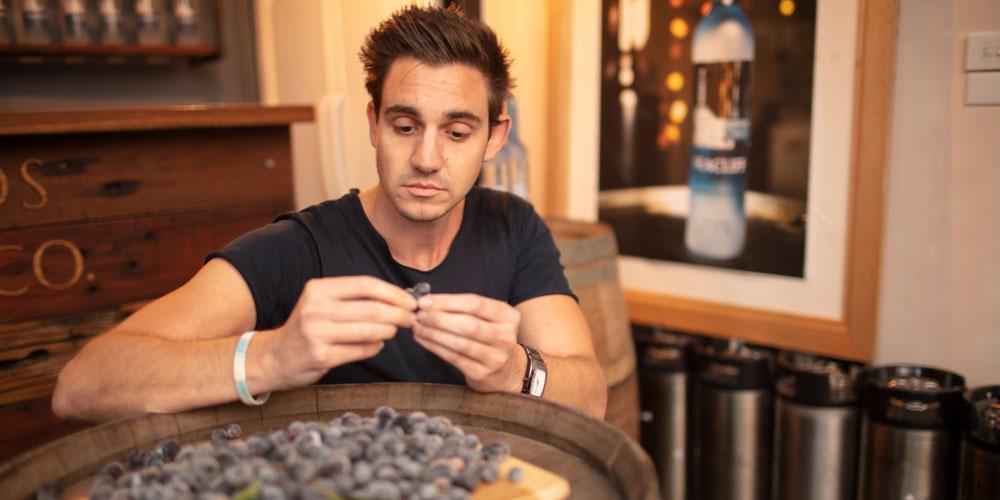 "Short-term, we want everybody to know the name Headlands Distilling Co. Fortunately for us, when people try our spirits and realise how they compare with other products on the market, word is spreading rapidly and demand for our products is rising. We've been blown away with the support we've received from the local community who are engaging with our story and products.
"As we add new products and grow our portfolio of spirits, we want to expand our brand footprint, including our social responsibility. I'd love for everybody to understand that our business acts with responsibility at the forefront of all decision-making and that profit and philanthropy aren't mutually exclusive. Over the longer term, I hope we go global and are known worldwide for the superior quality of our spirits, and that our philanthropic endeavours and social mindset influence business strategy on a global scale. It would be rude not to dream big!" he laughs.
"If all goes to plan, I'll be successful and be given the opportunity to come back to where it all started at UOW to help budding entrepreneurs at the start of their journey. I'd love to be able to share my learnings, give them advice and connect them with people that will help them achieve their goals and drive further positive change."
Martelozzo is realistic, but hopeful about the future of the business. "The path to get to where we are now hasn't always been smooth; it's taken four years of hard work, planning, and thousands of hours (and dollars!) of investment. But not once have I felt that starting the company was a bad idea or ever found myself wondering if the four of us were in too deep. I am certain of the potential of Headlands Distilling Co, and the exciting part is we're only just getting started."
---
Dean Martelozzo
Bachelor of Commerce (Dean's Scholar), 2010
Master of Business Administration, 2013
Tom Simnadis
Bachelor of Commerce/Bachelor of Science (Honours), 2012
Doctor of Philosophy, 2018
Jared Smith
Bachelor of Engineering/Bachelor of Science, 2014

Lachlan Hingley
Bachlor of Medical and Health Sciences Advanced Honours, 2013
Doctor of Philosophy, 2018
Jessica Sparks
Certificate in Languages, 2013
Bachelor of Journalism/Bachelor of Laws, 2016