For UOW, 2018 has been a year defined by where we're from, and a year that defined where we're going.
---
Global outlook
Australia's higher education regulator (TESQA) renewed the University of Wollongong's (UOW) registration as an accredited Australian university until 2025. TEQSA praised the institution for its quality assurance performance, staff, and commitment to
Indigenous participation. Charging through 2018 and surging 14 places in the 2019 QS World University Rankings, UOW, now ranked number 218 in the world and 11th in Australia has risen more than 50 places since 2015 in overall rankings.
UOW's business incubator program iAccelerate embarked on a first-of-its-kind European tour focused on enhancing international connections, providing pitching opportunities and establishing pathways for expansion into the European market. iAccelerate Chief Executive Officer Omar Khalifa was joined by five key residents each tailoring their trip according to individual business needs.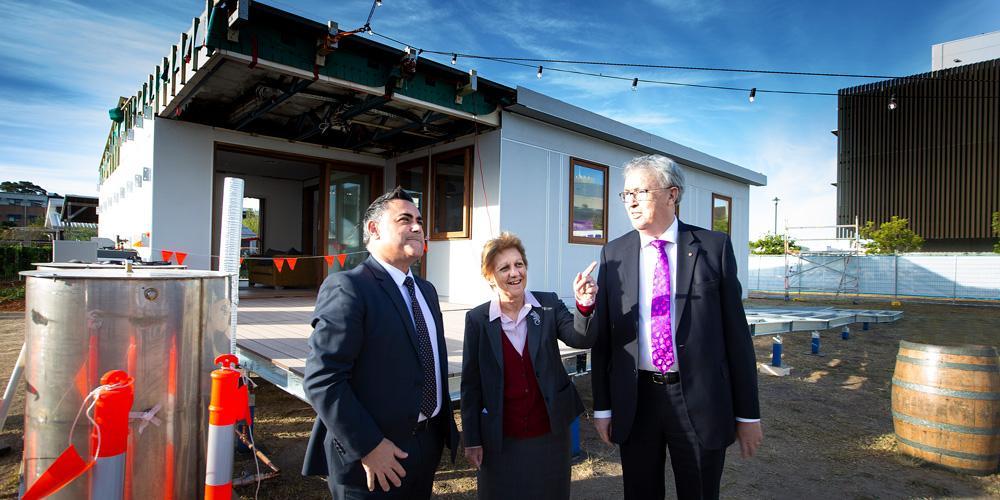 A sustainable house designed and built by UOW students competed in this year's Solar Decathlon Middle East, an international design and construction competition with a focus on sustainability. Officially opened by New South Wales Deputy Premier The Hon. John Barilaro MP, the 'Desert Rose' bloomed as what is believed to be Australia's first dementia-friendly house constructed to produce more energy than it uses.
With all eyes on the goal, UOW announced a partnership with English premier league football club Tottenham Hotspur to pioneer the next generation of Australian and international football talent. Offered from January 2020, the Global Football Development Program will see two FA & UEFA qualified Tottenham Hotspur coaches train participating UOW students over 36 weeks a year for a five-year period at the Wollongong campus.
---
Change that matters
It's been a monumental year for UOW's much anticipated Health and Wellbeing Precinct with the conclusion of an 18-month national open-market Expression of Interest process. With Lendlease selected to undertake the $500 million project on the Innovation Campus. The Precinct will include Australia's first primary and community health clinic to offer truly integrated patient-centred healthcare, as well as aged-care and retirement living facilities, and research and teaching programs. Deputy Vice-Chancellor (Health and Communities) Professor Alison Jones said the precinct will enhance UOW's already strong multidisciplinary focus on aged care, enhance the established Health and Wellbeing strategy and provide new research and teaching opportunities in nursing, nutrition, physical activity and rehabilitation, psychological wellbeing and mental health, and technological support for ageing among other areas.
With positive psychology as a focus, UOW's latest accommodation project Kooloobong Village was designed to foster lifelong wellbeing in students who live at on-campus accommodation. Opening in early 2018 Kooloobong Village is more than just a place to study, eat and sleep. Residents have open access to a number of peer-led support programs designed to enhance positive psychology; these include healthy lifestyles, academic support, drug and alcohol awareness, mental health awareness and sexual violence prevention.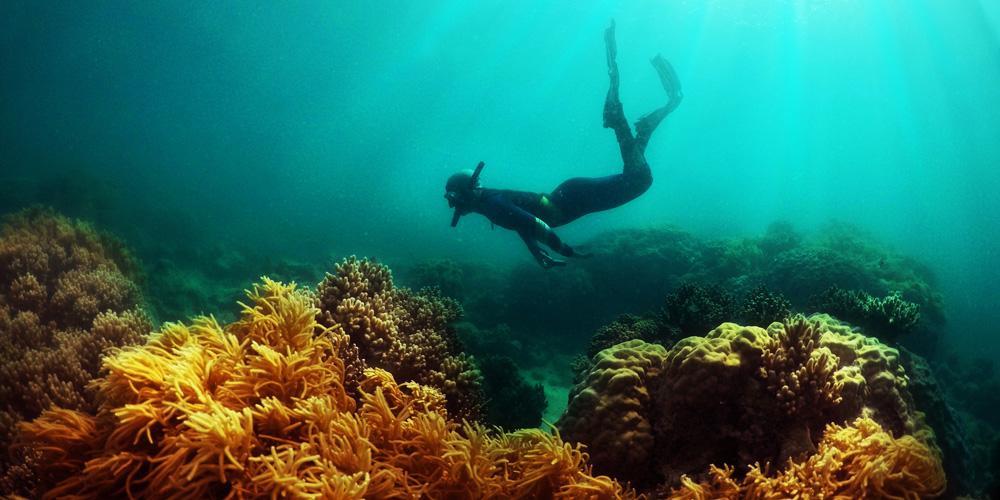 A study led by UOW's Associate Professor Helen McGregor and the University of Sydney's Associate Professor Jody Webster saw 17 scientists from six countries drill 16 different sites of the Great Barrier Reef to uncover a history hidden under the decay. The reef has endured five death events which were largely induced by fluctuations in sea level. The 10-year study provided the first continuous record of the reef's evolution over a long period of time.
An innovative facility designed to improve mental health and wellbeing for the people of the Shoalhaven officially opened in July at UOW's Shoalhaven Campus. MIND the GaP (Mental Illness in Nowra District: Goals and Prevention) is a joint initiative of the Australian Government, Shoalhaven City Council and UOW to address the high level of mental health needs in the Shoalhaven, particularly among vulnerable and younger people. The purpose-built $3.5 million MIND the GaP building was jointly funded by the Australian Government, through the National Stronger Regions Fund, and the University.
---
Trust built through partnerships
UOW College Australia and the Illawarra Division Rugby League (IDRL) announced a joint sports scholarship aimed at assisting local rugby league players or volunteers in achieving their education goals. As a part of a two-year agreement, UOW College – also celebrating their 30th birthday – will provide financial support up to the value of $20,000 in course fees to individuals demonstrating sporting success or significant community service accomplishments.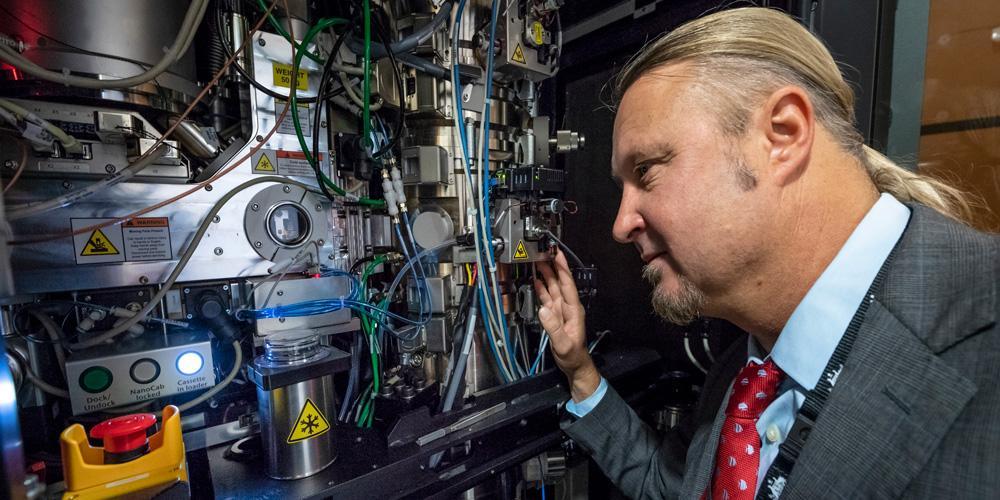 Australia's most advanced and powerful microscope, capable of visualising down to the level of individual atoms began its working life in August. The three-metre tall, one tonne FEI ThermoFisher Titan Krios cryo-electron microscope lets scientists see the inner workings of human cells with unprecedented clarity, and will enable new ways of understanding and curing diseases such as motor neurone disease, Alzheimer's and cancer, as well as tackling health challenges like antimicrobial resistance. The microscope will be the centrepiece of Molecular Horizons, UOW's world-leading molecular and life sciences research facility, and part of a suite of transformative technology. UOW and the Australian Nuclear Science and Technology Organisation (ANSTO) have partnered to house the Titan Krios while its future home, the purpose-designed Molecular Horizons Building on UOW's Wollongong campus, is built. Thanks to the partnership between UOW and ANSTO, the Titan Krios will become operational and accessible to researchers almost two years before its final home is completed.
UOW was announced as a foundation partner for the Dragons' inaugural NRL Women's Premiership team, which will compete in the elite NRL Women's Premiership competition in late 2018. The extension of the 2017 Memorandum of Understanding between the Dragons and UOW through to 2020 underpinned the mutually beneficial relationship between the two organisations. UOW branding will reside on the back of the Dragons' Women's Premiership jerseys in another positive initiative between the club and UOW.
Plans for a 'multiversity' higher education campus in the heart of the new Western Sydney Aerotropolis were unveiled in September by NSW Premier, The Hon Gladys Berejiklian. In an Australian first, the NUW Alliance (the University of Newcastle, UNSW Sydney and UOW) and Western Sydney University will join forces to deliver a world-class higher education and research presence in Western Sydney. The Multiversity will specialise in STEM (science, technology, engineering and mathematics) and be part of the Aerotropolis precinct at Badgerys Creek. By leveraging the expertise of the four institutions, students, employees and the wider community will have unparalleled access to innovative teaching and research.
---
Student experience
Students of South Western Sydney now have access to world-class legal education with Honourable Michael Kirby, AC CMG, former justice of the High Court of Australia, launching the School of Law at UOW's Liverpool campus. Ranked first in New South Wales for Law and Paralegal studies (QILT 2018), UOW aims to provide students of the South Western Sydney region the opportunity to pursue their educational dreams without having to travel outside the region.
In 2018 UOW became the only Australian university to be listed as a finalist for the prestigious Global Teaching Excellence Award (GTEA) for two consecutive years when the awards finalists were announced earlier this year. Finalists are independently assessed by a distinguished panel of international judges as part of a rigorous review process and measured against three 'domains of excellence': excellence in the leadership of teaching and learning; excellence in teaching; and excellence in student support.
UOW now offers three online courses with a growing portfolio aimed at those wishing to fit tertiary education into a busy lifestyle. Designed and taught by UOW educators and researchers, UOW online courses accelerate the path to career goals by focusing on relevant knowledge and skills ideal for career advancement. A Graduate Certificate in Business, Biofabrication and Maritime Studies respectively, was launched in late 2018 adding to UOW's suite of free online short courses offered via FutureLearn.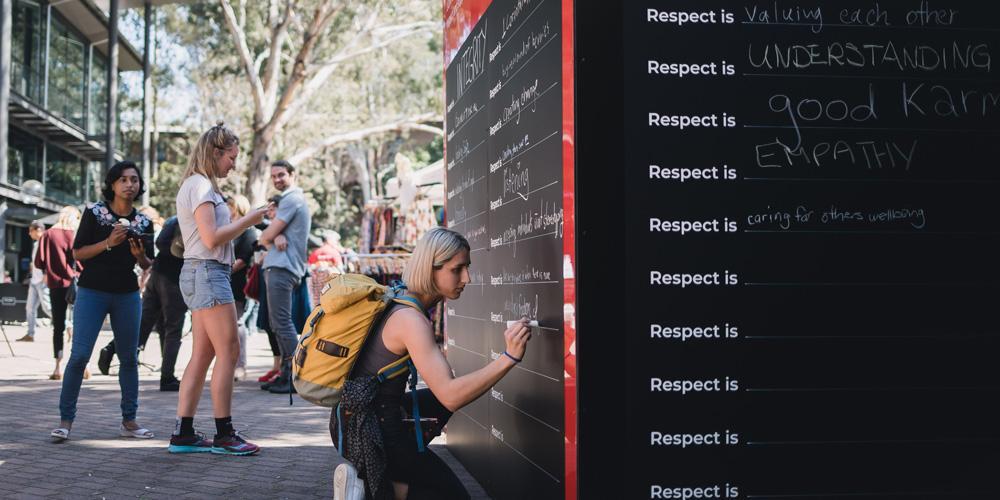 One year on from UOW's participation in Respect.Now.Always (RNA), an initiative dedicated to preventing and addressing sexual assault and harassment across the university sector, UOW announced 'Respect is…' The national campaign is aimed at defining what respect means to UOW staff and students and will feature at each of UOW's domestic campuses. The campaign was launched at an event on Wollongong campus where UOW's Chief Administrative Officer Melva Crouch CSM unveiled an interactive cube that invites staff, students and visitors to write what respect means to them. The submissions will inform the broader campaign aimed at continuing the conversation about the importance of a culture of respect for everyone.
---
Research impact
Federal Minister for Education and Training Simon Birmingham officially launched a $7.3 million rail engineer training centre at UOW in May. Joined by Senator the Hon Concetta Fierravanti-Wells, then Minister for International Development and the Pacific, the centre is the first of its kind to be funded by the Australian Government. The Australian Research Council (ARC) Industrial Transformation Training Centre for Advanced Technologies in Rail Track Infrastructure (ITTC Rail) will train the next generation of rail engineers with the knowledge and skills needed to maintain and upgrade Australia's rail network. With a $3.9 million ARC grant supported by an additional $3.4 million in contributions from the NSW state government and industry and university partners, ITTC Rail will be headquartered at UOW. The centre is aimed at bringing together rail track infrastructure expertise from all sectors of the rail industry, with 8 universities and 11 national and international industry partners taking part.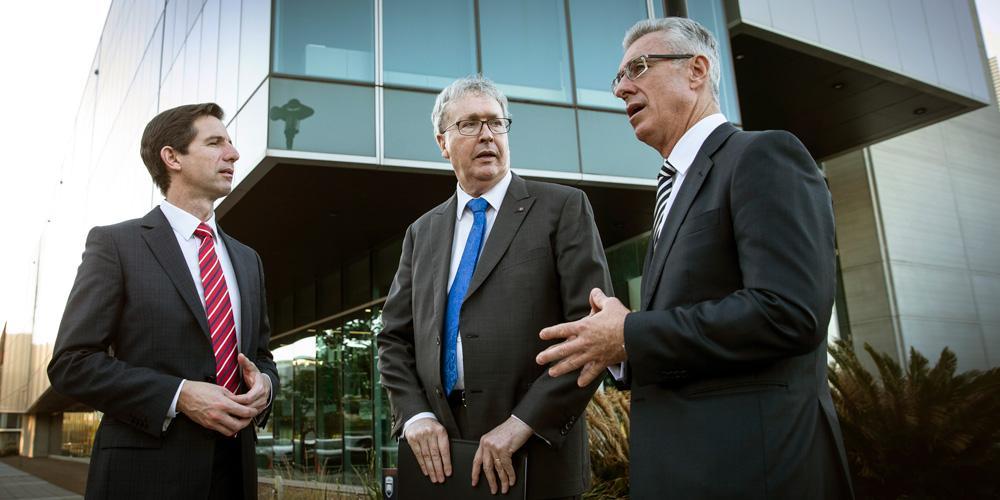 A team of UOW researchers are working together to develop a test range of UOW-designed 3D-printed surfboard fins. The project, part of UOW's Global Challenges Program, brought together a team of multidisciplinary researchers, as well as experienced surfers from the Illawarra to trial rapid prototyping and fabrication methods using 3D printers.
The tough and durable hydrogel condom that could help prevent unwanted pregnancies and the spread of sexually transmitted diseases across the world was granted $1 million as part of the NSW Government's Medical Devices Fund in August. Geldom, the brainchild of a team of UOW researchers led by Associate Professor Robert Gorkin, was named as one of seven recipients of the $9.85 million fund, announced by NSW Health Minister Brad Hazzard at Parliament House in Sydney. The hydrogel condom was developed at UOW in 2013 as part of the Global Challenges Program, after the researchers came across an initiative from the Bill and Melinda Gates Foundation to combat unplanned pregnancies and the rise of sexually-transmitted diseases such as HIV in developing countries.