Transitioning from the top echelons of a centuries-old global banking institution to the fluid and freewheeling world of Google might be a daunting prospect for some. Not so for Brendan Castle.
---
"The challenge was how to ensure the core me remained, but at the same time evolve my leadership style to suit that environment," he explains. "I think the easiest way to answer that question is that I always had Google in me."
Castle is Global Head of Product Area Staffing at Google, a role he took up in mid-2014 after nearly 16 years with Citi. Graduating with first class honours in 1998 with a UOW Masters in Commerce, and no clue what he wanted to do next, he joined the then Citibank Management Associate Program – a fast track to senior leadership.
After a couple of years he was yet to work out what was a good fit. Sitting down with a HR head, Castle told him he didn't think this world was for him but was put on the spot when asked what it was that he did want to do.
"I didn't really know; He was giving me the world and I needed to come up with something. I told him, I'd like to build an intranet for the HR department."
It was 2001 and the internet – much less intranets – was in its infancy. With no relevant qualifications or background, Castle set his mind to figuring it out. It was the first of many times with Citi that he put his hand up for projects well outside his comfort zone, marking him as an innovator not afraid to get his hands dirty. After he volunteered to represent Citi Asia in New York to discuss streamlining the group's 137 different HR systems into one, the company asked him to relocate to Hong Kong to lead the project. He married his then fiancé and the couple flew out the next day.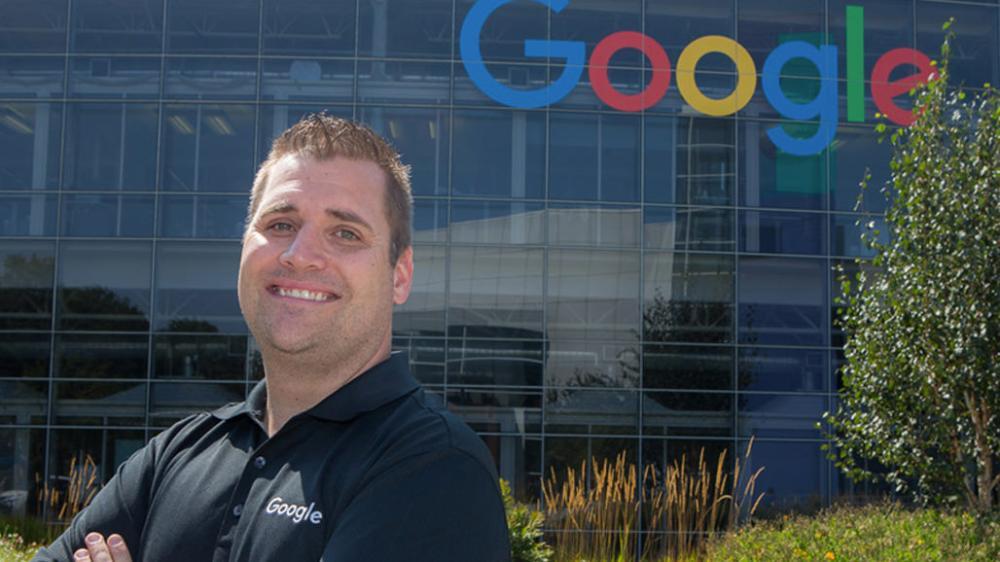 Citi was a passport to the world for the boy from Western Sydney. Hong Kong was followed by Singapore, where at just 27 he made Regional Head of HR Shared Services leading a team of 300 people. In the ensuing seven years he spearheaded a raft of new global systems, welcomed the first two of three children and ably weathered the Global Financial Crisis.
The next stop was London, helping Citi's European operations – who had not fared the storm as well as Asia – rebuild. He became one of Citigroup's youngest managing directors at 32, and took the team's employee satisfaction from 23 to 94 per cent in little more than two years. He headed to New York in mid-2012 as Managing Director and Global Head of HR Shared Services, where he was responsible for around 1400 staff millions of transactions and an annual payroll in the billions.
00:03
so my name is Brendan castle and I work
00:05
for Google I'm the global director of
00:07
staffing for the engineering here so now
00:09
based in Mountain View in California it
00:11
is fantastic and well you know you kind
00:14
of get an impression of companies you
00:16
know obviously there was the internship
00:17
movie and there's obviously a lot
00:19
written in the press about being the
00:20
best place to work that doesn't even
00:23
describe the day-to-day stuff because
00:25
you know you get past the perks and you
00:26
know the cool little bikes and stuff
00:28
that you get around and what it actually
00:30
creates is the University feeling it
00:32
and so I recall day one interviewing at
00:34
the company and it just felt like I was
00:37
back at university again people riding
00:38
bikes people throwing the footballs and
00:41
that's what it's meant to be is how do
00:43
we create an atmosphere that feels
00:46
social and therefore will create the
00:48
best ideas out of those social and so we
00:50
have coffee shops everywhere and the
00:52
entire intention is get away from your
00:53
desk and order a coffee and hopefully
00:55
come up with the next big idea and so
00:57
it's just a fun place to work
00:59
we look for the non typical so if you
01:02
think about typical companies they know
01:04
an approach that is we're looking for
01:05
this type of person actually what we're
01:07
looking for is somebody who's completely
01:08
different distinctive what does
01:10
distinctive mean you could have finished
01:13
a degree over six years rather than
01:15
three but that's because you're also
01:16
looking after your family whether you're
01:18
a marathon runner or you're a champion
01:19
sports person what we want is the story
01:21
what we want is the personal and so what
01:23
we're looking for is somebody who
01:25
doesn't think I think sweet people who
01:27
really embody team collaboration fun and
01:31
most of all what we want is people who
01:33
bring questions what we want you to do
01:35
is bring questions for the world and
01:36
then work with us to actually get the
01:38
answer anyone who's thinking about a
01:40
role at Google rather than take the
01:42
typical approach of going interest
01:44
trying to apply for a bunch of roles we
01:45
really think about what you're gonna
01:46
give to the company and then ask
01:48
yourself how do you stand out from
01:49
others and how do you feel about an
01:53
environment that is very ambiguous very
01:55
much ideas driven and most of all an
01:58
area where collaboration is the No
02:01
the name of the company and again if
02:02
part of it is just integrate work with
02:05
life to be able to create a balance that
02:07
says you know what maybe he just stuck
02:08
on that idea why don't you go out and
02:10
actually just do it you know have some
02:11
play some sport last week I literally
02:14
looked out my window and I saw one of my
02:16
recruiters sunbathing but with a headset
02:20
on talking to a candidate and his whole
02:22
thought was this candid was really
02:24
casual from Southern California and so I
02:26
need to get into the mindset of just I
02:27
want to be able to connect with him how
02:29
that's the kind of environment that the
02:31
company creates from a staffing point of
02:34
view my moonshot is that I can find
02:36
people who don't know they want to be
02:38
found I don't want to go on profiles and
02:41
resumes and have people apply I want to
02:43
find the person you're sitting in that
02:45
garage and actually change their life
02:47
and if I look at kind of like from a
02:48
personal point of view I'm not somebody
02:50
who makes plans I've never made plans
02:51
what I want is to change people's lives
02:53
there's nothing more exciting than
02:55
somebody saying I never thought I could
02:58
get to where I got to and I think that's
03:00
that's my moonshot is how do you get
03:01
that across the world how do you excite
03:02
people how do you give opportunities to
03:04
people they would never have thought
03:06
that they were going to have
03:07
opportunities and I think that is the
03:09
greatest challenge for me is working
03:11
through scale working for billions of
03:12
people and saying we can provide
03:14
everybody an opportunity I love it
Castle says that he knew it was time to make a move when the job no longer made him nervous. Strolling along the Hudson River to work, he realised he hadn't even read the presentation for that morning's gruelling three-hour operations review. He breezed through it without breaking a sweat.
"It was then that I realised I didn't have that nervous feeling anymore; that gut feel that I might not know the answer, that there was something to learn," he explains.
With something in the air, not long after Google called, and – despite Castle not realising the Hangout proposed by the recruiter was not a casual catch-up at the pub but an online group chat – the rest is history.
Castle has happily met his counterpart in Google, finding an ideal culture where flipping talent acquisition and human resource management on its head is business as usual. He's not just able to move quickly to innovate, adapt and collaborate – it's expected. While the transition was an exciting and somewhat natural one for him, it still took time to shift his mindset.
"I spent the first three months looking over my shoulder, wondering what's really behind that meeting, when is someone really going to show their true colours. But people here actually do want to help; they don't want to take over your world and that makes a huge difference."
Google is renowned for being a fun and energising place to work; the fact that the company receives in excess of three million job applications each year speaks volumes. But does being a Googler really live up to the hype?
"It is fantastic and more," he enthuses. "Once you get past the perks – the cool little bikes and all that – what it actually creates is a university feel. It's about deliberately crafting an atmosphere that feels social and sparks opportunities for incredible ideas and collaboration.
"Last week I looked out my window and saw one of my recruiters sunbathing with a headset on, talking to a candidate. I asked him why and his whole thought process was this candidate was really casual, from Southern California, and this would put him in the best mindset to connect with him. That's the kind of environment that the company creates."
When it comes to seeking out new talent ready to flex and innovate in this amorphous environment, Castle says that, unsurprisingly, Google looks for the non-typical – people who bring questions and a desire to find the answers, rather than model grades. When asked about his ultimate recruitment goal with Google, he is visibly animated.
"I want to find people who don't know they want to be found, the person who's sitting in their garage, and actually change their life. And to get that across the world. I think that is the greatest challenge for me: working through scale, working through billions of people and saying we can provide everybody an opportunity. I love that."
---
Brendan Castle
Master of Commerce, 1998