Children from Mogo Primary School gather on the University of Wollongong's Batemans Bay regional campus.
---
Children from Mogo Primary School gather on the University of Wollongong's Batemans Bay regional campus. There's a buzz of excitement and pride as they're about to launch a storybook about their recent trip to Grandfather's Gully, a local Aboriginal sacred space.
It's been produced with the support of the University and Local Aboriginal Land Council. The project has connected everyone involved and taught the community much about Aboriginal culture and language.
These are the kind of meaningful outcomes that Reconciliation Action Plan Coordinator, Amara Barnes, sees firsthand as a result of UOW's outreach. She's currently consulting with students, staff and Aboriginal communities around all UOW campuses to understand the range of opportunities the University has to contribute to reconciliation. This will culminate in the University's inaugural Reconciliation Action Plan (RAP), to be launched in 2019.
Her mission is: "For UOW to be the university of choice for Aboriginal and Torres Strait Islander people in all aspects - as a place to study, as an employer, as a place to do business, as a place to consult with, and as a place to come to, to share culture and engage with others."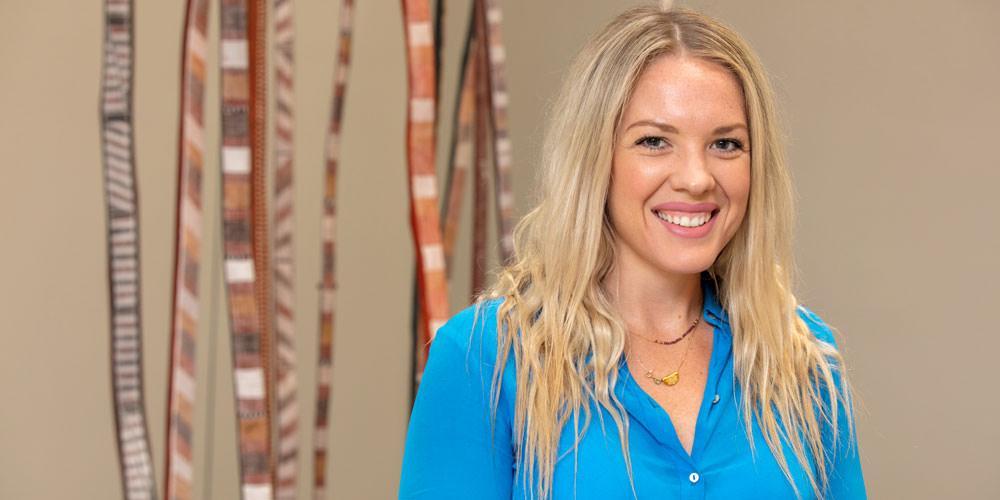 Amara Barnes
"My role with the RAP touches on every facet of what we do at the University. It encompasses staff and student participation, experience and performance. It covers cultural awareness and competency, research, partnerships with communities and organisations, and extends to areas like looking at our supply chain to identify local Indigenous businesses we can work with," Barnes says.
"The University has a solid track record of developing and supporting a number of important initiatives that further reconciliation and create positive outcomes for Aboriginal and Torres Strait Islander peoples and communities. This includes work done through UOW's Woolyungah Indigenous Centre, our partnership with Australian Indigenous Mentoring Experience (AIME), embedding Aboriginal knowledges and perspectives into UOW curricula through Jindaola, and community engagement such as the Mogo book launch and our Koori STEM camps.
"There's a lot of great work being done and having a RAP will highlight all of the Aboriginal and Torres Strait Islander-centric strategies, projects and programs across the University and bring them together. It will streamline them in a way that ensures we are really acknowledging Aboriginal and Torres Strait Islander peoples, cultures and histories, that we are inviting more people in to participate in reconciliation, and importantly, that we have sustainability in what we do in this space.
UOW is leading the way in its approach, uniquely employing a person dedicated to the creation and implementation of the RAP.
"Not only that, but employing someone who is Aboriginal and an alumni too, it shows that the University is taking this seriously and giving this work the resourcing and the respect it deserves," Barnes says.
"There's a lot of positivity and an appetite for change at UOW to increase access and opportunity for Indigenous people. And as a university, I see what we can contribute and our potential for impact, on many different levels, as massive. The time to do this is now."
Indigenous employment is a key part of the University's RAP framework and overall strategic plan. It's a cause Aboriginal Employment Strategy Officer, Violet Green is dedicated to, interacting regularly with internal and external stakeholders to ensure UOW achieves its target of three per cent Aboriginal and Torres Strait Islander employment.
"It's like putting a puzzle together. My job is to find or create all the puzzle pieces – the opportunities, the resources, the financial strategies, the programs – try some there, try this with that, and put them together to make a beautiful, complete picture of UOW as an employer of choice for Aboriginal and Torres Strait Islander people," Green says.
"There's a lot of goodwill here to have Aboriginal and Torres Strait Islander people come and work in our organisation. We have policies that create a culturally-friendly, safe and appropriate workplace.
"We're working really hard on making a difference, with more accessible entry points like our traineeship and cadetship programs.
"But it's also about our Aboriginal and Torres Strait Islander staff staying and growing here; having a variety of programs, mentoring and other support in place to progress people into managerial, executive and academic roles, raising their visibility throughout all faculties and divisions and at all levels.
Having worked for over two decades with Indigenous people in federal government agencies, NSW Health and in first-responder social work situations, Green says allows her to do the spectrum of work her role demands.
"The most rewarding part of the job is really seeing people's lives change and improve by getting a good job and keeping it. I do that by looking at the big-picture at what plans and programs have to be put in place across the University, right down to an individual level, assisting each of our Aboriginal and Torres Strait Islander employees and being responsive to their specific needs," she says.
"It's a pivotal point, sitting in Human Resources. It is my job to stand in the gap and assist Aboriginal and Torres Strait Islander employees, potential employees, and the University, and use my understanding to communicate matters and break down barriers.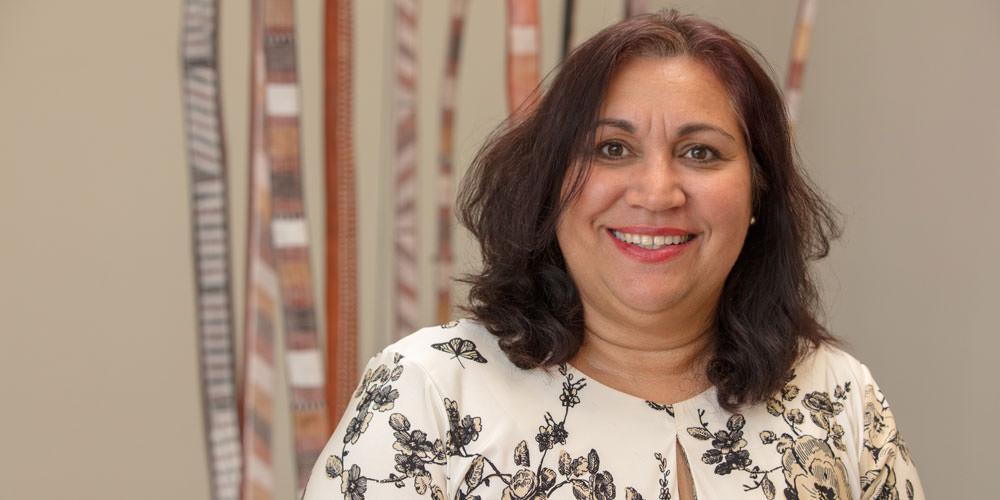 Violet Green
"That means for an Aboriginal or Torres Strait Islander person, that any issues impacting on them – issues around family, finances, health, work-life balance – are being heard and someone is working in their best interests. And for the University, so people working with Indigenous people become more culturally aware and sensitive to issues that might affect whether an Aboriginal or Torres Strait Islander person feels valued, respected and accepted in their workplace.
Green says the University-wide commitment to support the Aboriginal Employment Strategy has meant UOW is "moving quite quickly" towards its targets.
"We're a welcoming organisation that celebrates diversity, is inclusive and really wants to see a workforce that is representative of that. I'm proud of that. Other organisations and universities will be turning to us to see what UOW does so well.
"But I think it's because for us, it's not just about numbers, it's about the people – individuals who have lives, and have feelings, aspirations and needs. That's the focus of my job [and] that's what I think sets UOW apart.
---
Amara Barnes
Bachelor of Communication and Media Studies (Public Relations), 2010
Wiradjuri woman
Violet Green
Bachelor of Arts (Community & Environment) (Distinction), 2009
Diploma of Counselling, 2014
Walbunga woman, Yuin nation
Jessica Sparks
Certificate in Languages, 2013
Bachelor of Journalism & Bachelor of Laws, 2016