Cameron Porter explains that a well-designed home can be inexpensive and maintain the quality of life for our ageing population.
---
I had two grandparents who spent their final years living with dementia. The most difficult thing to watch was not them forgetting who we were, or even what decade it was. It was the frustration they felt trying to do the simplest of everyday tasks.
Houses designed with young families in mind are often unsuitable for our ageing population. Your standard house provides numerous challenges to someone living with dementia and other age-related conditions. Some examples include hot water taps being confused with cold water taps resulting in burns; people with arthritis can struggle to open windows, and a house with many rooms can make navigation confusing for residents with dementia.
00:02
my name is Emily Ryan I did it on the
00:05
Guardians fly chain management through
00:06
the Faculty of business I've just
00:08
submitted my PhD which is looking at
00:10
sustainability in the supply chain which
00:11
was done in conjunction with the SPR C I
00:13
mean in the Solar Decathlon I am the
00:15
Operations Manager my name is Clayton
00:17
McDowell I have a degree in mechanical
00:19
engineering and a master's also in
00:21
engineering practice and I'm currently
00:23
studying my PhD in sustainable
00:26
engineering but it's really for
00:28
low-income elderly people's homes and
00:29
how to make a more energy-efficient with
00:31
family comfortable my role here is the
00:33
project manager or student leader my
00:35
phd's been involved with a government
00:38
program called the low income energy
00:39
efficiency program and our specific
00:41
project was the end of a puzzle or a
00:44
project and we were lucky enough that we
00:46
had human geographers social marketers
00:49
and be engineers involved so we had the
00:51
three disciplines which really enriched
00:53
it we went out to a couple hundred homes
00:55
in the Illawarra for low-income elderly
00:57
people and so I got to visit them
01:00
multiple times over a few years and we
01:02
went here we retrofitted about 184 I
01:04
remember correctly and that was with say
01:06
insulation or hot water systems or even
01:08
a new fridge that was an interesting
01:10
experience because in doing that I'm
01:12
studying the effects that the it had on
01:14
their energy bills and their thermal
01:16
comfort but it's really the human
01:18
interaction that's the most rewarding
01:20
like one lady we put a ceiling fan in
01:22
and I went back for a second is that as
01:24
soon as I got into the door she gave me
01:25
a big cuddle and a kiss on the cheek and
01:27
thanked me about how much a ceiling fan
01:29
had completely changed a life and really
01:31
it's only a few hundred dollars but this
01:33
is just simple things like that can
01:35
really have a big impact on people's
01:36
lives it's just a need someone to listen
01:38
episodic Athlon in the international
01:40
competition that challenges university
01:42
teams to design and build a
01:45
these teams built the house in their
01:47
country they have two years to design
01:48
and build it essentially taken apart and
01:50
shipped to the country for the
01:52
competition where there's two weeks of
01:53
judging probably display and
01:55
bring it back home again I was inspired
01:57
to start being involved in the desert
01:59
roads after competing in the solo
02:01
cathlin in China I would be a Laura
02:03
flames house I was such a great
02:04
experience being able to meet new people
02:06
in all these good faculties I learned
02:08
how to build a house and just different
02:10
challenges so when the opportunity came
02:13
up again to compete I just had to jump
02:15
in and get involved and the idea of
02:18
building a house for our aging
02:19
population I think is really important
02:21
and one that's sustainable so it's not
02:23
just a house that they can live in for a
02:25
little while it's one they can live in
02:26
and the next person can come and live in
02:28
as well I think the the biggest thing
02:30
for this was actually visiting
02:31
low-income elderly people's homes across
02:33
the Greater Illawarra and I came across
02:36
a lot of different instances where
02:38
people's quality of life just and really
02:40
isn't what it should be and isn't what
02:43
they've spent their whole life owning
02:45
essentially and a lot of it gets
02:47
forgotten and family members don't know
02:48
about it so I've seen this is a great
02:50
vehicle for us to actually show the
02:52
world that we can make houses better and
02:54
and more comfortable to live in as we go
02:57
oh we all want to live in a comfortable
02:58
home so why can't we do that there's
03:01
plenty of examples the one I always tend
03:03
to go back to is this one lady you can
03:05
live in the Southern Highlands and her
03:06
arthritis in her hands was too bad that
03:09
she couldn't actually open and close
03:10
windows so when I was ordered in the
03:11
house and inspecting the window she said
03:13
can you leave them all open just a
03:15
little bit when I leave otherwise if I
03:17
close that she'll never be able to open
03:18
again so I have the temperature data of
03:20
a house and every window cracked open
03:22
drops out temperature really cold in the
03:24
winter but then when she leaves the
03:26
house you can never secure it it's
03:27
always unlocked essentially so that's a
03:30
problem there one of the most rewarding
03:32
parts of this project is really getting
03:36
and getting to see how they're going so
03:38
a lot of these students are starting out
03:40
they've had no experience at all in the
03:41
past and again you know you can see
03:44
their confidence growing as they they
03:46
organize something with the supplier or
03:48
they finished part of the house and you
03:50
can see that they're really they're
03:51
really growing and they're really really
03:53
proud of what they're doing and that's
03:54
it's really good to see and I really
03:55
enjoy getting to know them and helping
03:57
them to do that as well there's a few
03:59
things I really enjoy so when I was in
04:01
the industry I've trained quite a few
04:02
undergrad to an engineer's I really like
04:05
seeing people they just get it and at
04:08
some point you kind of really see them
04:09
develop into the professionals they're
04:11
going to be so it's been quite a journey
04:12
with the students and sometimes that's
04:14
what really motivates me and keeps me
04:16
going but the other things is we're now
04:18
getting contacted by different aged care
04:20
places and providers that are actually
04:23
asking us for advice so clearly we're
04:26
and we want to try and get all that
04:27
knowledge out into the industry so we
04:29
can hopefully have a big impact that's
04:31
that's I think what really keeps us
04:33
going because and it's working so that's
04:35
good I think any great problem that
04:38
needs solving and having a diverse
04:39
cultural background and diverse gender
04:44
is the way to solver we get so much more
04:46
or different ideas I guess we do have a
04:48
massively culturally diverse team so we
04:51
have in England in our leadership team
04:53
we have a German some Italians we have
04:57
Sri Lankans we have people from an
05:01
indigenous background here in Australia
05:03
we have people from Malaysia we have
05:06
Chinese Iran we have Persians we we have
05:09
people from right across the planet
05:10
I said beyond the solar decathlon we
05:12
really hope that Desert Rose has an
05:14
impact on our local community we don't
05:16
want to see people living in such poor
05:19
conditions in their houses when they
05:21
don't have to do I'm so it'd be really
05:22
great to see changes in the legislation
05:24
as to you know the basic standard of
05:27
housing in Australia I think that's one
05:30
of the biggest things we'd like to
05:30
achieve and just to start that
05:33
conversation so that people are more
05:34
aware of about housing of sustainability
05:37
and of just happy we should leave in
05:40
general I Sophie on this fellow Kaplan I
05:42
would like to get into consulting in
05:44
this technical buildings industry
05:46
looking at happy within source things
05:48
more sustainably and what it is that
05:50
brings businesses in the Illawarra
05:51
together to actually be more sustainable
05:53
often more sustainable products and what
05:55
we're doing now after the competition I
05:57
want to smell PhD because my PhD is
05:59
really taking stop to make sure that
06:02
this all comes together so once that's
06:05
done I'm not sure I think we just have
06:07
to explore and see what opportunities
06:09
come out of this I really like doing
06:11
something that has a positive impact and
06:13
have really enjoyed working on this
06:16
project so I guess we'll just suck it
06:18
and see it and see what happens
This often means that as people age, or their dementia develops, they have little choice but to leave their home and move to a better equipped retirement facility or nursing home. However, there is evidence that remaining in the family home can result in an increased sense of wellbeing, independence and comfort for many individuals.
There will always be circumstances where professional care and specialist facilities are necessary. But often, with the right home environment, this can be delayed. Dementia, and other conditions associated with ageing should not cost people their quality of life.
Dementia is now the leading cause of disability in Australia for those over the age of 65. It is a condition that a staggering 46.8 million people throughout the world are living with and a new case is diagnosed every 2.5 seconds.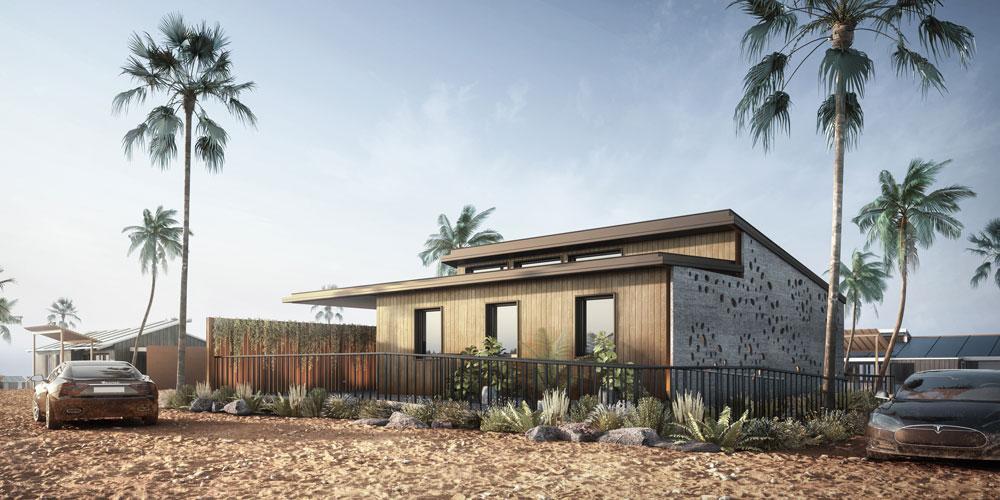 Now is the time that our building industry and retirement living industry need to be exploring innovative and cooperative solutions to house our ageing population in the comfort and familiar surroundings of their own home. We must act swiftly if we are to have any chance of maintaining quality of life for a whole generation without significantly impacting future generations.
Team UOW Australia-Dubai is committed to being at the forefront of this change, creating a positive impact on the future of Australian housing. Through practical collaboration between students and industry, Team UOW endeavour to change the way the world views sustainable housing. We want to do this by building a "house for life" – a home that is architecturally inspiring, affordable and adaptive to a resident's needs as they age.
Our entry into Solar Decathlon Middle East is Desert Rose House, which addresses issues faced by ageing residents – particularly those living with dementia – while also focusing on environmental sustainability. The Desert Rose promotes wellbeing and caters for those with the most active lifestyle as well as those with age-related disabilities. It will celebrate life by helping older residents live a life of enjoyment in the comfort of their own home for as long as they choose.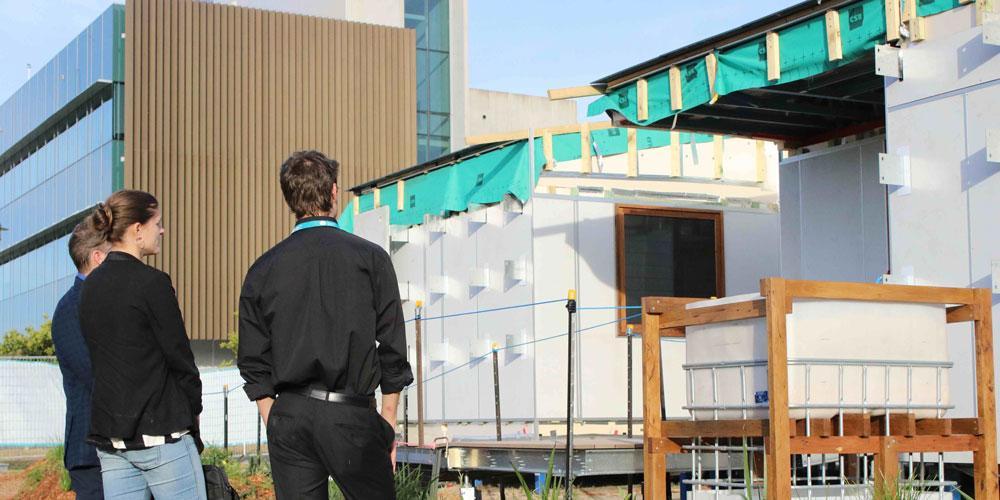 We are working with industry bodies like Dementia Australia, as well as nurses, doctors, geographers, engineers, retirement living providers, people living with dementia and people who have cared for those with dementia. We are taking their suggestions and stories to guide the design of the house.
This has resulted in an array of solutions including:
A structural frame suitable for the attachment of handrails and other mobility measures.
Home automation to assist with day to day tasks such as electronically controlled taps which can be easily used either by hand or voice control.
A light colour scheme that does not result in increased stress as many modern, dark, home interiors do.
Low-risk appliances that take advantage of the Internet of Things to ensure safety and ease of use, so things like lighting and temperature can be controlled using a mobile phone.
Carefully considered fixtures including taps which are easily recognisable, responsive and non-resistant for those with arthritis or weakened muscles.
Open spaces with increased visual clues and greater line-of-sight across the space to reduce stress and increase mobility.
Lighting design that responds to research around comfortable lighting for the elderly, as well as a system that enables an easier operation of lighting.
Our house breaks down the idea that sustainable housing and aged focused industries are two separate industries that aren't mature enough to operate cohesively. Team UOW believes that, due to the agility in both these sectors, now is the best time to act.
Cameron Porter is a member of Team UOW Australia-Dubai which competed in the 2018 Solar Decathlon Middle East.
---
Cameron Porter
Currently studying a Bachelor of Creative Arts (Graphic Design) / Bachelor of Communication and Media Studies (Marketing Communication and Advertising)
Clayton McDowell
Desert Rose House Project Manager
Bachelor of Mechanical Engineering, 2009
Master of Engineering Practice, 2012
Emily Ryan
Desert Rose House Operations Manager
Bachelor of Commerce (Supply Chain Management), 2014